Details

Category: Chiang Mai
Published: 16 March 2015
Hits: 92715

On Day 3, we visited most of the attractions in Pai including some resorts, Pai Canyon and Memorial Bridge.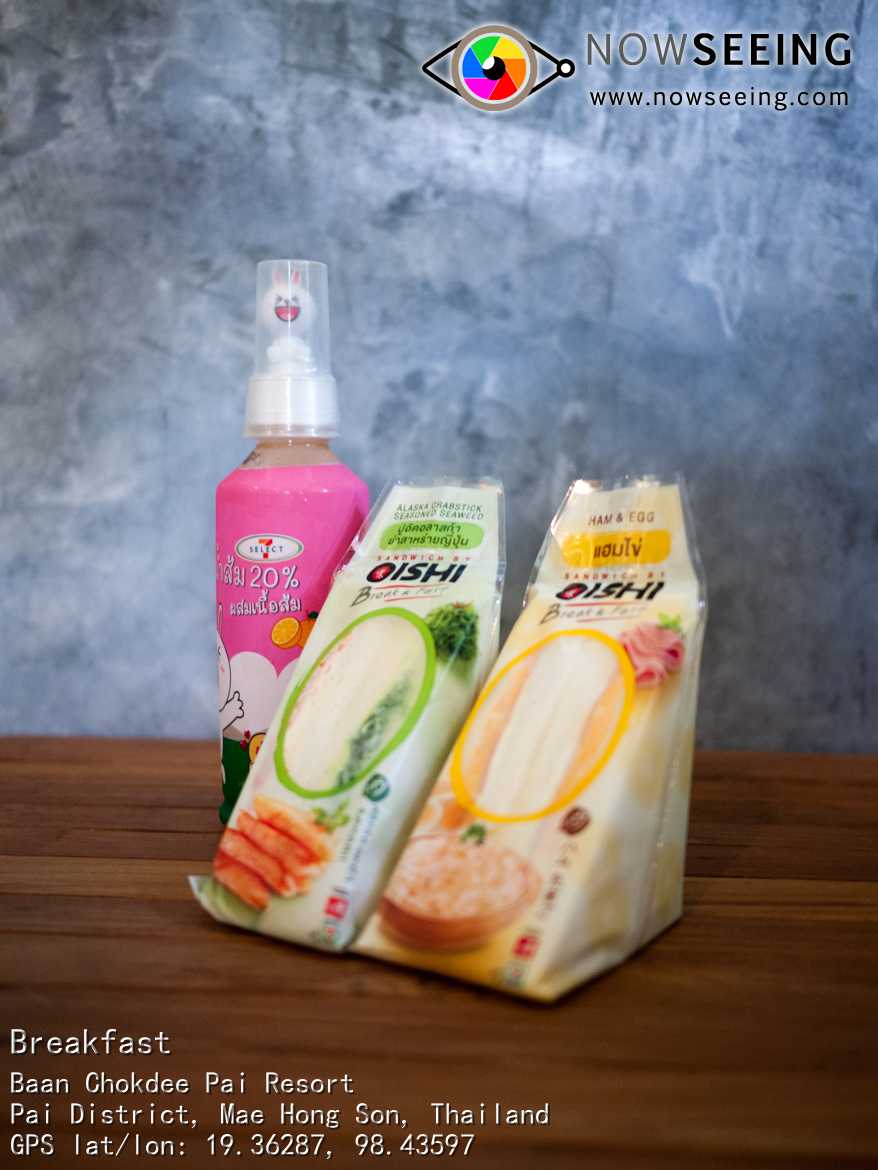 We woke up around 7.30am and had our breakfast of sandwiches which we bought from 7-11 near Pai Night Market last night before departing to Romance Pai.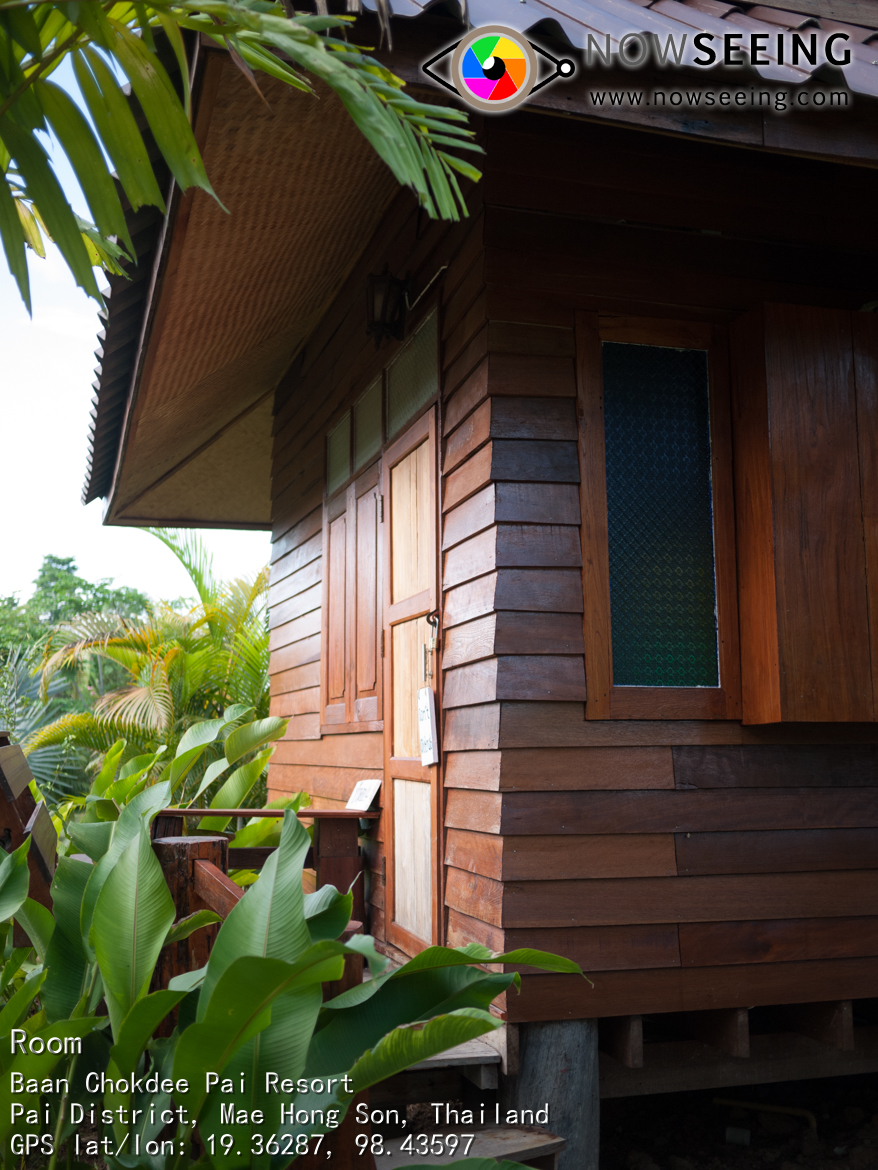 Before leaving, this is our "bungalow" in Baan Chokdee Pai Resort. We were staying here for only one night and would be departing to another hotel later. Our only night here was still not bad even though some might feel it a bit creepy due to quiet surrounding and dim room. It was just like "Kampung" (village) house back in Malaysia with addition of air-conditioner, TV, attached bathroom and big refrigerator.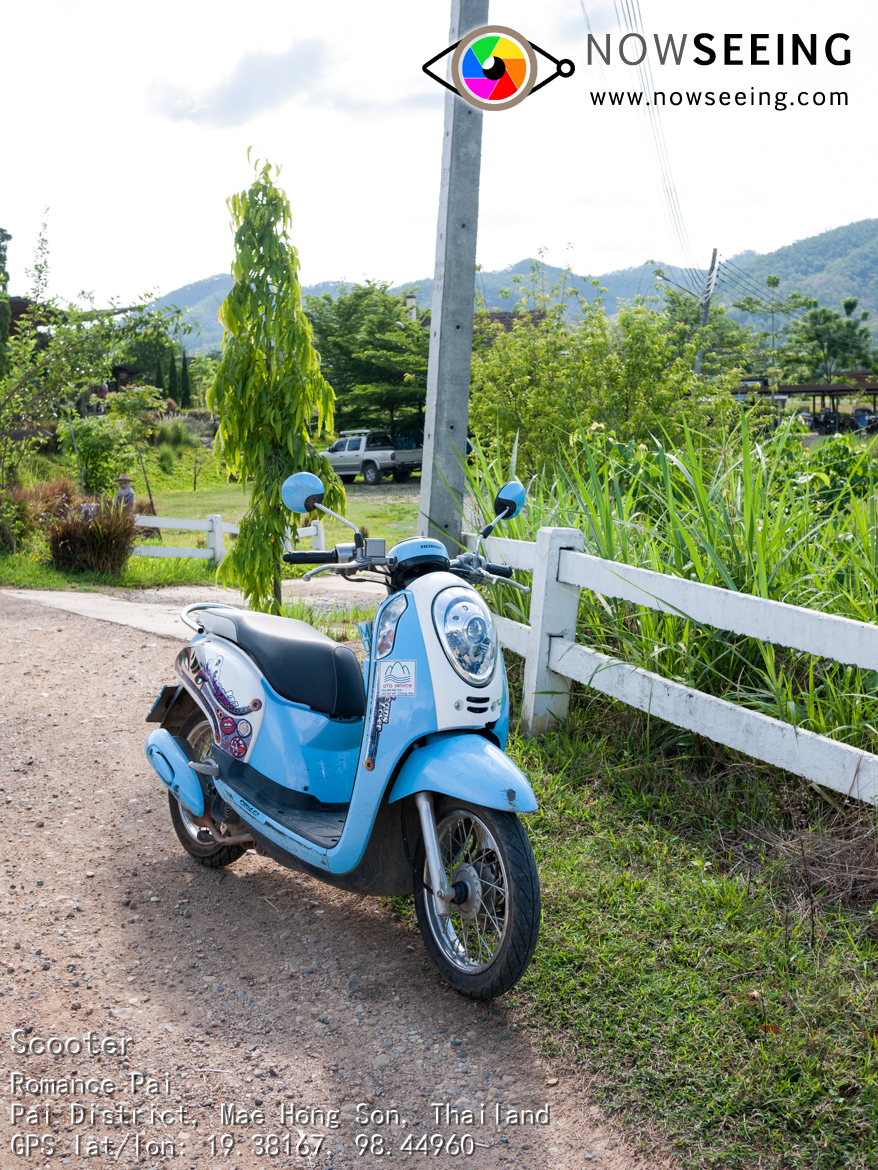 Riding on our "little lamb" for about 3.6km, we reached Romance Pai, which is also known as Romance Another Story.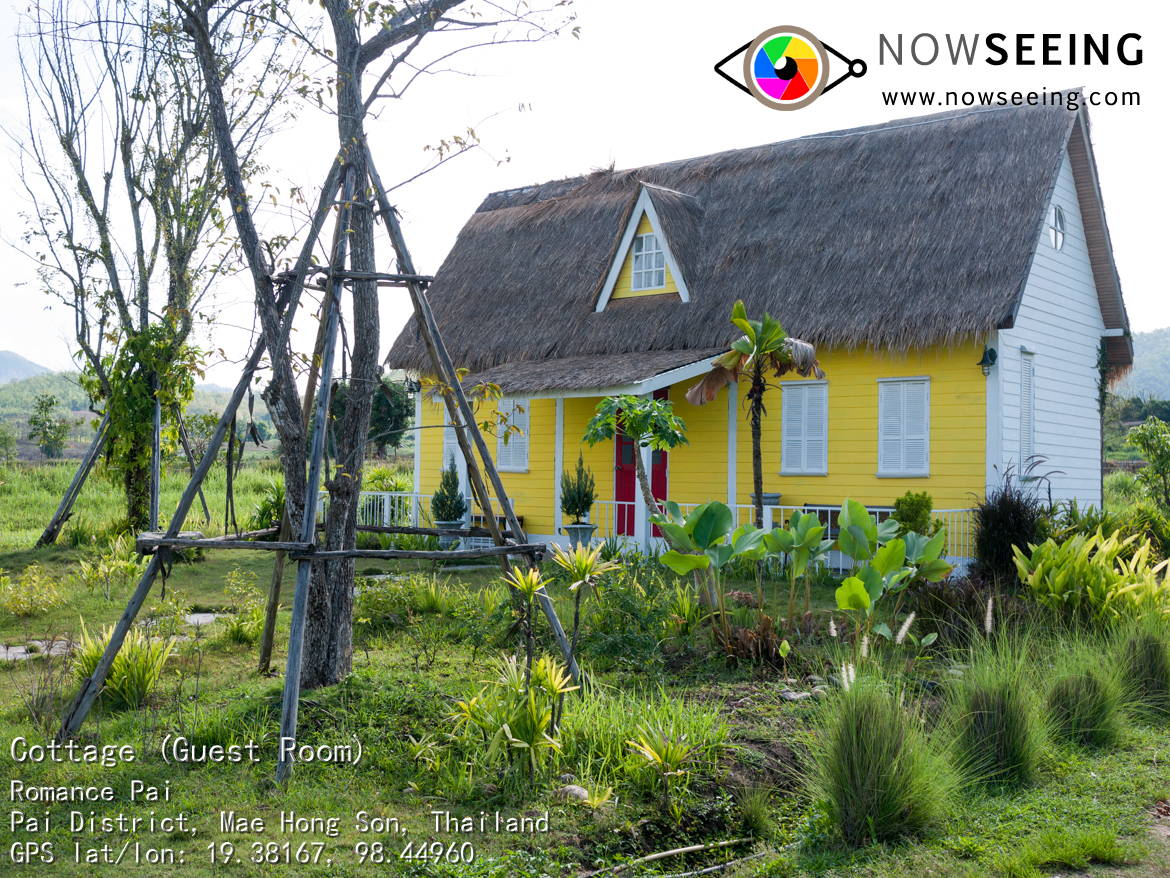 Romance Pai is another resort in Pai located in a farm estate and has one of the most beautiful sceneries. At the same time, it was also beyond our budget so we decided just to pay it a visit for their European-style cottages.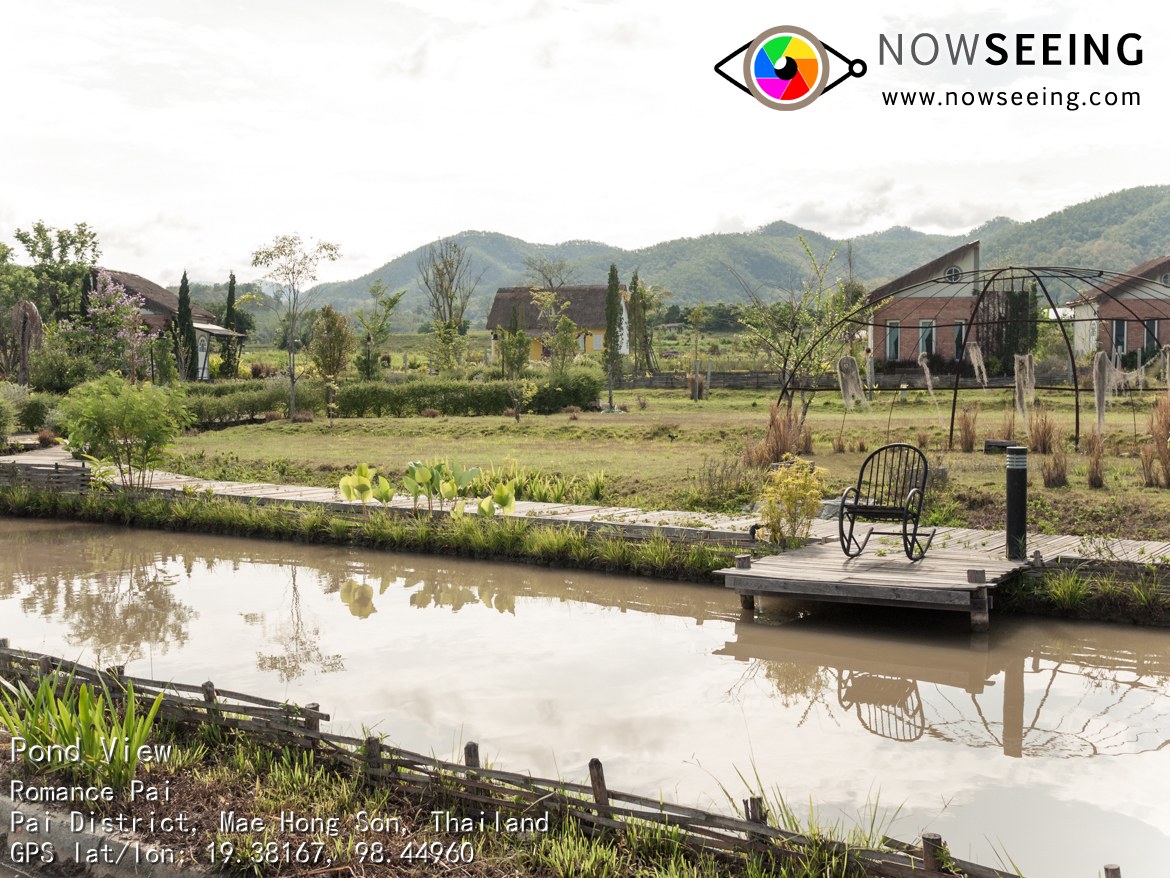 A receptionist greeted us when we arrived and we told her our intention to walk around. She was OK with it and reminded us to remain quiet as some guests were still sleeping.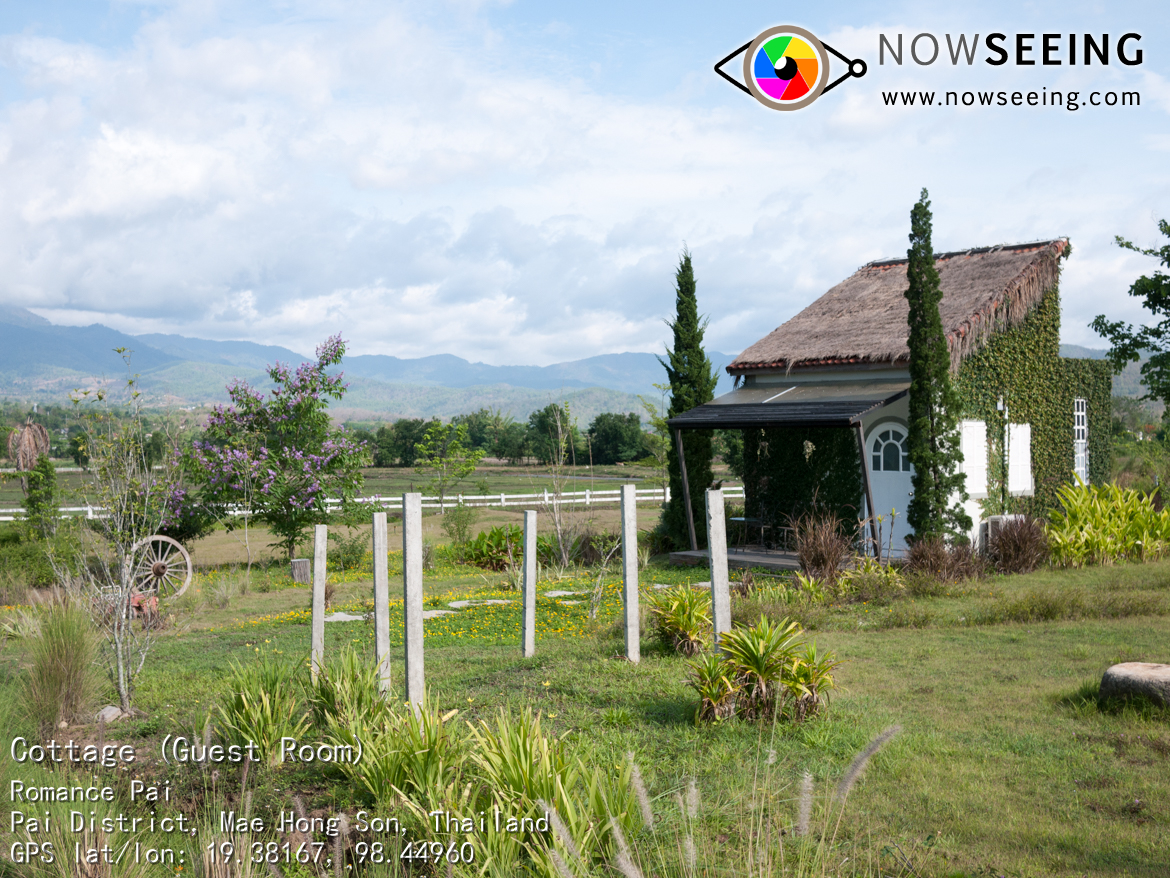 The view was simply astonishing.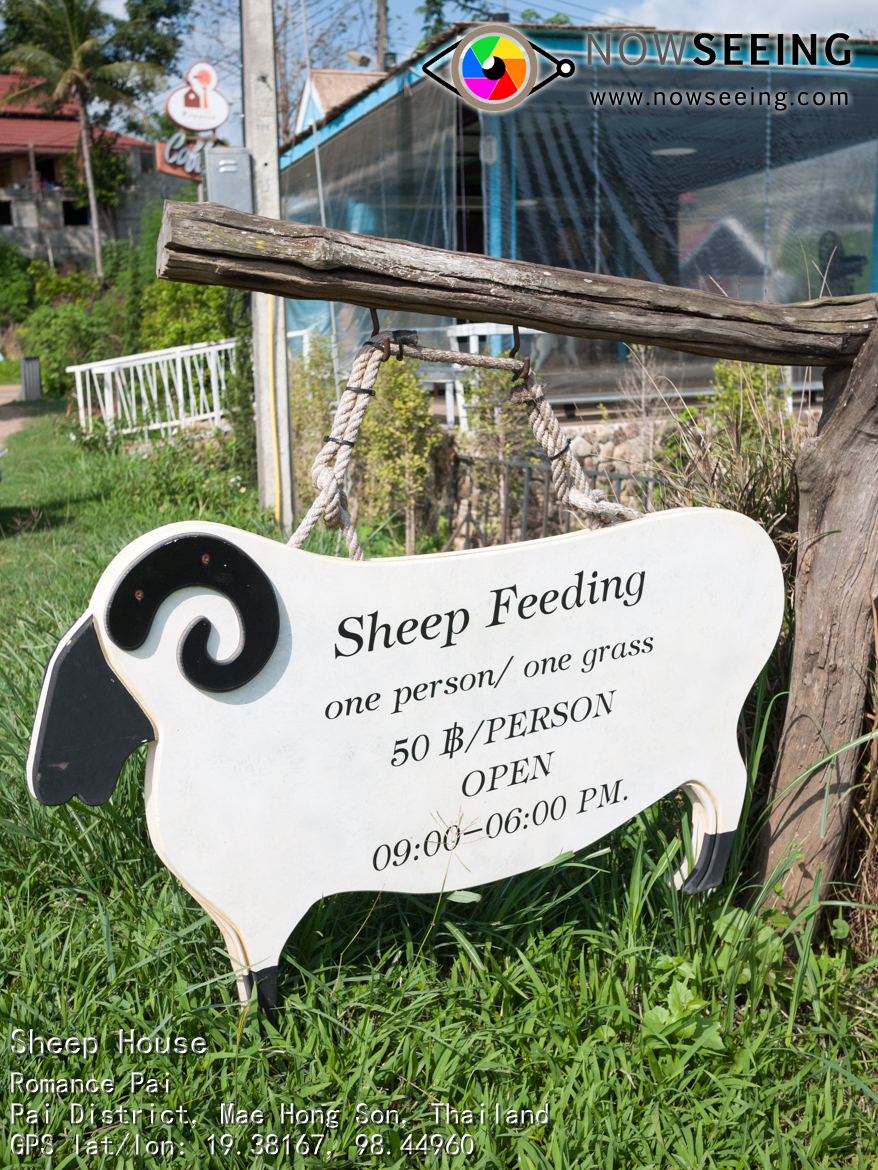 We then stopped by a sheep house in front of Romance Pai. It was supposed to be opened at 9am (until 6pm) but the gate remained closed when we reached there at 9.10am. Admission fee is 50 THB per person with grass given for sheep feeding.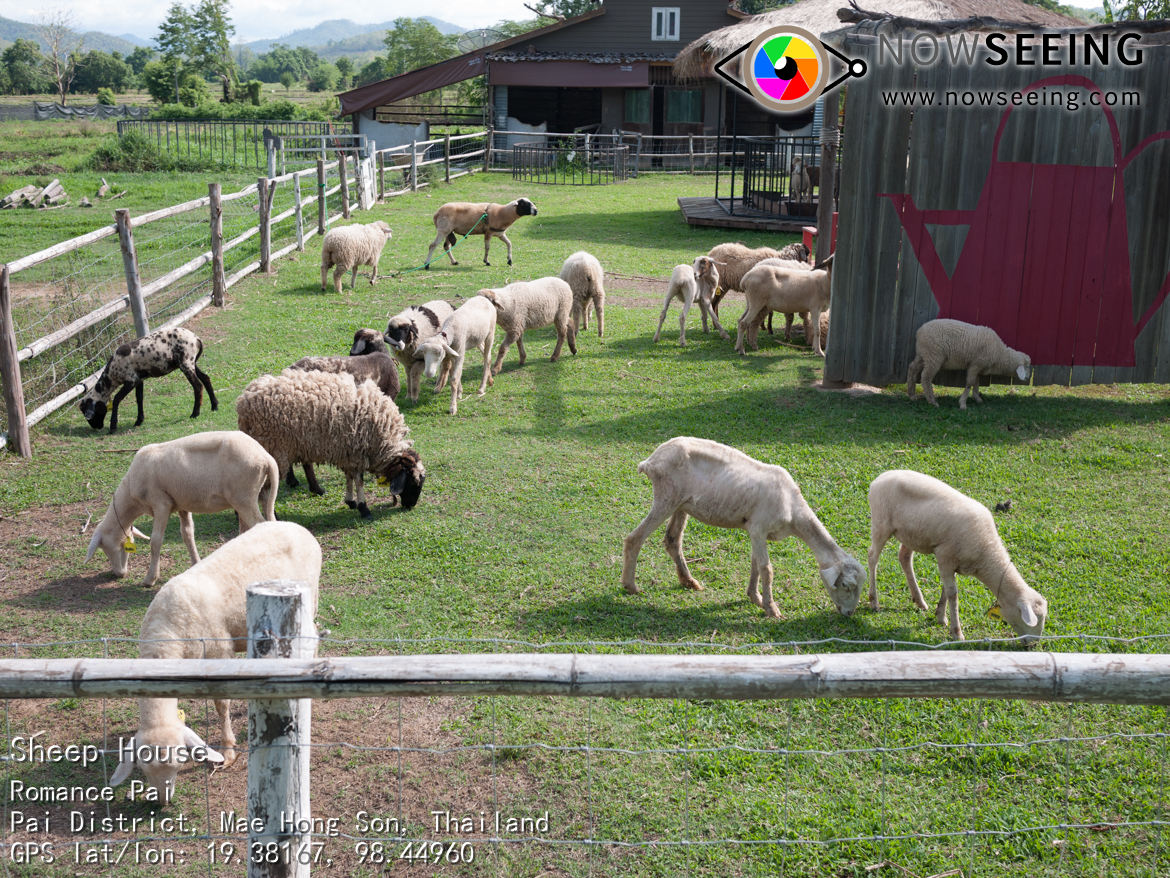 Few workers were inside but none of them entertained us. We took some photos outside the fence before leaving the premise.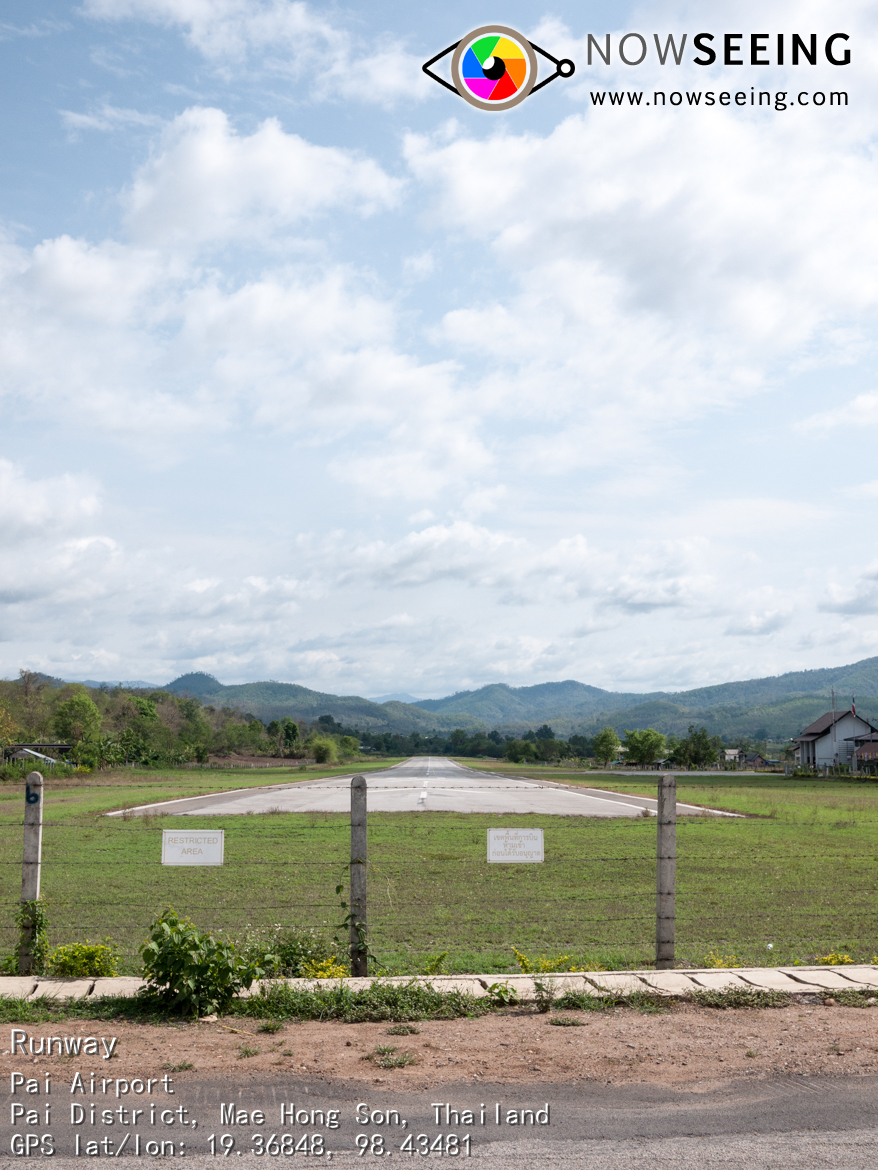 One point worth taking note is that other than road transportation, you can also reach Pai by air, and yes, there is an airport in Pai. The only airline reaching here is Kan Air and usually has only one flight per day using Cessna Grand Caravan 208B aircraft. Price is about 1890 THB for one way.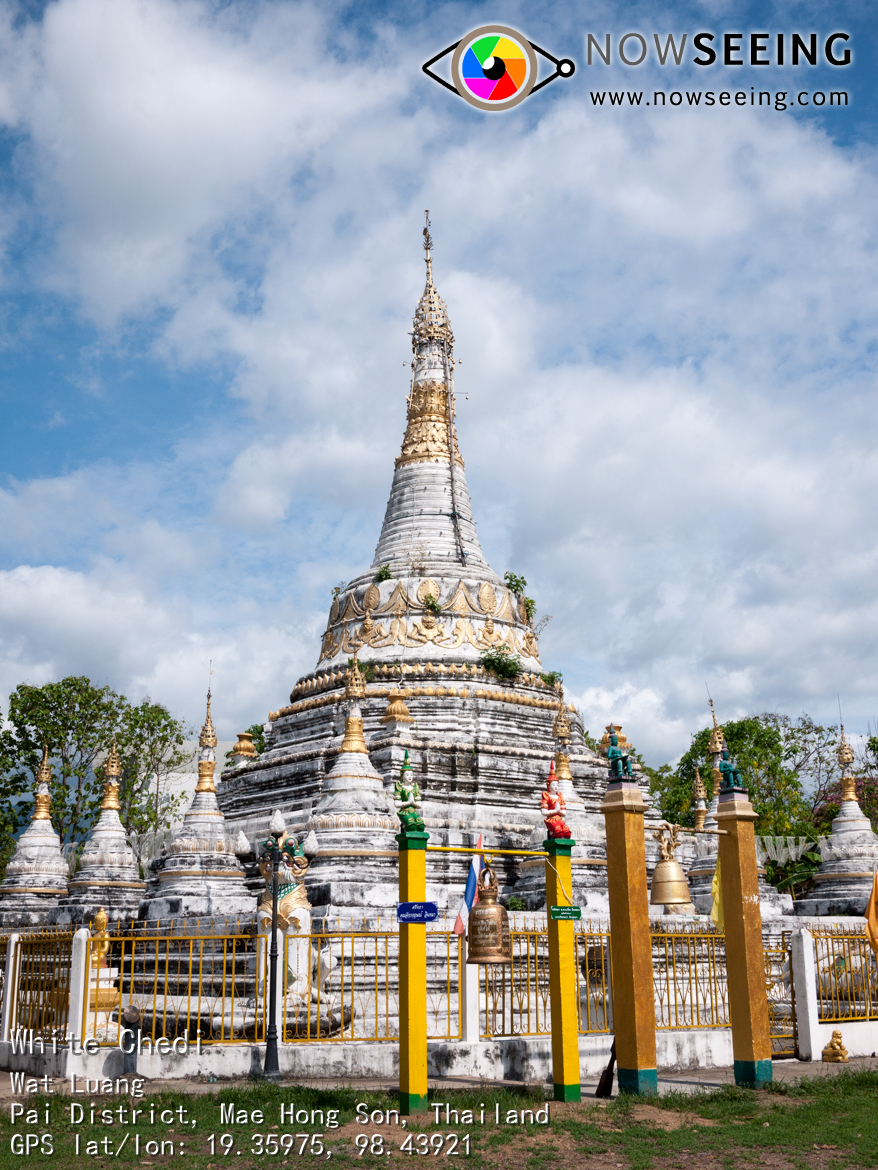 Reaching Pai Town again, we stopped by Wat Luang which was built in year 1803 for a visit.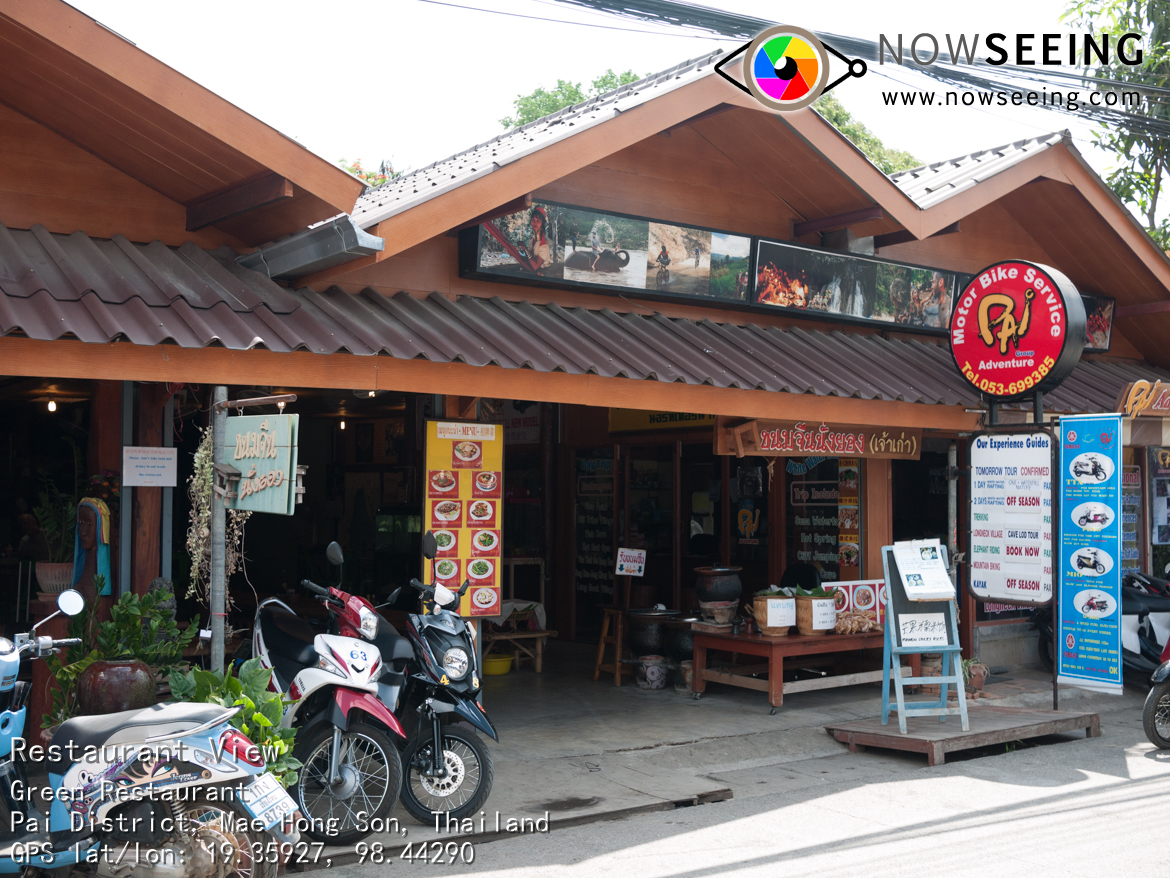 Around 10am, we had our brunch at Green Restaurant nearby Aya Bike Service Center.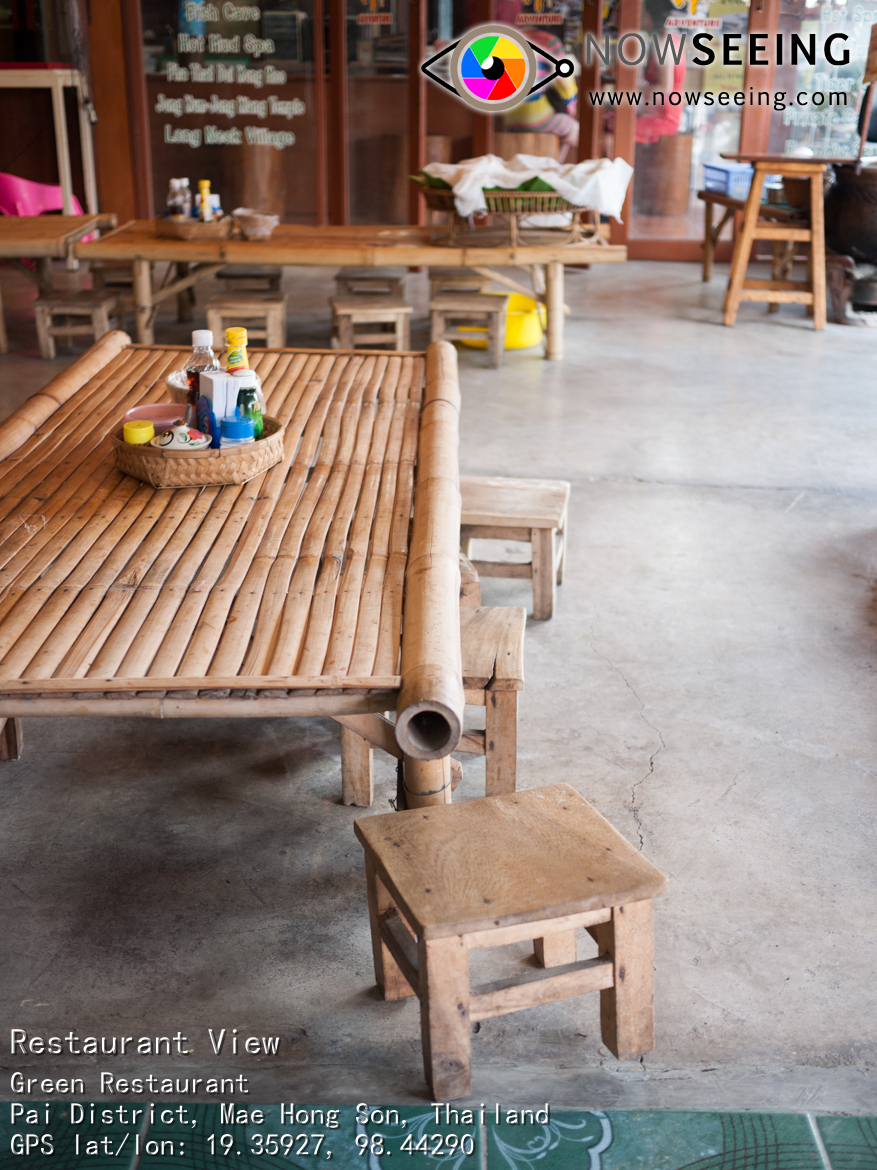 A signature item about this restaurant is their mini stools. We ended up sitting on normal chairs as the mini stools were not so comfortable to dine with.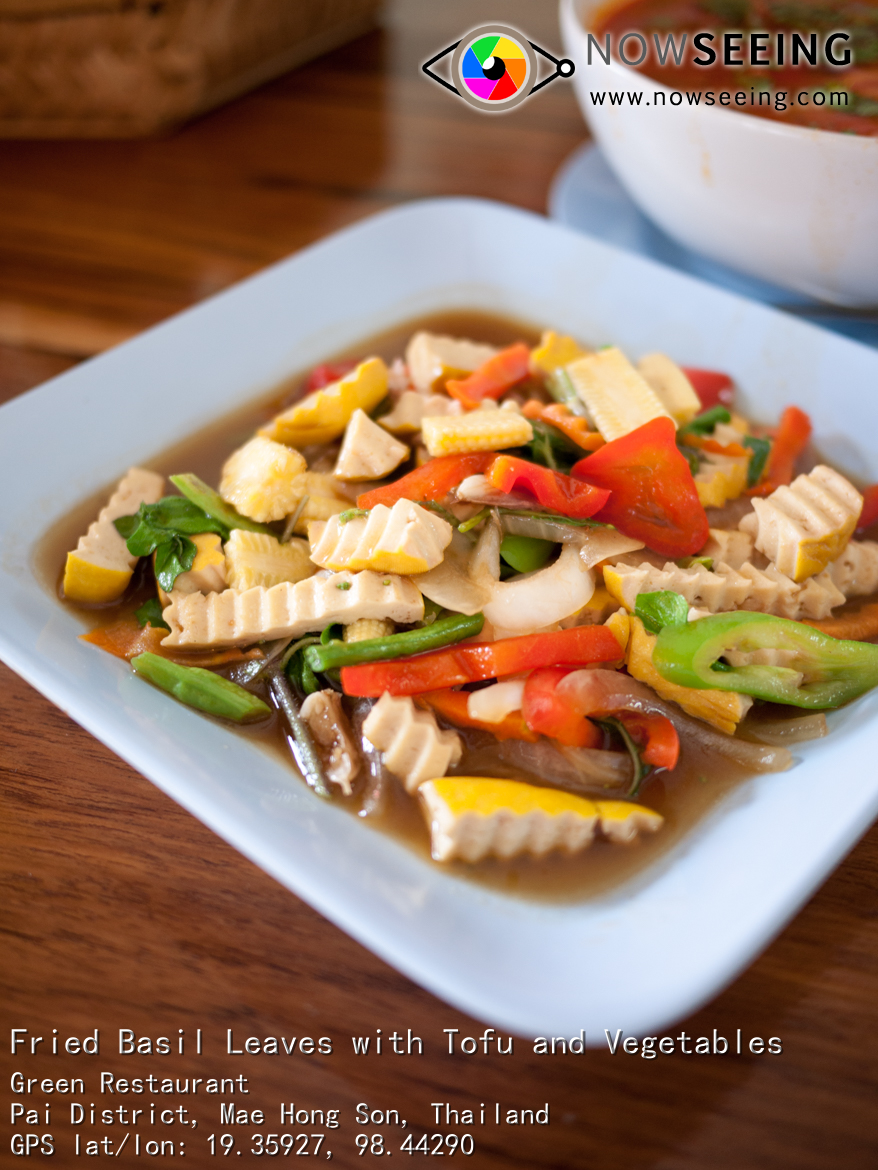 Green Restaurant also serves English Breakfast and of course we are not coming all the way from Malaysia for it. We missed vegetables so we ordered Fried Basil Leaves with Tofu and Vegetables (40 THB), Fried Morning Glory (50 THB) and Tom Yam Kung (100 THB).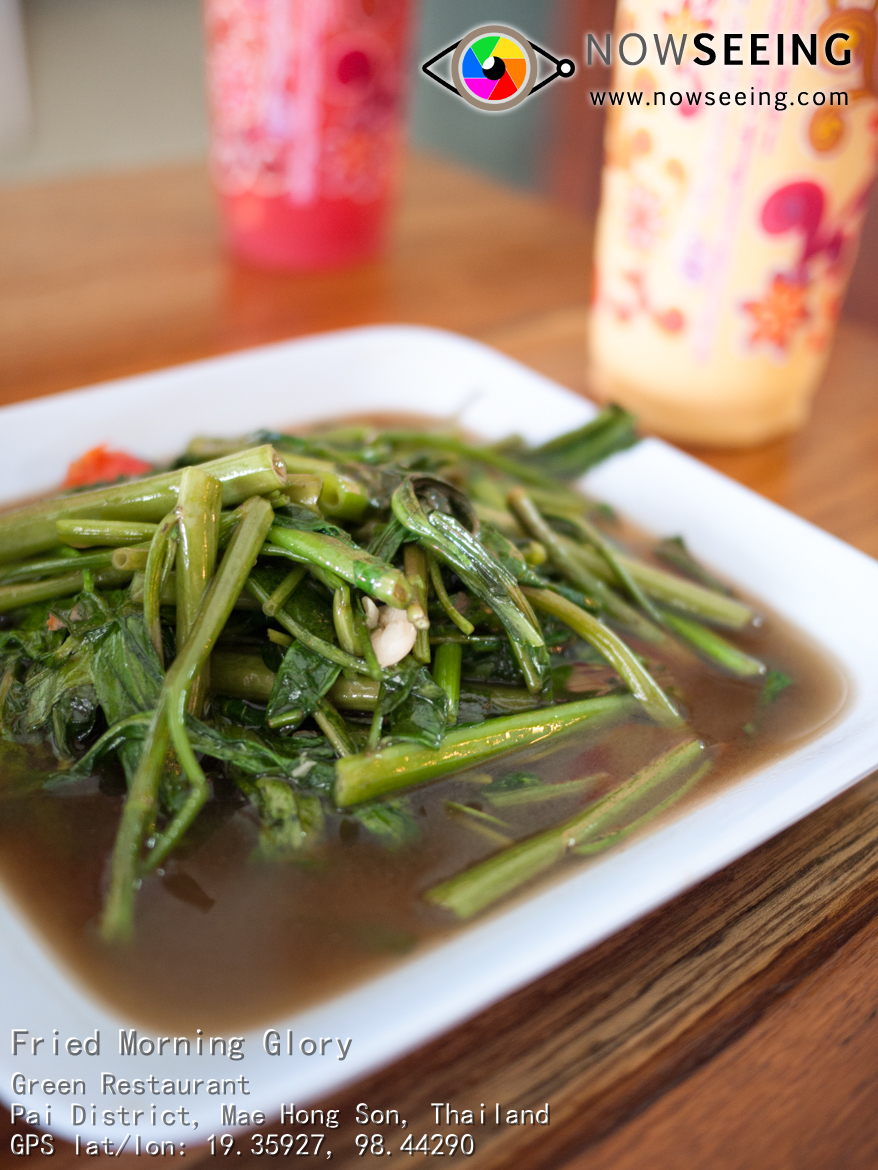 Note that in Thailand, there is no Kangkung and if you tell the host you want Kangkung, you will see big question mark on his/her head.. Kangkung is a Malay word and in English, it is called Morning Glory.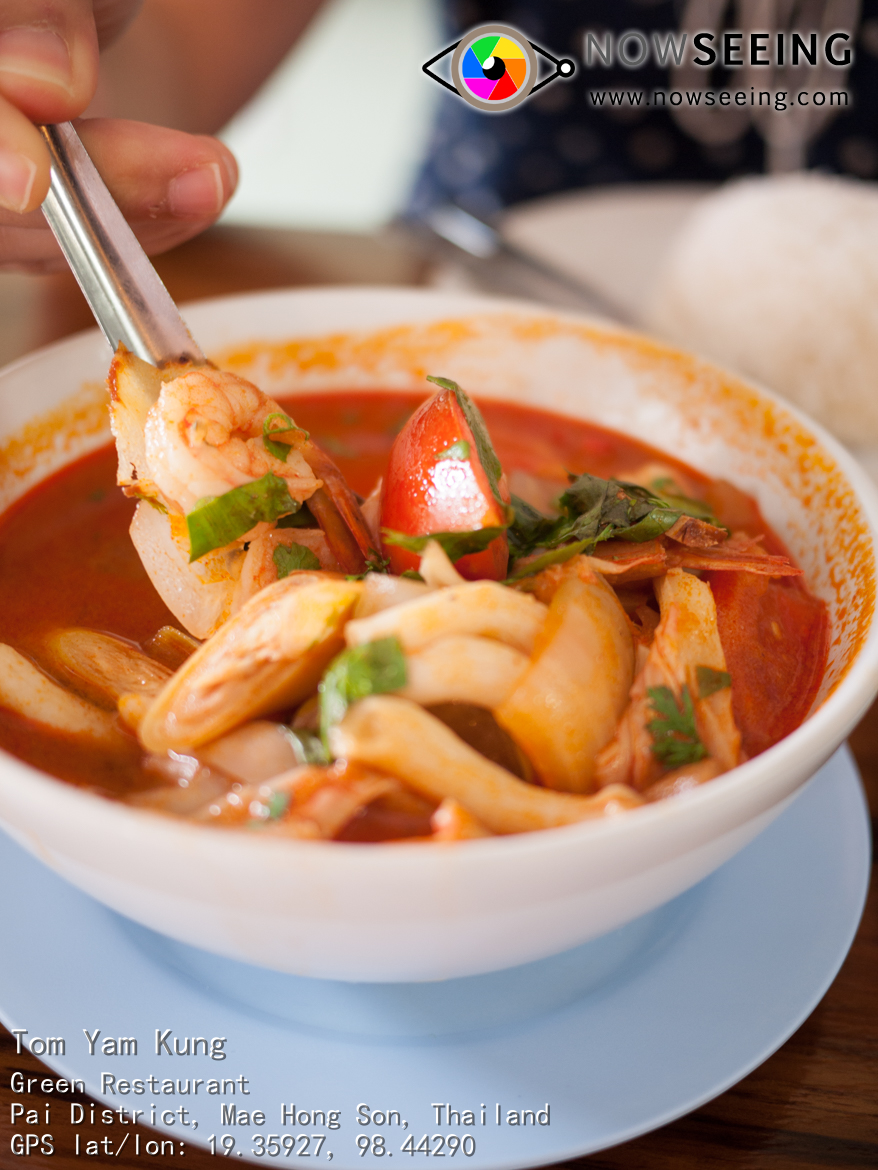 Do not worry about the menu as it is written in both English and Chinese. If dishes with rice is not your type, Green Restaurant also serves noodle as well in which we will probably try it for next visit.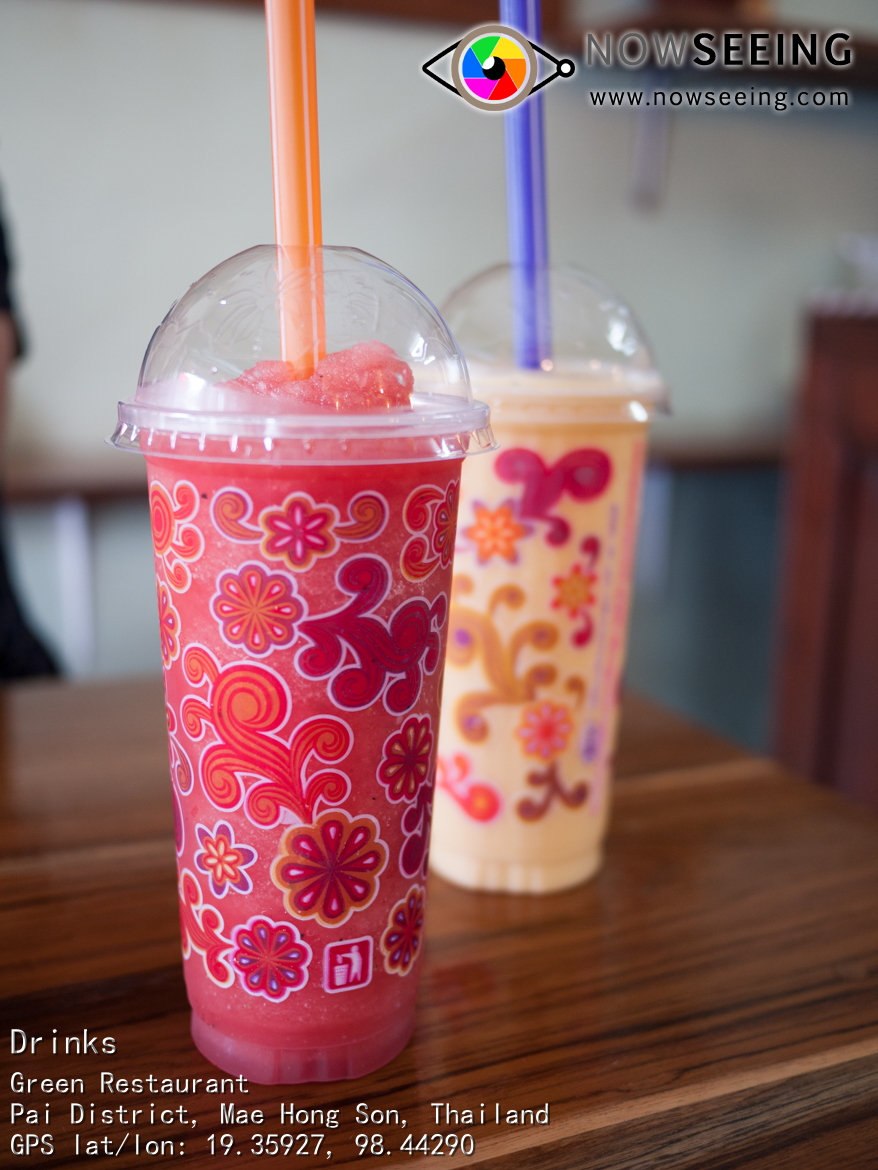 We ended our brunch with a tall glass of Watermelon Shake (30 THB) and Mango with Yogurt Shake (40 THB).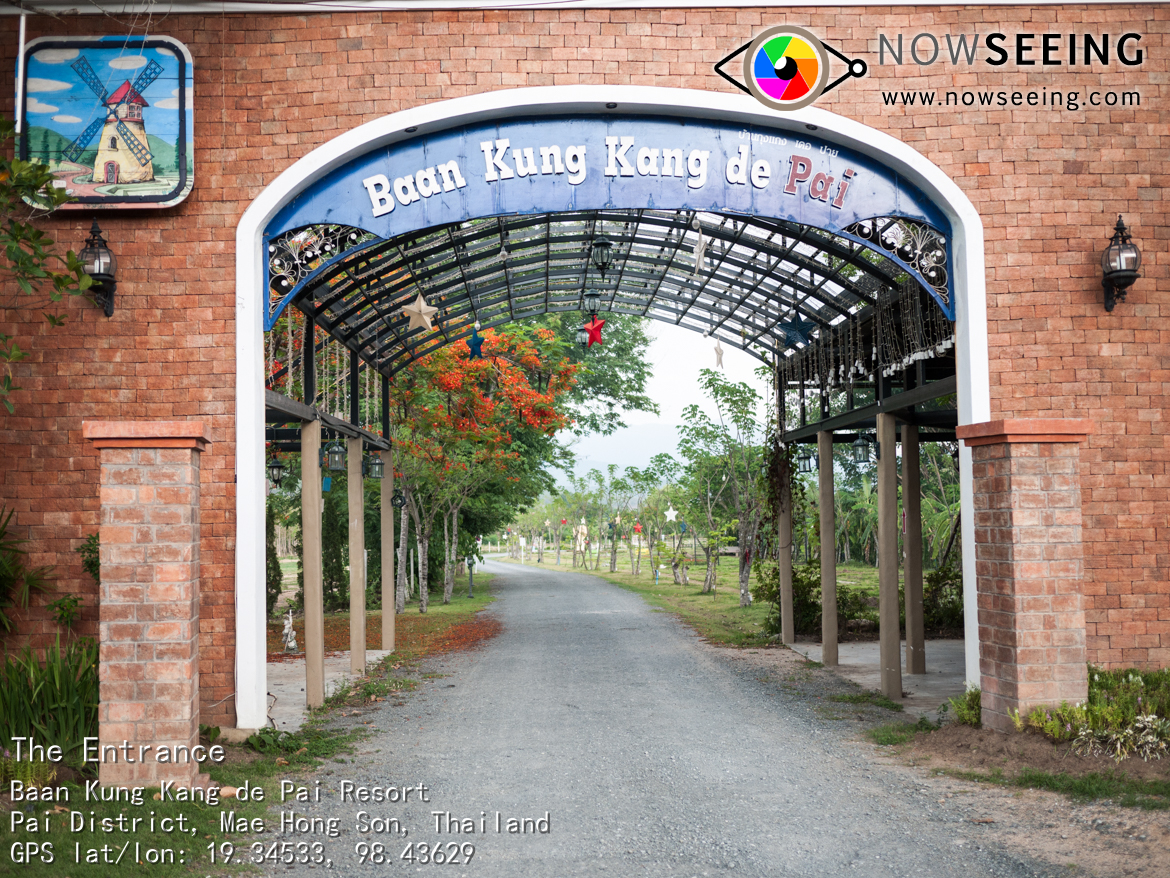 After the brunch, it was time to say goodbye to Baan Chokdee Pai Resort and check in at our new hotel - Baan Kung Kang de Pai Resort for another night (RM117 per night). Since yesterday, we were pretty worry about our big luggage which we brought along from Chiang Mai. Definitely it would be very difficult for us to move it to the new hotel which was 2.7km south from Baan Chokdee. We made a call to Baan Kung Kang de Pai. To our surprise, the receptionist spoke fluent Mandarin and without any delay, they sent a pickup truck to pick up our luggage at Baan Chokdee and we followed their way using our "little lamb".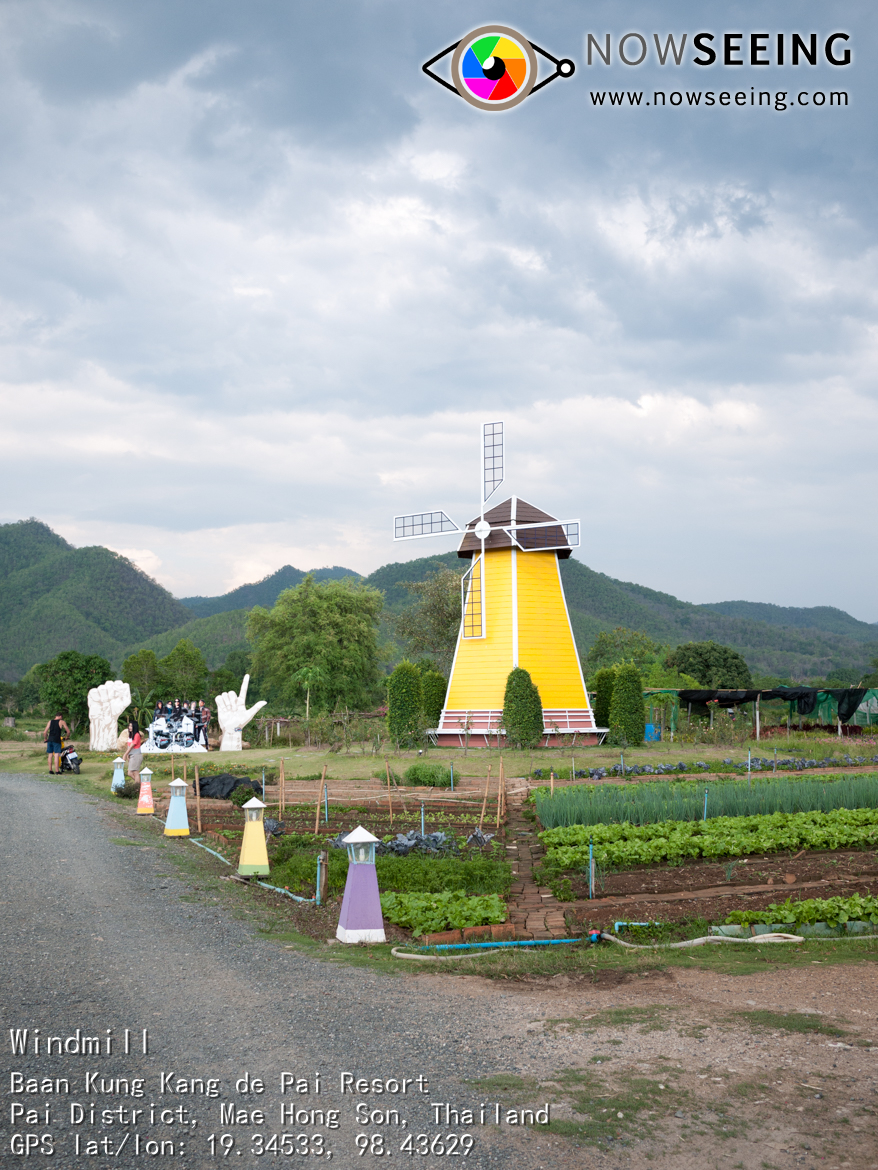 The moment we walked into the gate, we were greeted by a big piece of wonderland in which we regretted that we didn't stay here during our first night in Pai. At the far end is the signature windmill with a vegetable farm next to it.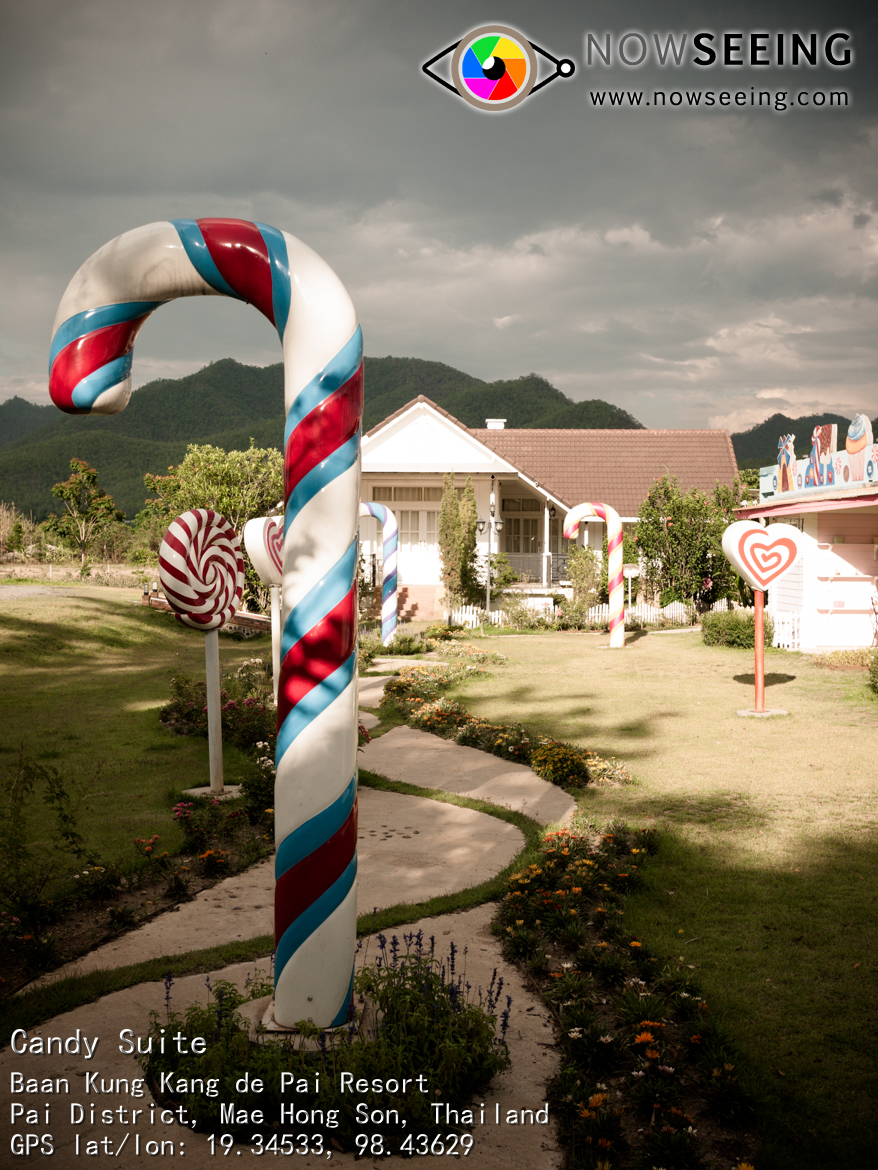 On the right is Candy Suite. One of them was our room.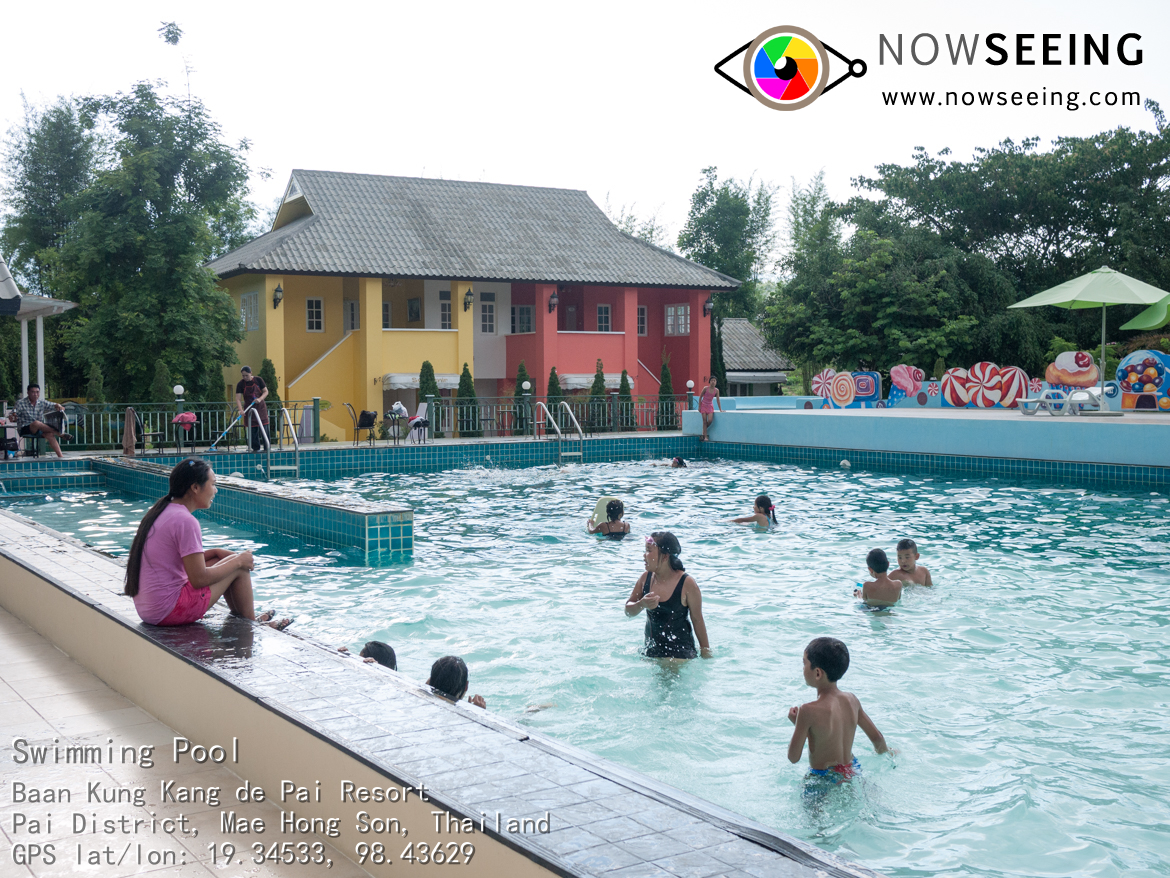 On top of the Candy Suite is a swimming pool crowded with local children since it was Saturday.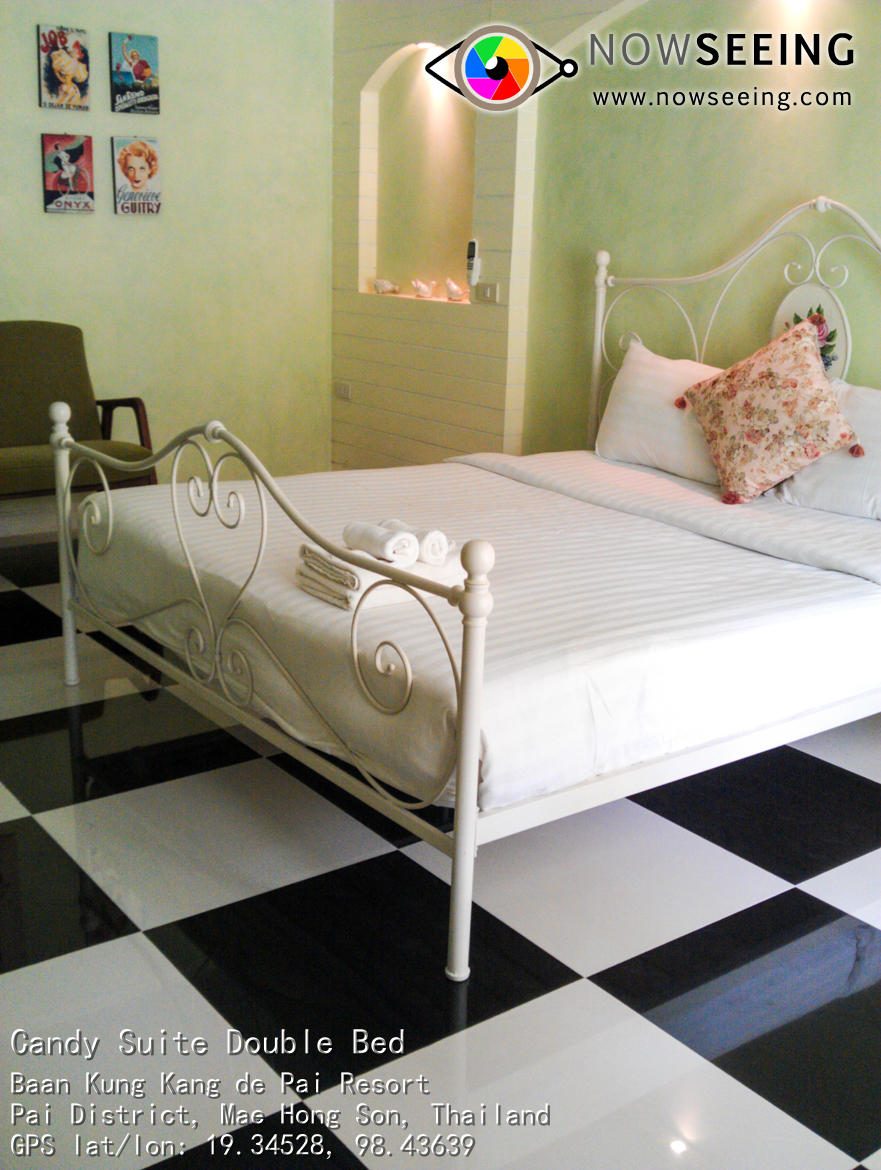 Our spacious room was so lovely with checkerbox tiles, minifigures at the entrance and inside the room, and a sofa next to the double bed.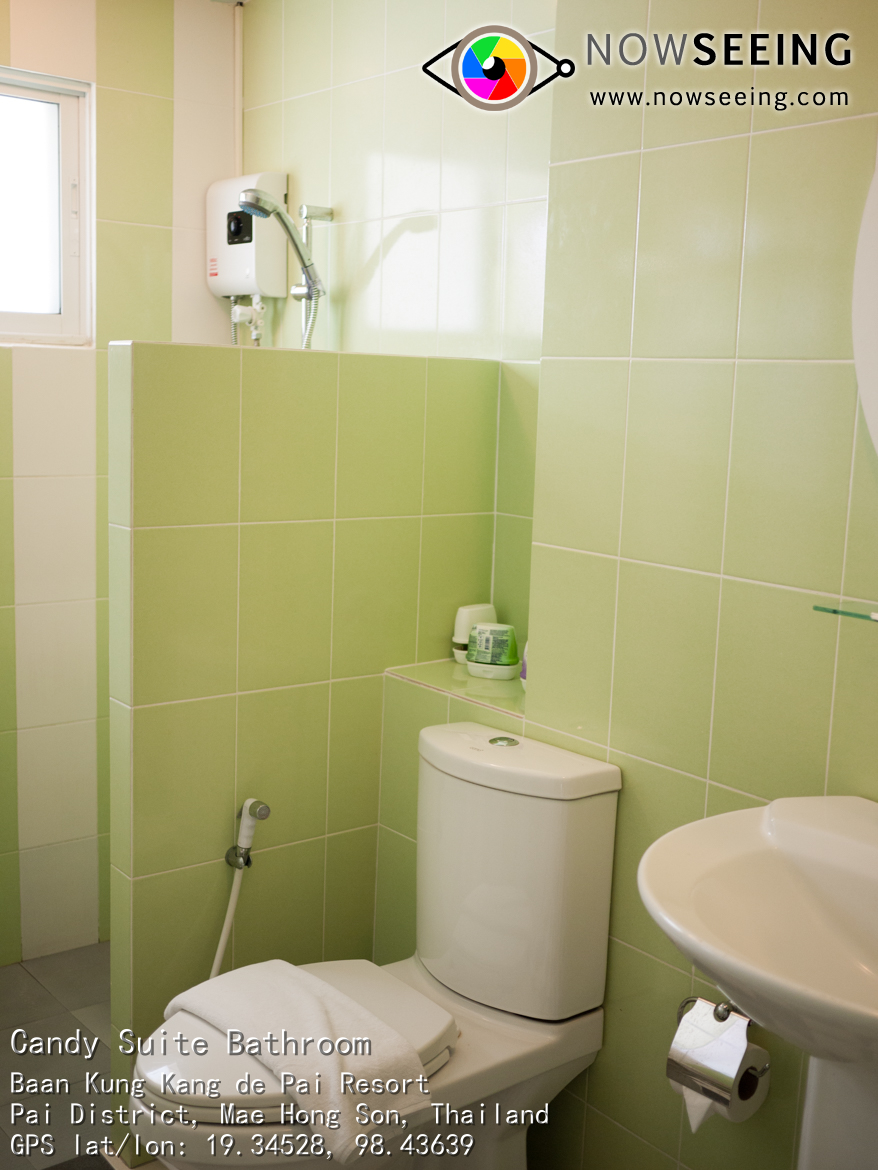 The bathroom was not bad as well with tiled floor and hot shower.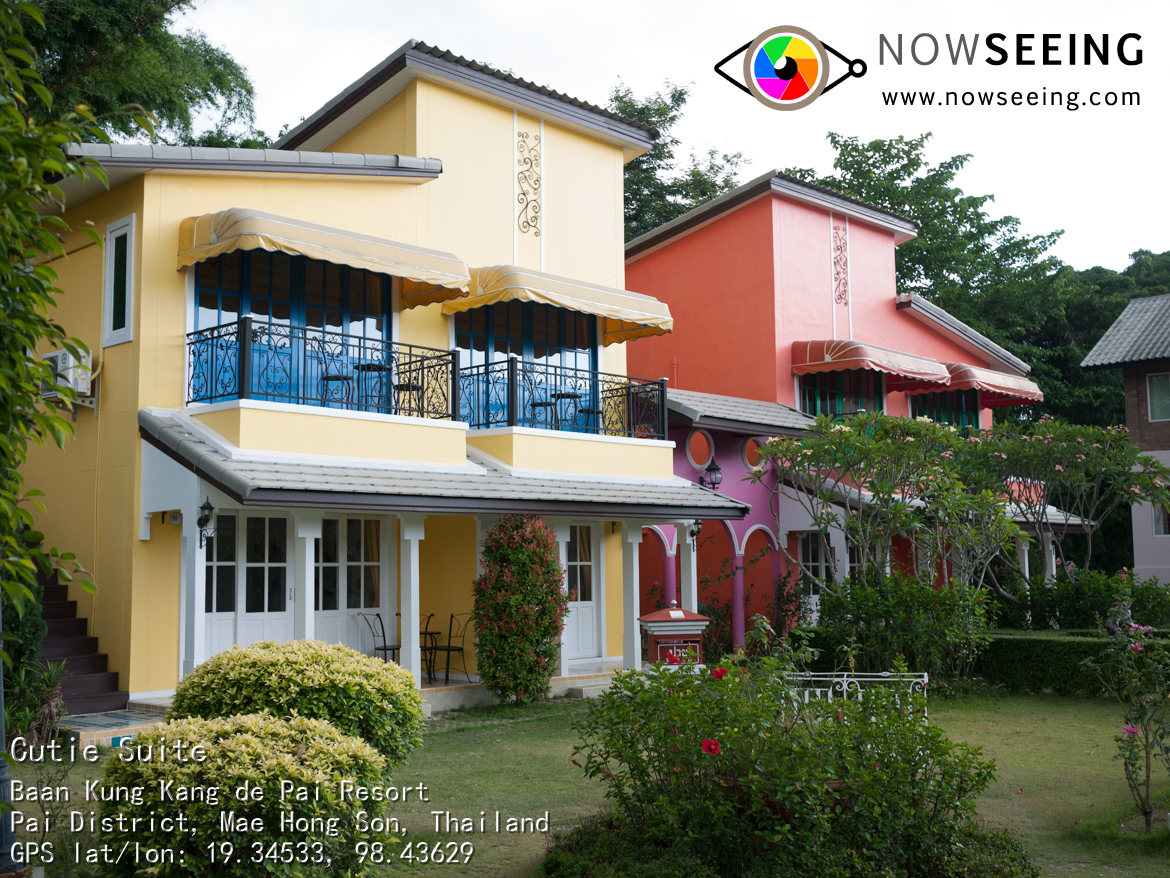 Also available are Cutie Suite (figure above), Honey Suite, and Lovely Suite.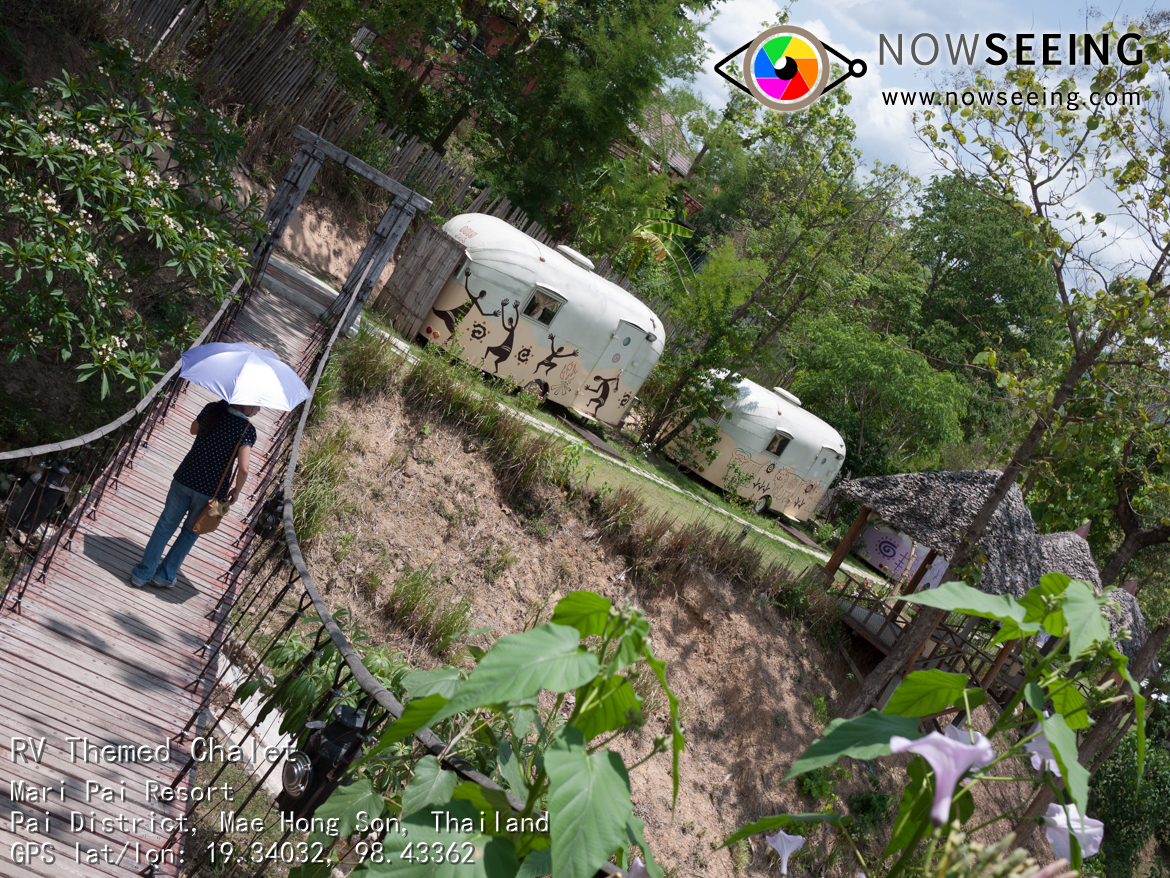 We should just spend a day relaxing here but too bad we had to continue our journey to visit other resorts. Our first stop was Mari Pai Resort, which was about 1.6km away from Baan Kung Kang de Pai Resort. The signatures of this resort were RV chalets and The Big Tree.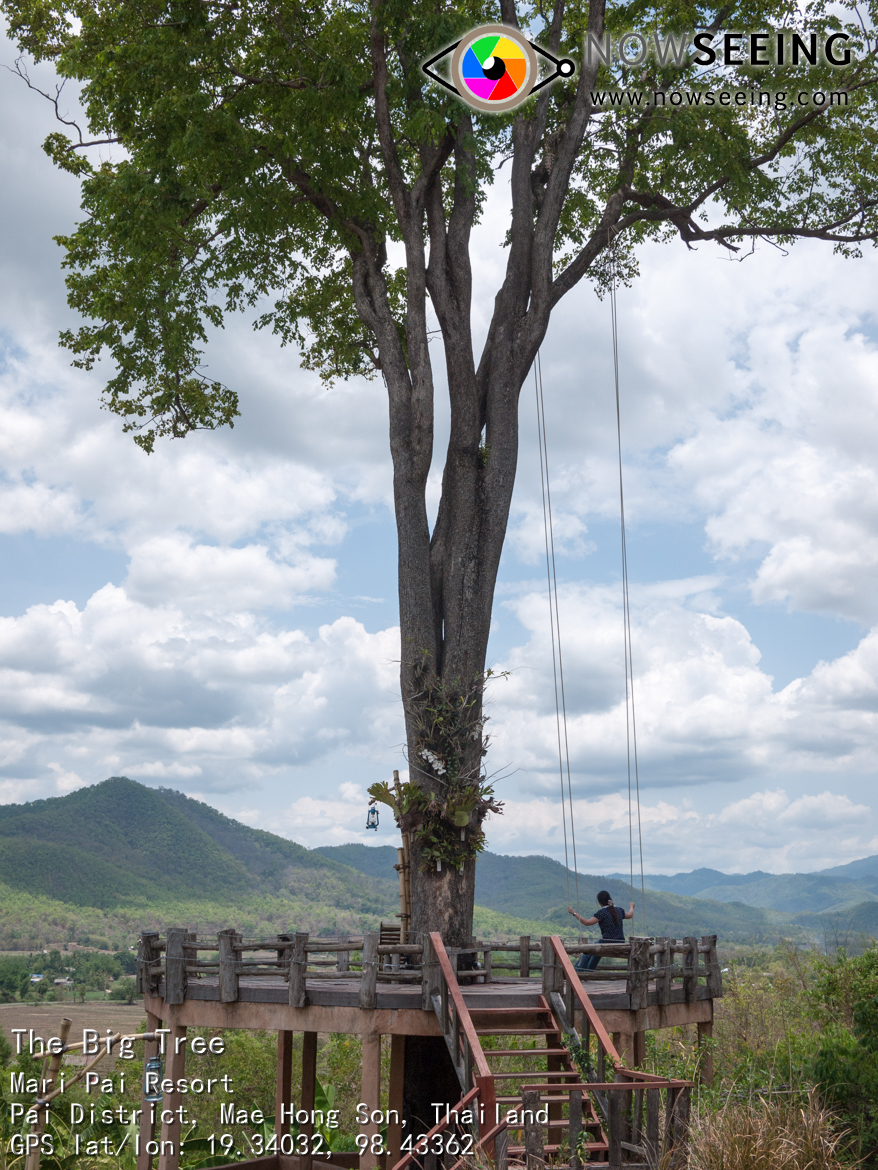 A swing is attached to The Big Tree for visitors to have a panorama view on Pai valley. Mari Pai Resort is another resort worth considering.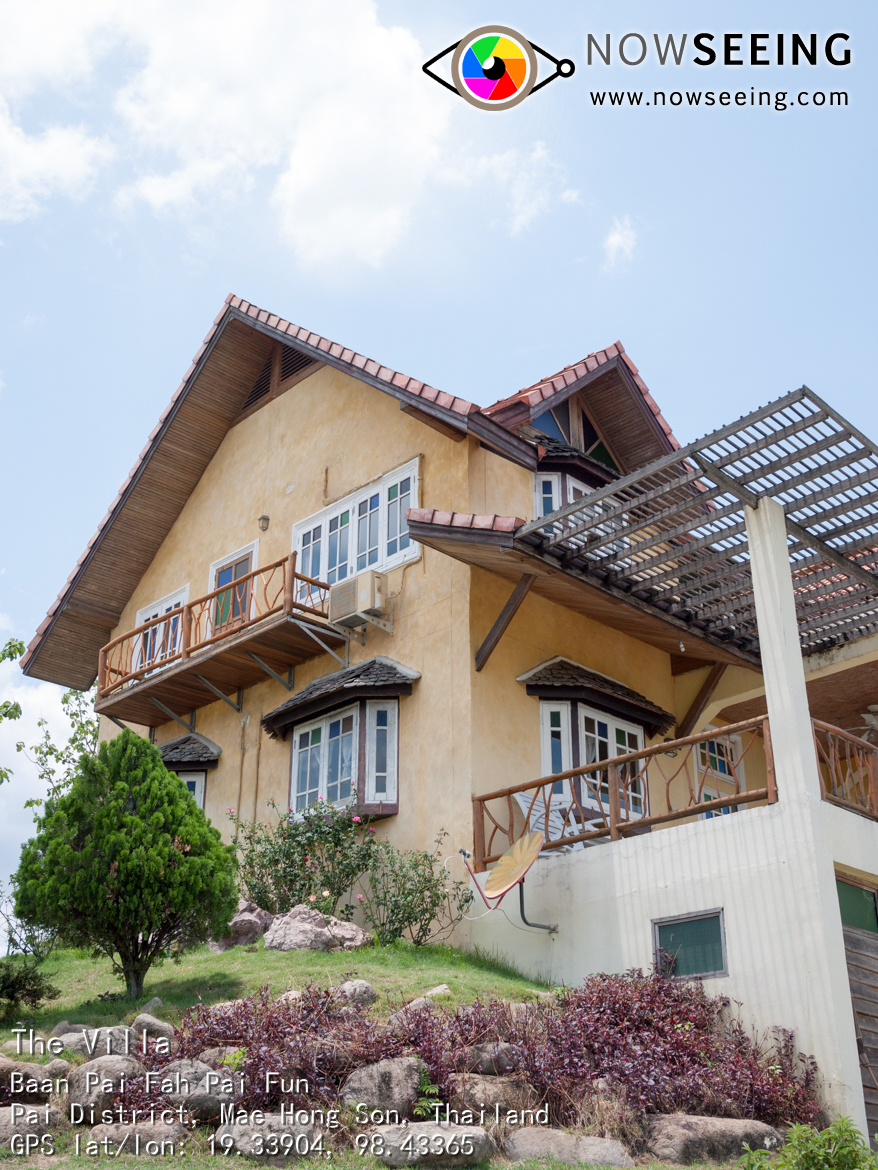 Not far from here is another hotel - Baan Pai Fah Pai Fun, a French villa with 3 bedrooms and is only for one family. This is another photoshooting spot.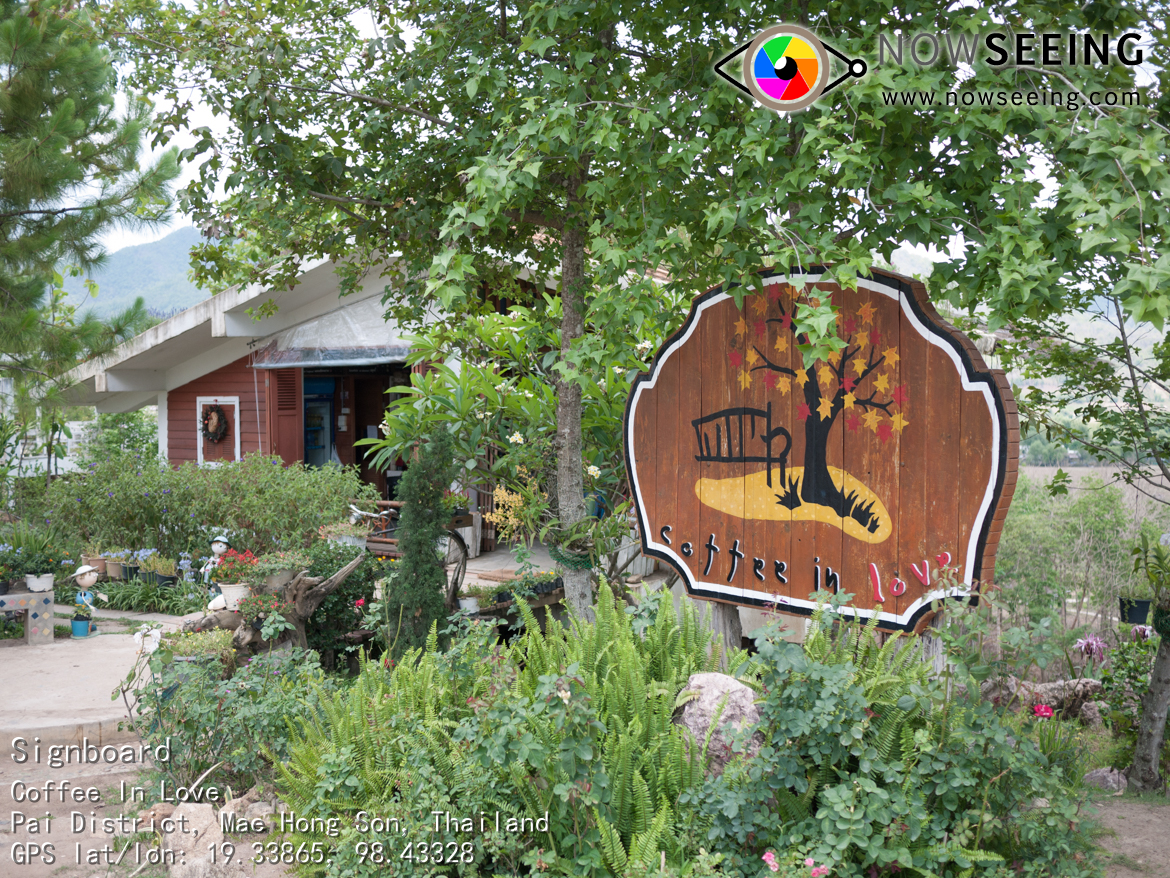 Next to this French villa is Coffee in Love - a cafe and another photoshooting spot. The coffee, however, was average according to some reviewers.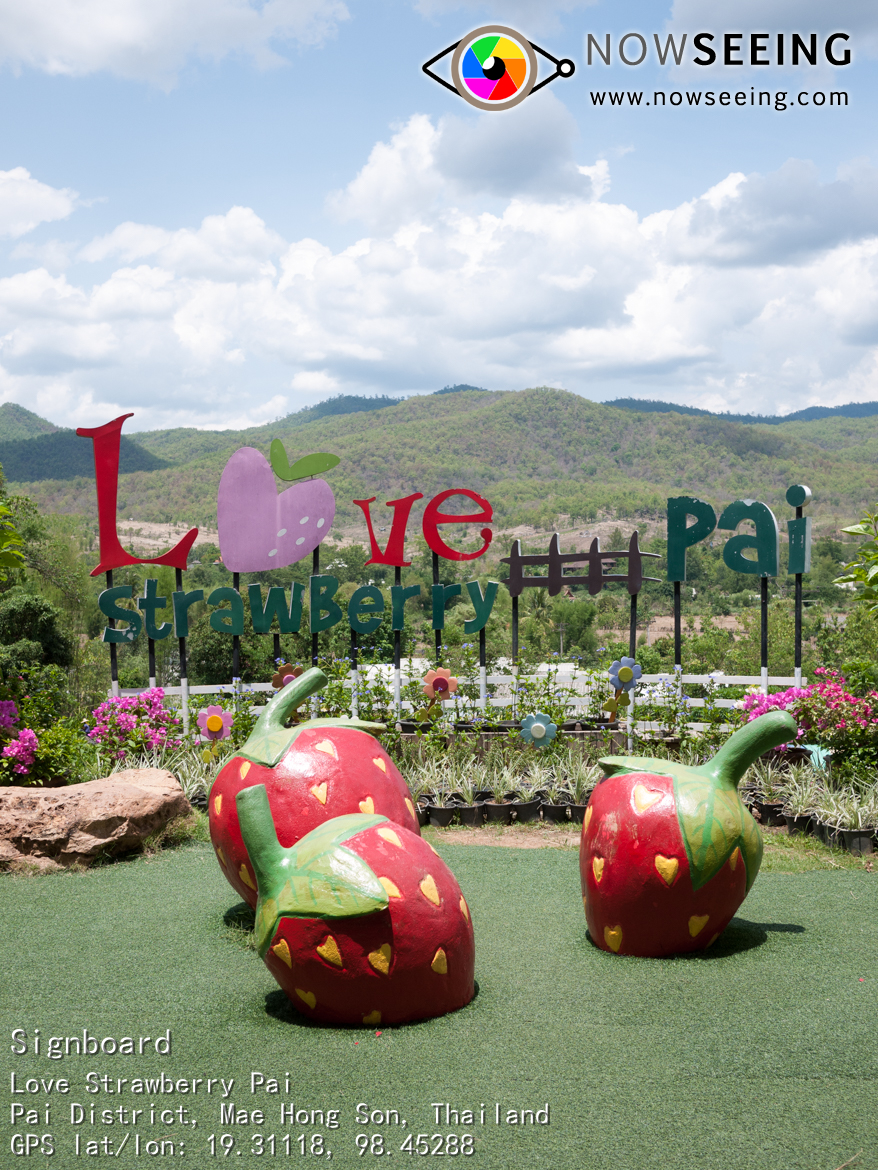 We then continue another 4.5km to Love Strawberry Pai - a strawberry product store.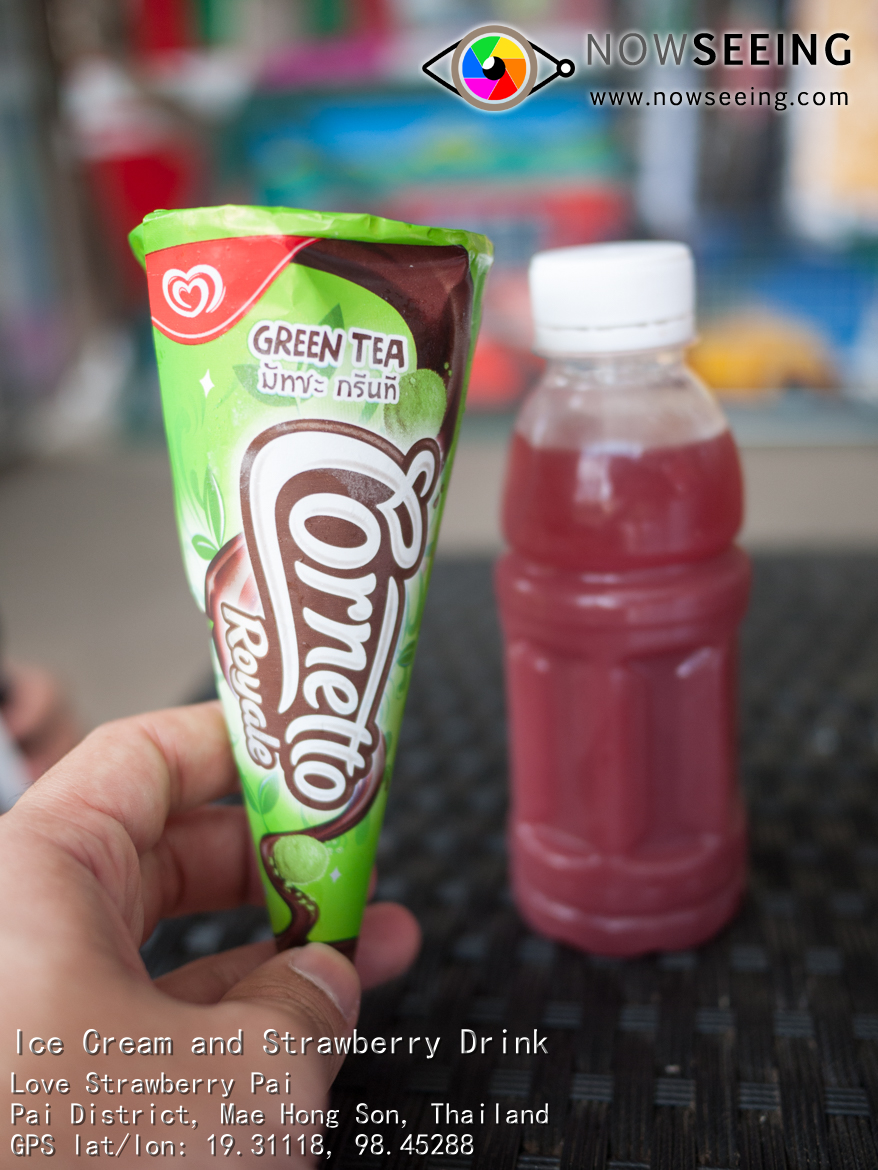 Feeling tired due to hot weather, we rested for a while here with a bottle of strawberry juice and a Green Tea Cornetto.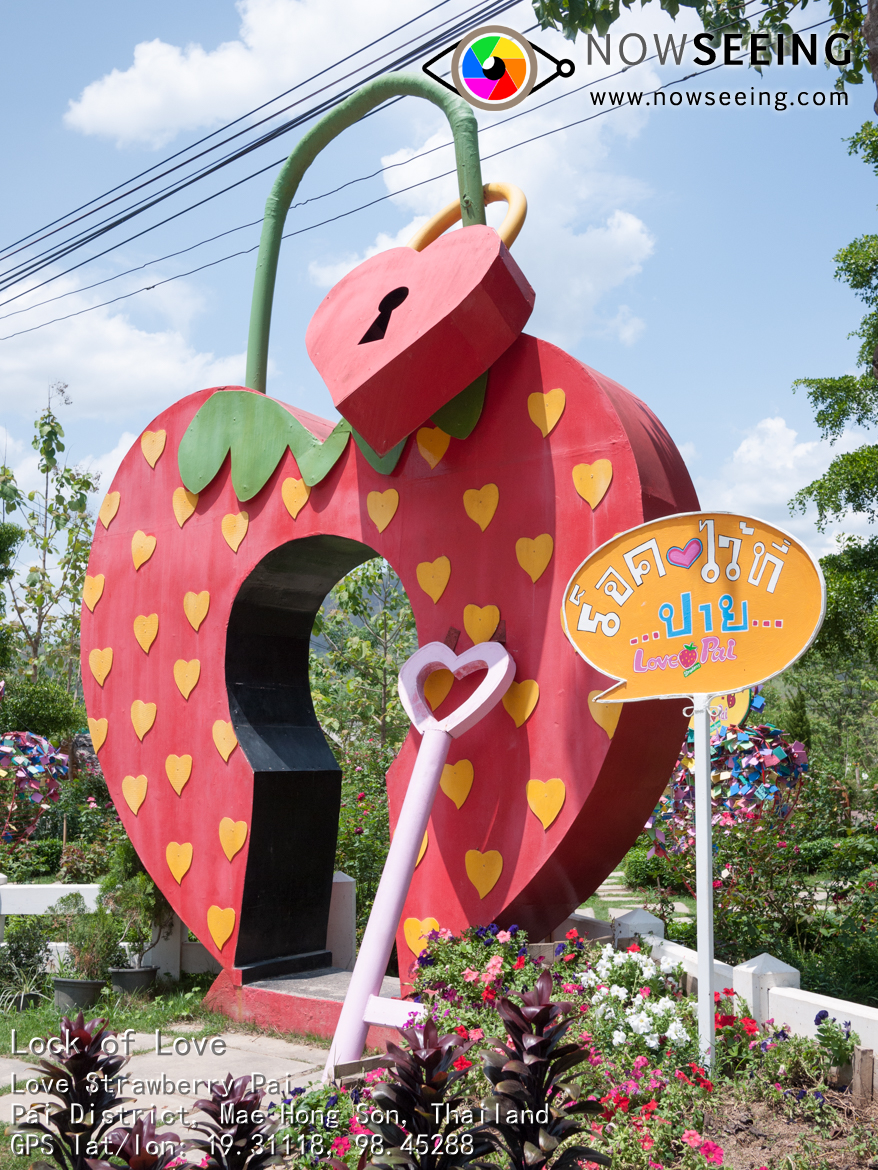 Also available here is the Lock of Love, in which you can write your own note on a rubber card, attach it to a padlock, and lock it the Lock of Love Garden.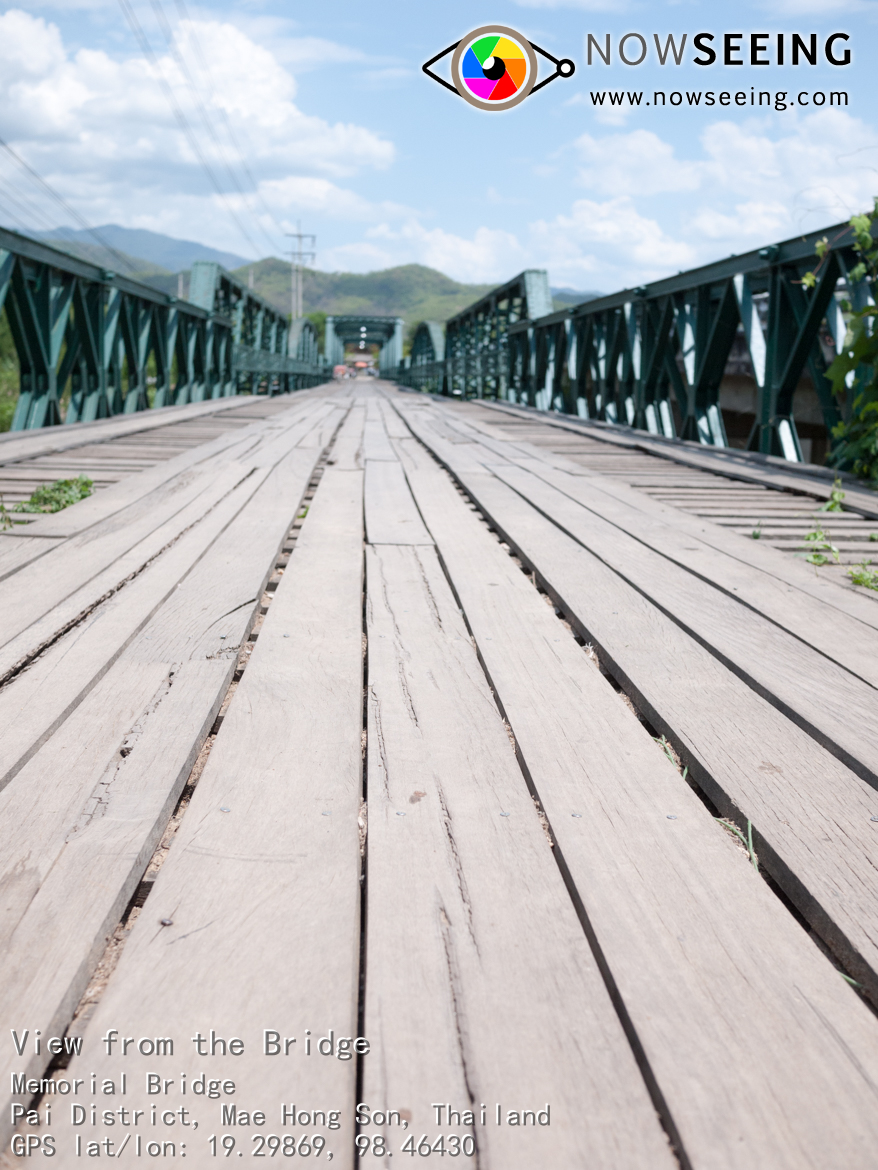 We then continued 2.2km to the furthest destination of the day - Memorial Bridge. It was a wooden bridge builded after World War II and was being used for transportation until the government builded a concrete bridge next to it.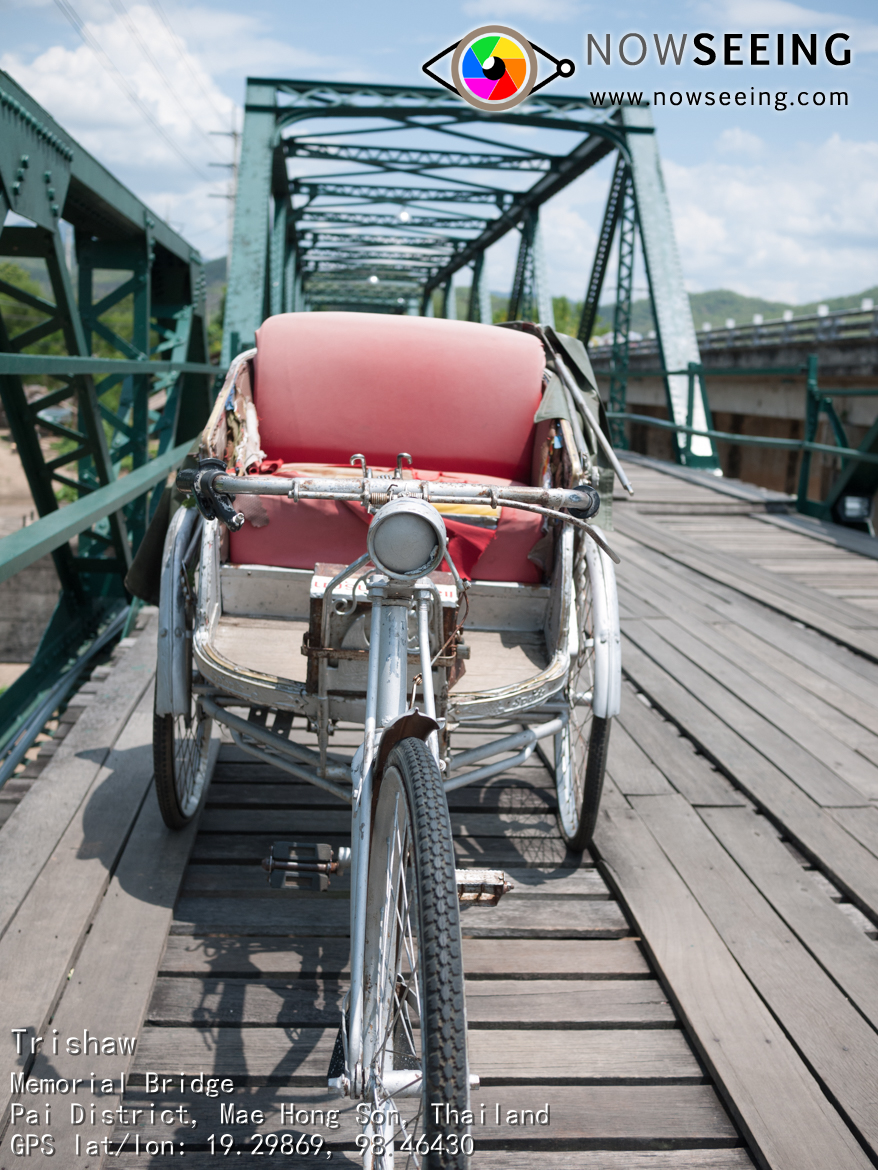 This wooden bridge is no longer in used and on the bridge is a trishaw for display, which is believe to be one of early public transport.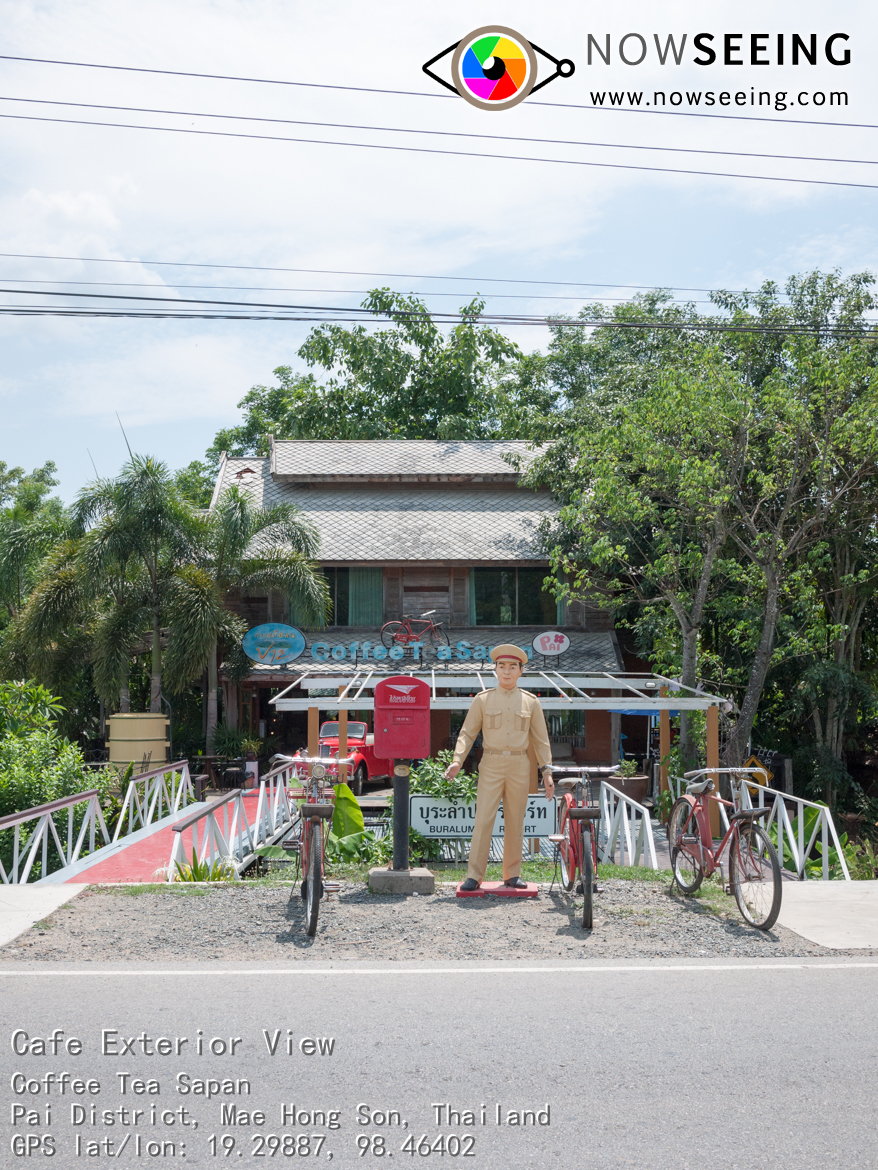 Feeling tired? Just next to the memorial bridge is a coffee shop - Coffee Tea Sapan with an antique car, giant food container, and a postman statue.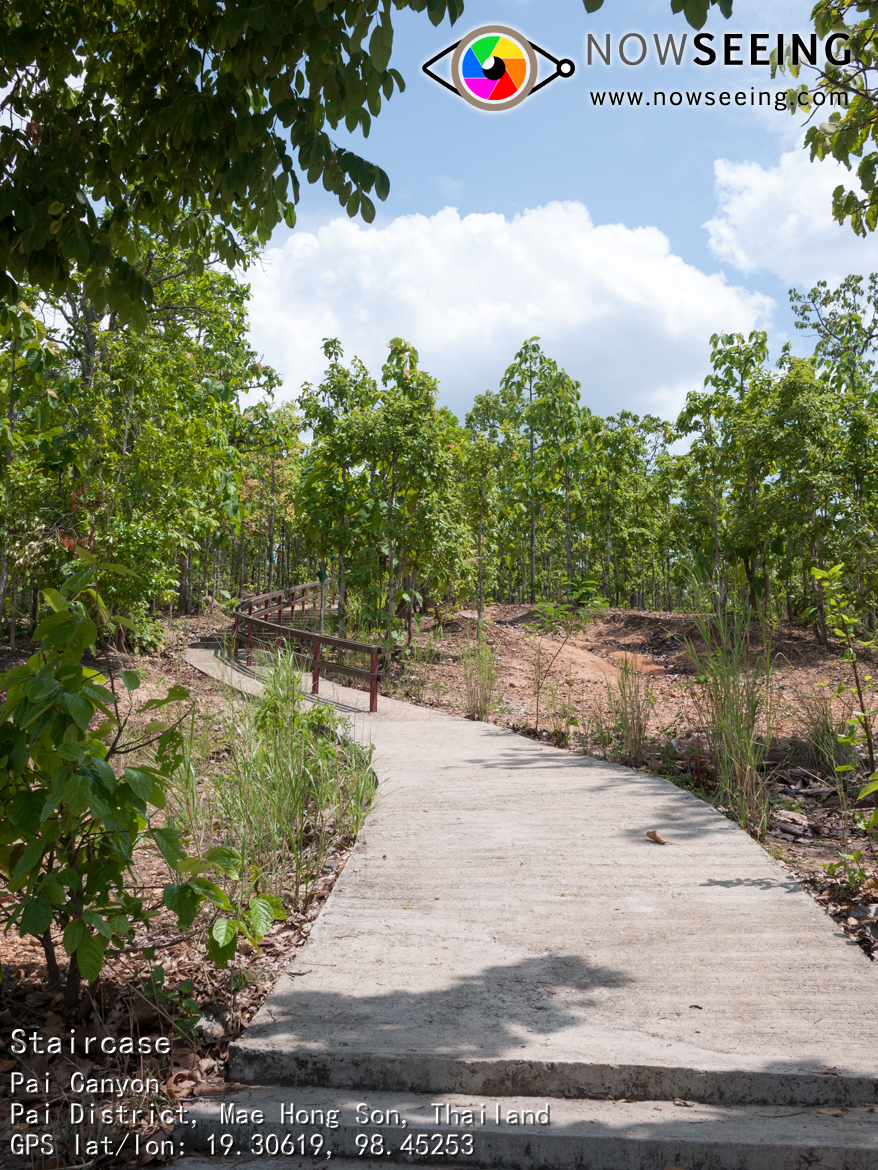 We then took a U-turn and stopped by Pai Canyon. It was a quiet place with only few visitors that day probably due to two reasons: 1) You need to climb a 300m staircase. 2) The canyon is very dangerous to walk with narrow walkway and 30m drop on each side.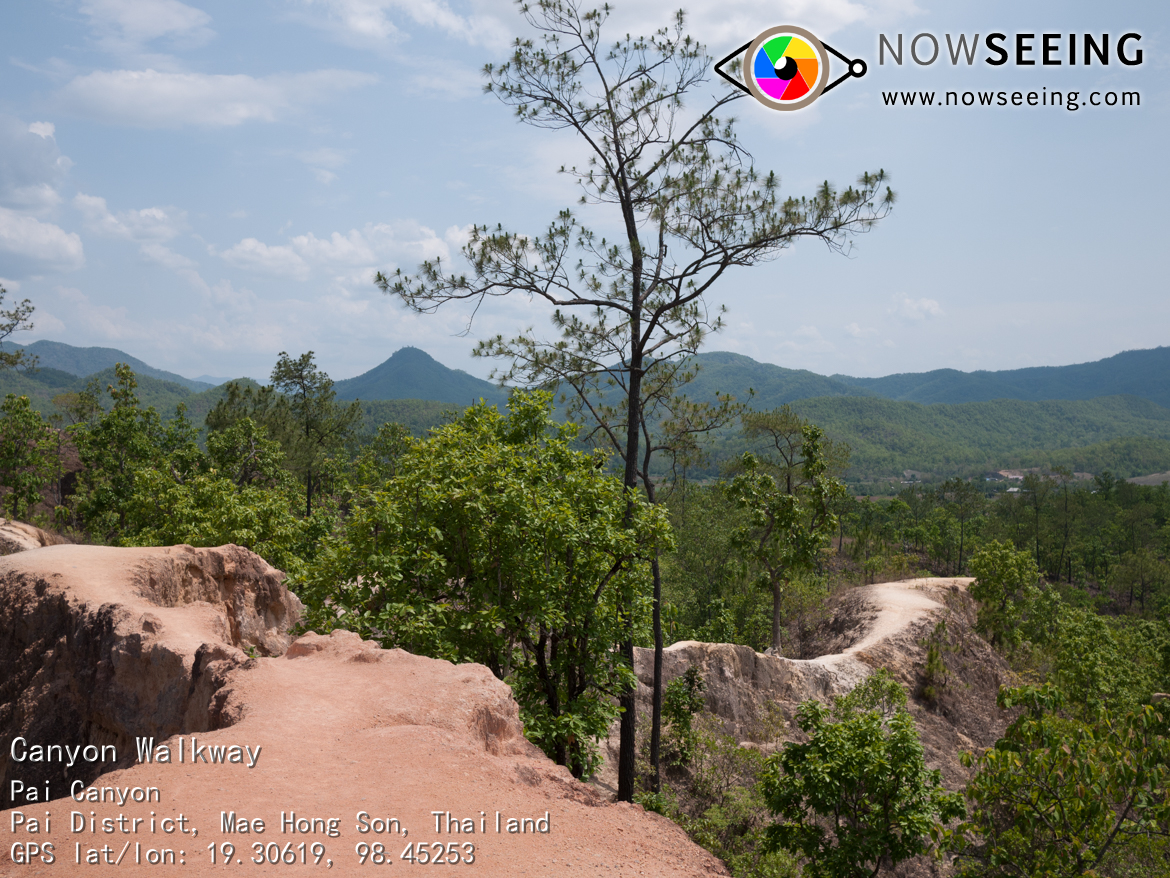 Also, there was no guard there to take care of visitors. Still, you can have a breathtaking panorama view once you reach the top.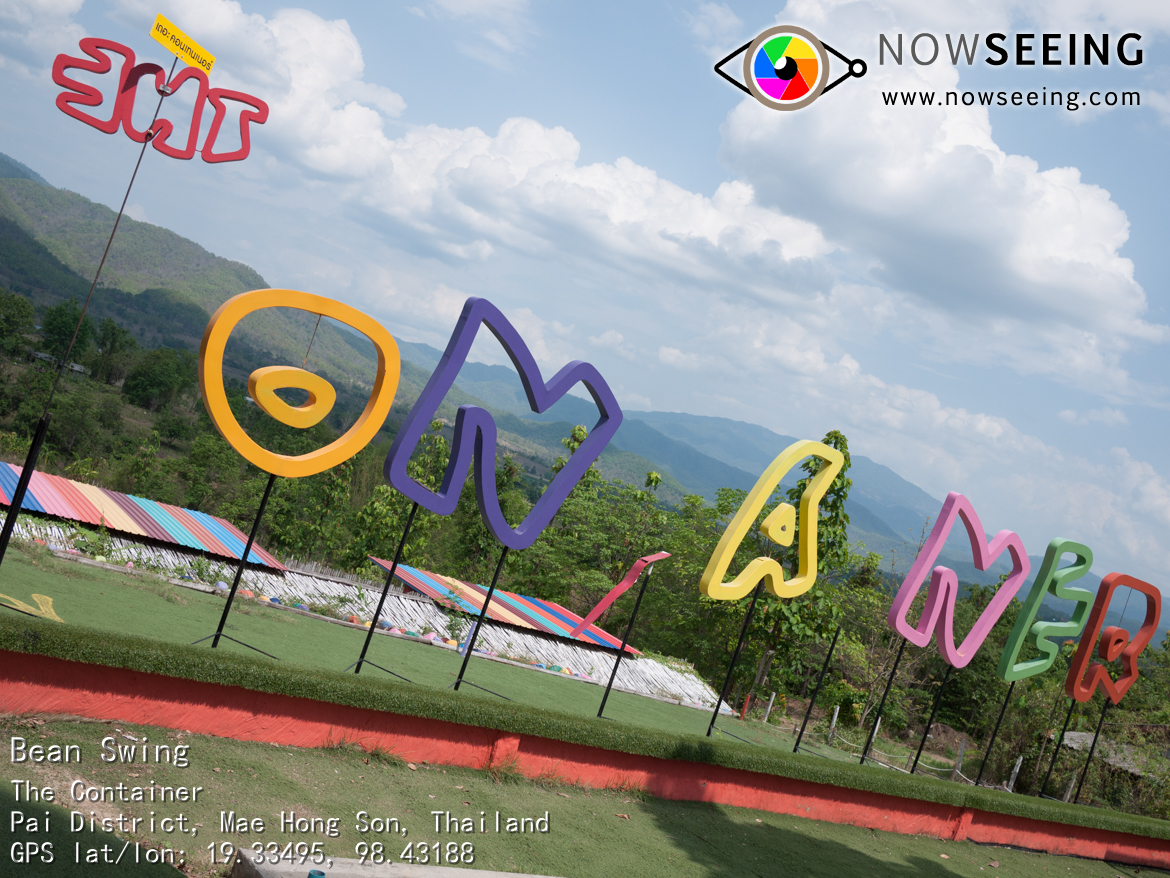 We then stopped by The Container - a small resort with only 5 rooms and bean swings on our way back to Baan Kung Kang de Pai resort. The resort somehow lacked of maintenance with some characters of the logo missing.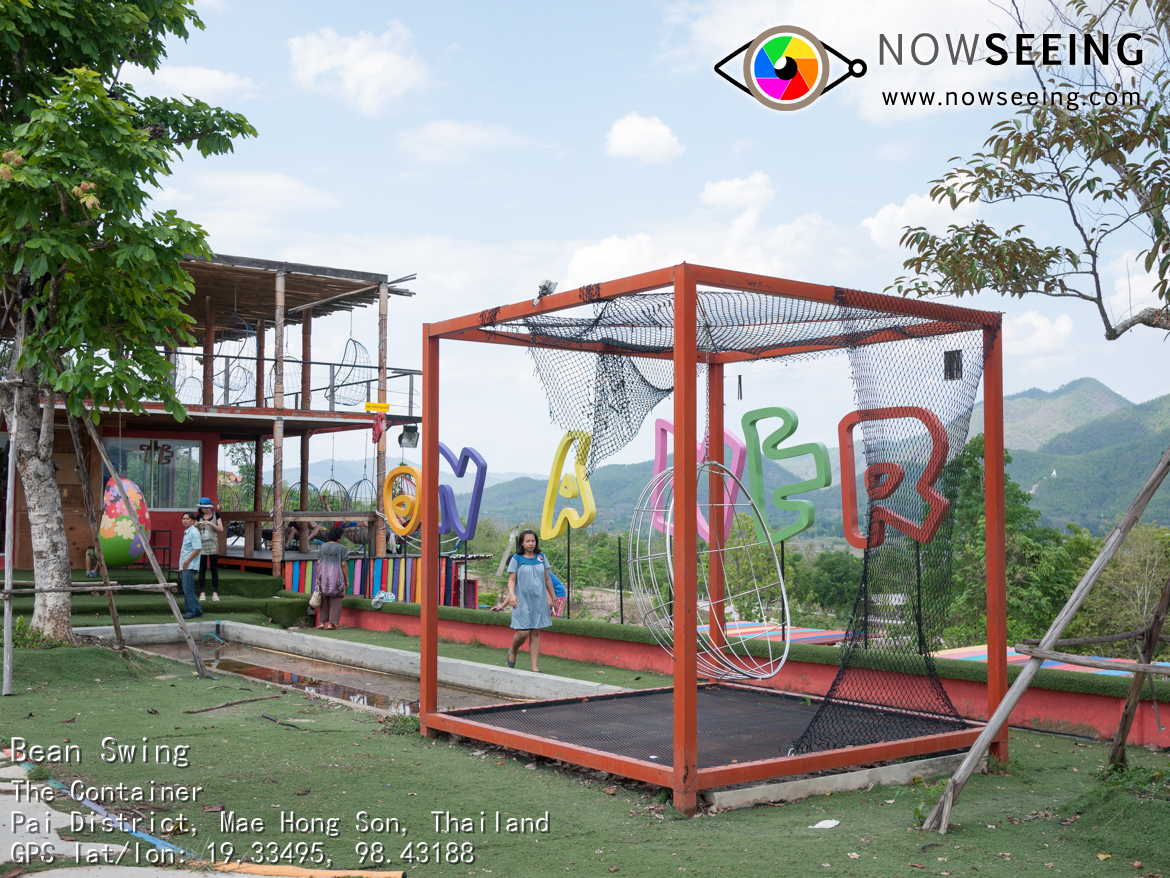 Still, it is another good place to have a swing.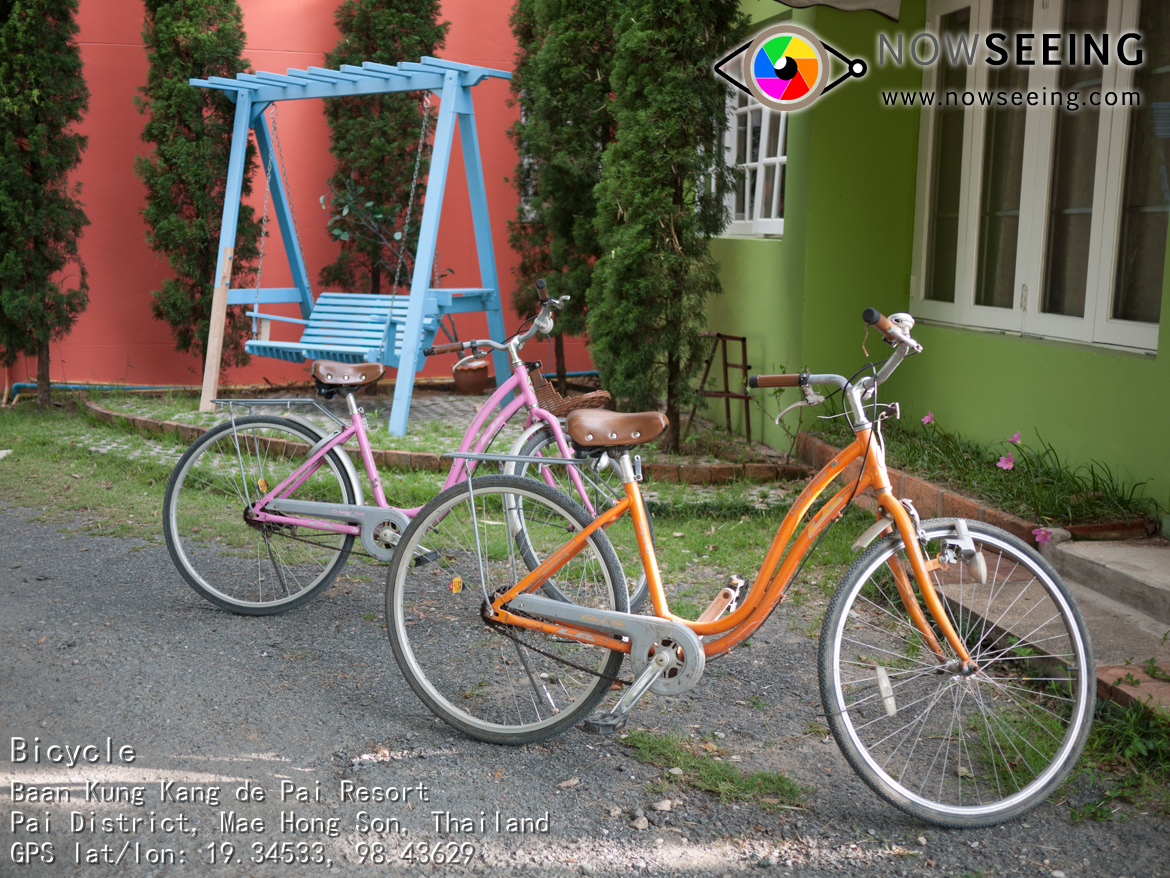 We went back to Baan Kung Kang de Pai resort to take a shower before having dinner in Pai town. Some bicycles were also laying around the resort and each of us took one and cycled around the resort as "evening walk".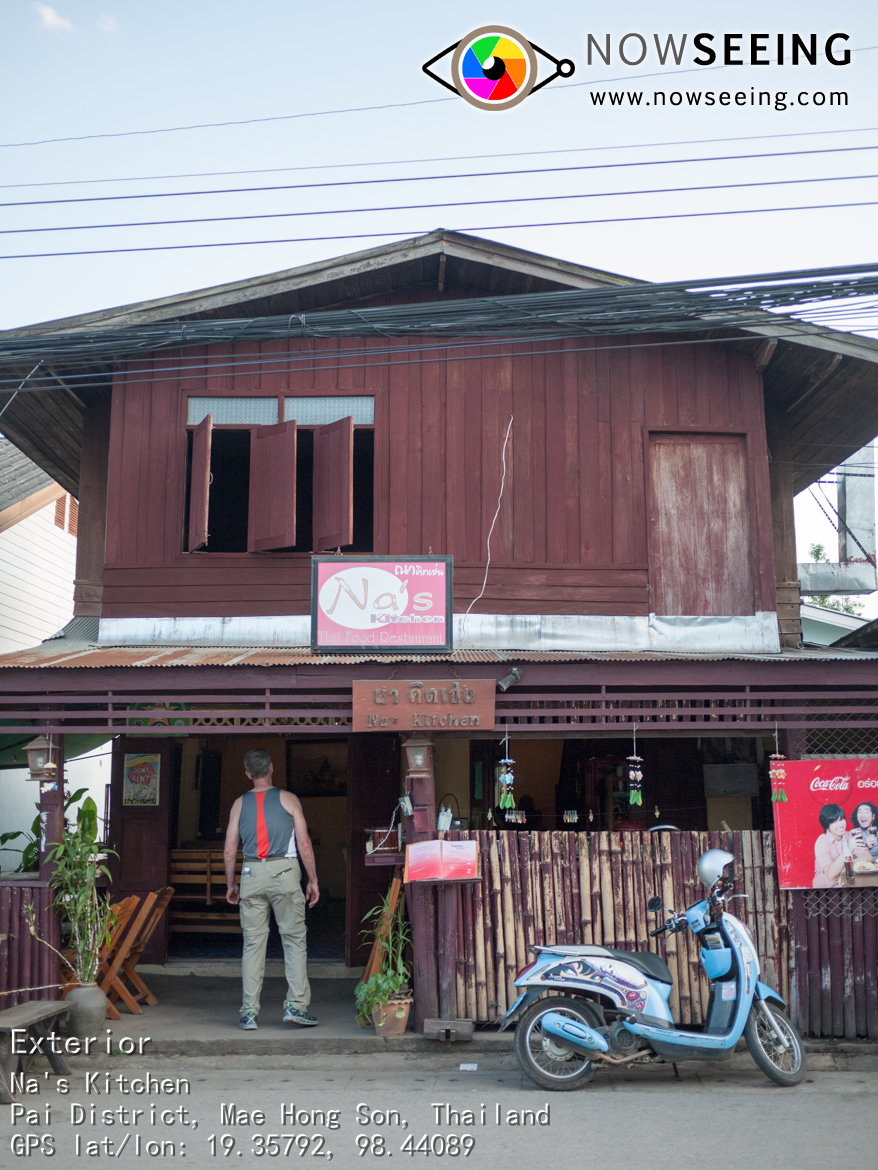 Around 6pm, we had our dinner at Na's Kitchen in Pai town. We recommended this restaurant as not only it had many items in the menu, the food was quite good as well. The friendly female boss also spoke fluent English.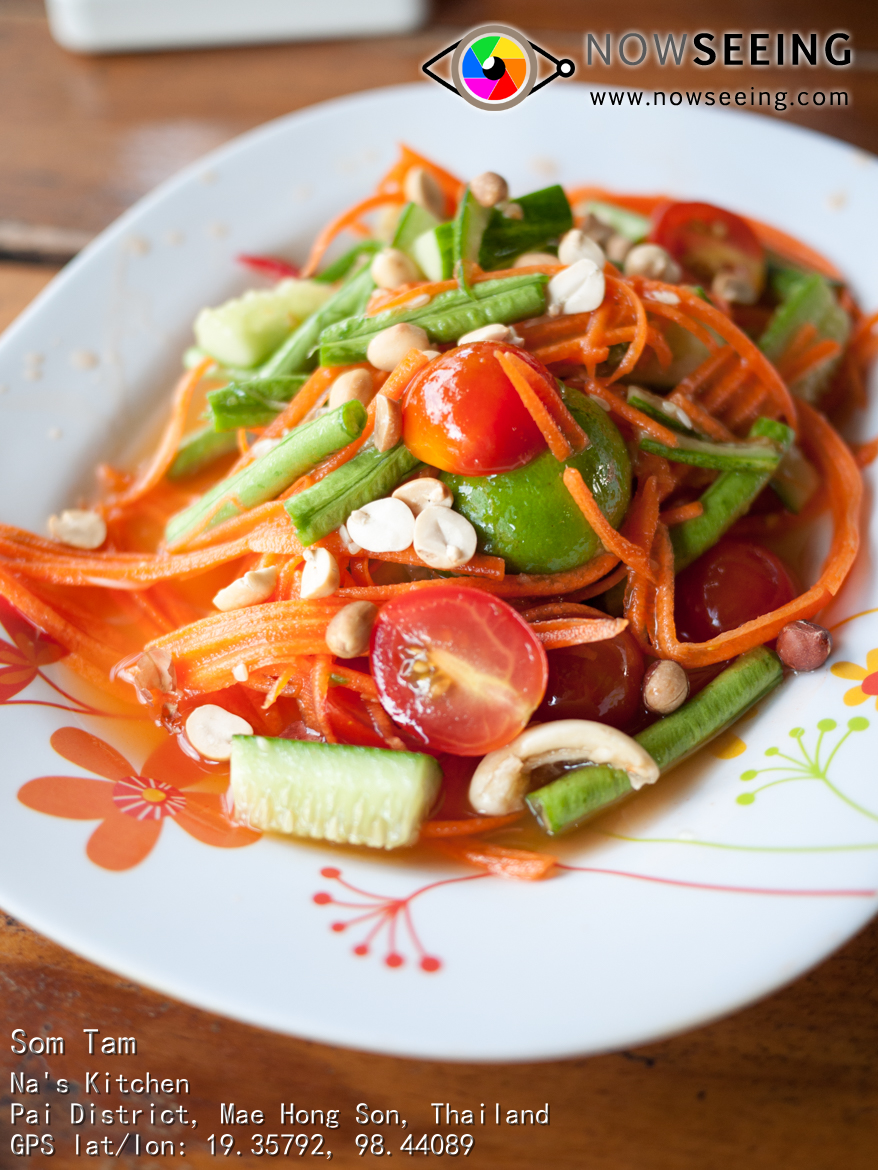 First, we had Som Tam - Papaya Salad (40 THB) as our appetizer. It is a spicy Thai salad with carrot, cucumber, long green bean, tomato, lemon juice, chili and peanut.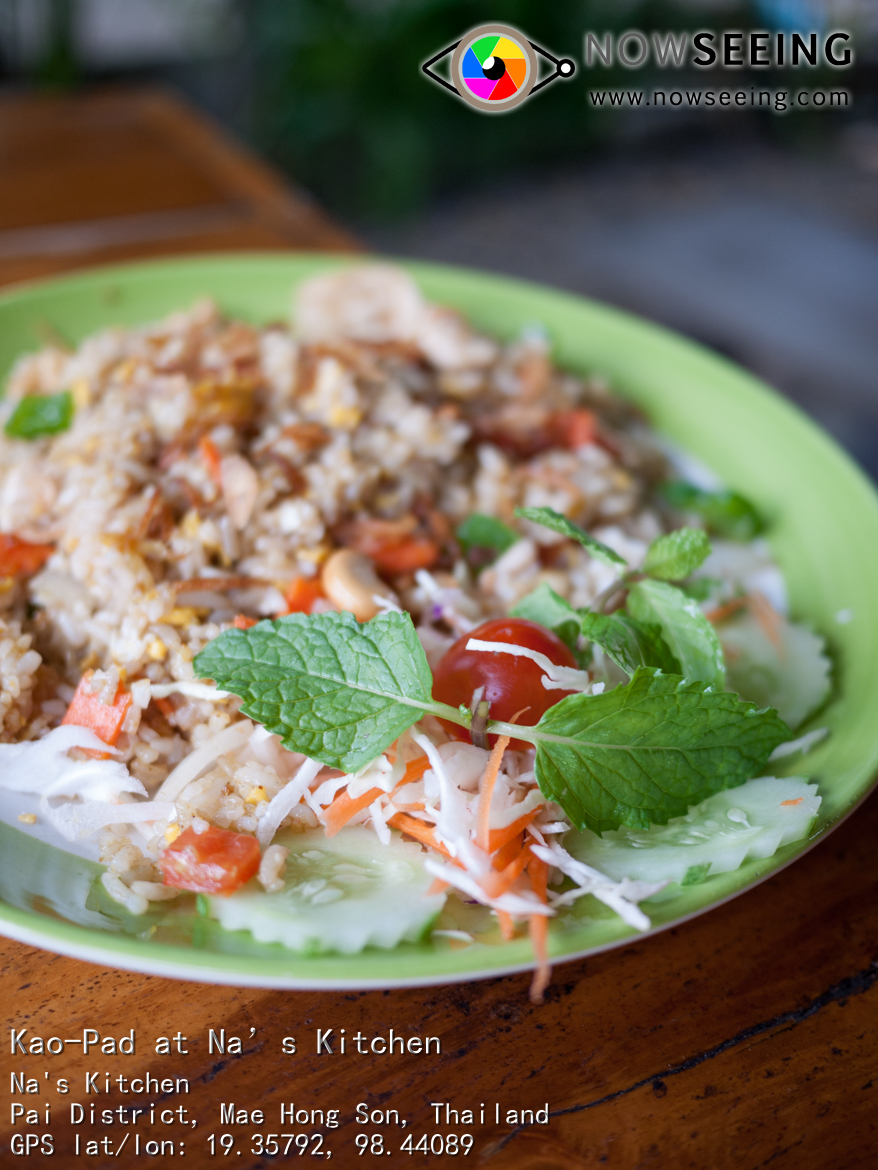 This time, we ordered a fried rice - Kao-Pad at Na's Kitchen (50 THB), which is fried with yellow curry powder, cashew nuts, onions, chicken, chicken/pork/beef/tofu with fresh shrimps.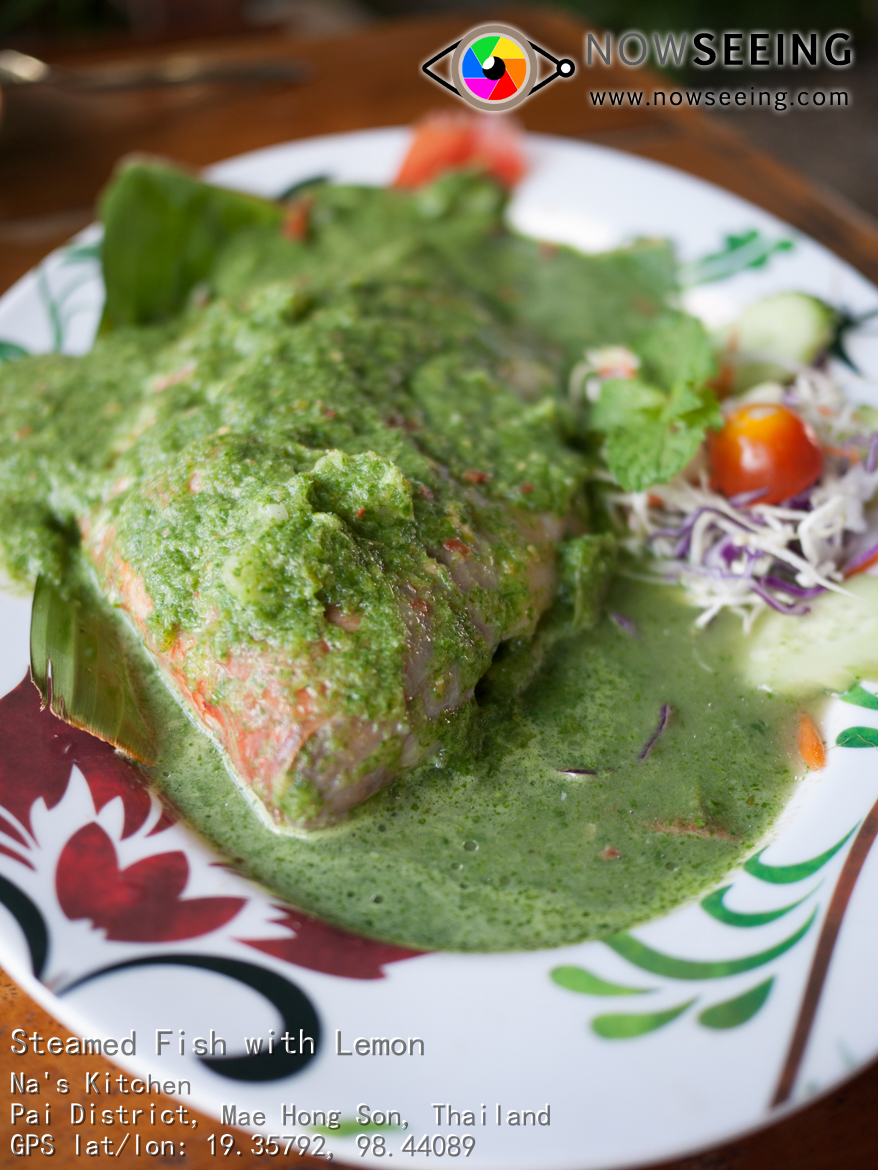 Steamed Fish with Lemon (170 THB) was perhaps the best food we've ever tried in Pai. The sauce which was made of lemon, chilli, spring onion, garlic and mint sauce was hardly found in Malaysia. Best of all, check the price! Can you get a whole steamed fish (red snapper in this case) for RM17 in Malaysia? We don't think so.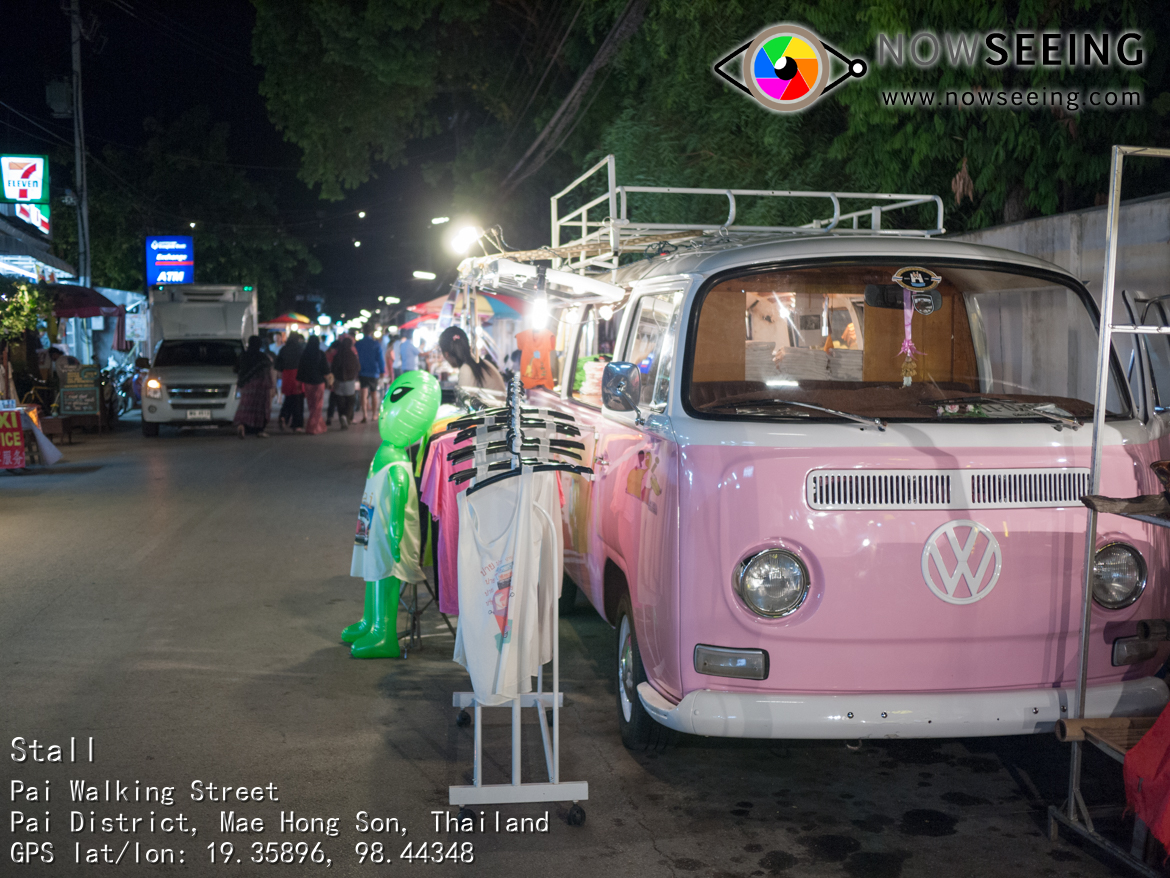 After the dinner, again, we went to Pai Walking Street again. Compared to Night Market on Friday, it was less crowded on Saturday, probably due to the fact that some merchants already went down to Chiang Mai for weekend market there.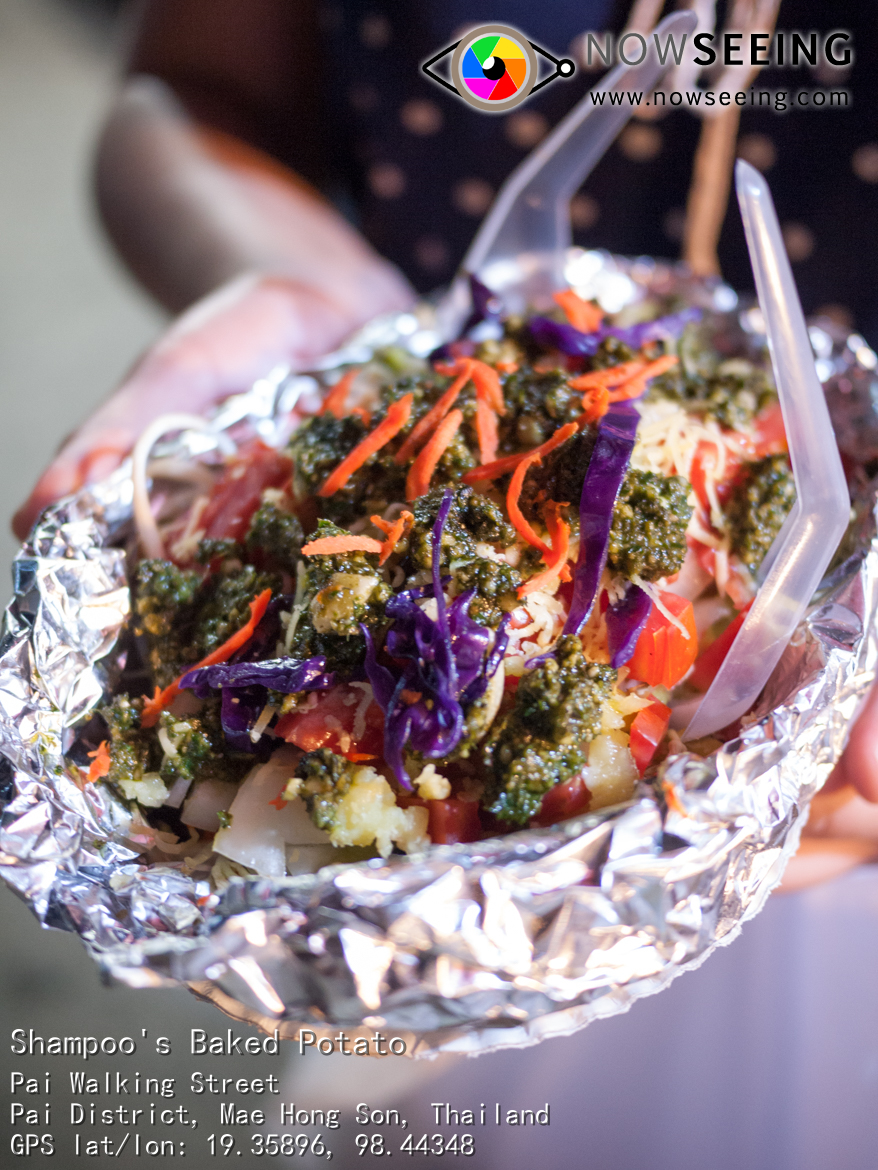 We ended up having our second round of dinner at Shampoo's Baked Potatoes - a stall selling baked potatoes with different toppings and wrapped in aluminium foil. We ordered a Tiger Special (120 THB) which consists of avocado, cheese, salad and etc.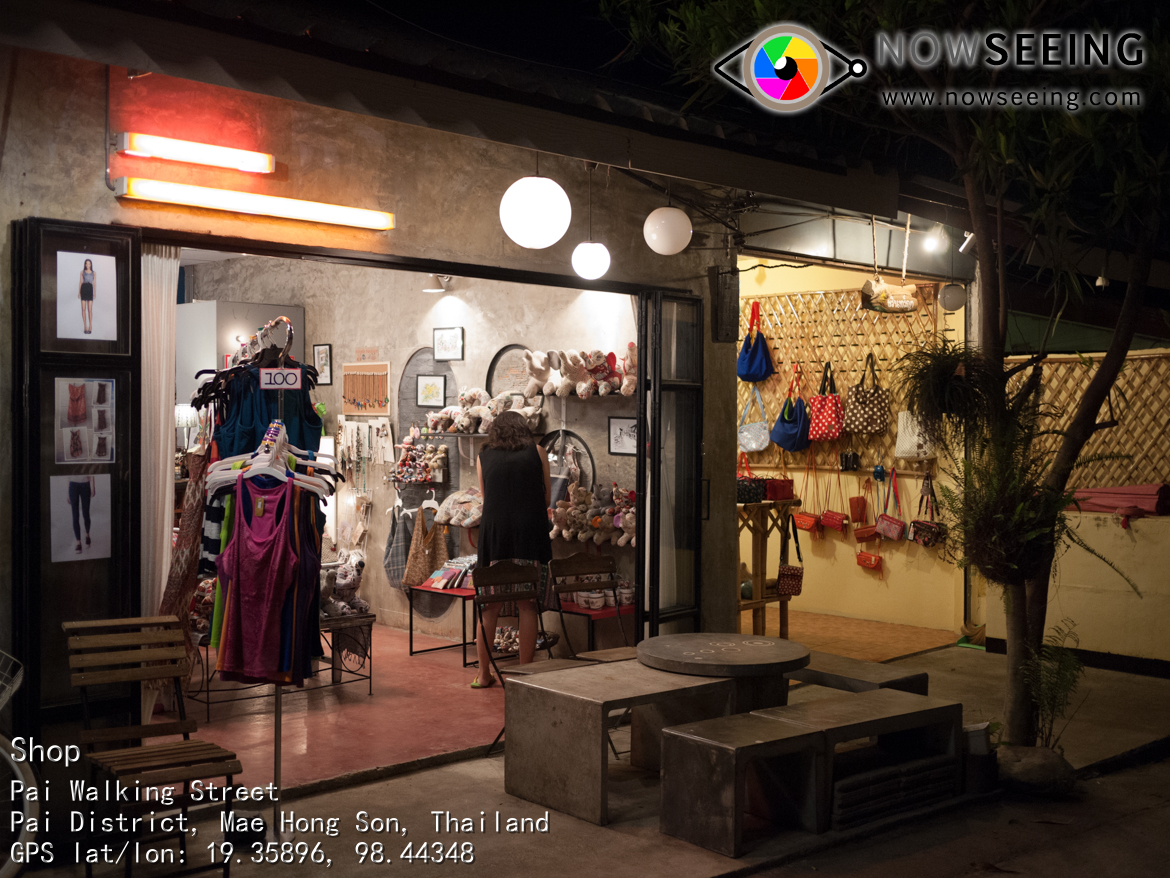 Still, we were able to grab some goodies, including some coin and phone wallets, T-shirts, a handbag.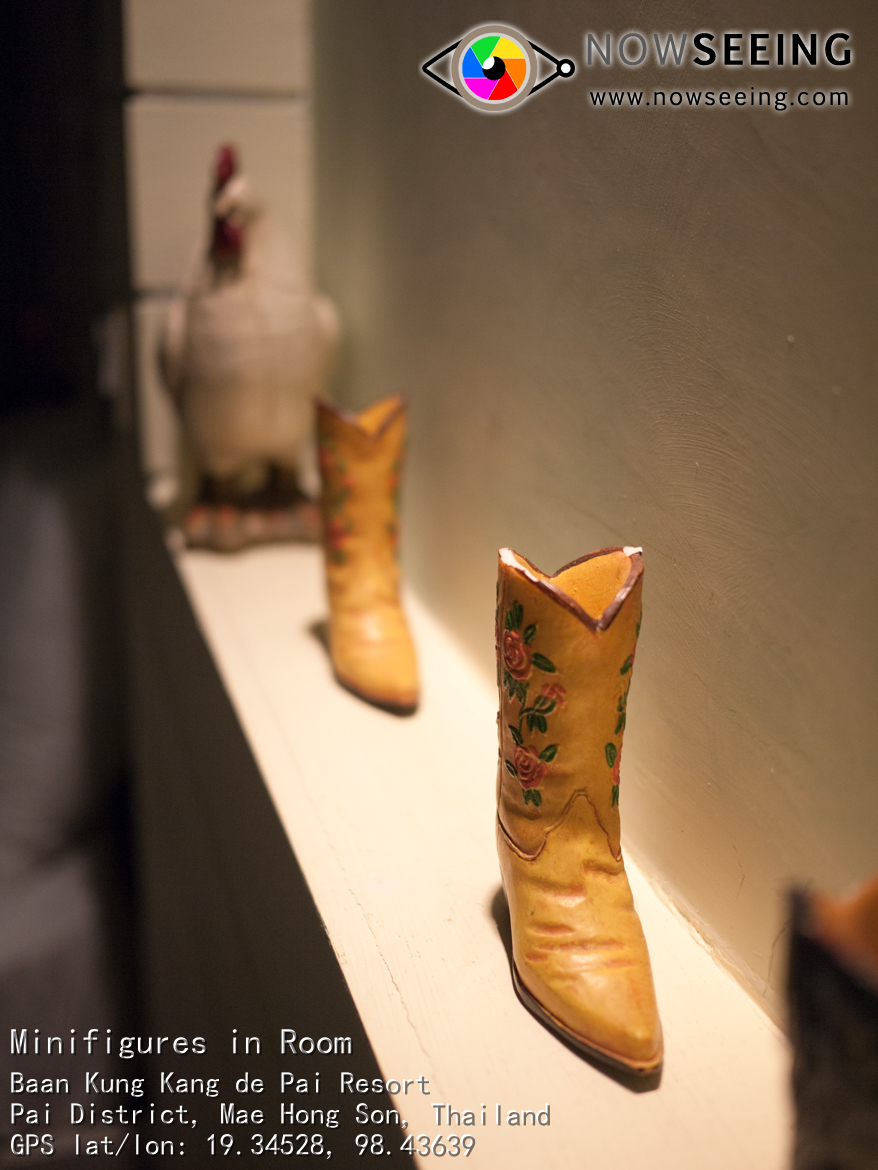 It was 10.30pm before we called it a day.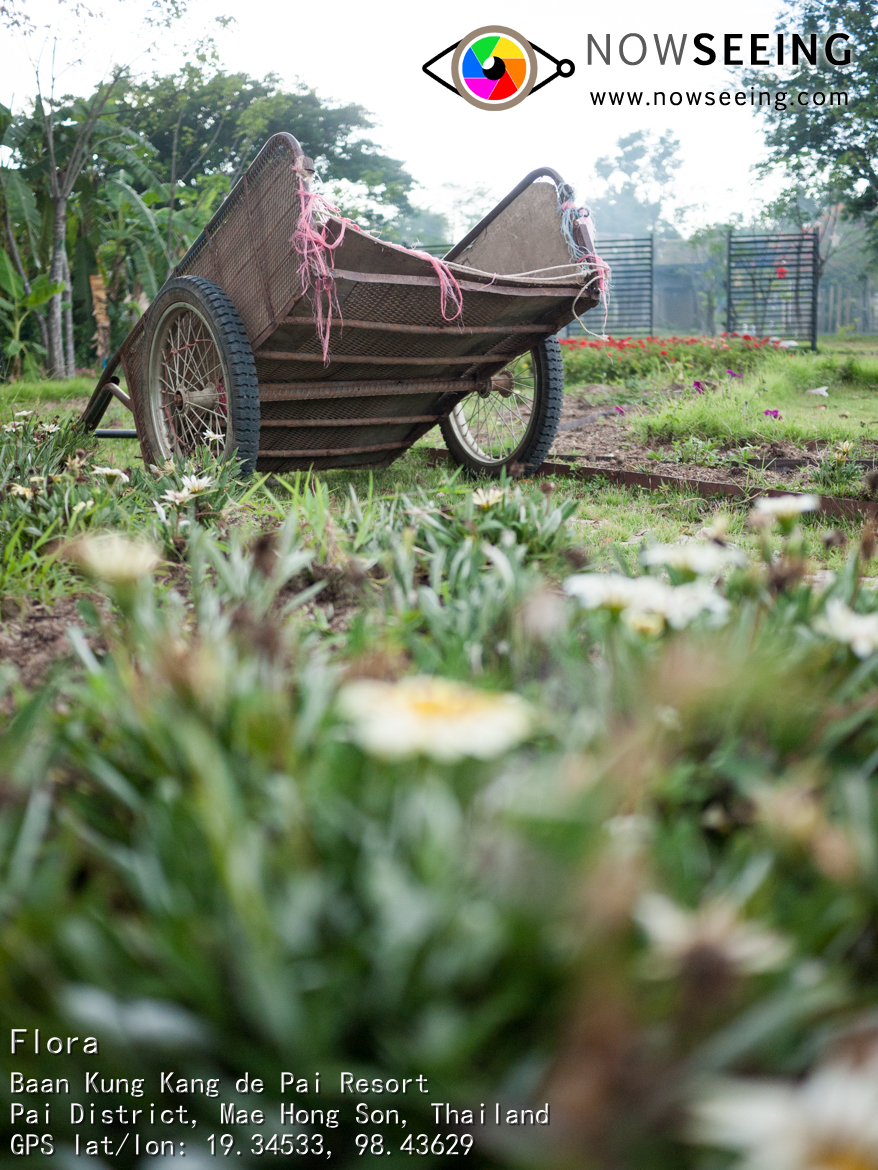 Summary for Day 3
We visited most of the attractions in Pai except waterfalls, which were a bit far and dangerous so we decided to skip them. Baan Kung Kang de Pai Resort is a recommended stay in Pai. If budget allowed, Romance Pai is worth considering for its breathtaking countryside view. Most attractions are located at the south of Pai town, along the Route 1095 main road.
If you like our articles, kindly like our Facebook page at:
https://www.facebook.com/nowseeing/
To jump to any Chiang Mai post, click on one of the links below:
Day 1 - Kuala Lumpur to Chiang Mai old city
Day 3 - A day in Pai
Day 4 - Pai to Chiang Mai Sunday Night Market
Day 6/7 - A day in Doi Suthep, Art in Paradise and Goodbye