Details

Category: Chiang Mai
Published: 05 June 2017
Hits: 12349

【13-May-2014】Chiang Mai Trip Day 6 basically marked our last day in Chiang Mai. Our initial plan to Chiang Mai was to take this opportunity to visit Chiang Rai - a city approximately 188km away, northeast of Chiang Mai with its signature "white temple" (Wat Rong Khun). Sadly, right before we departed from Malaysia, Mae Lao earthquake happened (5-May-2014), causing our Chiang Rai day trip to cancel.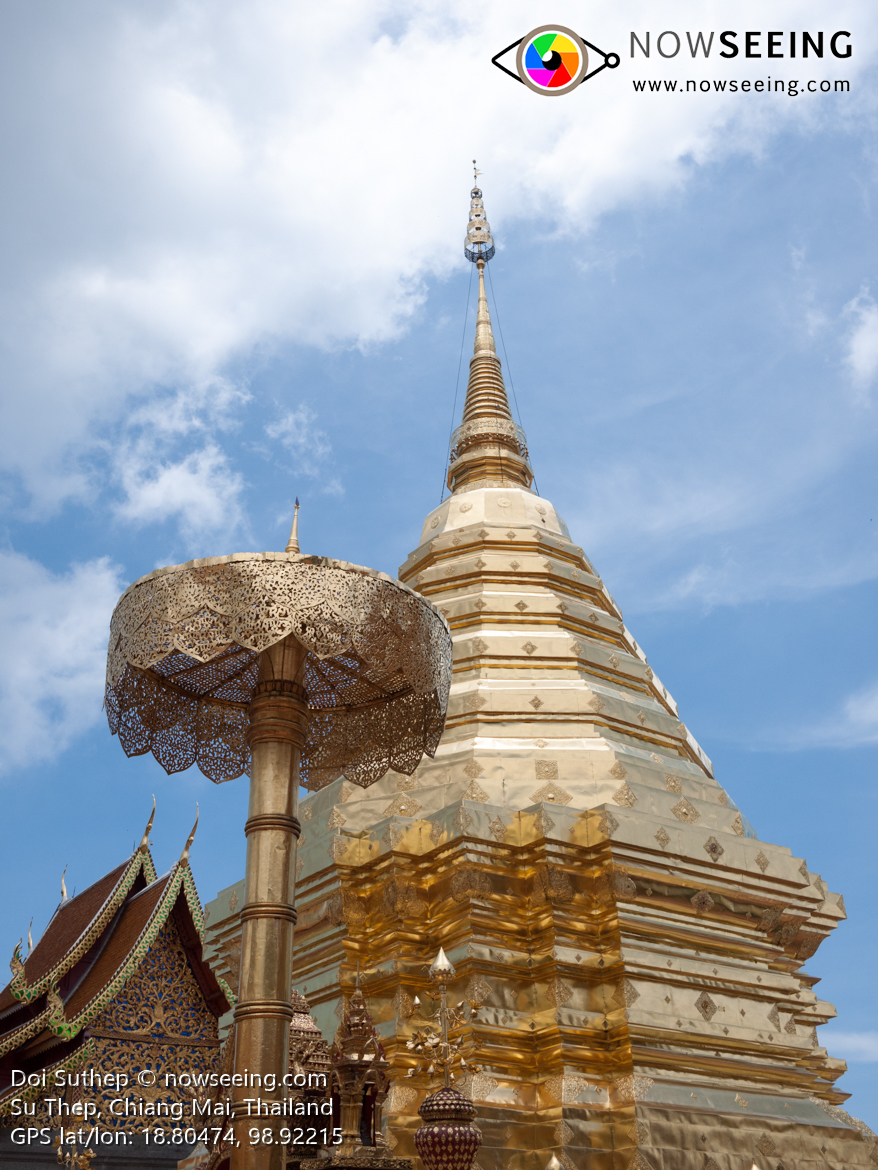 As a result, we had one extra day in Chiang Mai and the new plan became more relaxing. For readers wish to visiting Chiang Mai and Pai (without Chiang Rai), five to six days should be sufficient. We actually had a Day 7 but not worth mentioning since it was basically a day in the airport to go back home country. On the 6th day, our morning plan was to visit Wat Phra That Doi Suthep - a sacred site to many Thais with its signature Gold Chedi. Located on a hill 15km away from Chiang Mai town, we started walking from our Baiyoke Ciao Hotel and intercepted a red cab along the way.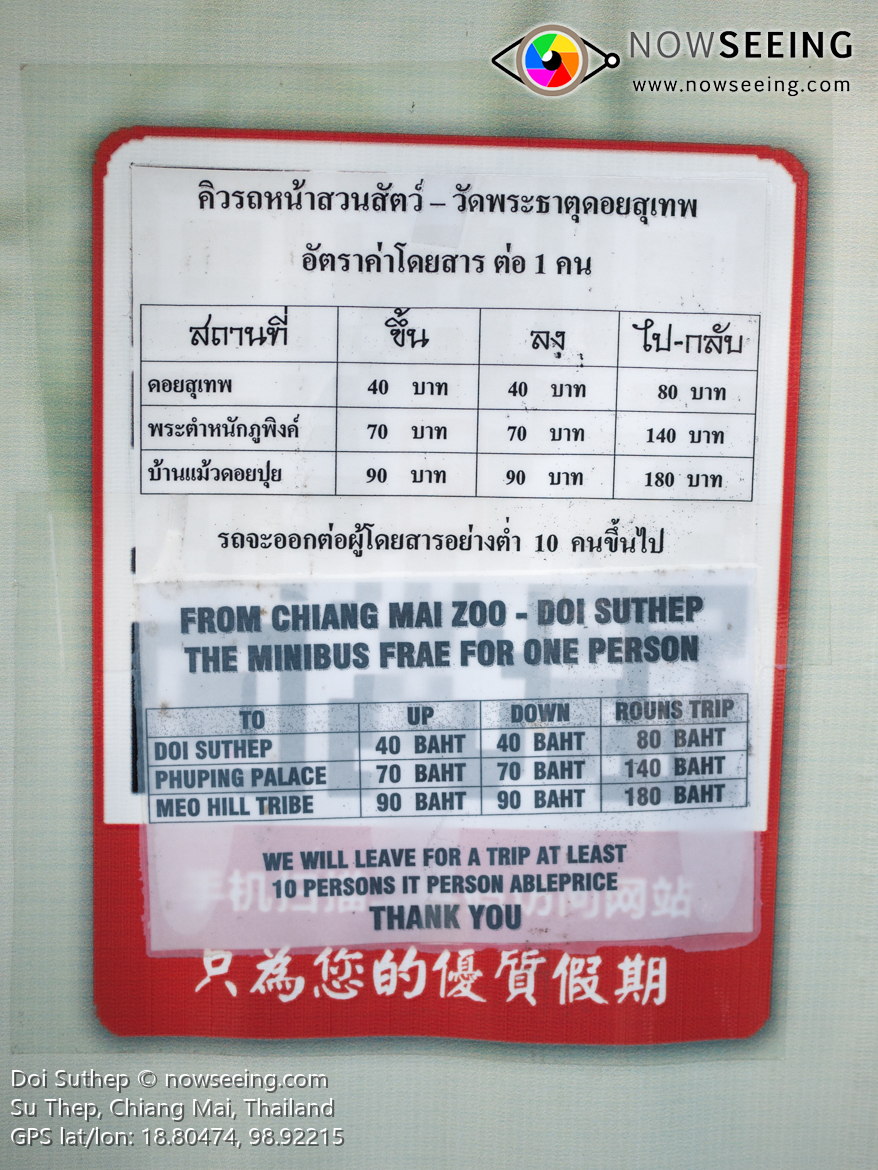 To reach Doi Suthep, one needs to take a minibus at the foot of the hill next to Chiang Mai Zoo. Just tell the driver "Doi Suthep" and they usually will drop you at the minibus station. Perhaps there was a policy that red cabs are not allowed to go up the hill. A round trip from Chiang Mai Zoo to Doi Suthep was THB 80.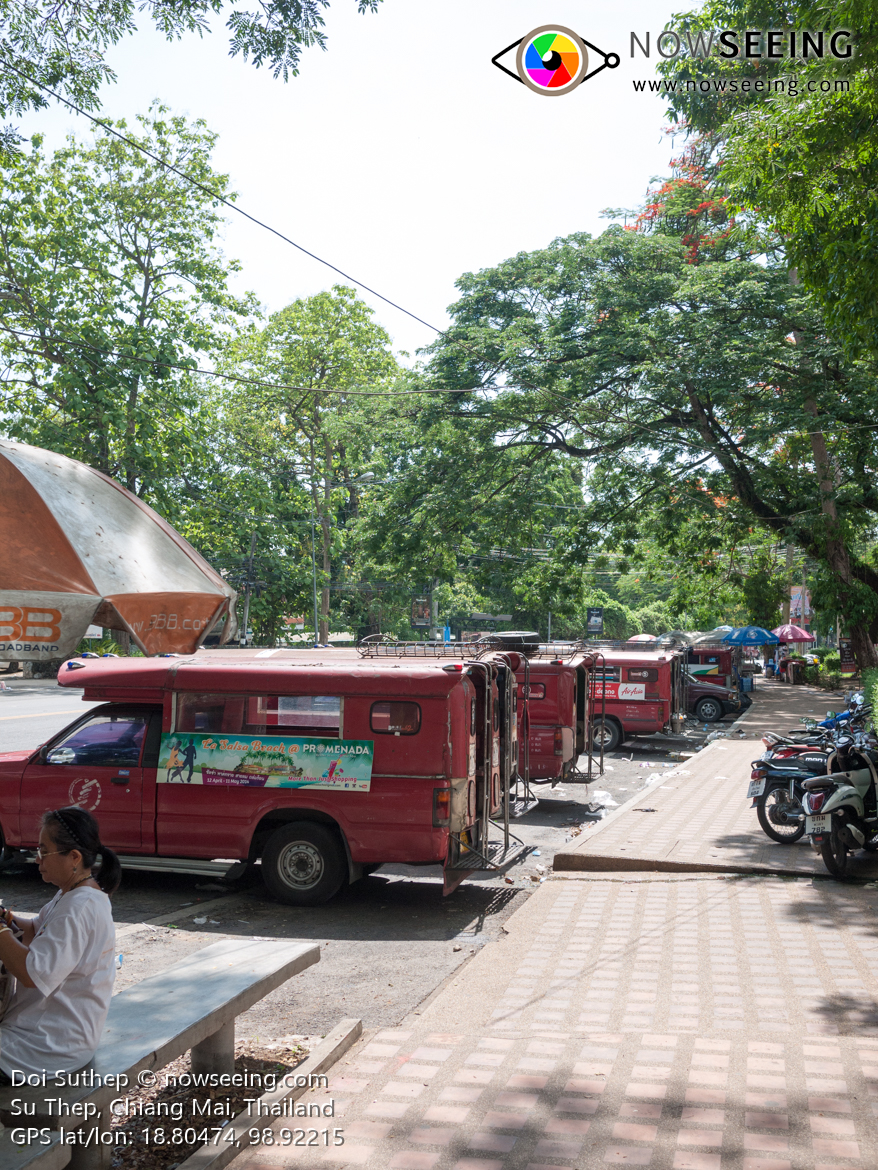 The moment we jumped onto the minibus which was basically a modified pickup truck, the nightmare started. We were fairly OK when we took the van to Pai but this time was not the case. We found ourselves get dizzy faster if we were to sit facing side instead of facing front of the vehicle. Due to windy road and fast driving, we almost vomited the moment we reached top station.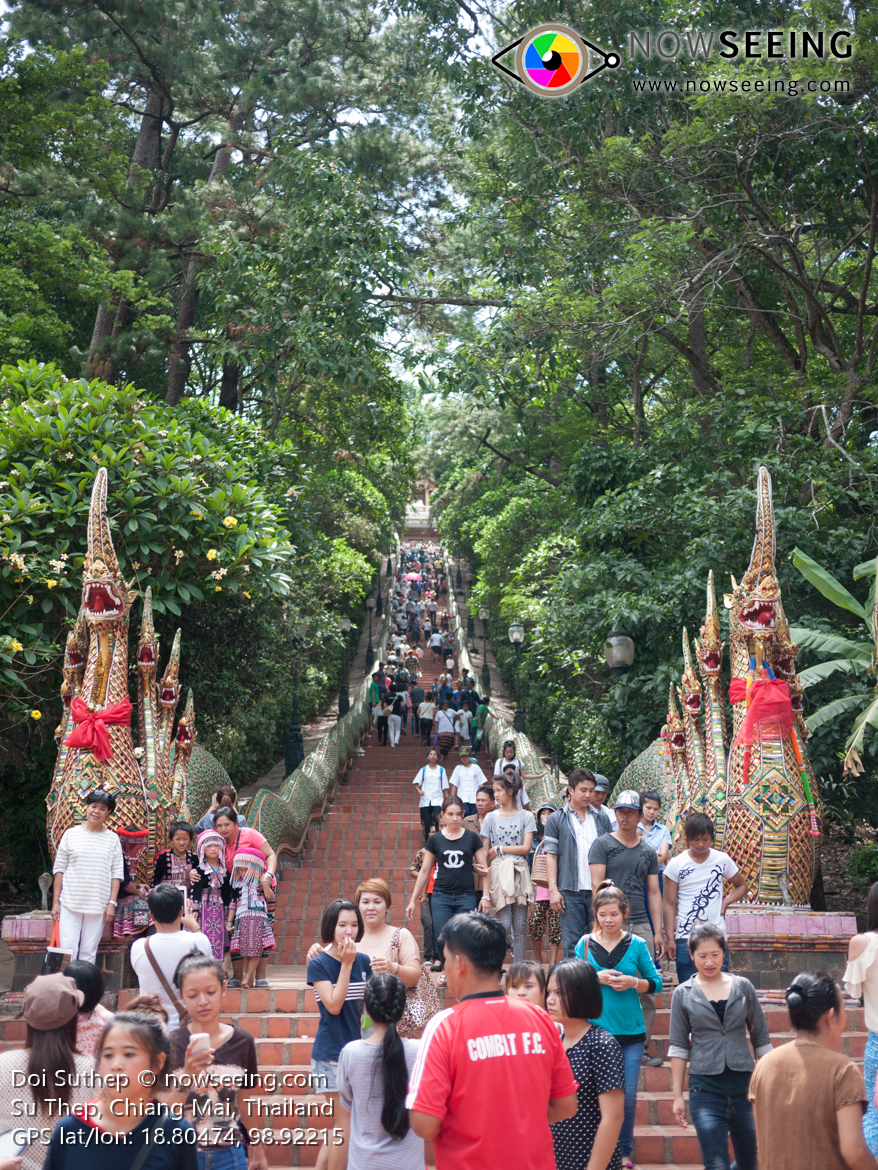 To reach the temple, one can either climb 309 steps or take a tram. We opted for the first option and was almost exhausted the moment we reached the top.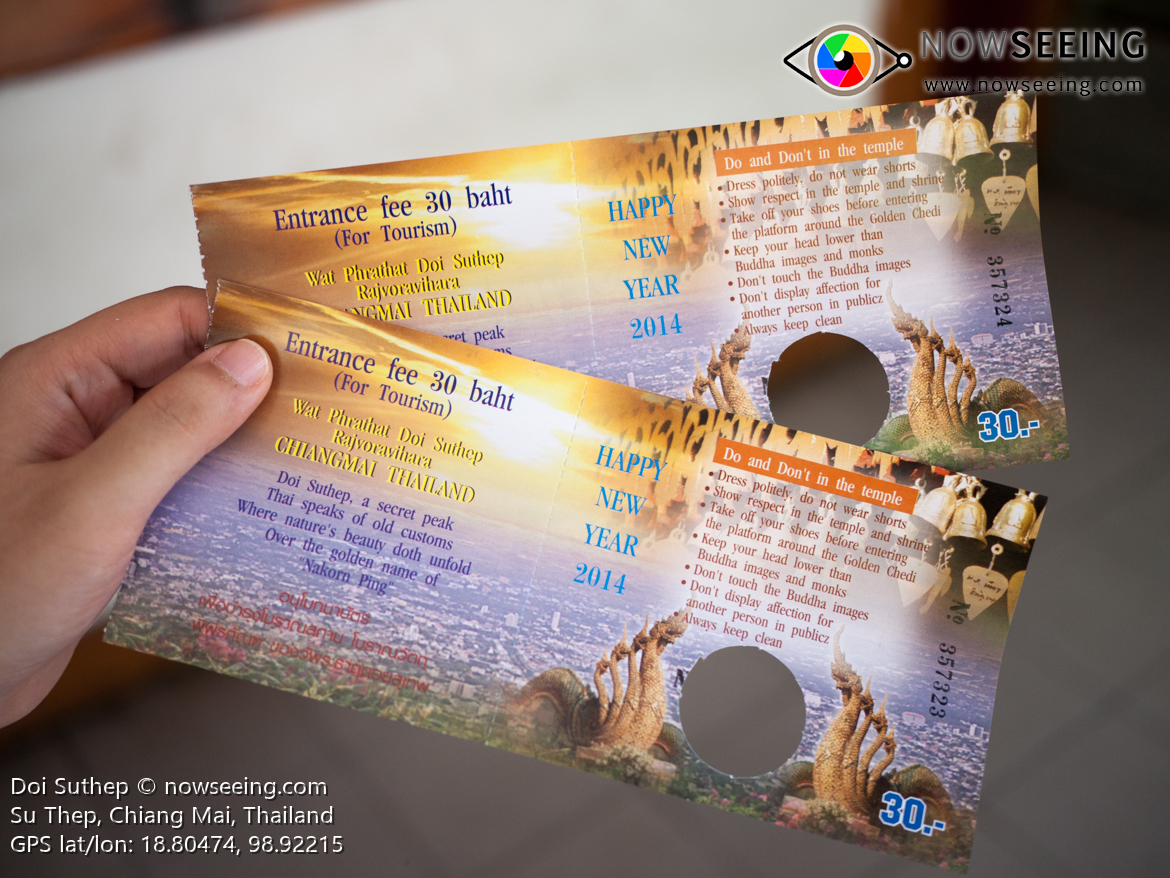 Admission fee was THB 30 per person.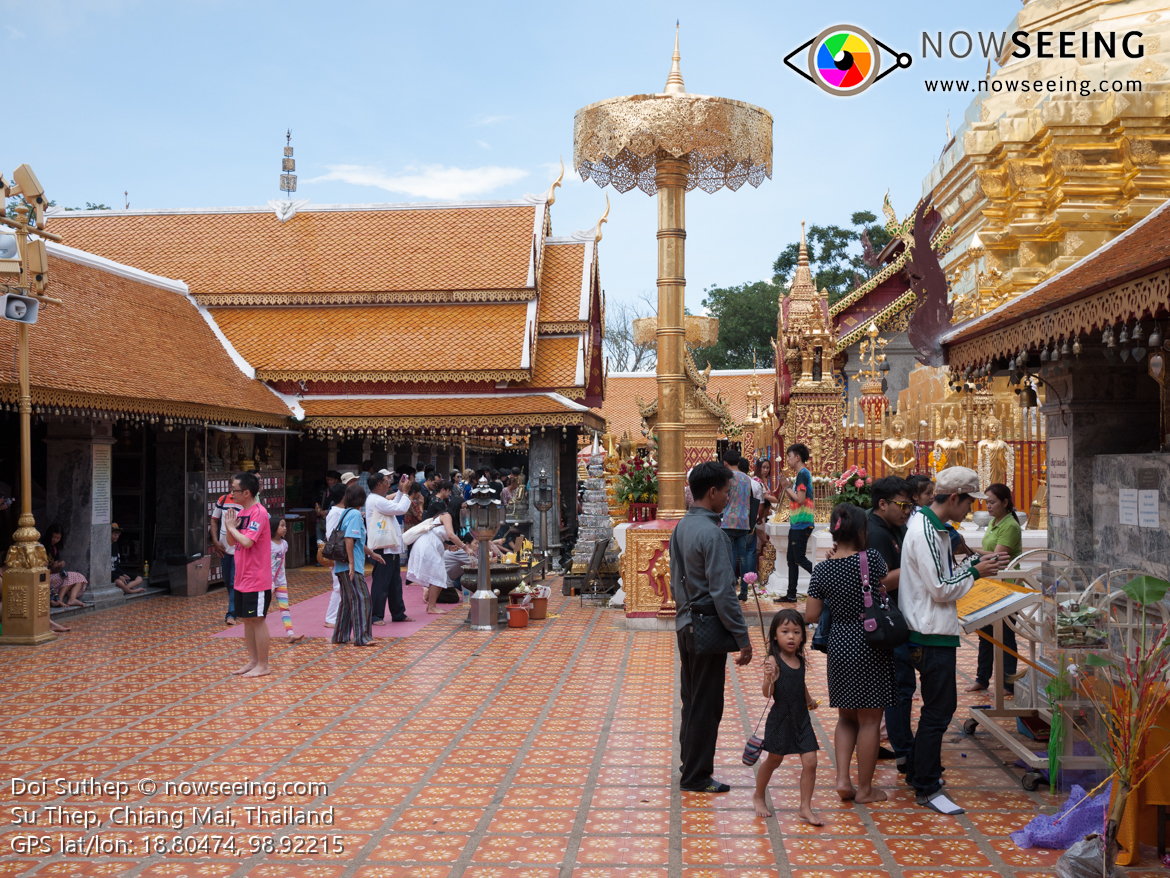 Below are few rules when visiting Wat Phra That Doi Suthep:
Dress politely. Do not wear shorts.
Show respect in the temple and shrine.
Take off your shoe before entering the platform around the Golden Chedi.
Keep your head lower than Buddha images and monks.
Don't touch the Buddha images.
Don't display affection for another person in public.
Always keep clean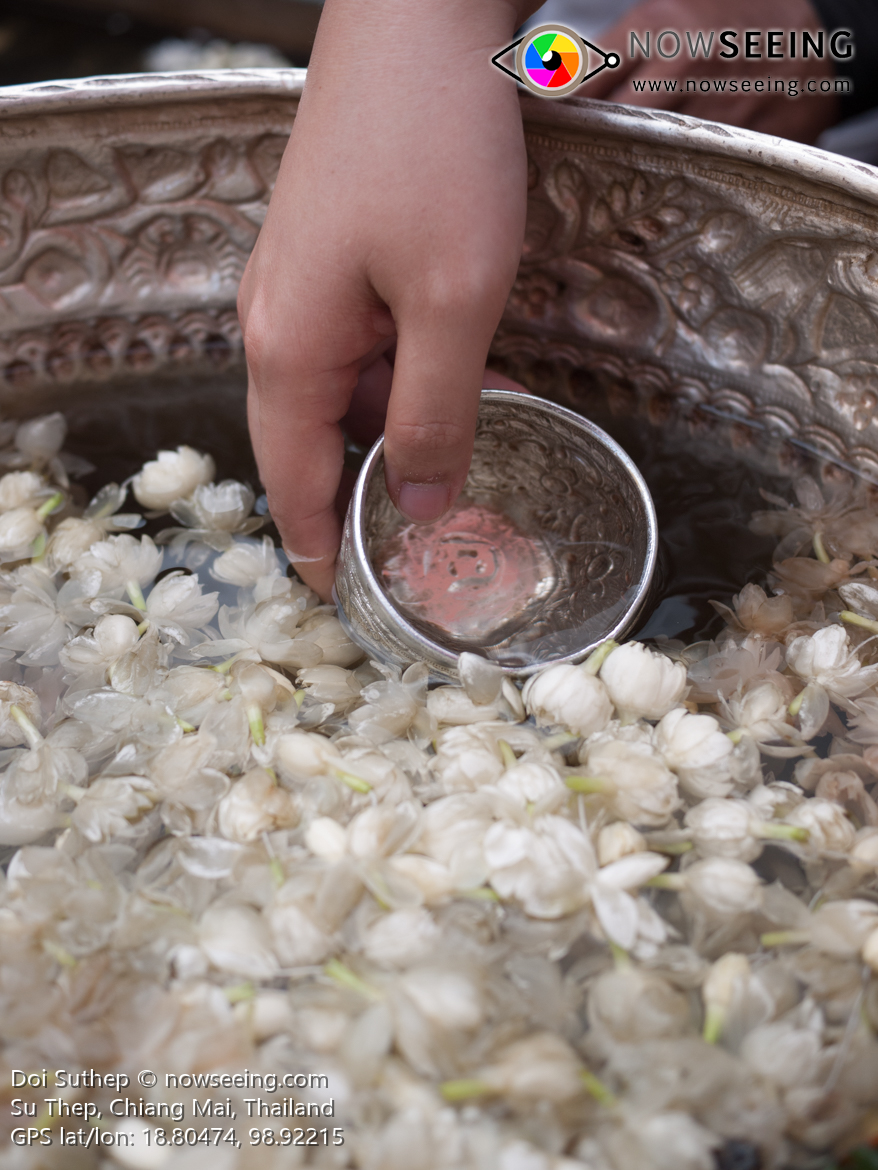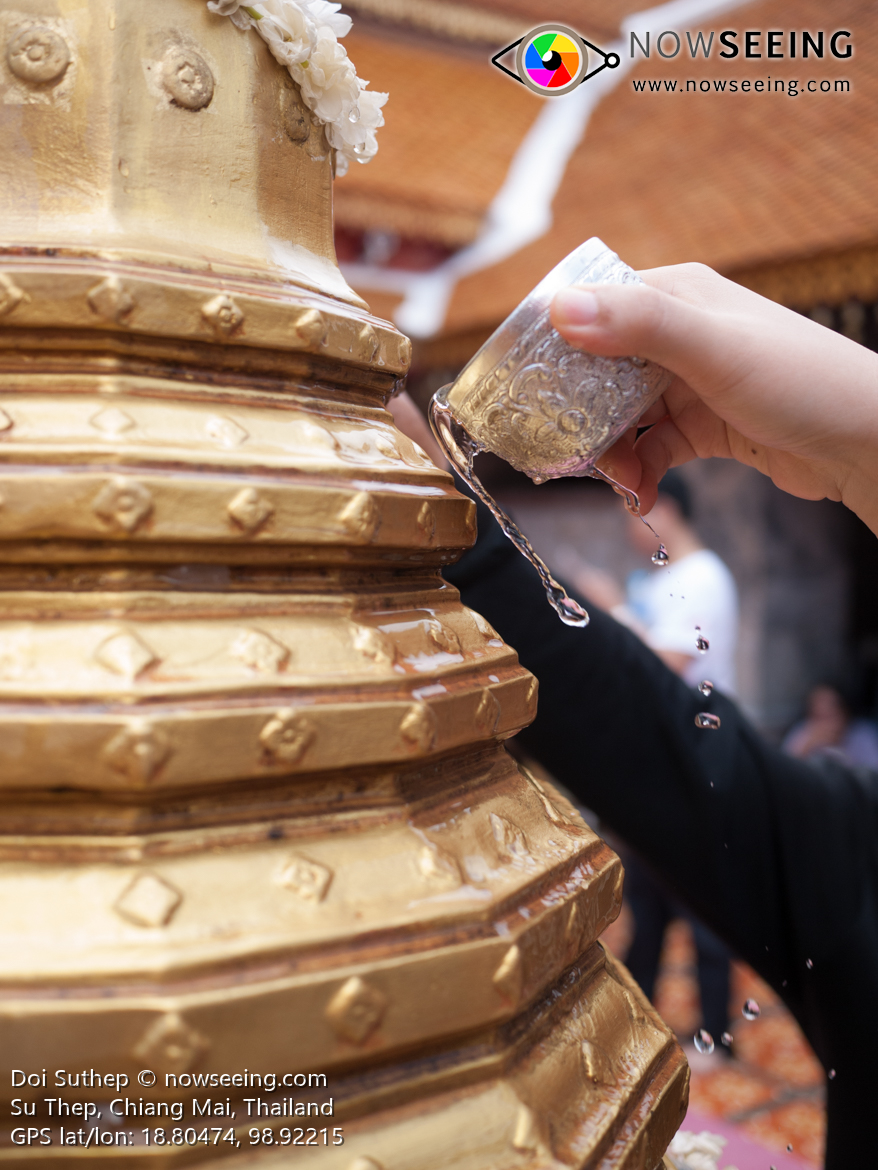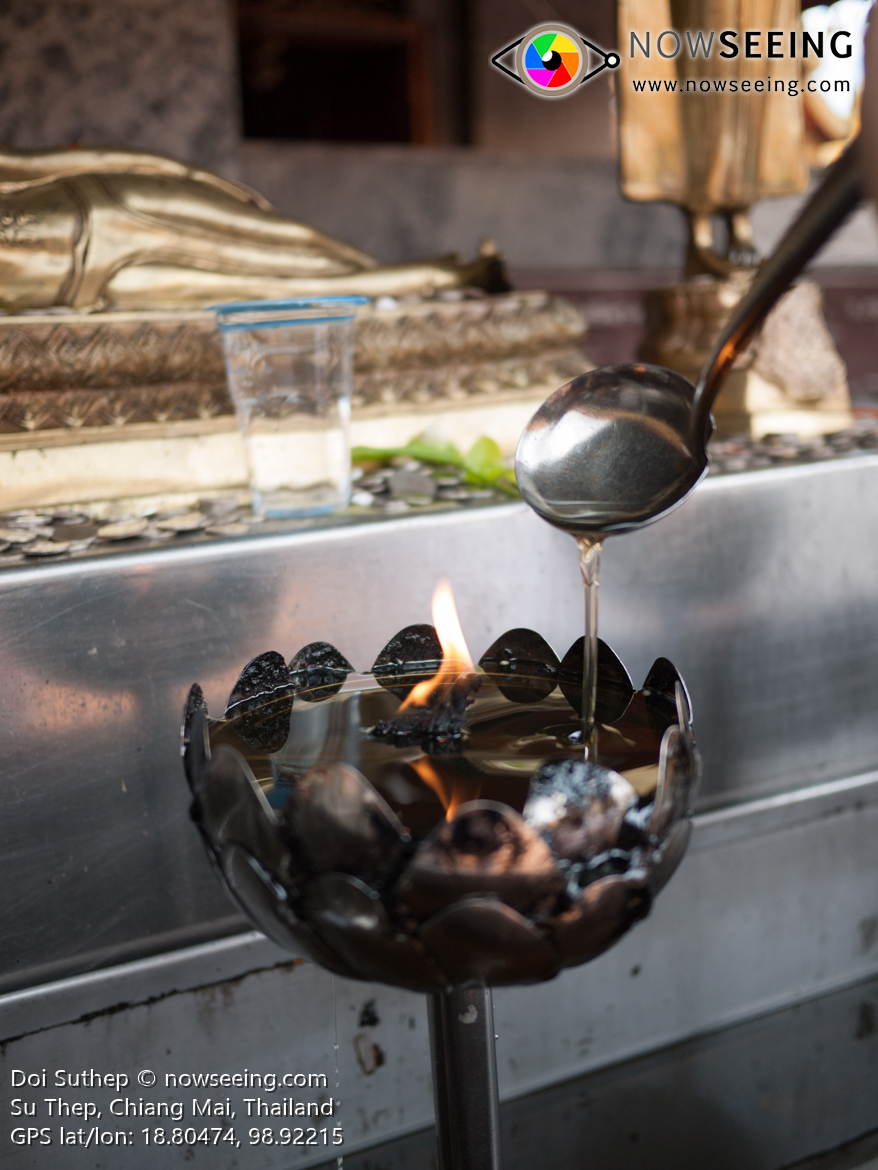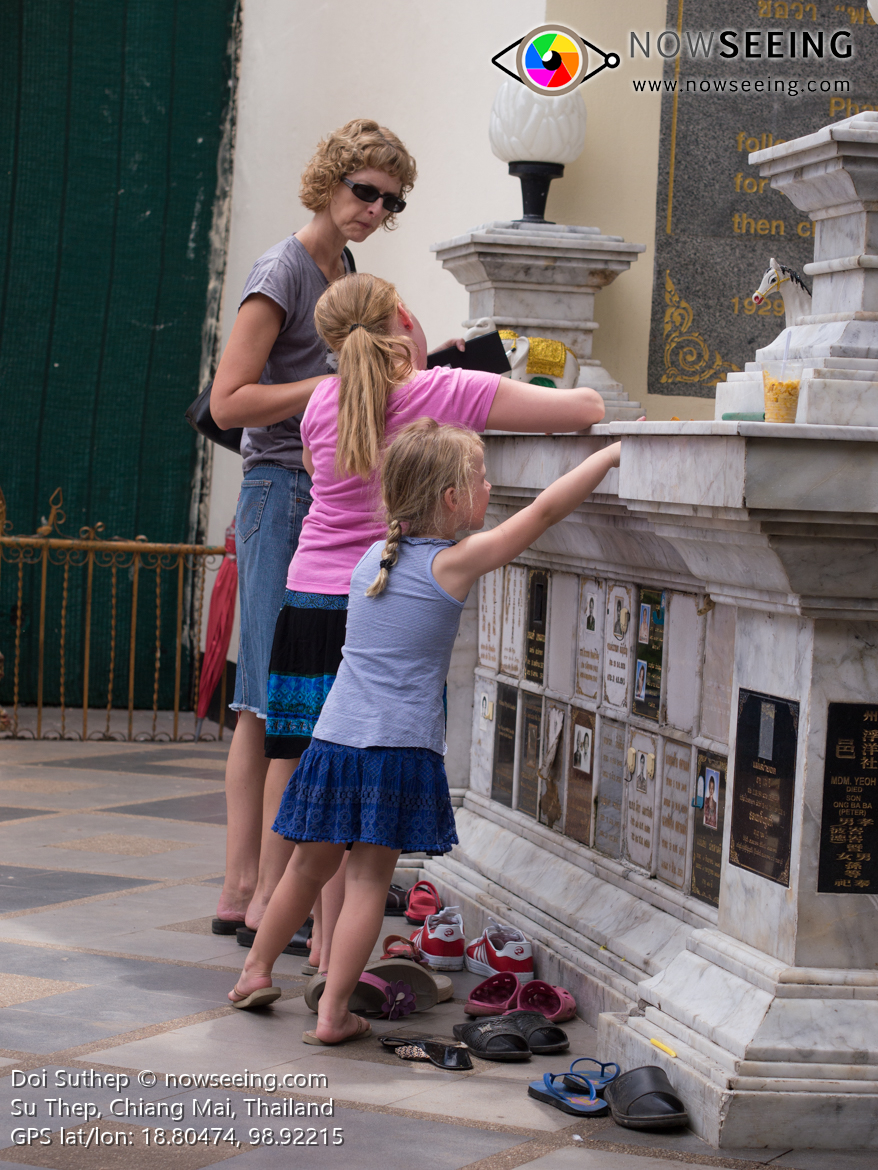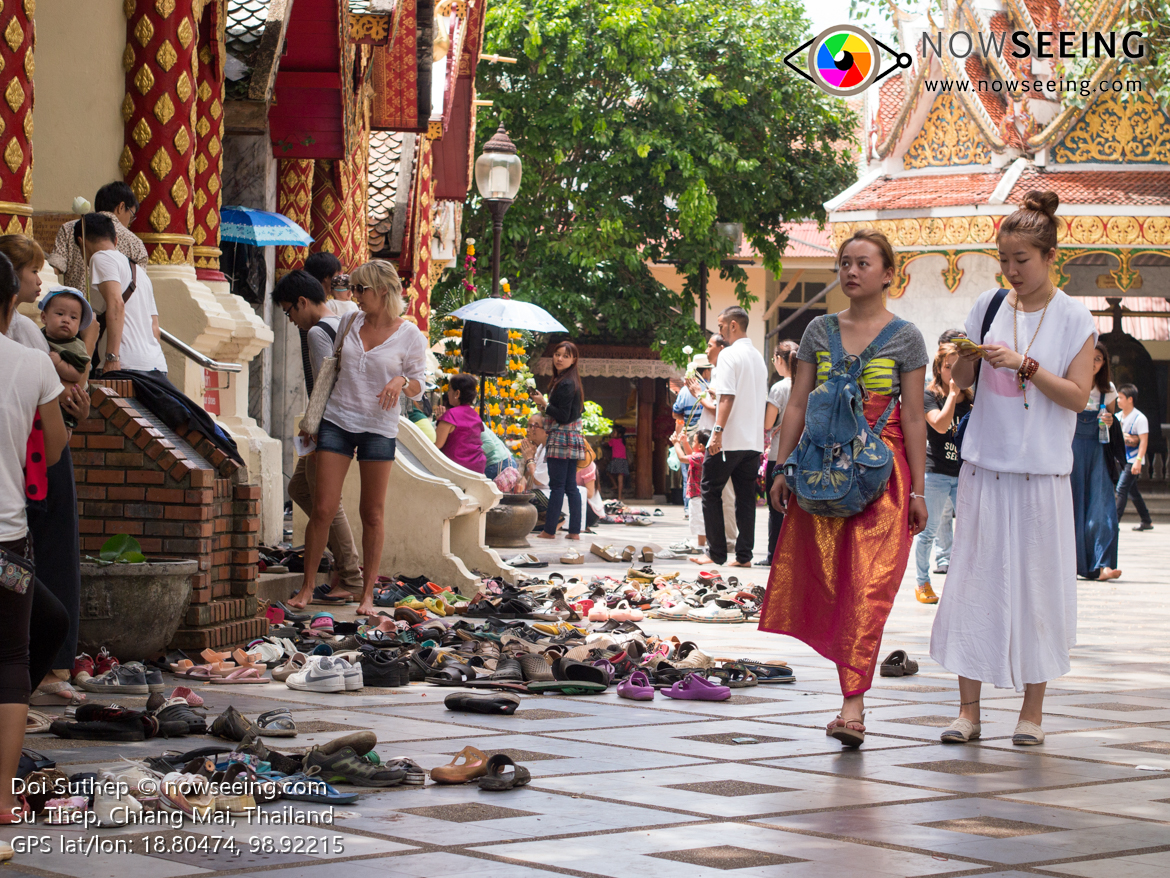 Visitors can get an overview of Chiang Mai from the temple. We recommend readers to spend at least 1 hour here. After all, it will be another 309 steps for you to go back to the car park area. If you are not sure how to worship or make a prayer, just follow the crowd. A minor drawback is perhaps the place can be overcrowded. Also, watch out for your shoe as you need to take it off before entering Gold Chedi compound. The floor can be dirty as well due to the crowd and we recommend readers to prepare a pack of wet tissue to clean your foot before wearing back your shoe.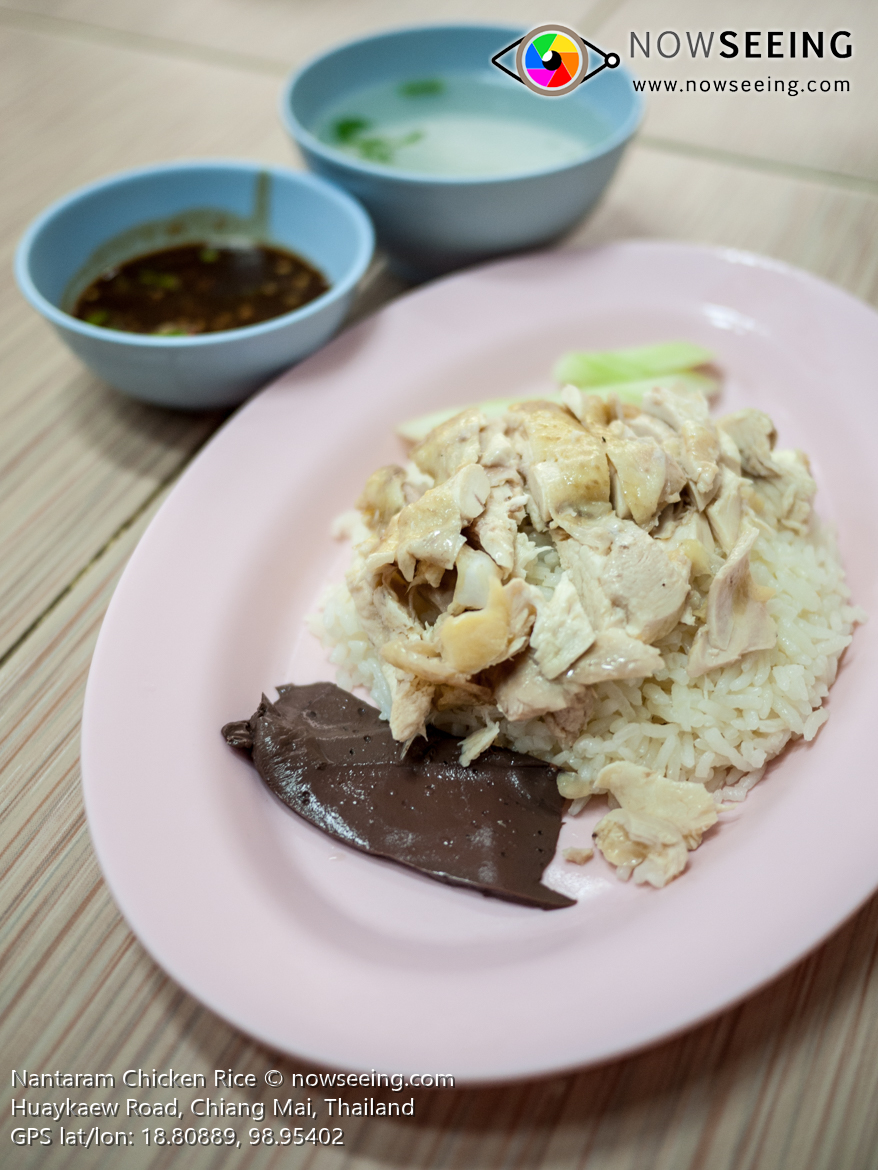 After descending from the temple, we took another roller-coaster ride from top back to Chiang Mai Zoo. It was time for lunch and without second thought we had it at Namtaram Chicken Rice (GPS: 18.808925, 98.954017) in front of Chiang Mai University (Chiang Mai University is just next to Chiang Mai Zoo). The restaurant is opened as early as 7am to 3pm. Close on Sunday.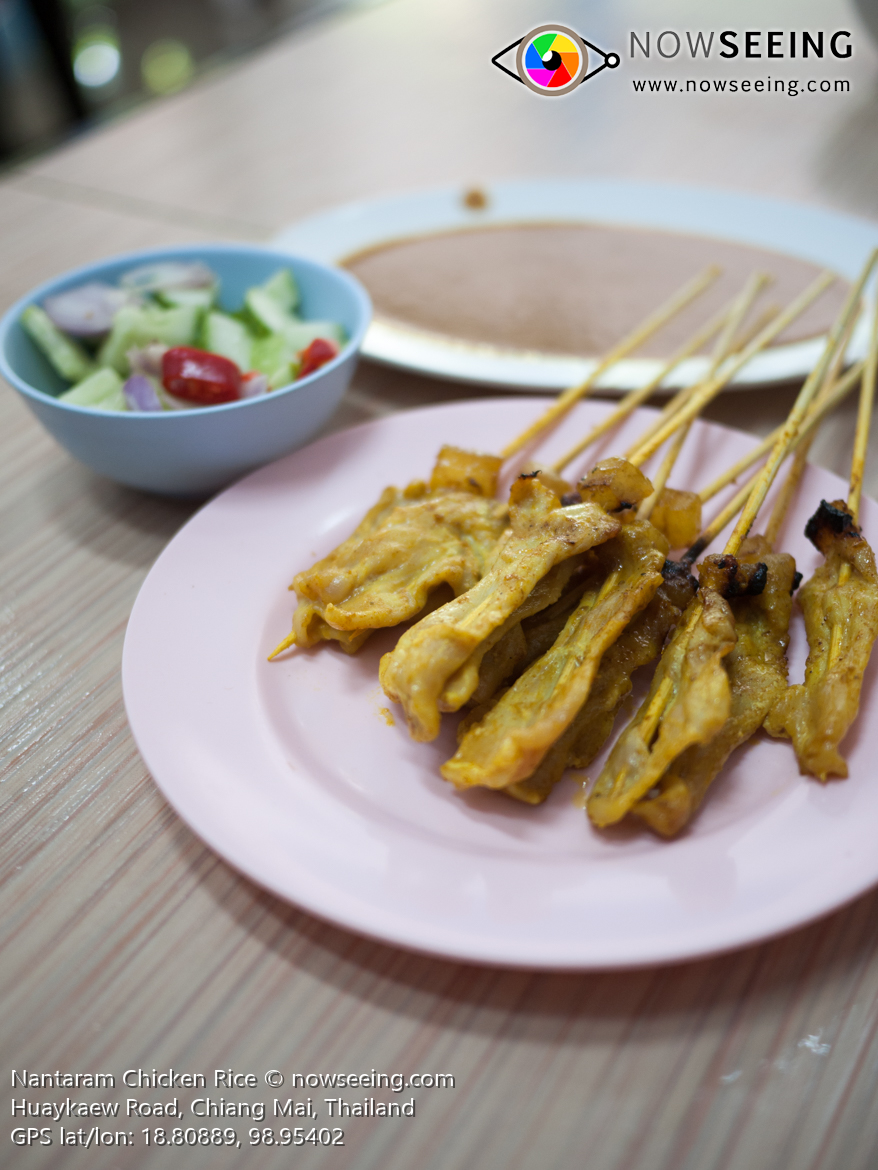 We recommend this chicken rice shop thanks to its nostalgic taste and friendly staffs. We were mistakenly treated as Thais and the owner spoke Thai to us. After few seconds of silence, the owner knew what's going on and he passed us a menu with Chinese translation. As we were not fully recovered from motion sickness, we just ordered a plate of Chicken Rice (THB 30 for small). The same shop offers chicken satay as well so we opted for a plate as well. Taste and texture-wise, it was definitely different from Malaysia version and was subjected to personal preference. One thing for sure was that Thai's one was way cheaper than Malaysia version.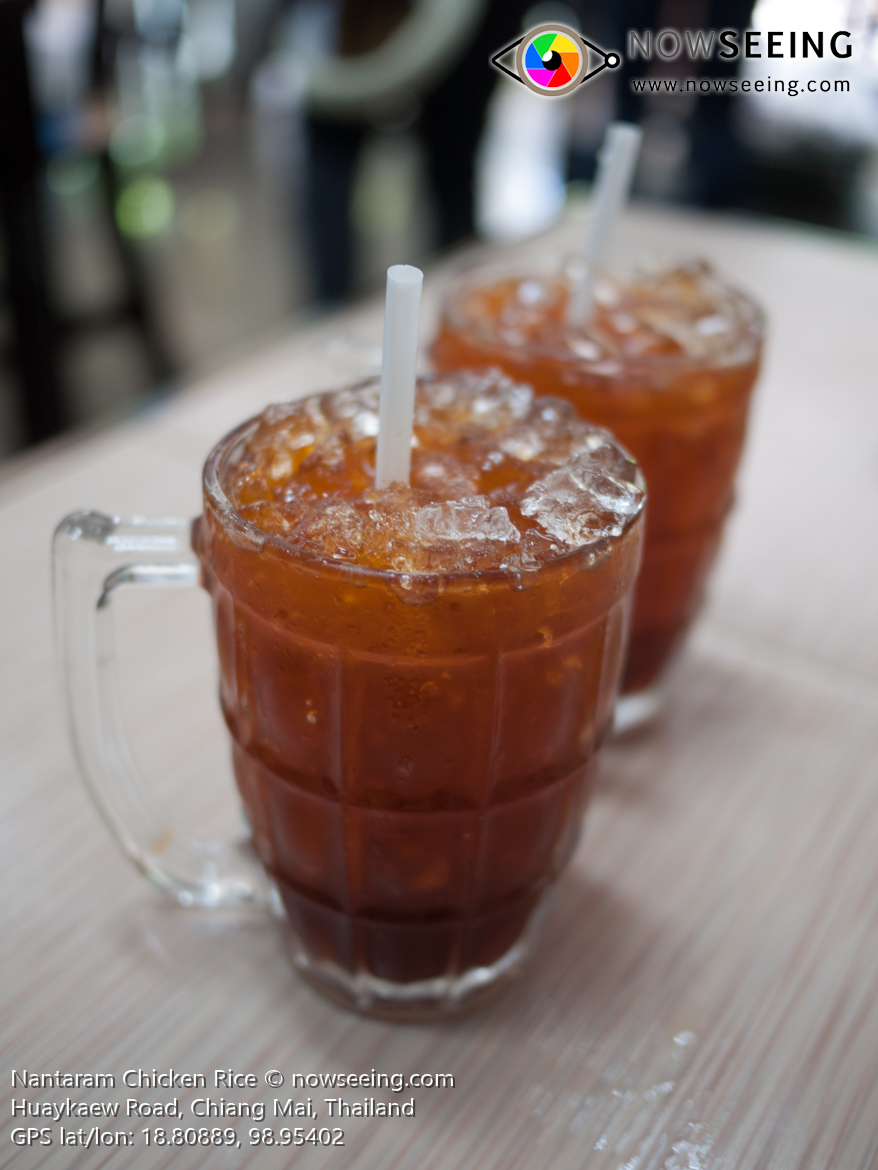 Our motion sickness slowly recovered with a glass of Thai Ice Tea.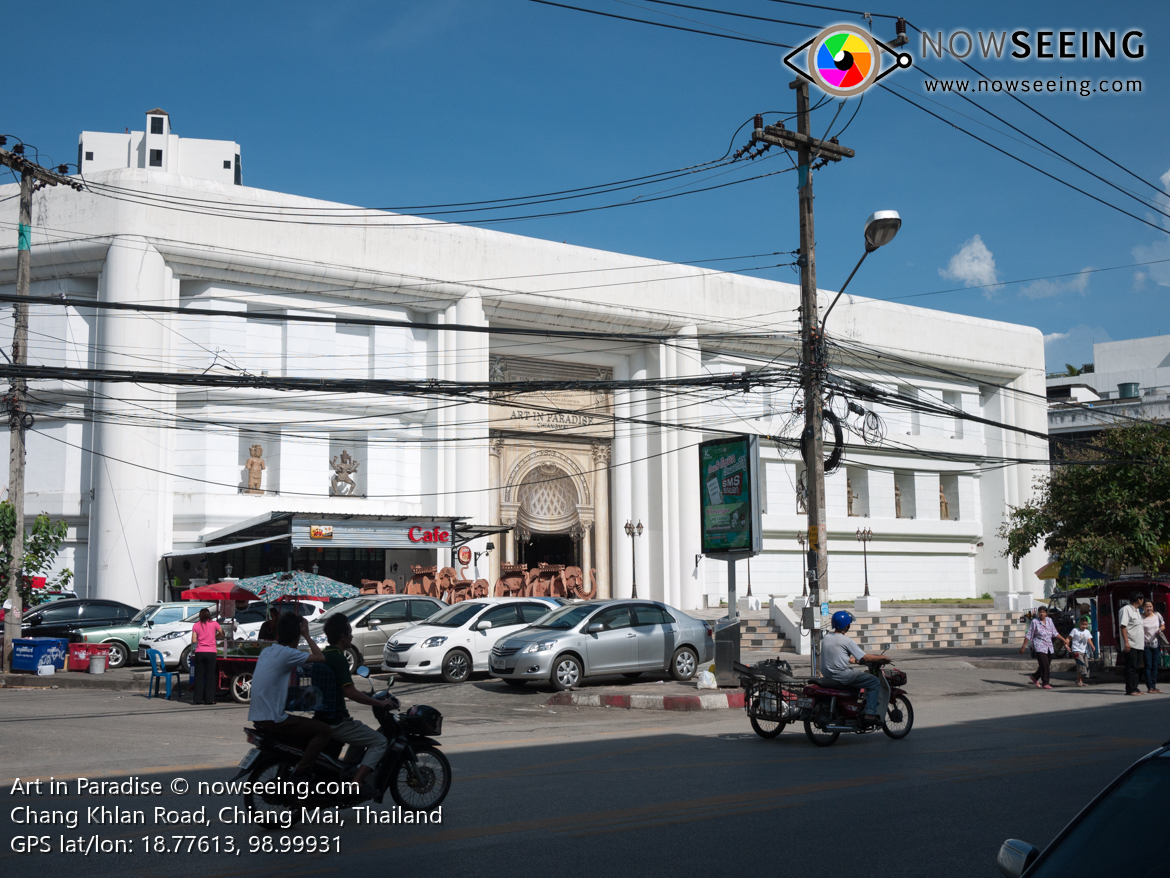 Our next destination was Art in Paradise - a 3D art museum. The building was located not far from Pantip Plaza and if the red cab driver is having difficulty in knowing the locateion, just tell them "Pantip Plaza" and walk yourself to the destination at the south.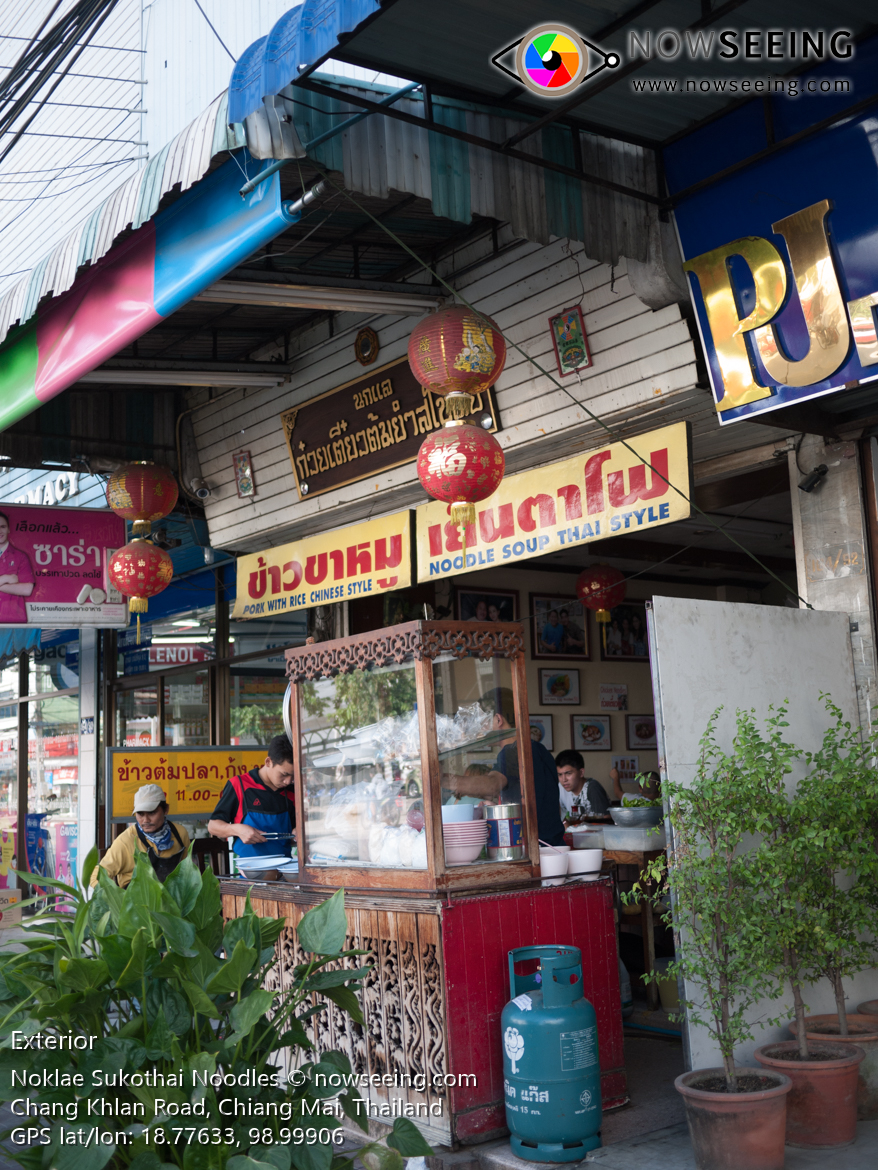 Before that, we were recovered from motion sickness and was time to have another round of lunch. This time, we had it opposite of Art in Paradise, a noodle shop called Noklae Sukothai Noodles นกแล ก๋วยเตี๋ยวต้มยำสุโขทัย (GPS: 18.776335, 98.999108) (Google Map / TripAdvisor). The shop opens daily from 11am to 2am.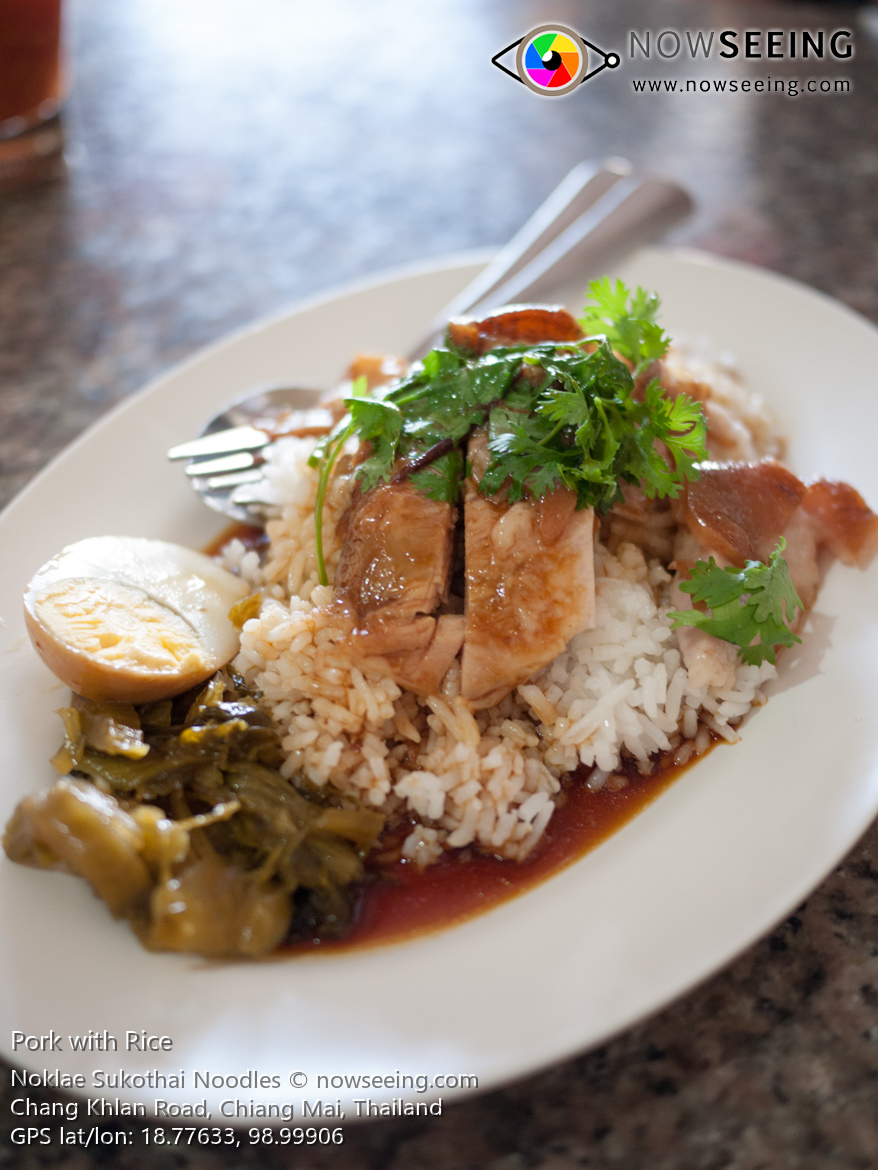 The reason we visited this shop was because we hadn't try Pork Leg Rice since we came to Chiang Mai. Knowing that this shop offered one, we had one here (THB 50) before going back to Malaysia the next day.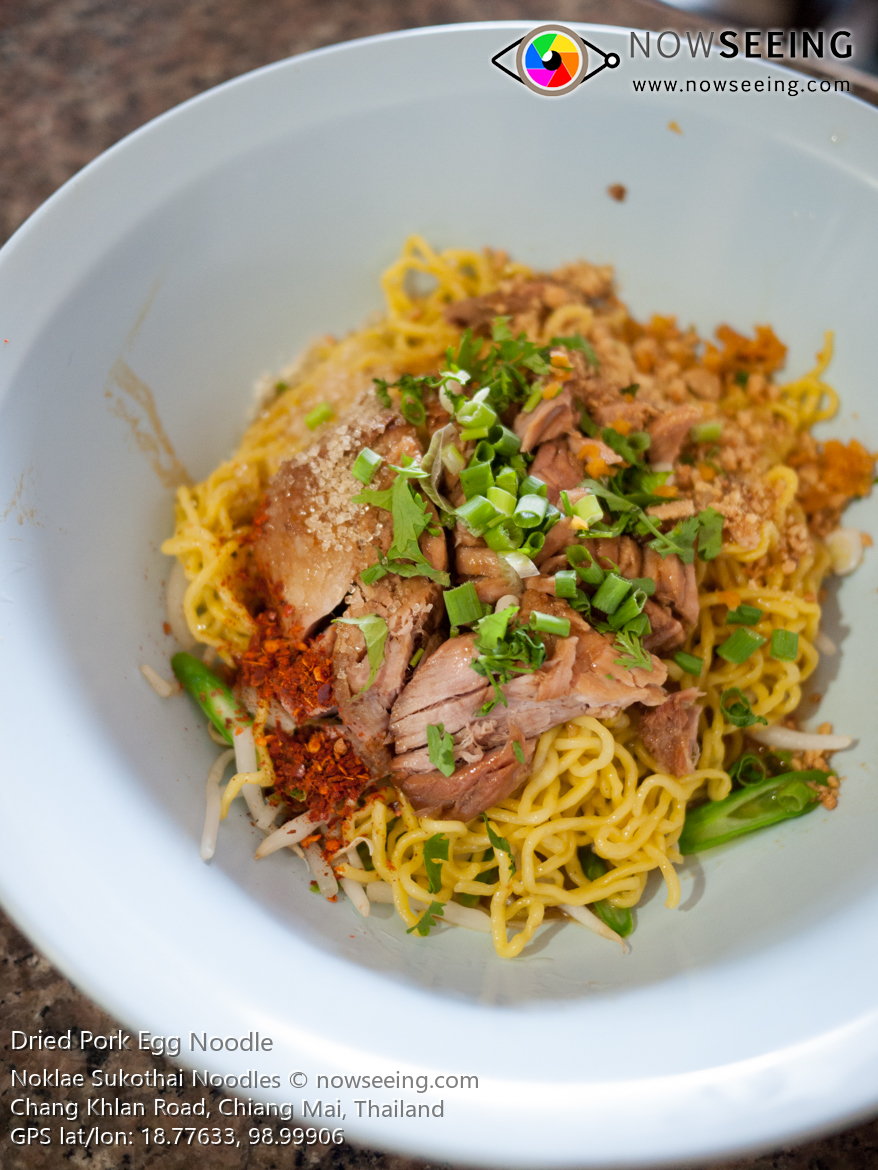 Since the shop was specialized in noodle, we ordered Dried Pork Egg Noodle (THB 50).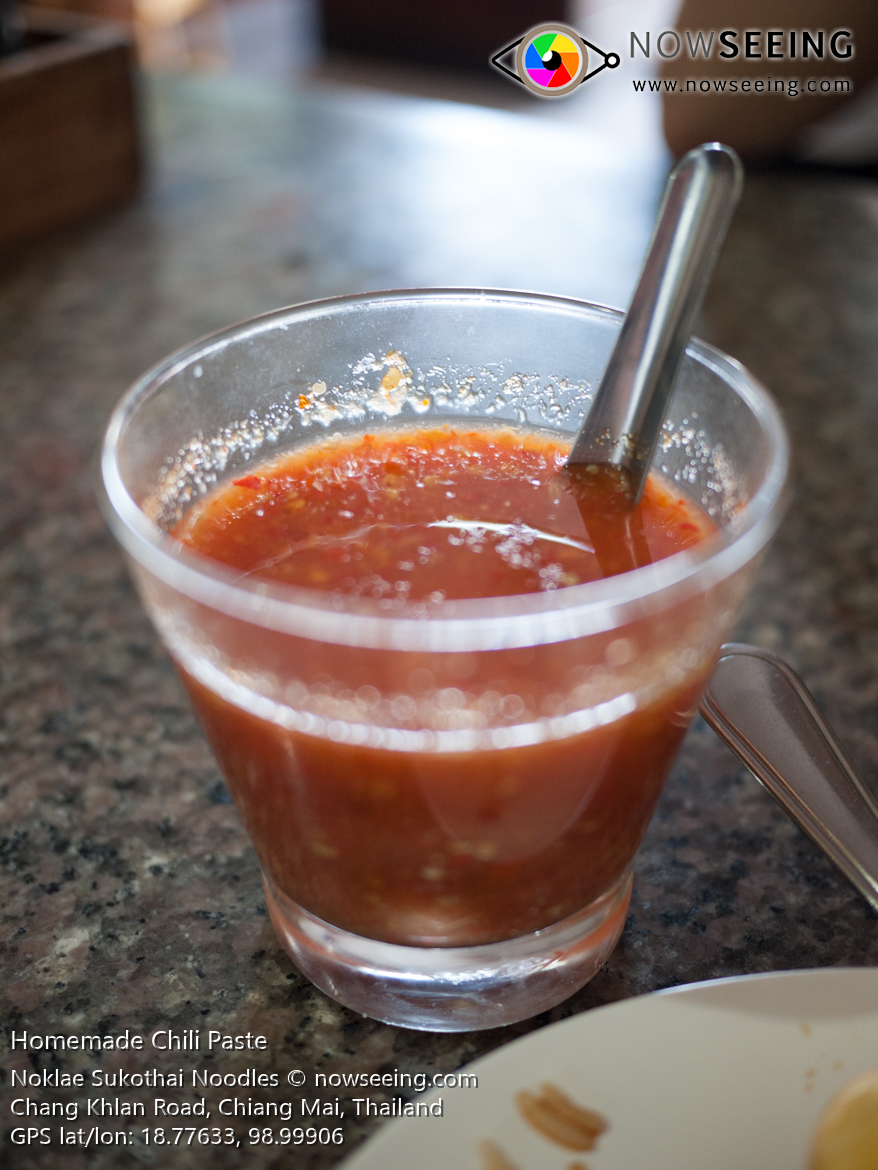 Their homemade chili paste was worth dying for. Best stir with dried noodle or pork rice.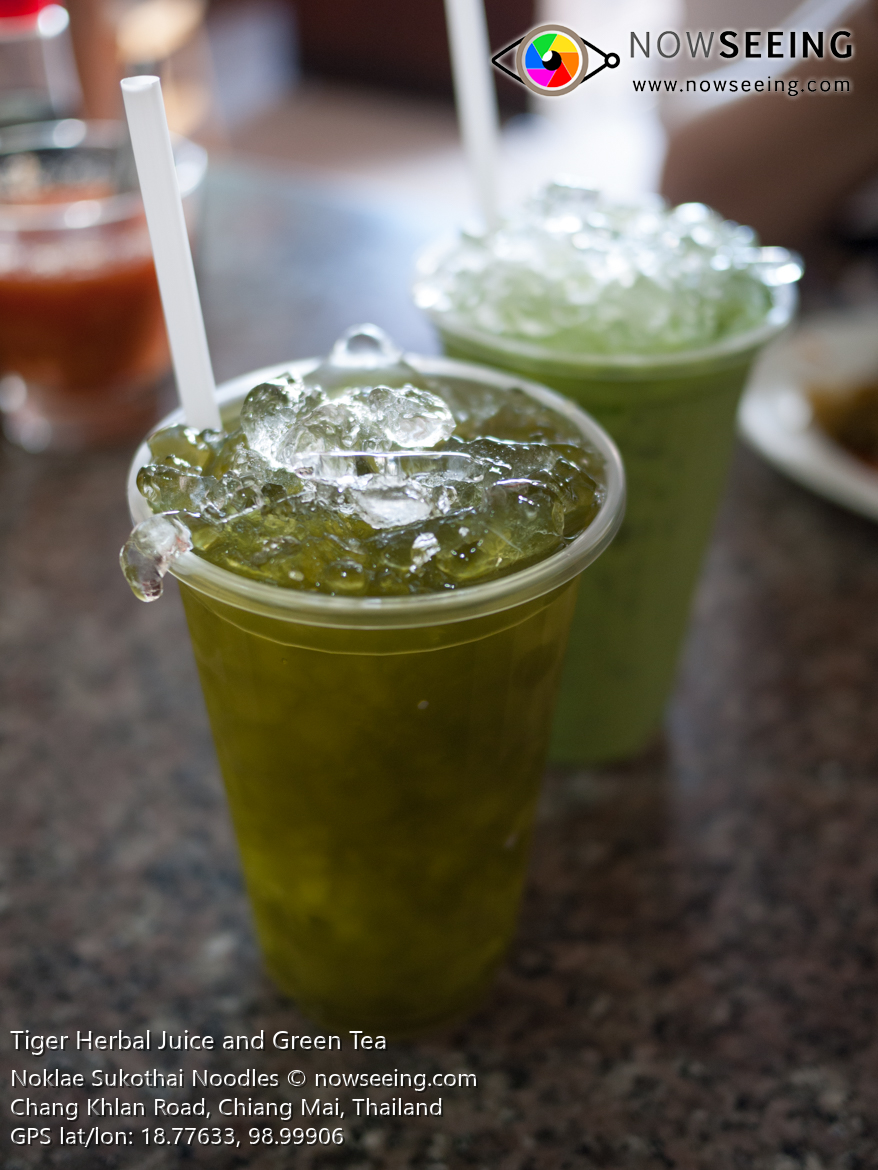 We had a glass of Tiger Herbal Juice and Thai Green Tea. It was also our first encounter with Tiger Herb - a perennial plant grows in tropical swampy area. In Malay, it is usually used in ulam (a Malay salad).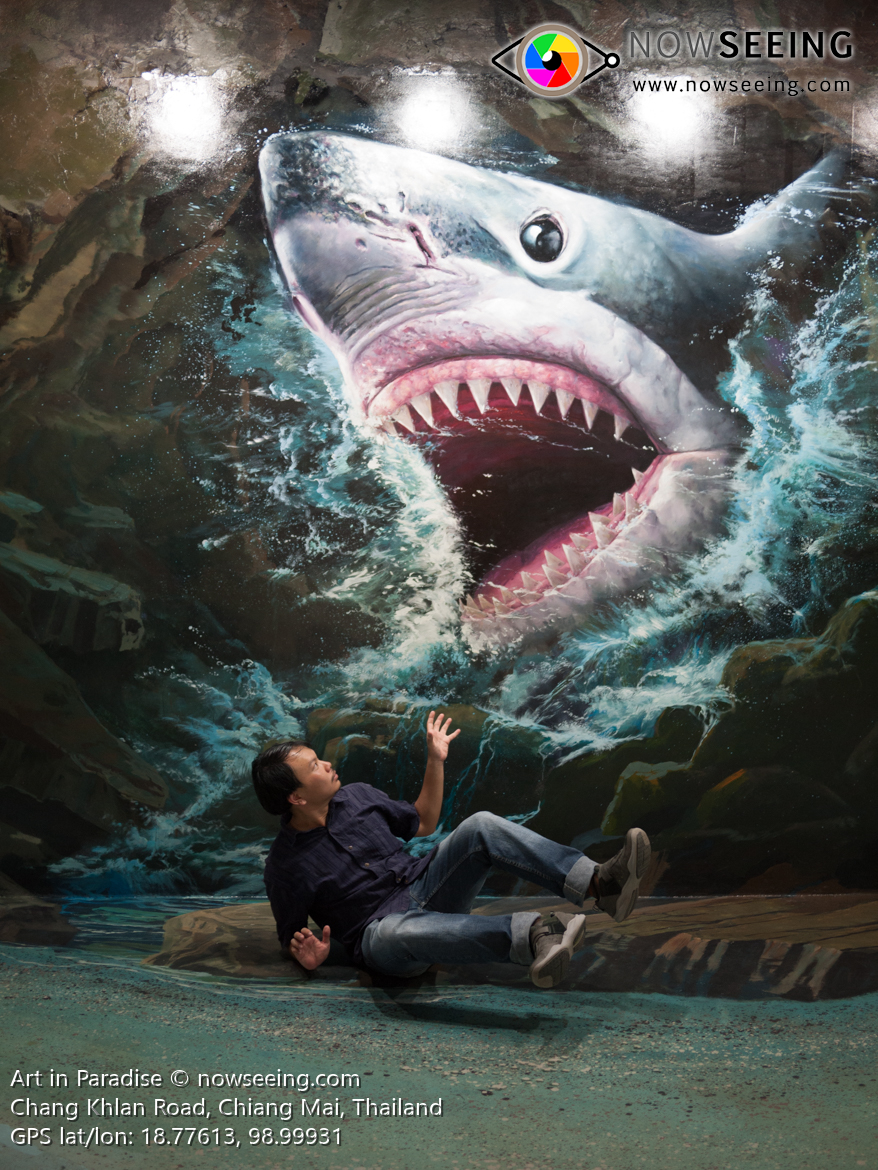 Art in Paradise has three outlets in Thailand - Pattaya, Bangkok and Chiang Mai. Each of them has their own 3D arts so if you already visited an outlet, it is still worth the price to vistit outlet in another province.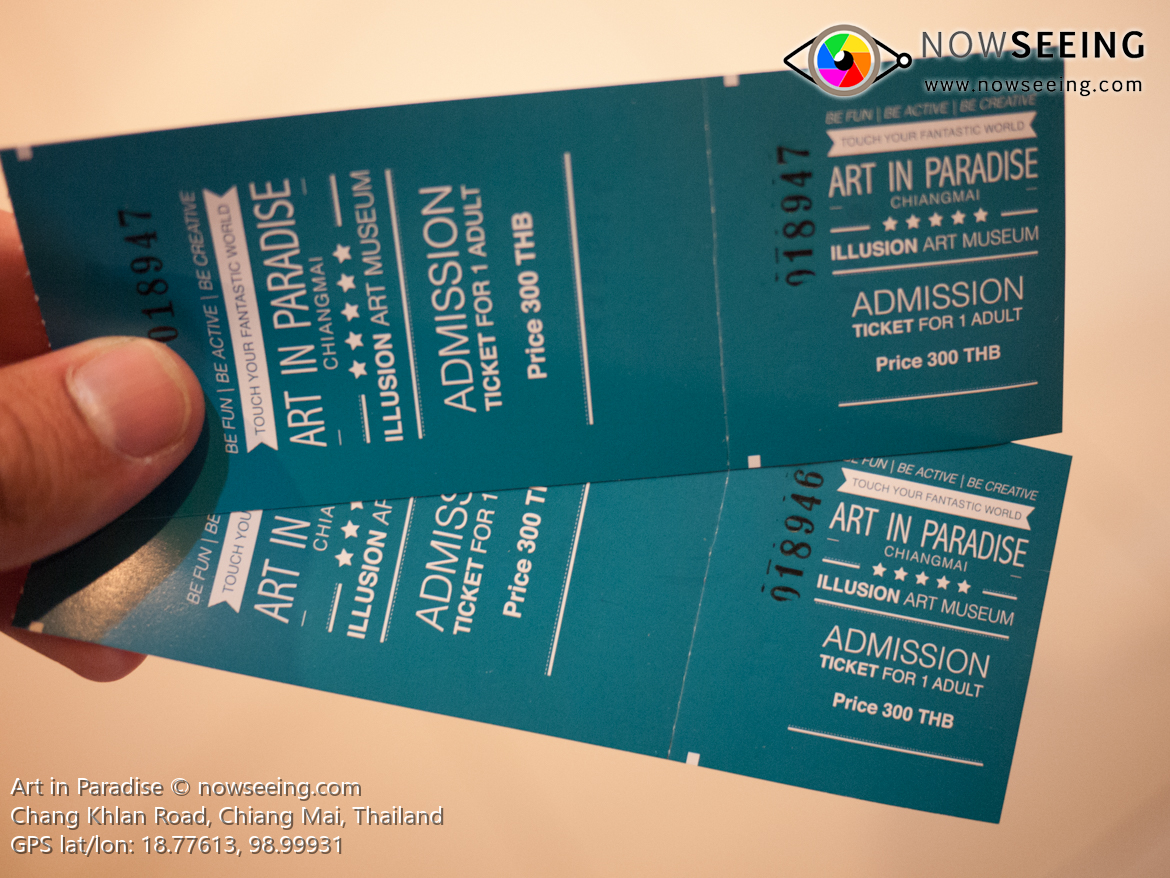 Admission fee was THB 300 per person. Is it worth the value? Our answer is yes.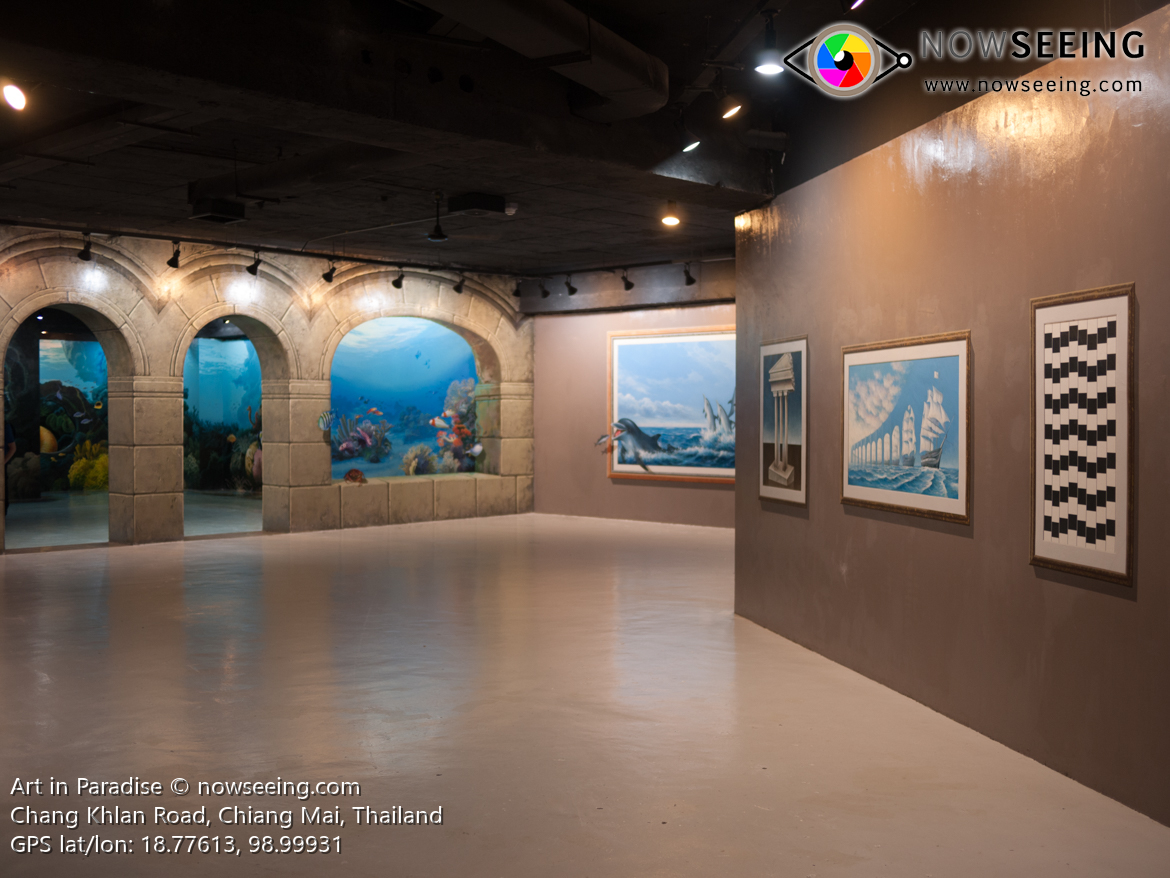 First of all, this is a large building with high ceiling which means more rooms for large 3D arts. Be sure to fully charge your camera or have a spare battery/memory card as you probably will sacrificed hundreds of shutter count here. For our case, we were using Lumix GF1 20mm M43 camera and was sufficient most of the time.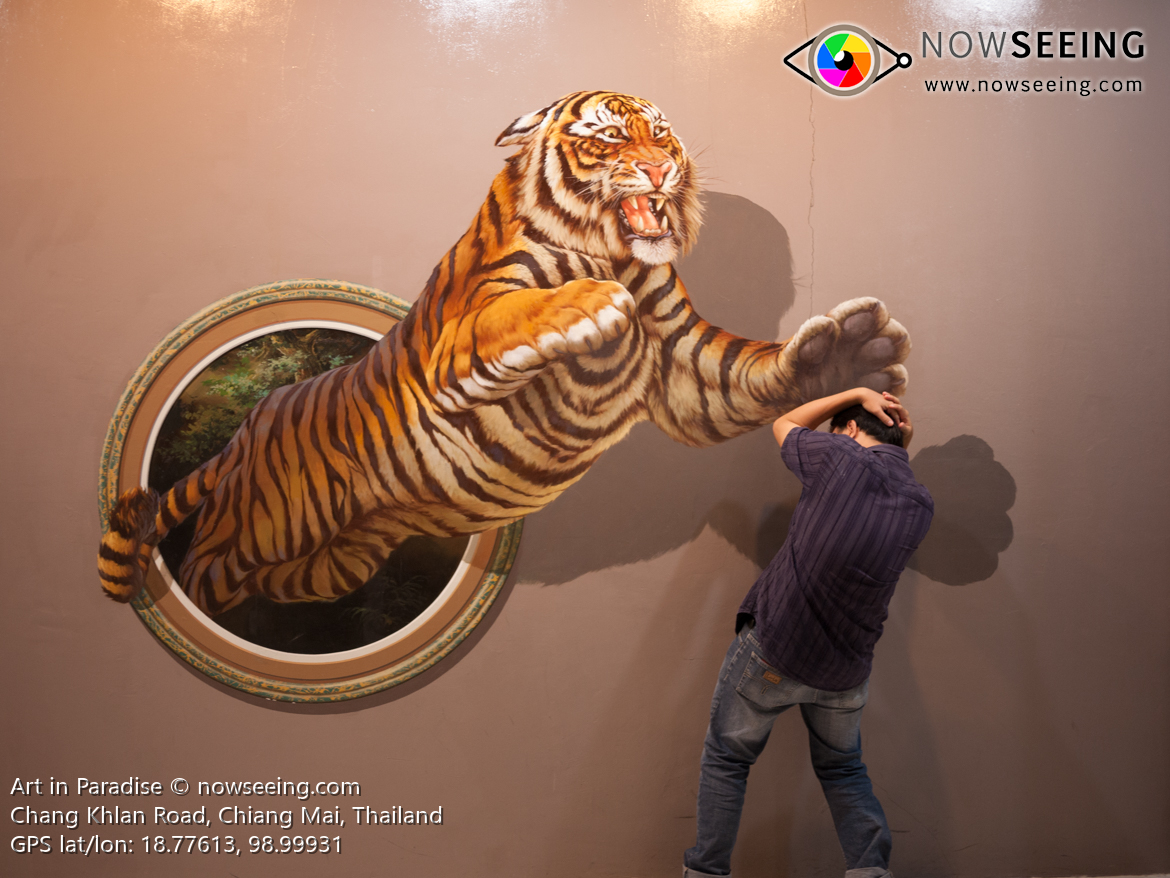 Back in year 2014, 3D arts was considered new. Today (year 2017), 3D museums are mushrooming in south-east Asia (some even promising "5D" experience, even though personally we haven't try it).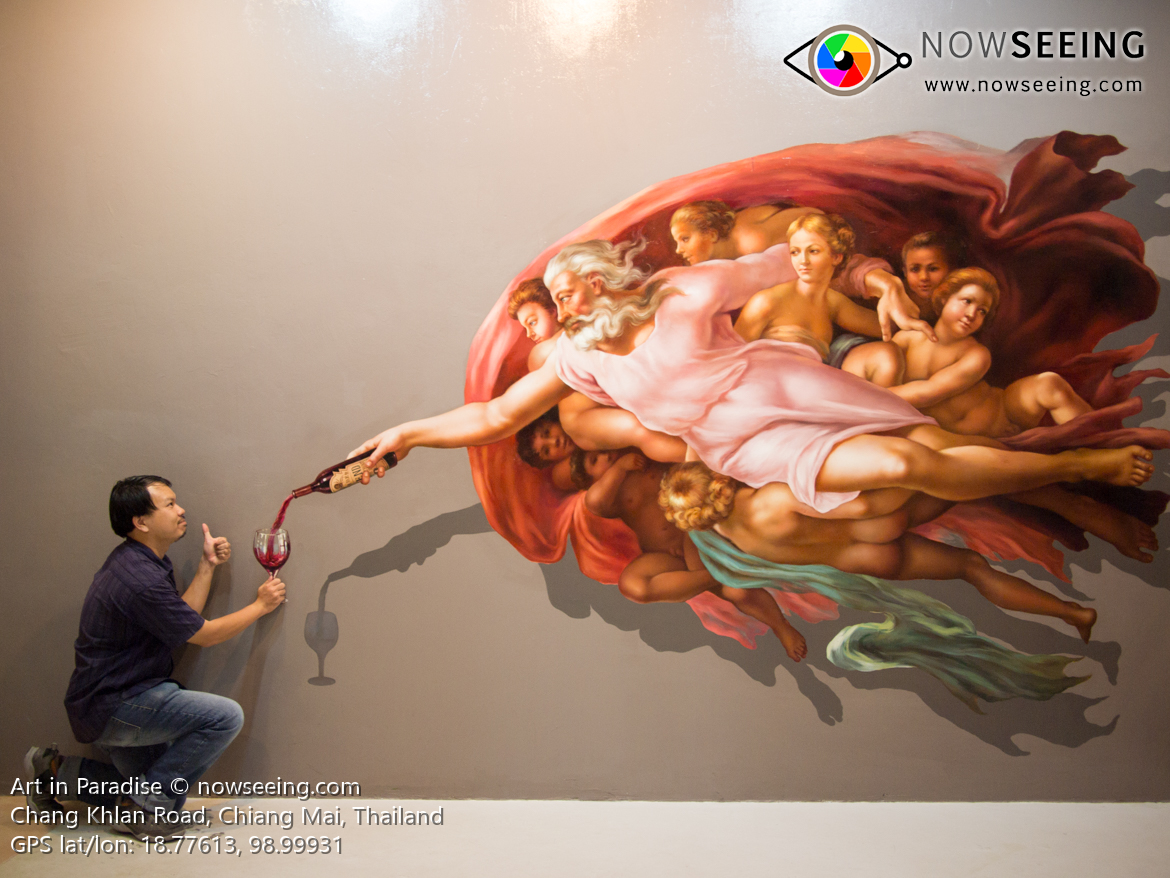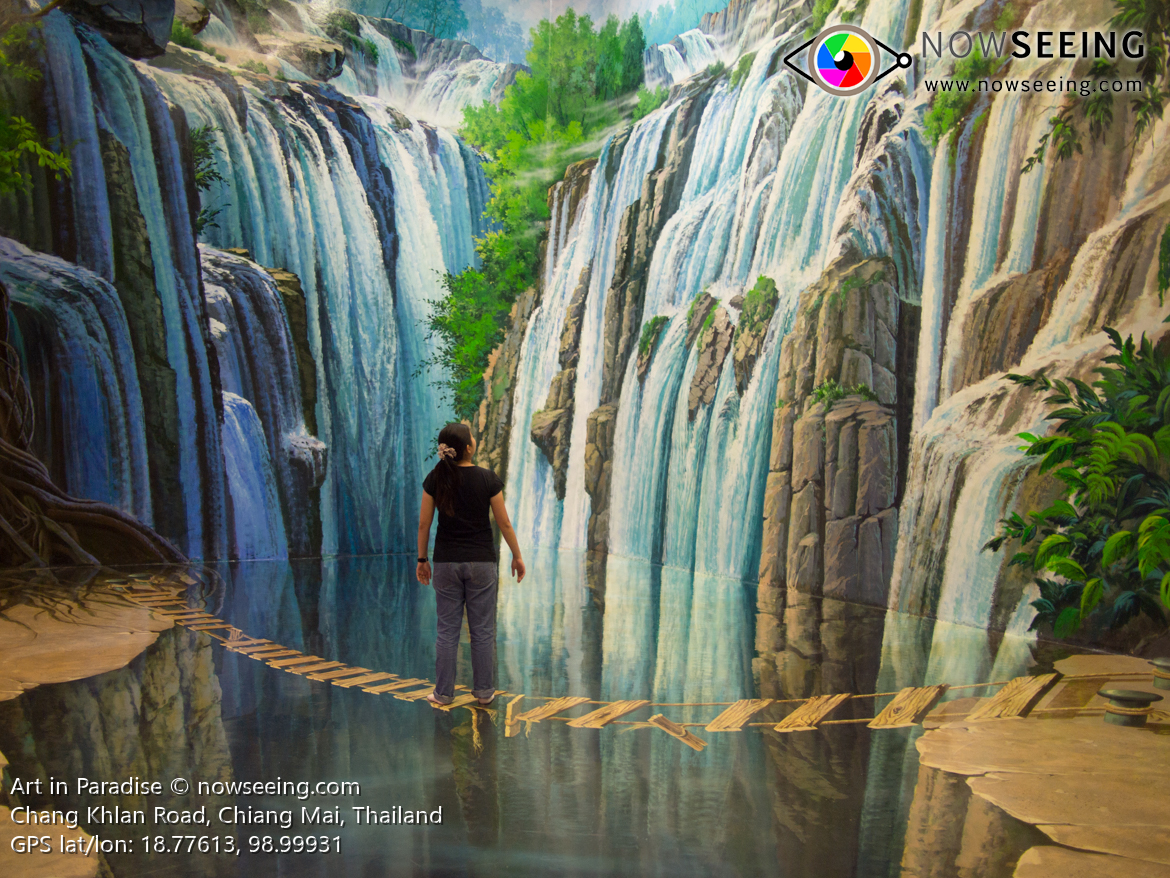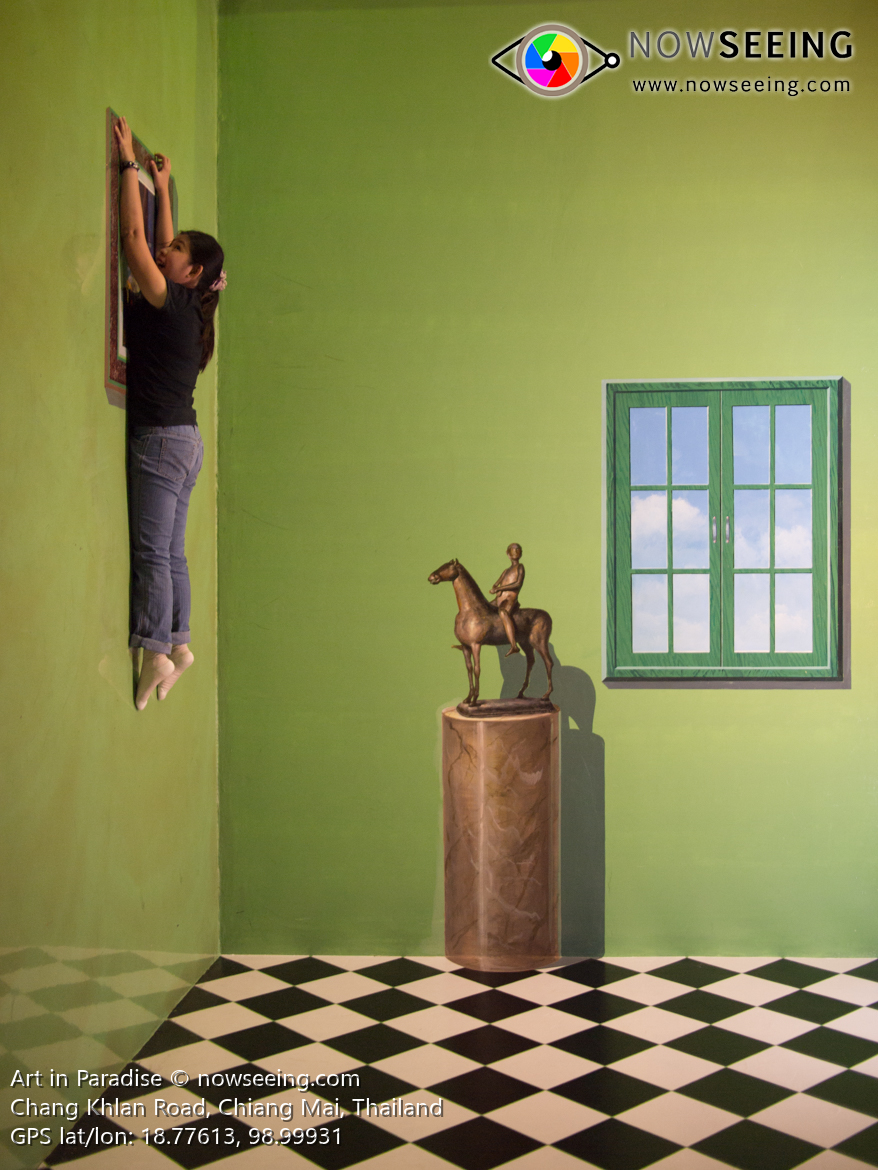 As a whole, Art in Paradise is one of the best 3D art museum we have ever visited with its enormous and realistic 3D arts. We recommend readers to spend at least 2-3 hours here.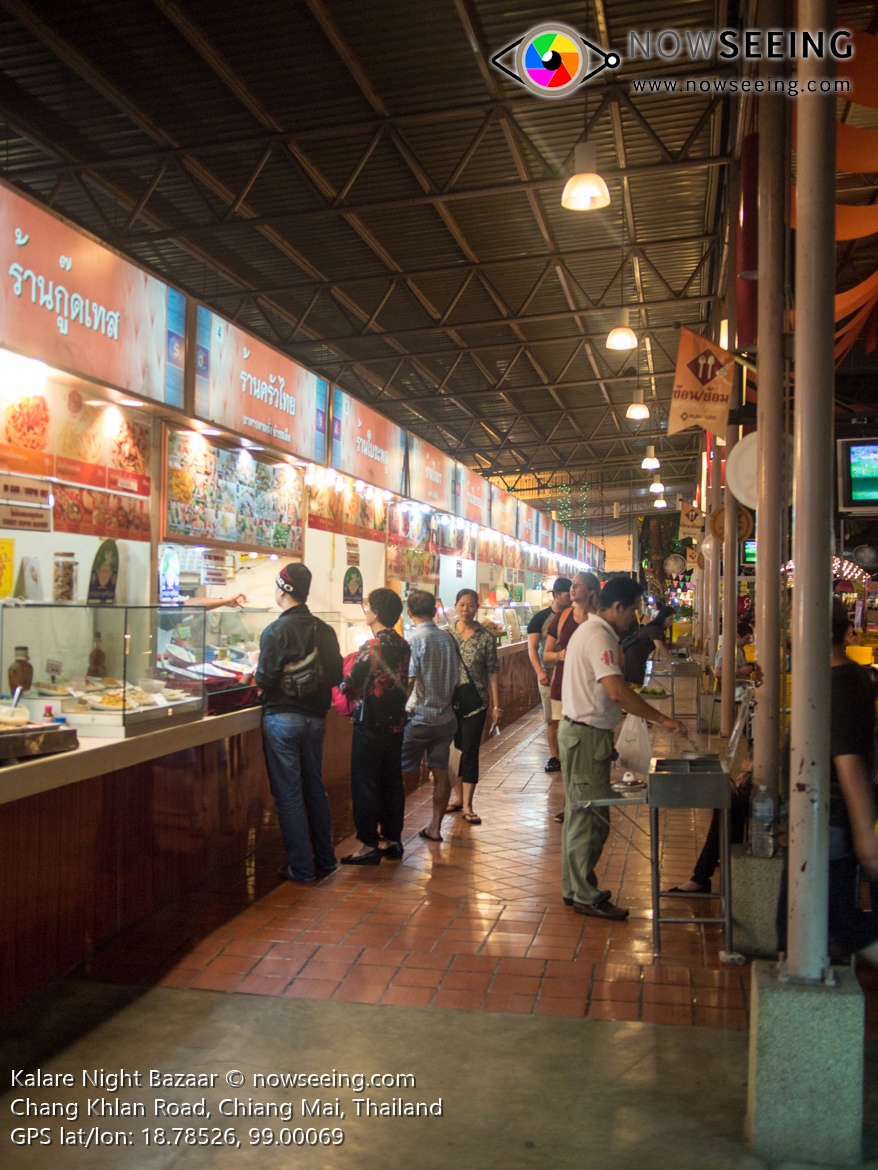 It was 8pm the moment we walked out from Art in Paradise. We then walked to Kalare Night Bazaar for our dinner.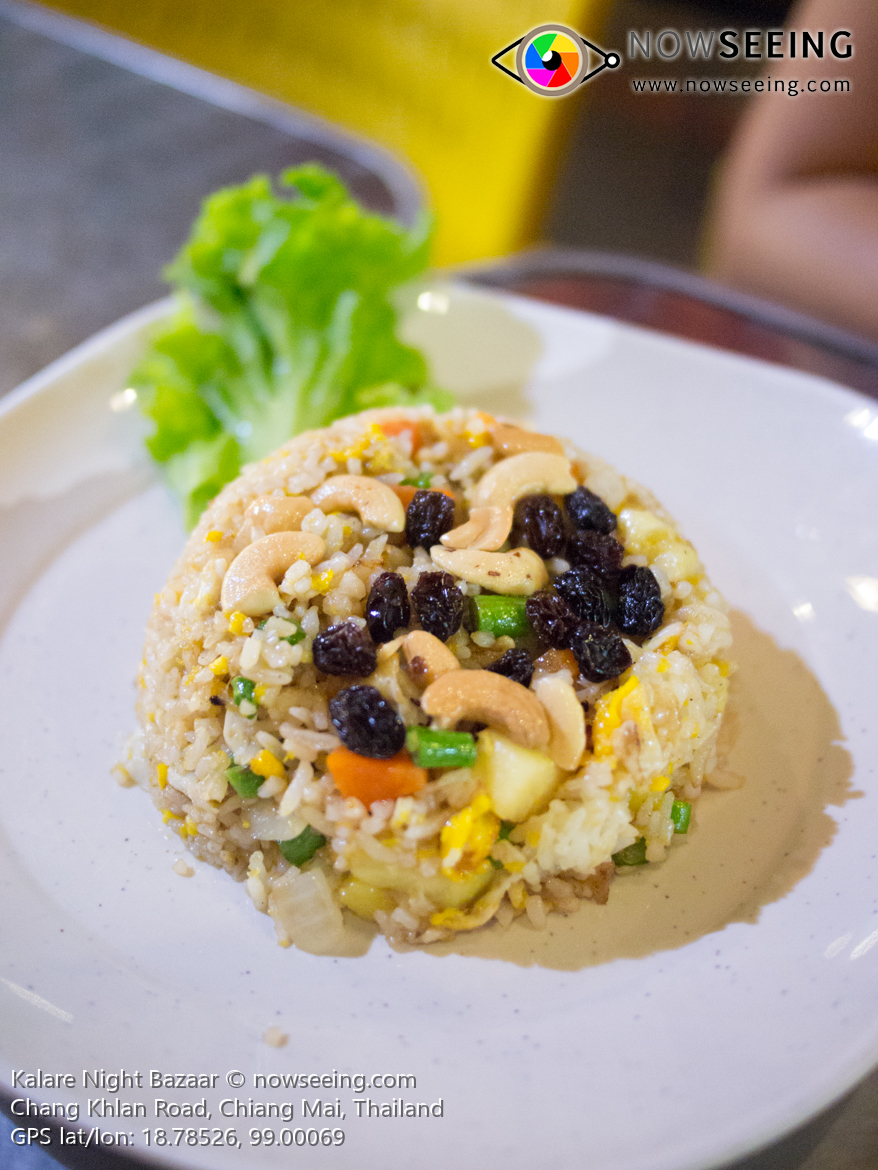 Instead of using cash, customers had to purchase coupon for food.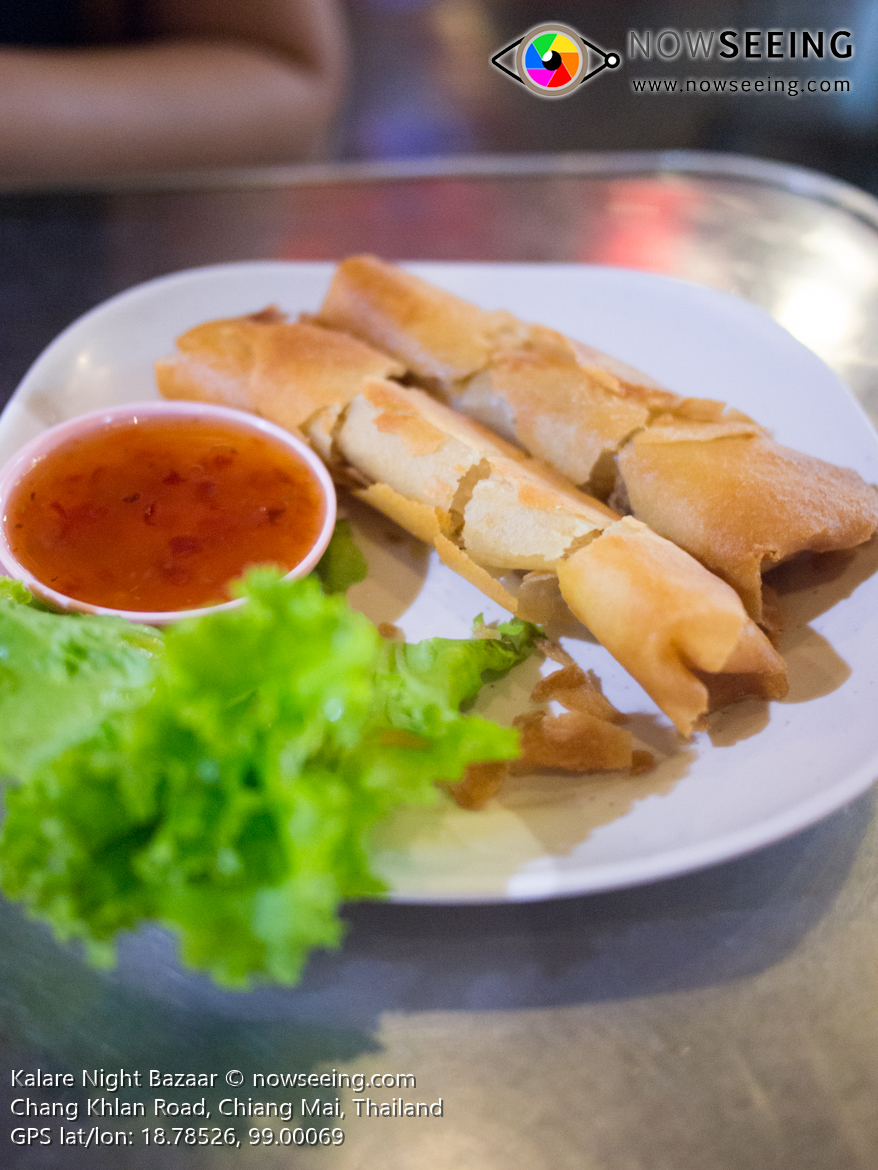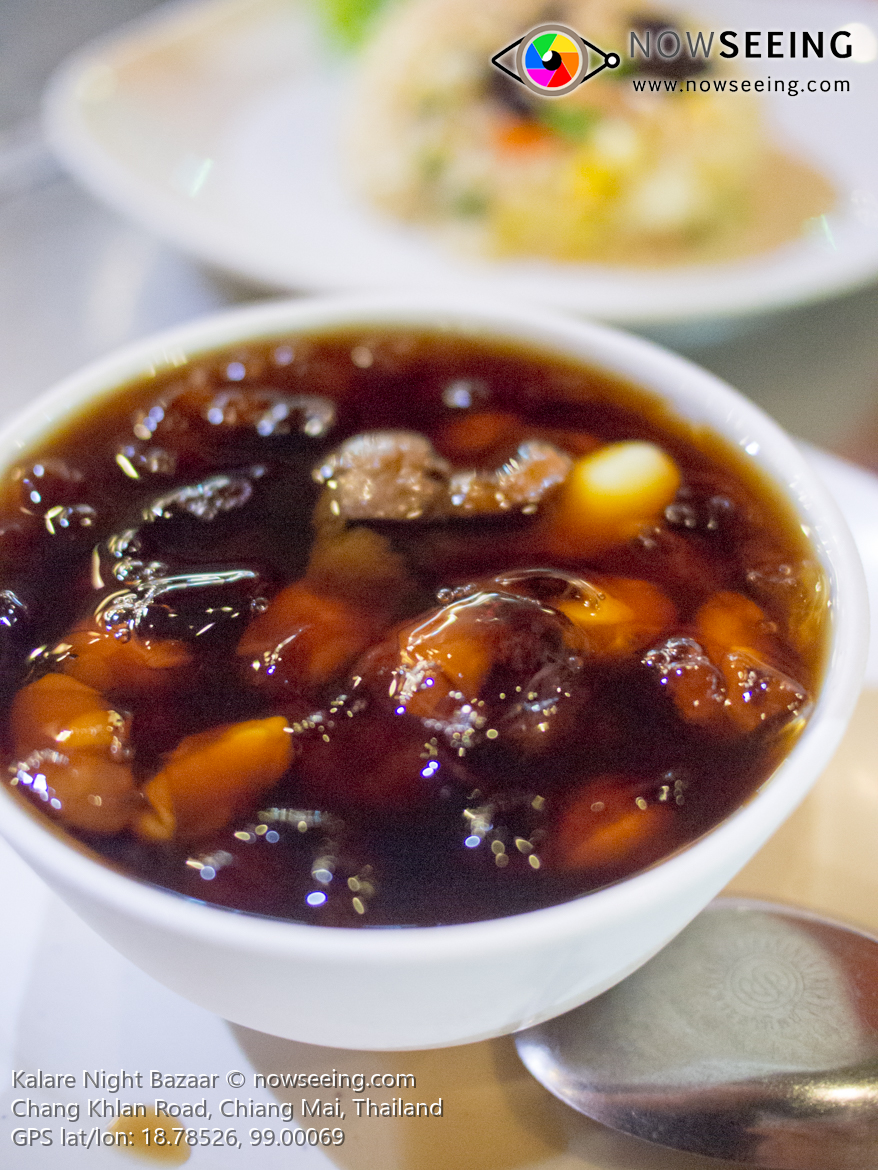 Food here were just OK and not exceptionally delectable. It was like most food courts back in Malaysia. Many choices but none stands out. We called it a day after the dinner and head back to Baiyoke Ciao Hotel at Nimman. It was also our last night in Chiang Mai and we had to pack our luggage for early flight tomorrow.

Our flight next morning was AirAsia AK855 at 9:10am back to Kuala Lumpur, Malaysia. Fortunately, we managed to grab a red cab early in the morning and reached the airport around 7am. As a whole, it was a lovely Chiang Mai trip. Compared to Bangkok, life in Chiang Mai is more relaxing and is definitely suitable for non-shopaholic travelers looking for a place rich in local culture and arts. We will definitely go back again, especially to Chiang Rai which we do not have a chance to visit it back in year 2014 due to earthquake.
If you like our articles, kindly like our Facebook page at:
https://www.facebook.com/nowseeing/
To re-visit previous Chiang Mai posts, click on one of the links below:
Day 1 - Kuala Lumpur to Chiang Mai old city
Day 4 - Pai to Chiang Mai Sunday Night Market
Day 6/7 - A day in Doi Suthep, Art in Paradise and Goodbye