Penang
Details

Category: Penang
Published: 10 February 2017
Hits: 26206

"Bleaaat…!" A goat farm in Penang island in which every single inch of land is like a gold mine? Yes, it is still possible in Balik Pulau. Saanen Dairy Goat Farm is a family-friendly goat farm and we have brought friends and relatives there three times for goat feeding and milk products.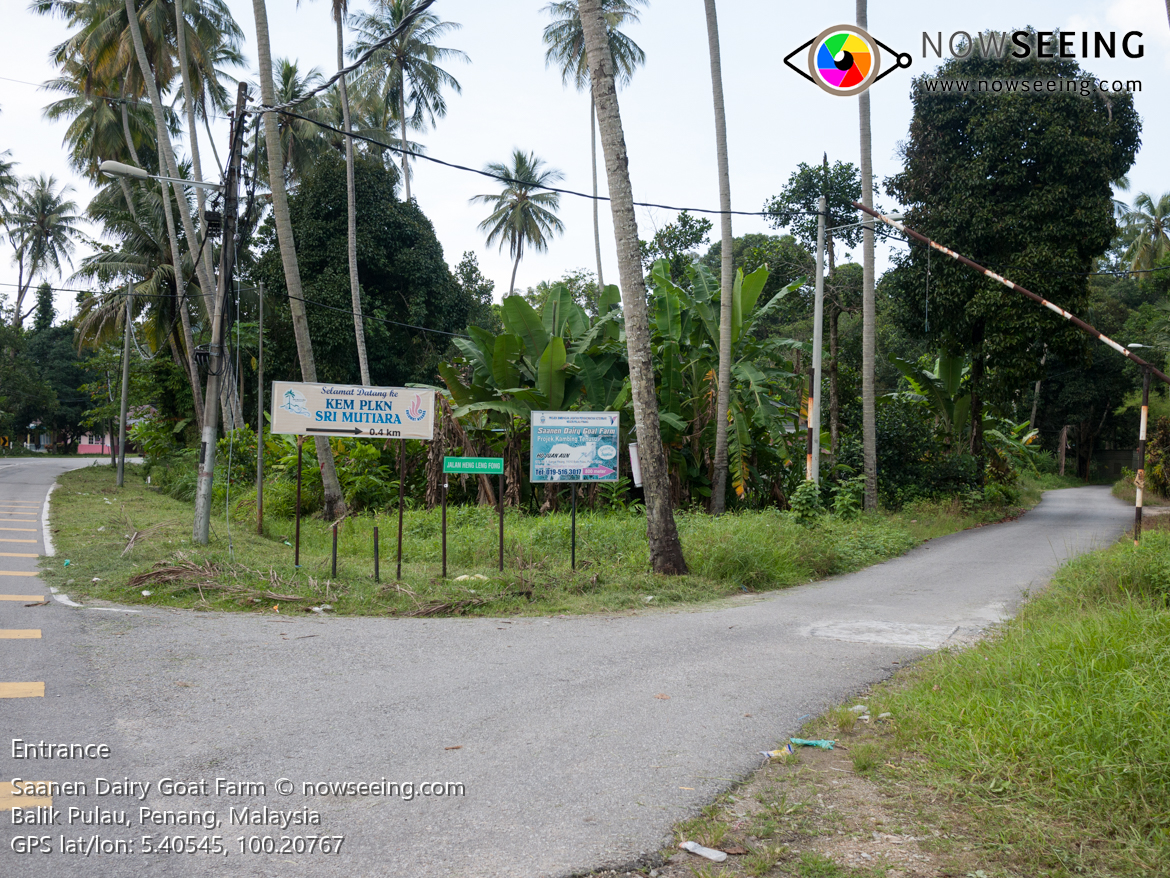 Saanen Dairy Goat Farm is located in Balik Pulau and can be a bit difficult to find for first timers. Assuming you are coming from Balik Pulau town, make a 2 o'clock turn at the small roundabout into Jalan Sungai Pinang. Continue straight for about 6.5km until you reach Sin Min primary school on your left. Turn left before the school for another 700m before you notice a narrow but paved alley with few signboards (one of them is Saanen Dairy Goat Farm). Turn into that alley. Continue another 600m on the narrow road and you should reach the farm.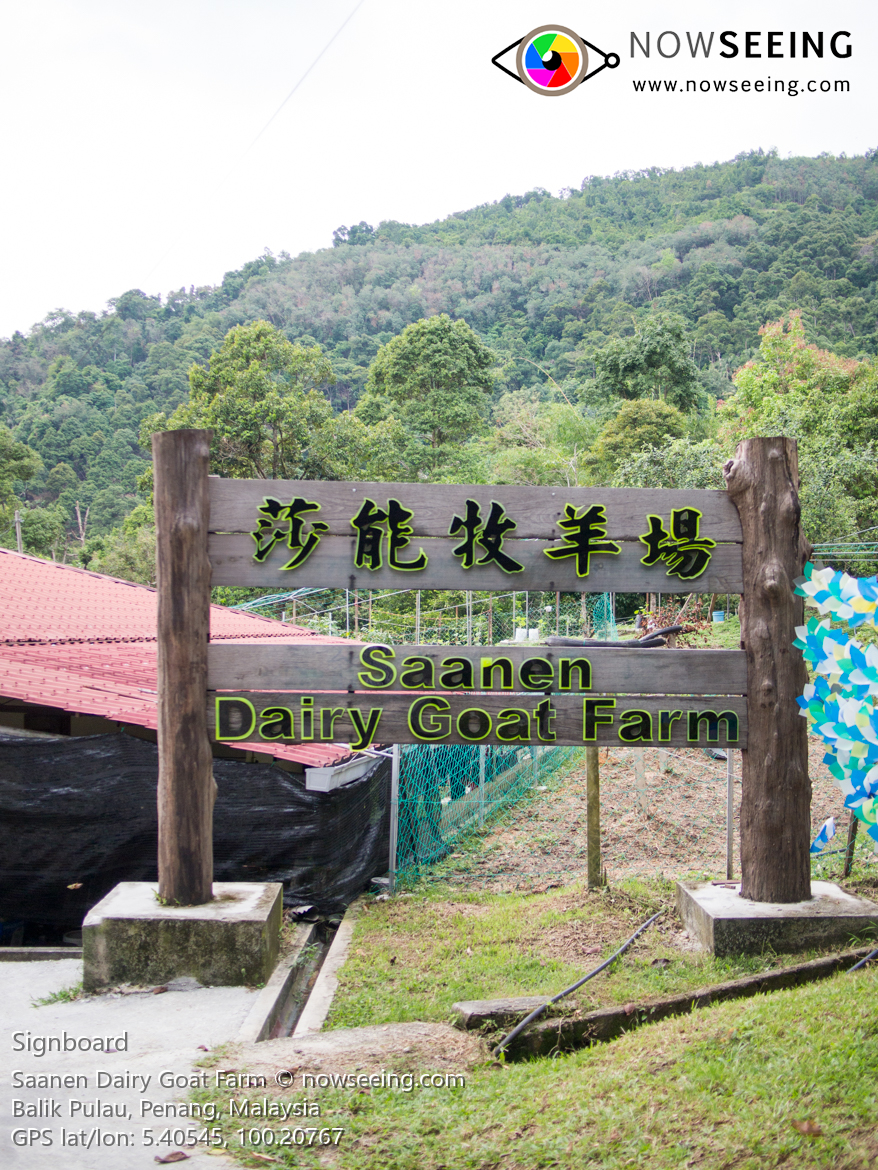 You will notice a signboard when you reach the farm. Parking space is available next to the owner's house, in front of the barn.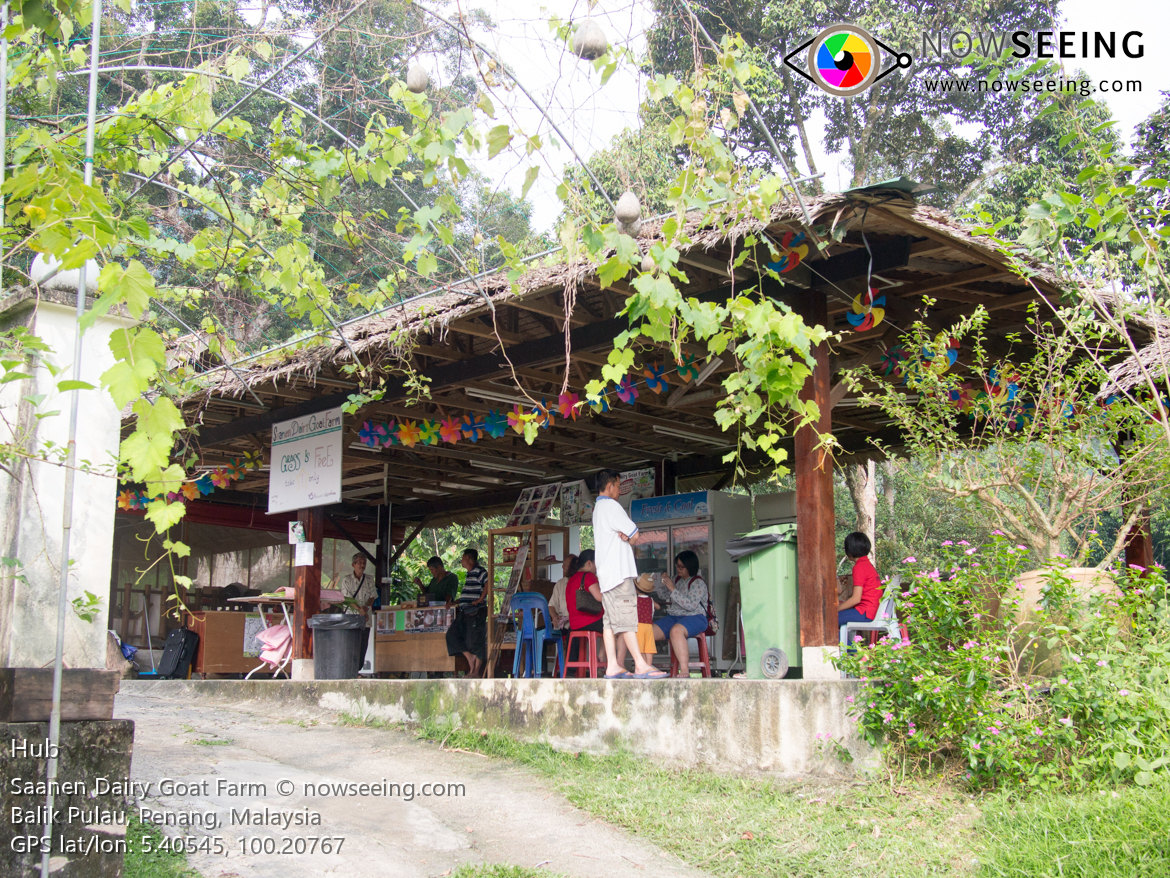 The moment you open your car door, you will be welcomed by "lovely" smell of goat farm. We were raised from countryside so it was not a big deal for us but for townies, they might need more time to get used to it.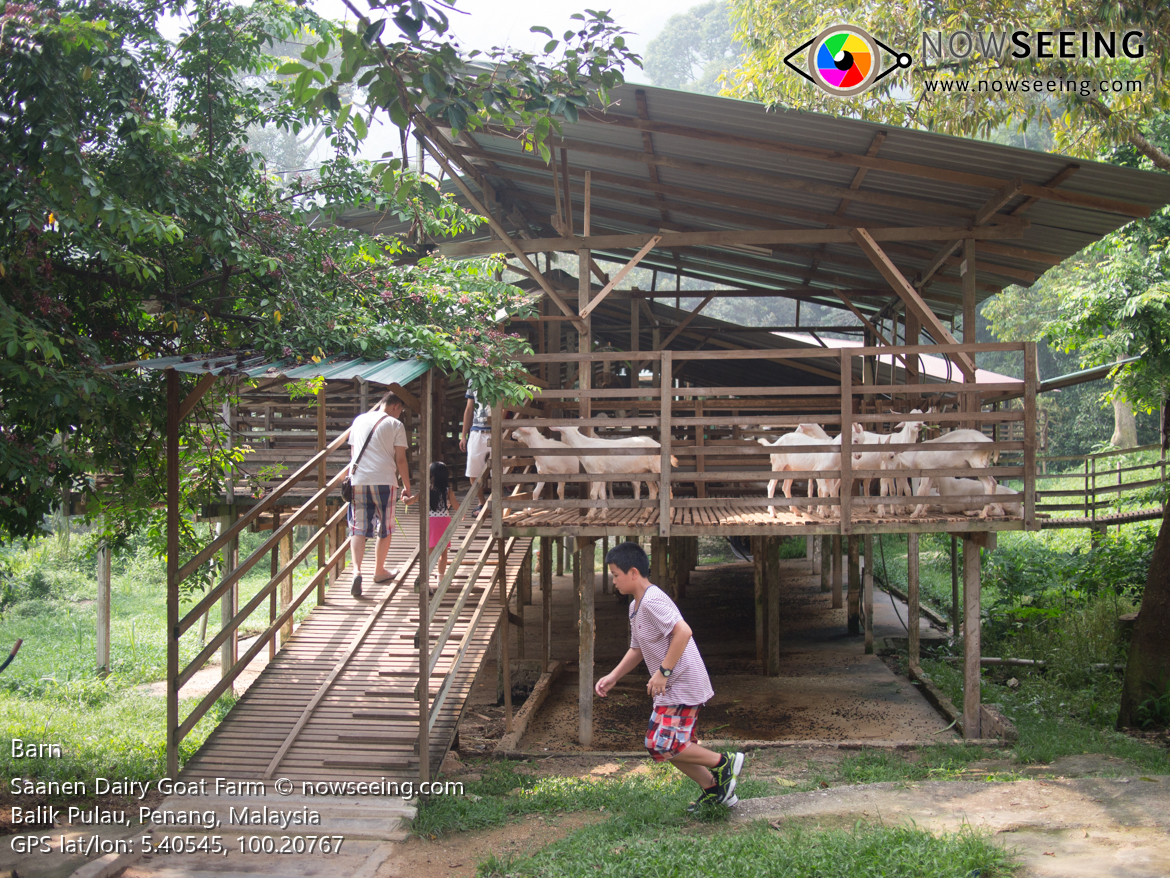 Saanen is Swiss breed, highly productive dairy goat. According to the owner - Mr. Ho Juan Aun 何润安, goat farming is a less demanding business in Malaysia, especially in Chinese community which only consume lamb or goat milk once in a blue moon. Mr. Ho started goat breeding as a hobby with only 7-8 Saanen kids. Thanks to his determination, today, he has more than hundred heads of Saanen goat in his barn, which is also opened for public.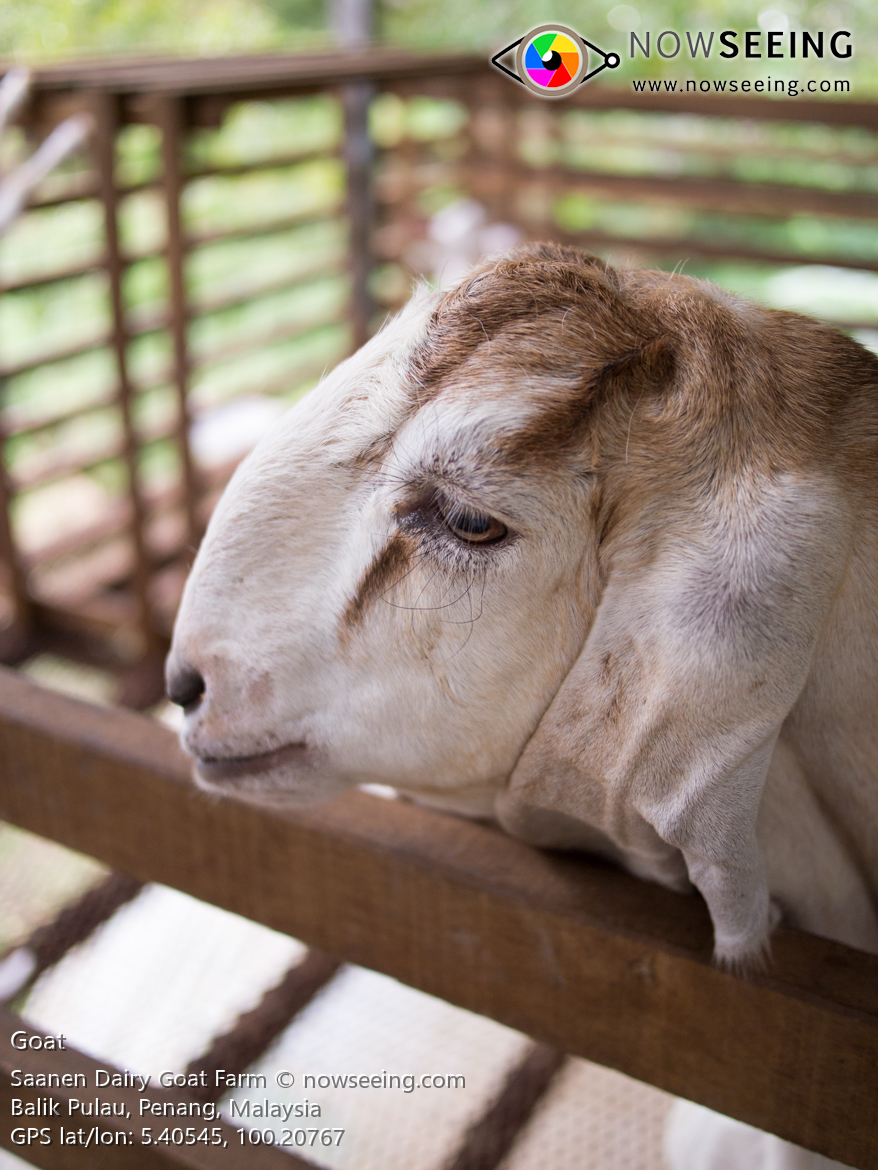 In general, male goats are bigger in size and are usually weighted at 100kg and above. Female goats are smaller and are usually weighted at 80kg and below.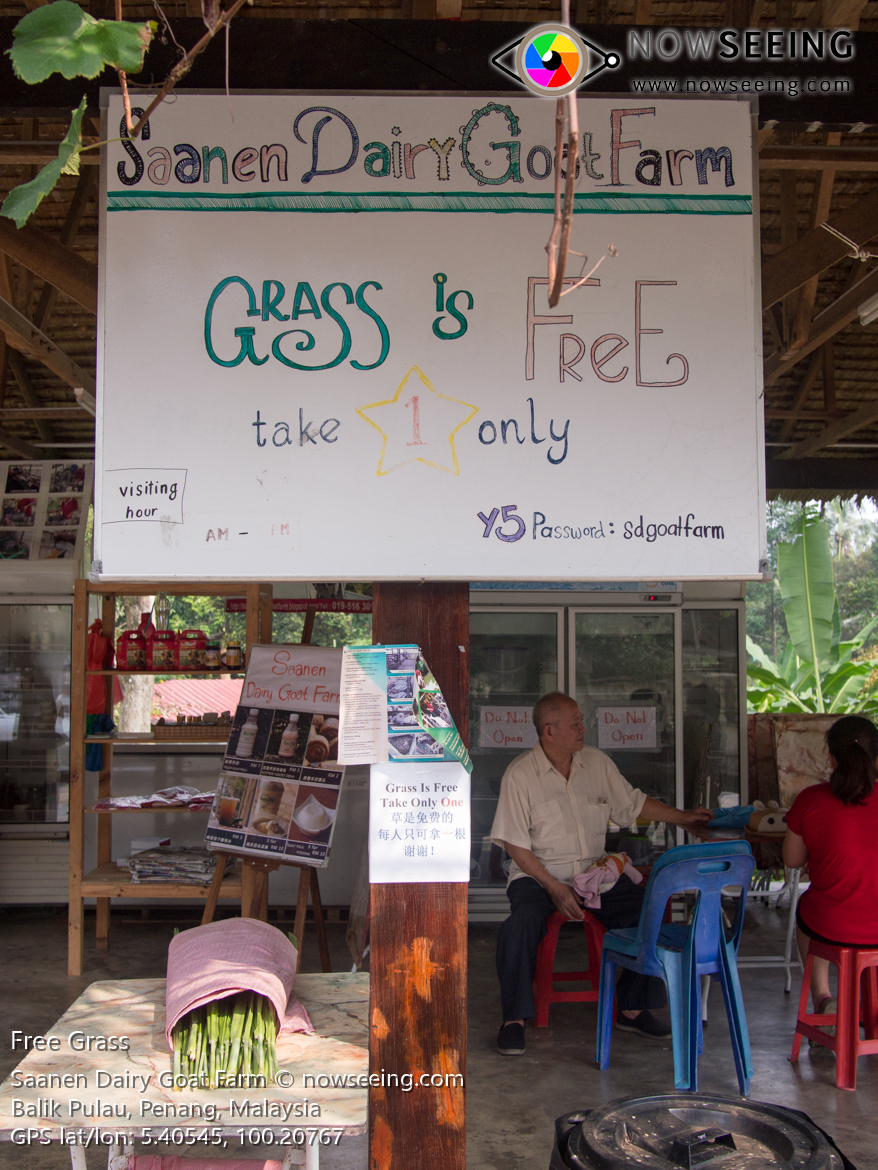 Saanen goats basically consumes two food - grass and nuts. Grass is available in the premise FOC and each visitor is allowed to bring a bunch of it to feed the furkids in the barn.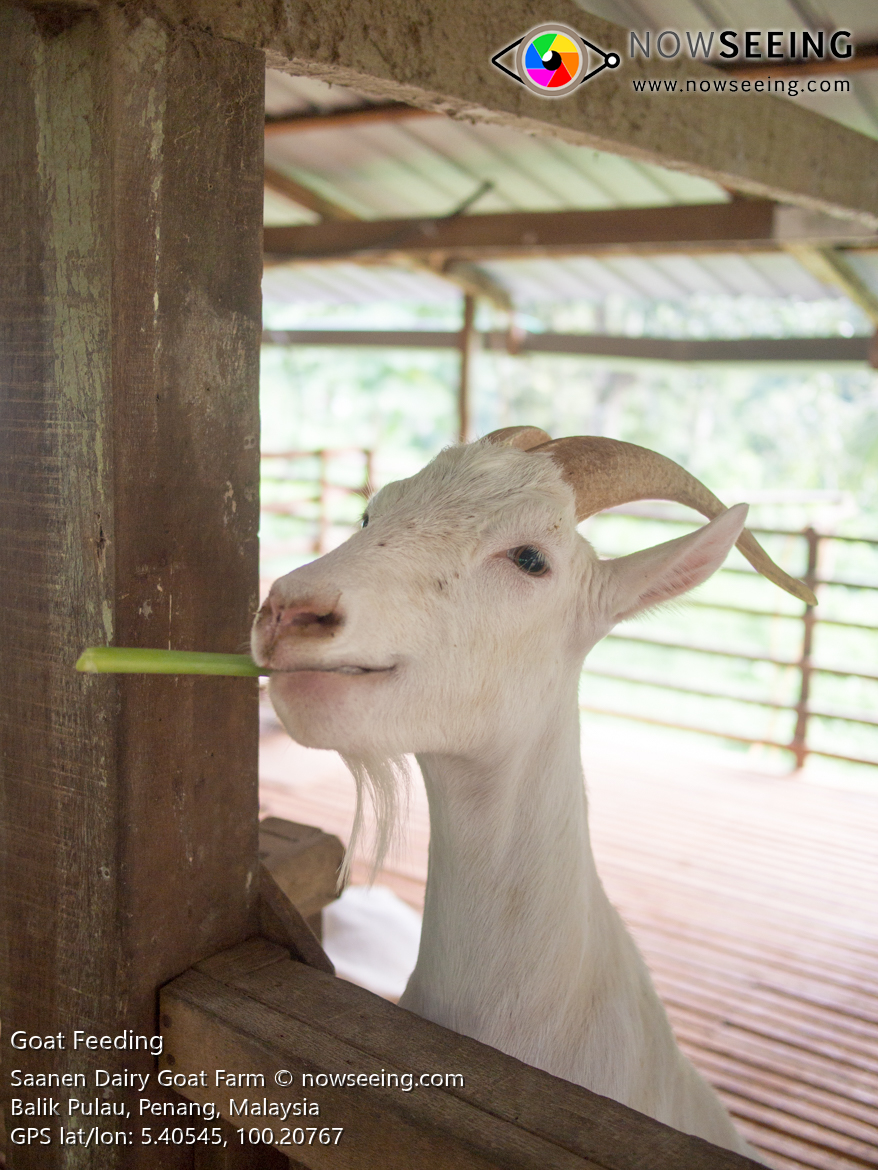 The amount of food they needed per day is about 10% from their weight. For example, if a goat is weighted at 50kg, it needs 5kg of food daily. A funny fact we observed was that they don't like sharing food. If you are feeding a goat with a blade of grass, and then passing it to another goat, the latter won't eat it at all.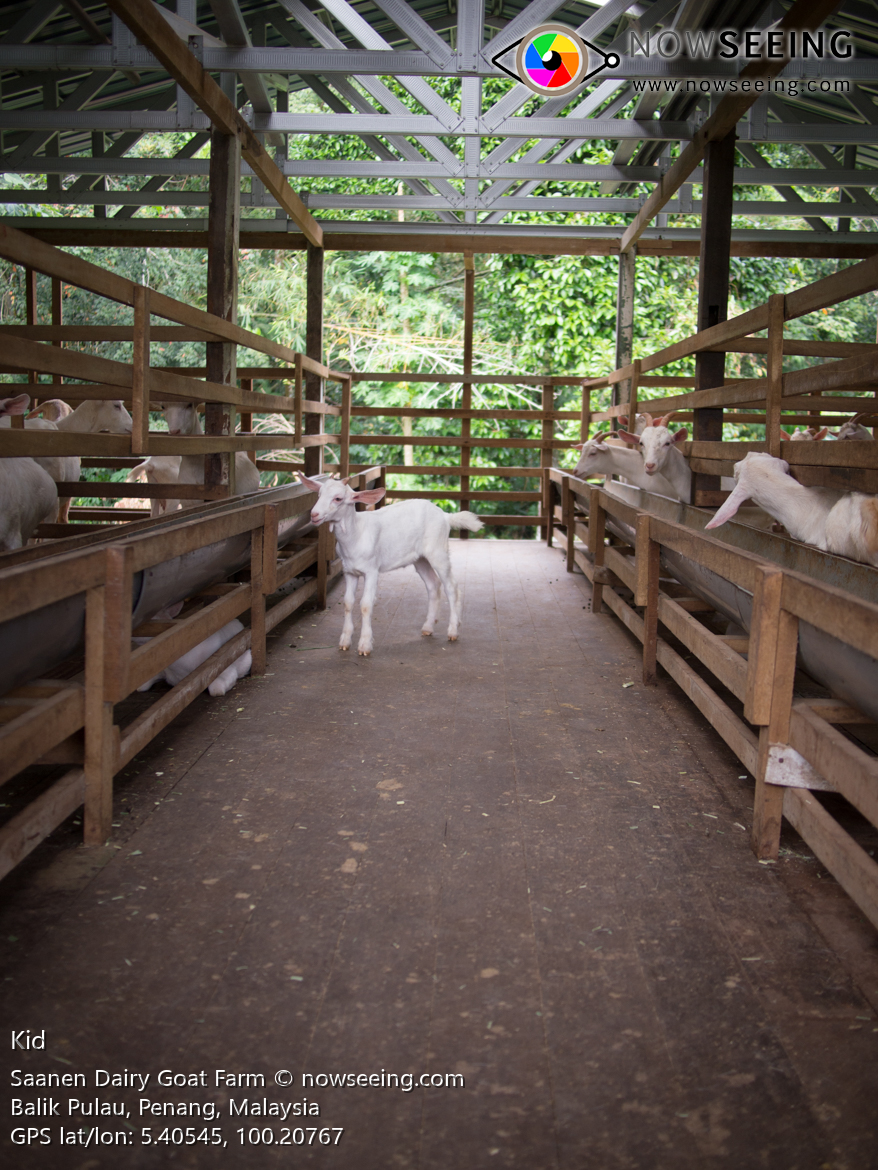 Occasionally, a kid like these will jump out the fence.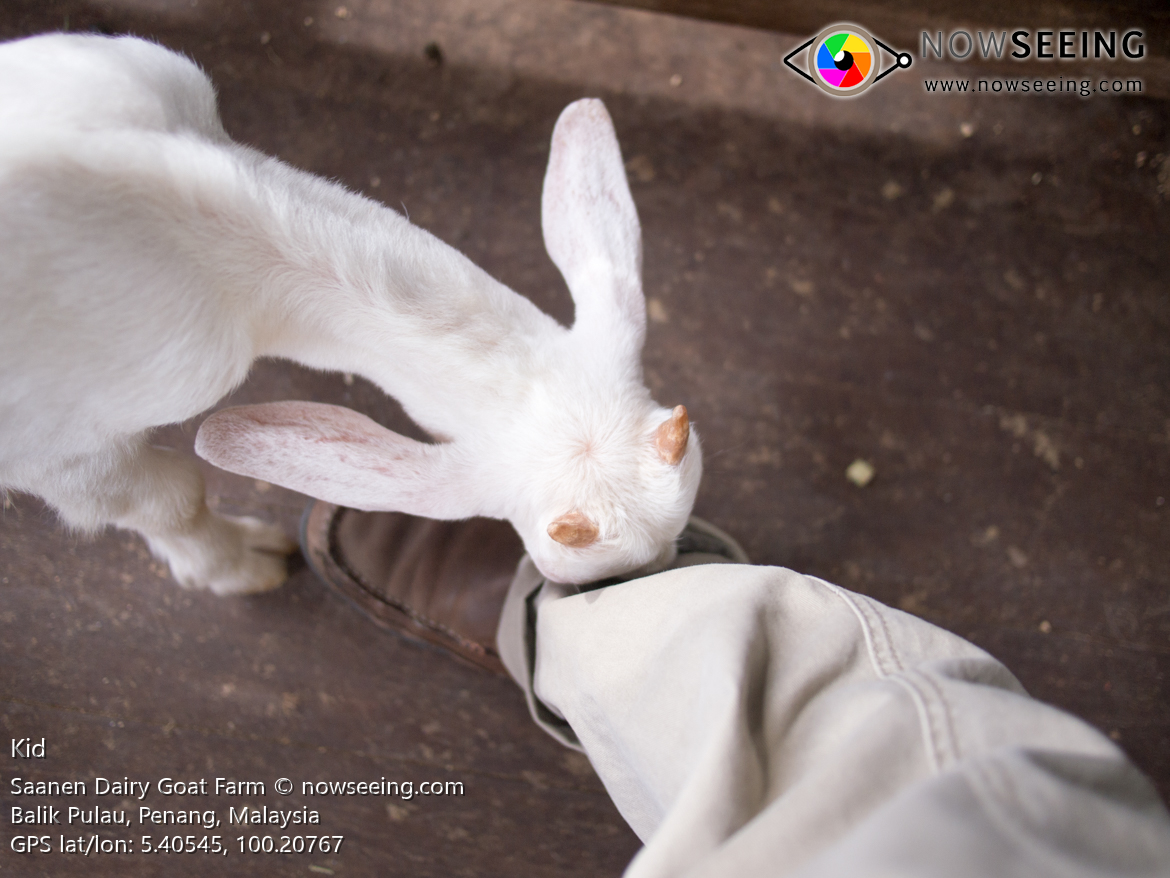 The curious kid will approach you, smell here and there, lick your shoe and even chew your pant.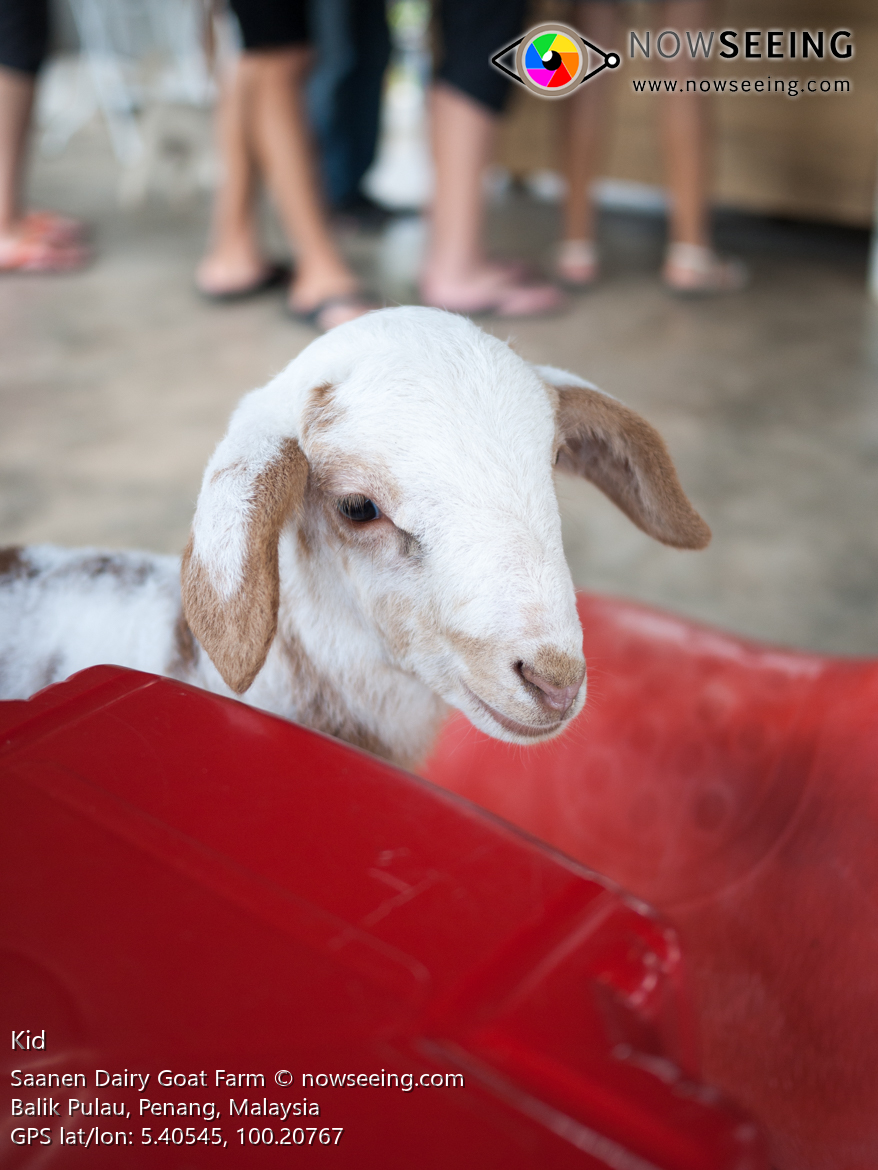 Male Saanen goat can be considered as "sex machine" and according to Mr. Ho, only two male goats were kept in the barn and the rest were all female goats. Female goats take 8 months to give birth to baby goat (also known as "kid") and after delivering, the mother will turn into a "milk machine".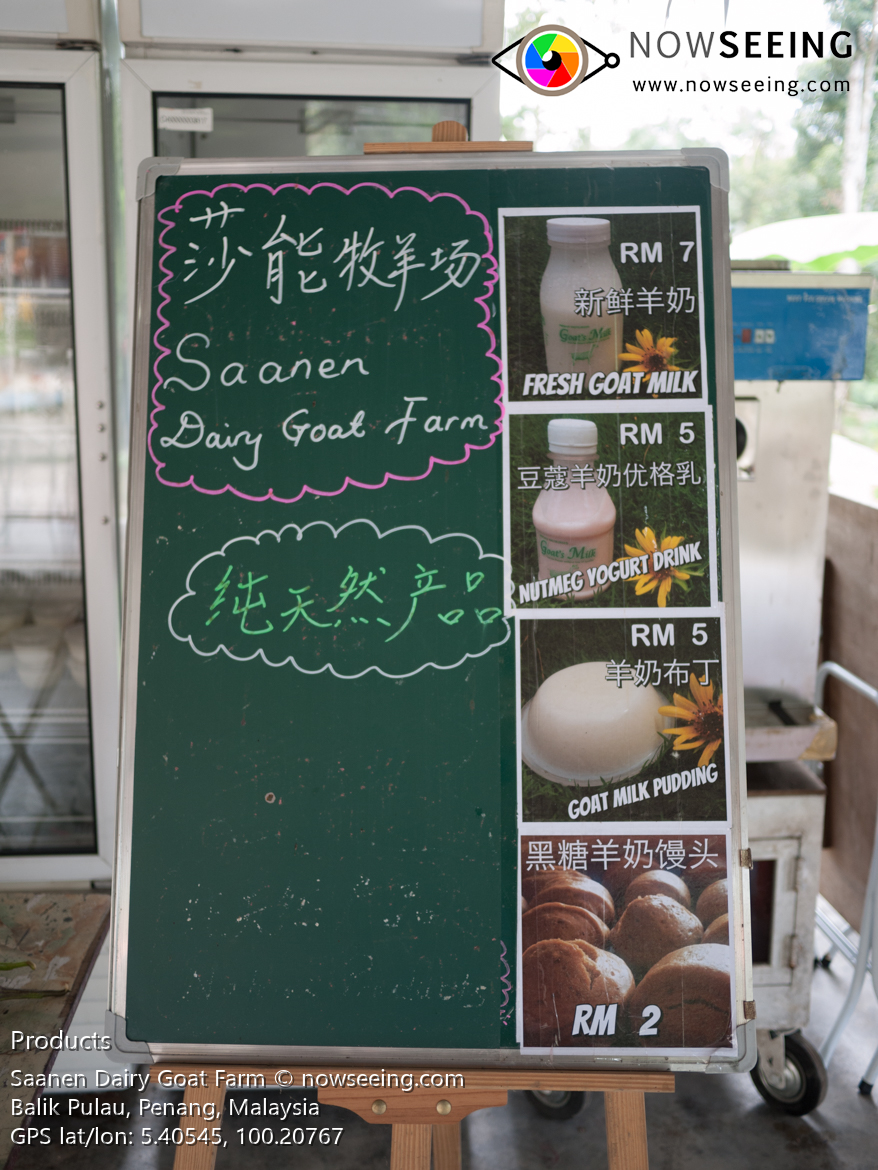 Saanen goats here are bred for two purposes: milk and as table food (sad but true). Goat milks can be processed into few products, including:
1. Fresh goat milk
2. Nutmeg yogurt drink
3. Goat milk pudding
4. Goat milk brown sugar bun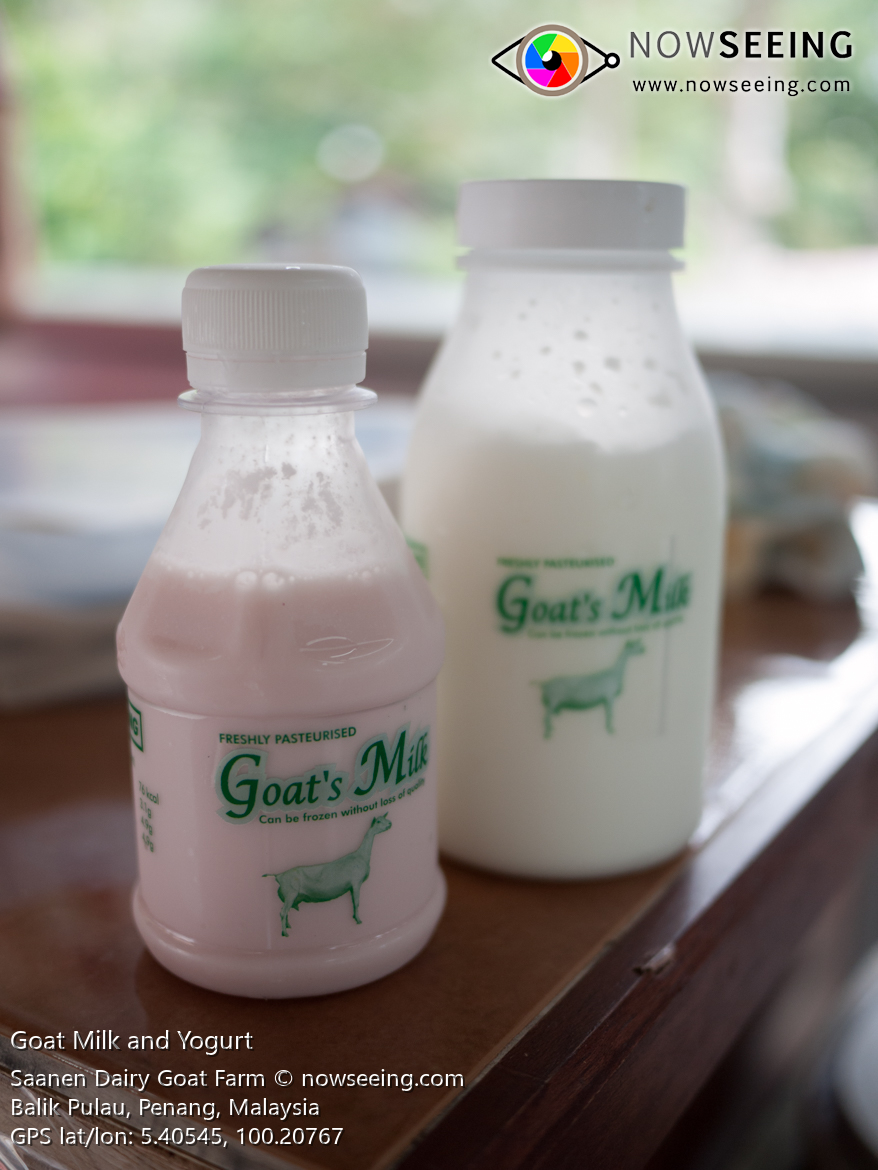 As a whole, a great place for family outings. The farm is opened daily from 10am to 5pm. Admission is free. For group larger than 20 person, kindly contact owner for arrangement. If you like this article, please like our Facebook page for support and also for more photos. Thanks.
Saanen Dairy Goat Farm
Address: 298 MK 1, Sungai Pinang, 11010 Balik Pulau, Pulau Pinang.
GPS: 5.40545,100.20767
Opening Hours: 10am-5pm daily
Admission: Free
Tel: 019-516 3017
Website: Facebook