Penang
Details

Category: Penang
Published: 19 June 2017
Hits: 19380

Zheng He (1371-1433/1435) was initially known as Ma He and was born in Kunyang, Yunnan. As a Muslim, he was a well-known mariner, explorer, diplomat, and fleet admiral during China's early Ming dynasty. He was given surname "Zheng" due to contribution to Zhengzhou. Zheng He was also known as "Sanbao" during the time of service in the household of the Prince of Yan as a Eunuch. This name was a reference to the Three Jewels (triratna) in Buddhism. His famous deeds being seven expeditions to the "Western" or Indian Ocean. (Reference: Wikipedia)
郑和 (1371-1433/1435) 原名马和,出生于云南昆阳州,是名回教徒明代著名的航海家、探险家、使者及上将。"郑"是对郑州有功而被朝庭封赐之号。 其"三保"的由来则是他当内宫太监时所封之号, 故世人都称为三保太监。其著名事迹为"郑和七下西洋"。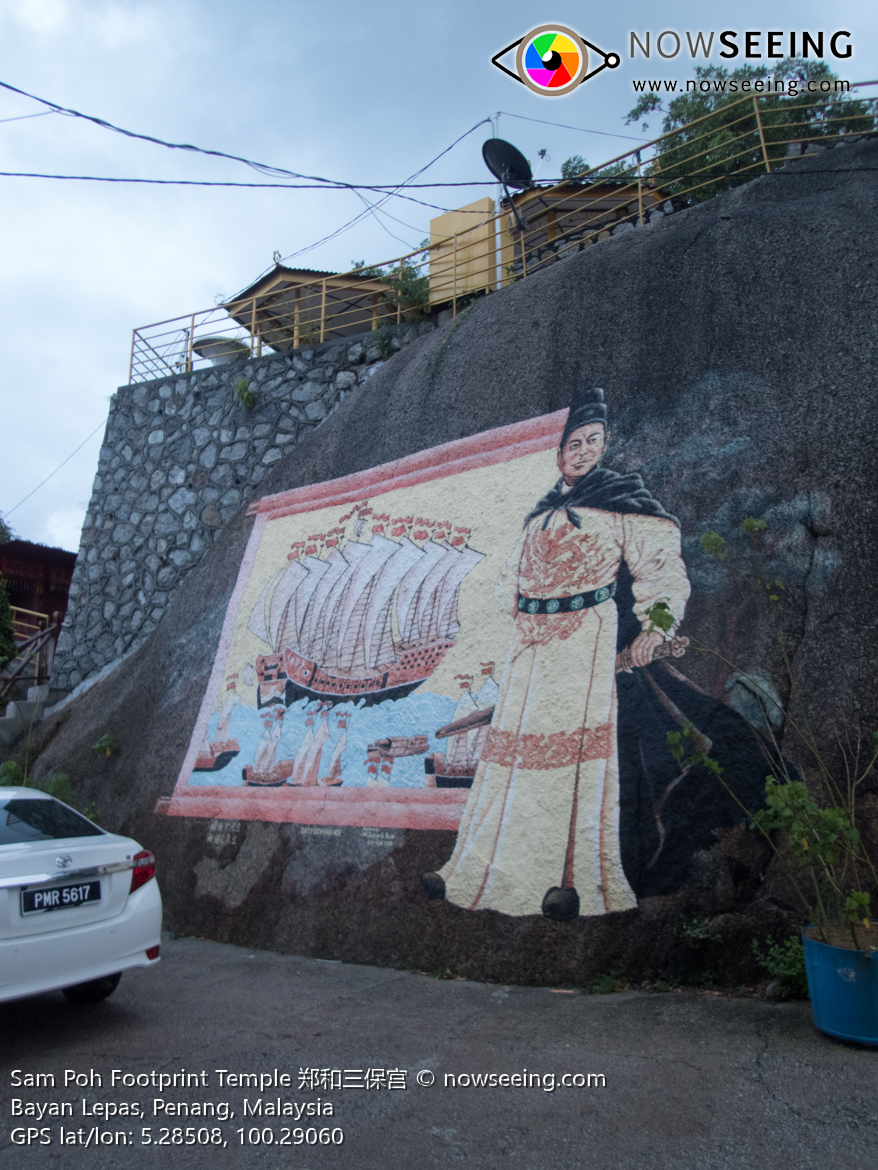 Malacca was discovered by Zheng He during his first voyage in year 1405-1407 and found out that there were a sizable Chinese community there that time. Zheng He also solved pirate issue along Straits of Malacca. To commemorate Zheng He, currently there are four Sam Poh Temples in Malaysia - Penang, Terengganu, Sarawak and Melaka.
马来西亚的马六甲州是于郑和第一次航海(1405-1407)的时候被发现。巧妙的是当时的马六甲已有唐人社区存在。其间,郑和也驱赶了附近的海盗,将马六甲发展成贸易港口。后人为了纪念郑和,在马来西亚建了四间三保庙,包括槟城、登嘉楼、砂劳越及马六甲。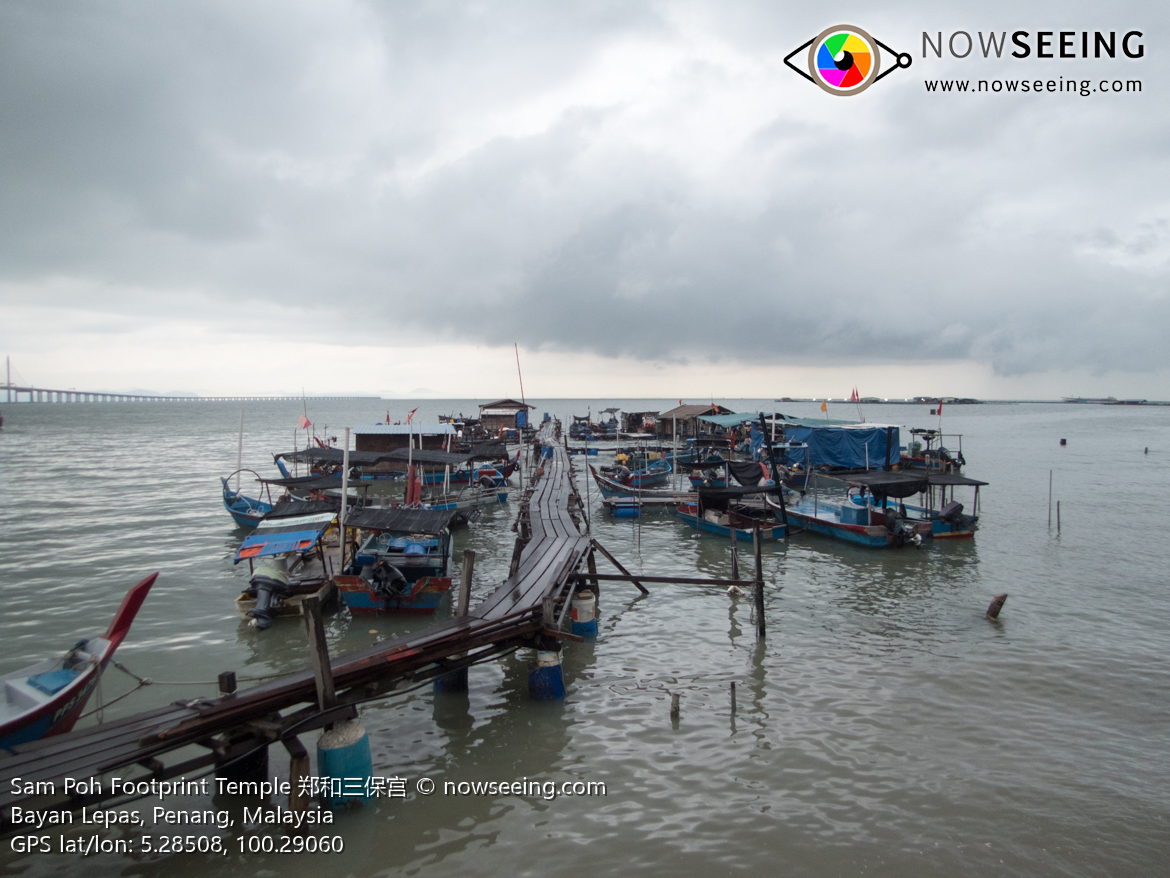 Located at Batu Maung in a fisherman village (next to Southbay), Sam Poh Footprint Temple was built in year 1795 and was rebuilt in year 1995 with current look. The temple has a scenic fisherman wharf and second bridge view.
位于槟城峇都茅的郑和三保宫建立于1795年并于1995年重建至如今的规模。它虽然是渔村小庙,风景依然怡人。前方为渔人码头,左方则可瞭望第二桥。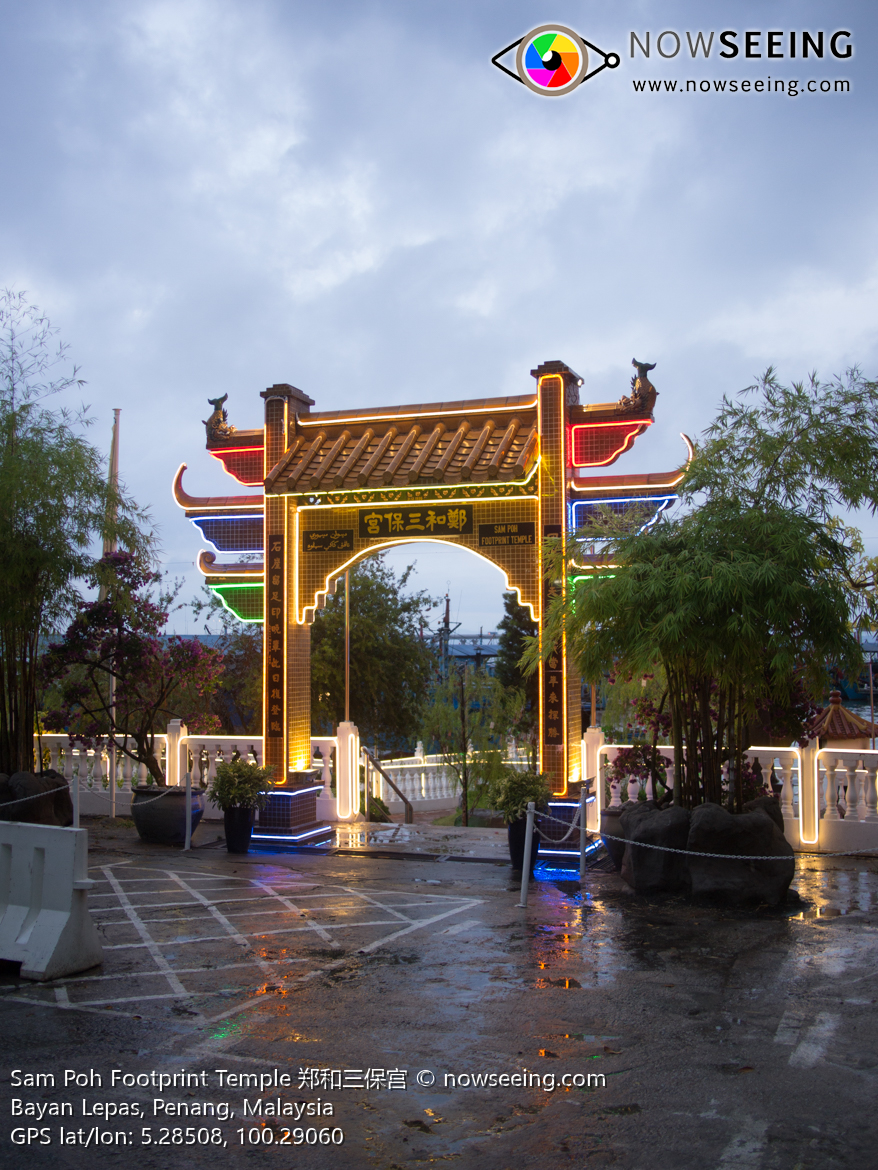 It was one after-rain evening when we headed to Batu Maung to have a look on Southbay's progress. We took a left turn in front of the Southbay Plaza and reached an alley at the end. Inside the alley was Sam Poh Footprint Temple with Torii (Gate) powered by LEDs. Without further a do, we parked our car on the slope and decided to pay it a visit. 
那是一个雨后的傍晚,小编一心想看看Southbay的发展,在Southbay Plaza前左转后就看到一条小路。进入小路迎来的是由LED装横的三保宫牌坊。我们二话不说就就把车停放在斜坡上。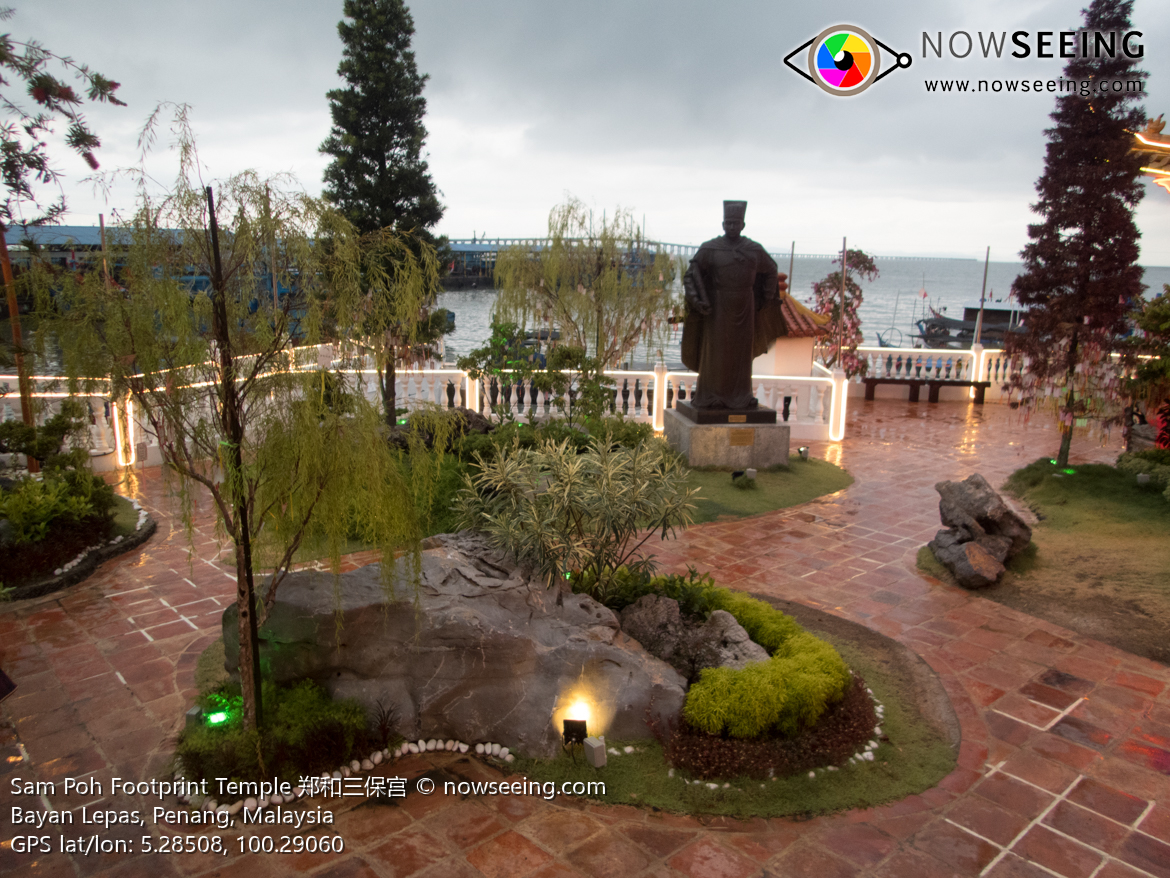 It was ashamed that this was our first time visiting Sam Poh Footprint Temple after living in Penang island for so many years. Walking pass the gate was a small garden with a 2.5 meters tall Zheng He (Sam Poh) statue.  
住在槟城这么多年,此次是第一次进入此庙。过了牌坊就是三保宫的花园,中间还有座2.5米的郑和铜像。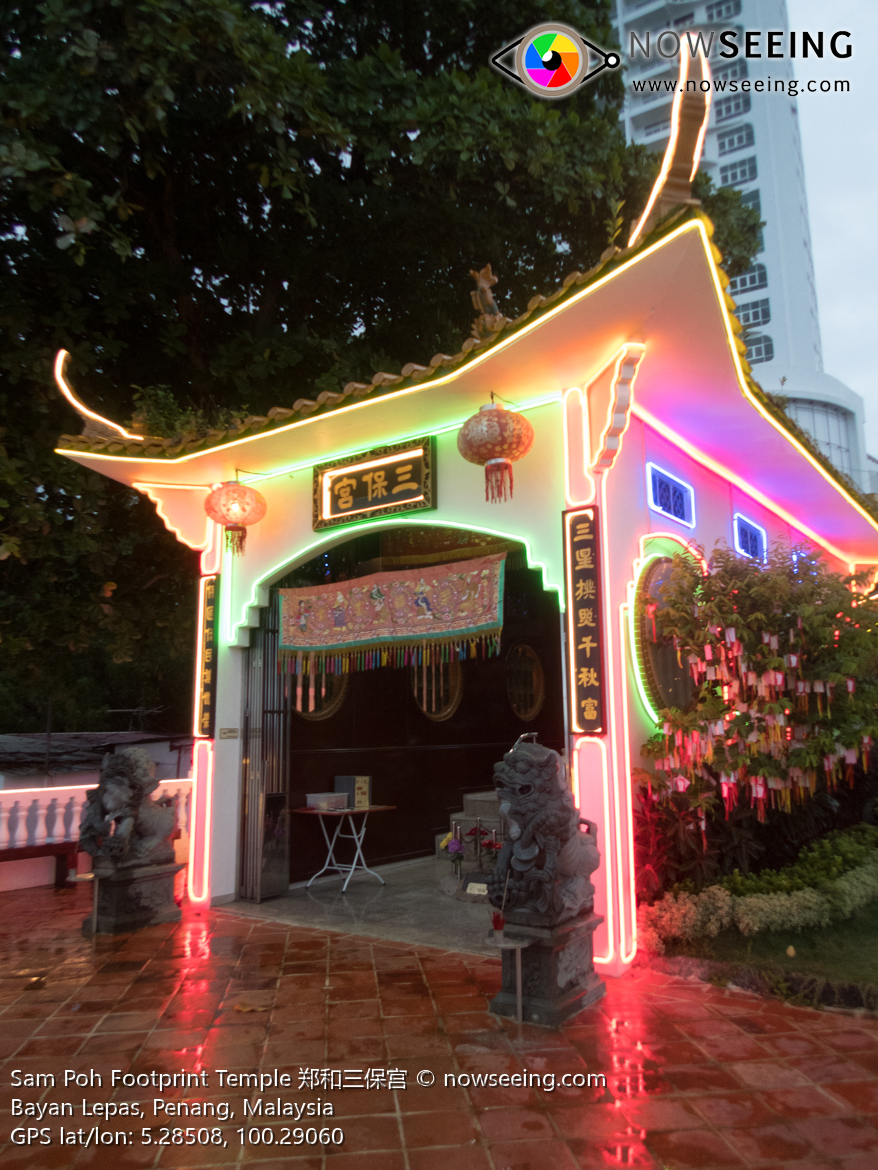 We were the only visitors that evening and we particularly enjoy the peaceful and quiet surrounding. 
整间庙就只有我们两个人。哗哗的海浪声加上宁静的四周,小编此时的心情就显得格外平静。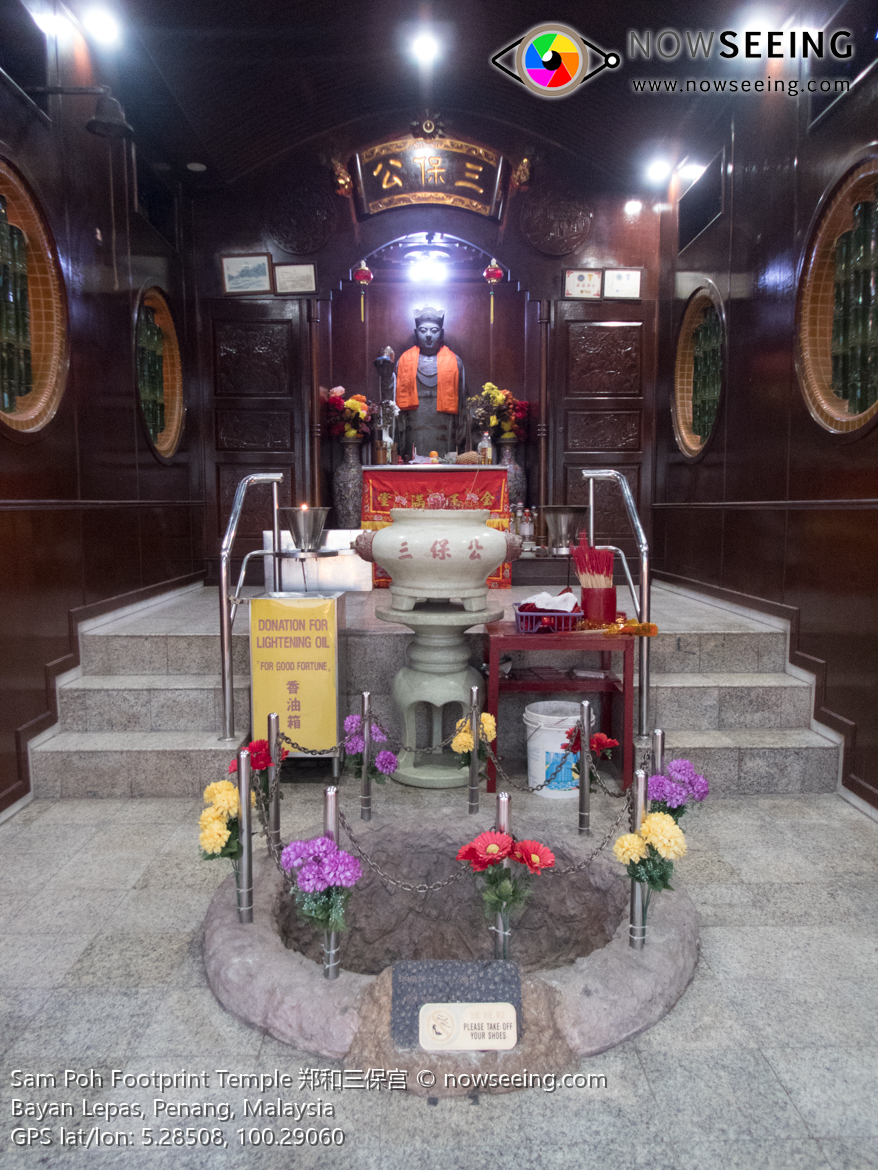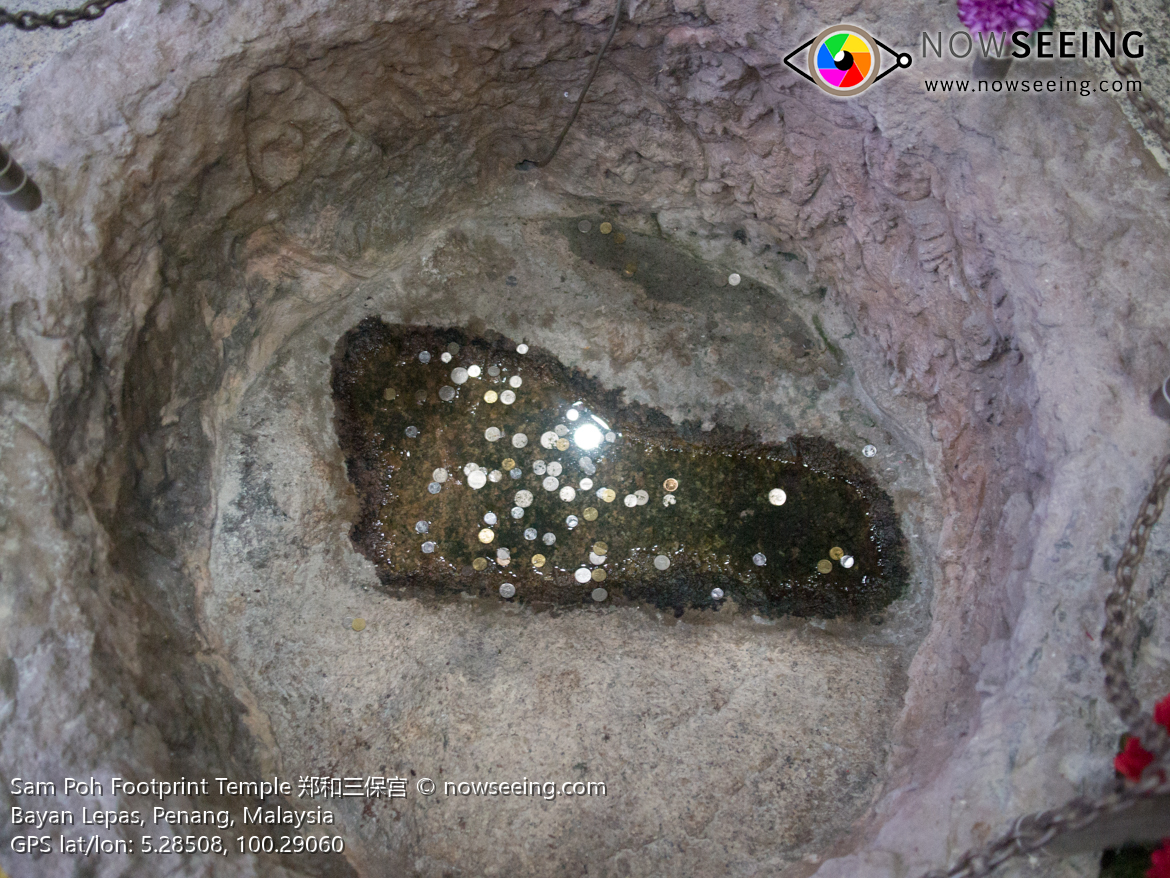 Inside the temple is Zheng He's footprint which is 1.2m in length and 0.5m in width. Honestly, it is one of the largest human footprints we have ever seen. Rumor said you may make a wish in front of it and your wish may come true.
此庙可说是马来西亚寥寥可数拥有文物的庙。在庙中央是传说中郑和的脚印,长约1.5米,宽0.5米。可能古代人走了千里路脚板比较大吧。话说您可在脚板前许愿,愿望会实现哦!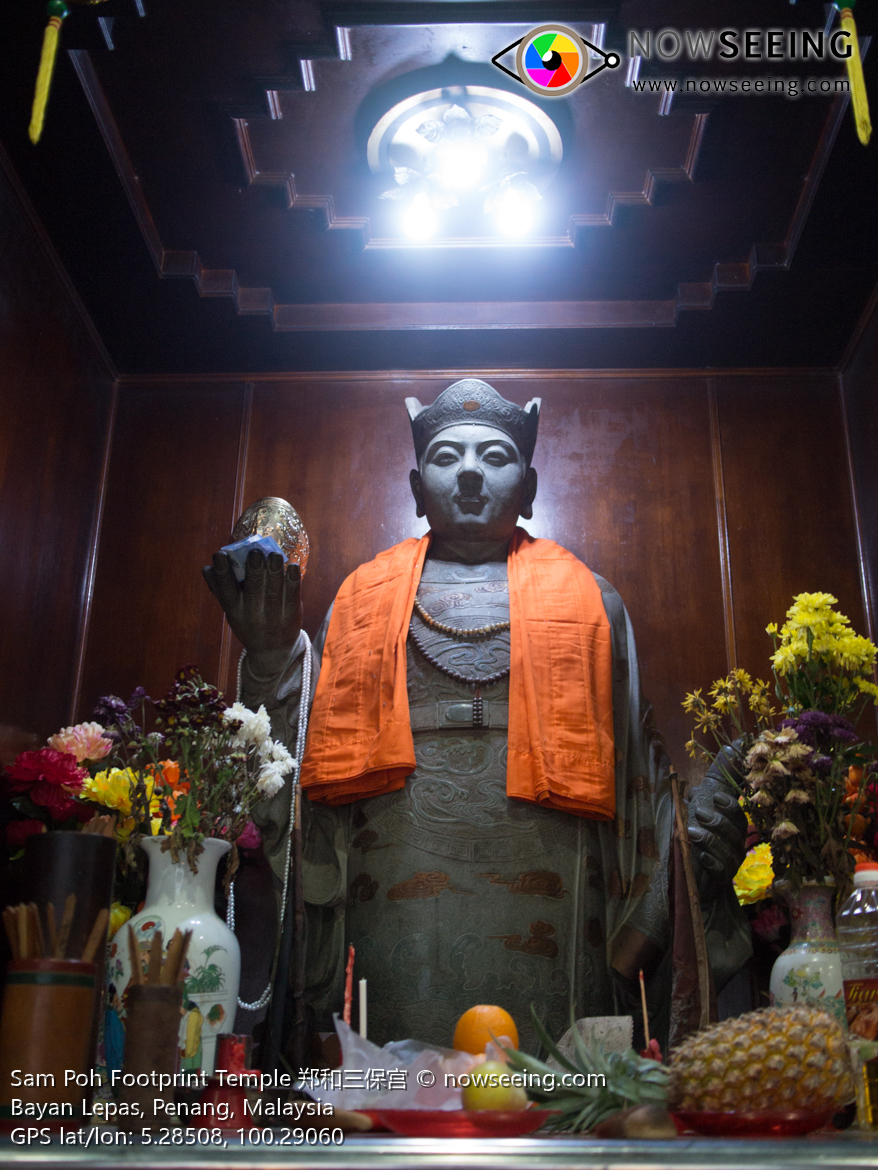 Behind the giant footprint is another Zheng He's statue with visitors offer prayer to the legendary explorer. You can also offer prayer with ten joss sticks. 
在大脚印后是一座郑和的雕像。参观者可以祭拜、求签及随缘乐捐。您也可以用十支清香拜拜(天宫 3+1+1, 门神 1+1, 主炉 3)。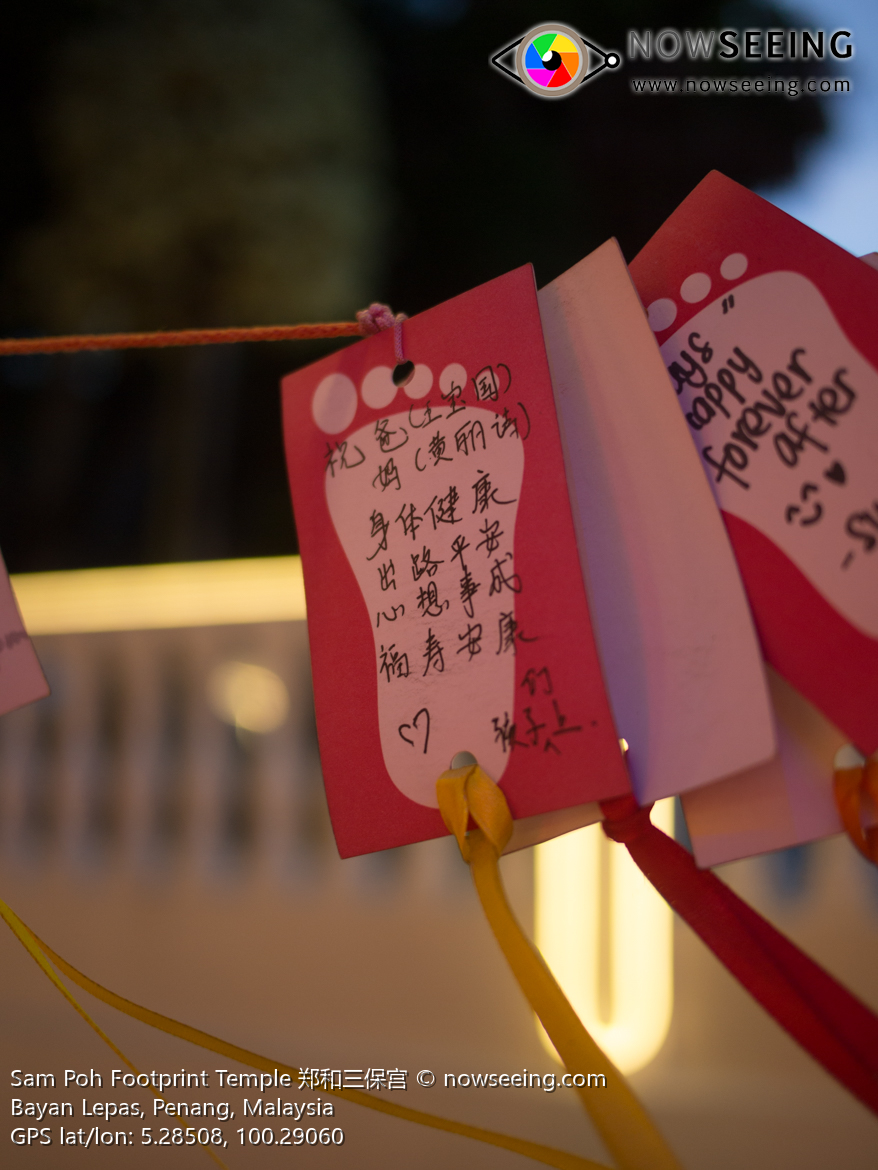 Cards are also available inside the temple, allowing visitors to write their wishes onto it and hang it on "Wishing Tree".
庙中也提供一些卡片供观光客写下愿望并将卡片悬挂许愿树上。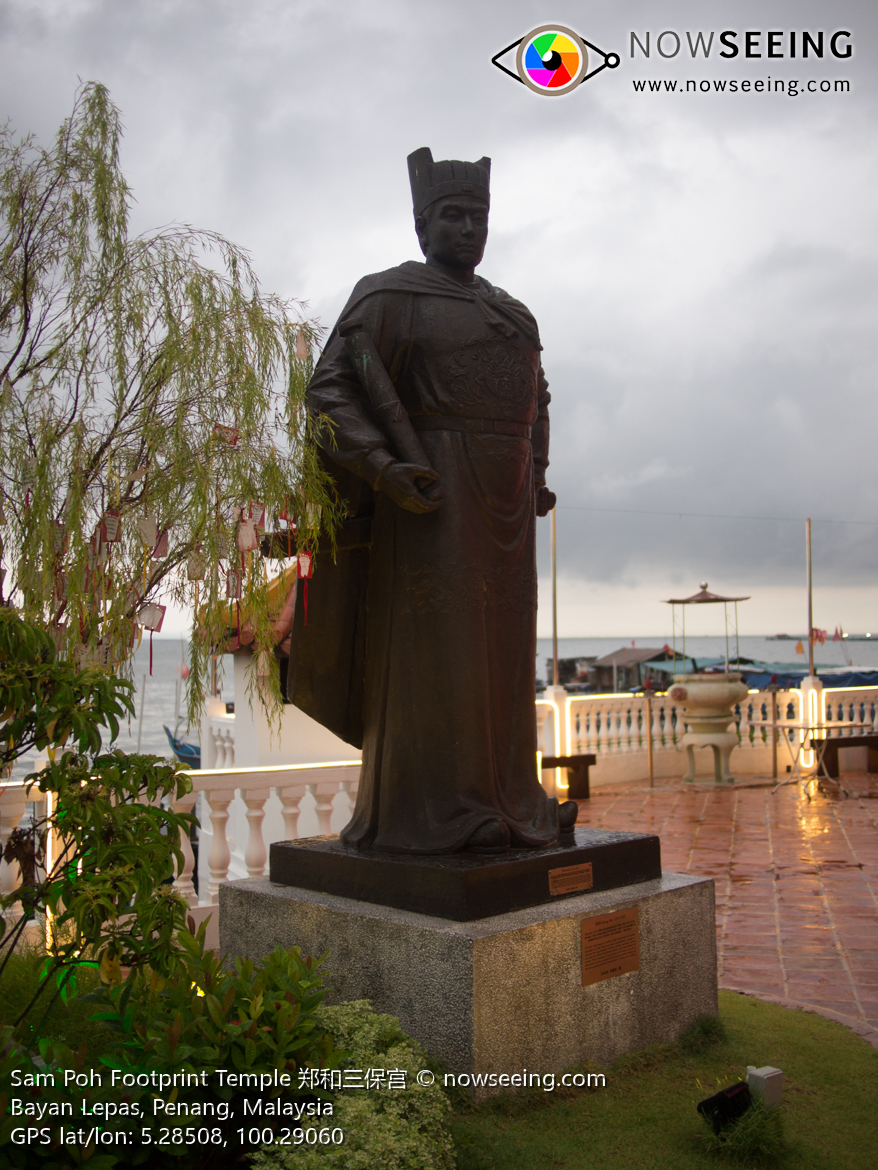 As a whole, Sam Poh Footprint Temple is a clean and peaceful fisherman village's temple easily to be missed even by Penangites. The temple is opened daily from 8am to 6pm but our guess is that the temple never closes (we visited it around 7pm that evening). However, the surrounding can be too quiet to walk alone so be sure to visit it before the sky getting dark.
If you like this article, kindly like our Facebook page to support us. Thanks.
总之,郑和三保宫是一个清幽且管理得很完善的渔村小庙。由于地势偏僻,许多槟城人还不知道此庙的存在。开放时间为上午八时至傍晚六时或更晚(小编最近一次是七时左右前去)。由于附近较为偏僻,建议天暗前参观为佳。
如果您喜欢此贴,请在我们脸书按个赞,谢谢!
Name: Sam Poh Footprint Temple
Address: Batu Maung, Bayan Lepas, Penang
Opening Hours: 8am-6pm daily
GPS: 5.28508, 100.29060