Penang
Details

Category: Penang
Published: 21 June 2017
Hits: 15750

Armenian Street in George Town, Penang is not just all about street arts. Along the one-way street is a "Tua Pek Kong" Chinese Temple which is one of our favorite spots in town. Built in 1850's, the temple is simply called "Hock Teik Cheng Sin" - the formal name for "Tua Pek Kong". Inside the building houses four affiliated societies, namely Tong Kheng Seah, Poh Hock Seah, Cheng Hoe Seah, and Hokkien Kongsi. It used to be a headquarter of a secret society called Kean Teik Tong. Want to know more? Read on!
槟城乔治市木头公巷除了有著名的壁画外,位于尾端的大伯公庙也是我们常去的景点。建立于1850年,此庙名为福德正神庙,内有四附属的神社即同庆社,宝福社,清和社及福建公司。前身是一个名为建德堂的秘密会社。想要知道更多的话请继续读下去。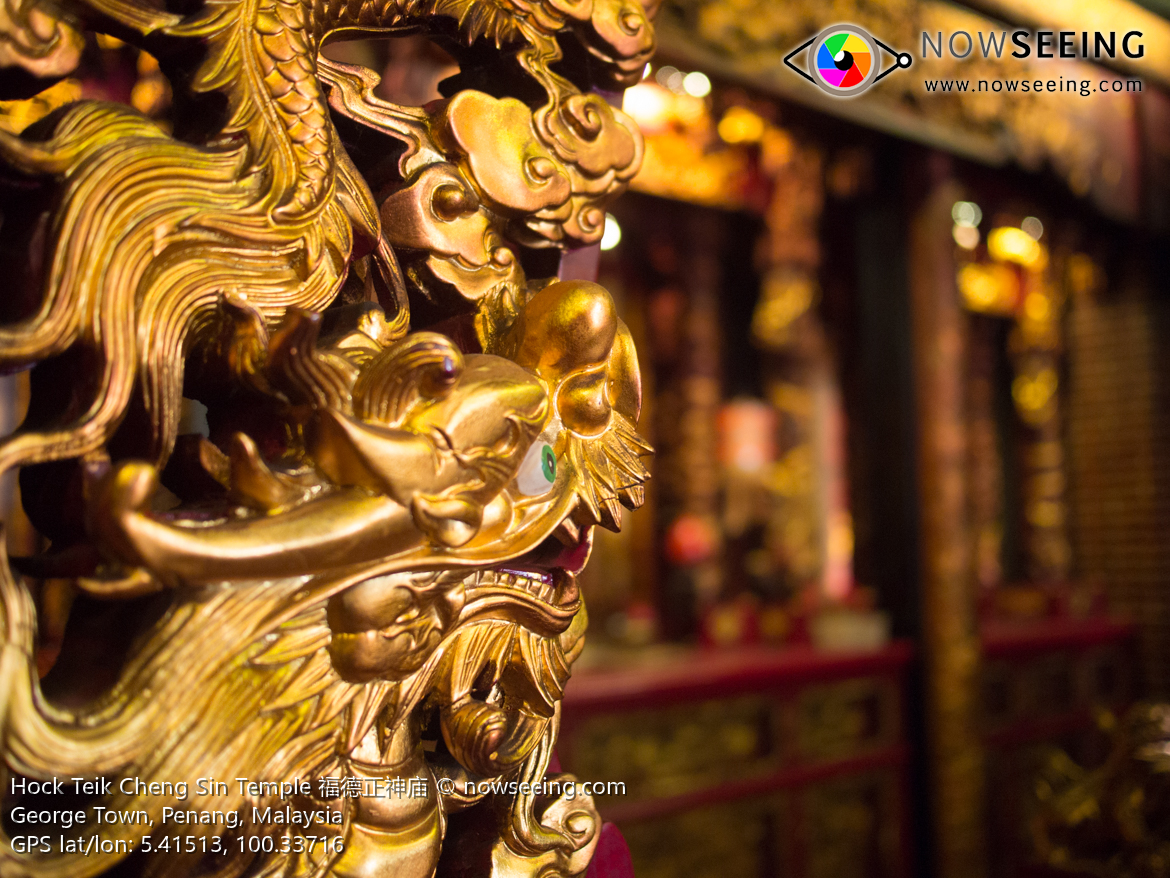 To look back its 100 over years history, one has to trace back to its origin from the, once, secret society belonging to the Hokkien clan - Kian Teik Tong. Kian Teik Tong was an influential and one of the well-known secret societies in the 19th century, with members from rich businessmen to petty traders. Its objective was to protect and safeguard the livelihoods and the positions of its members who resided here locally. Kian Teik Tong worshipped the idol of Twa Peh Kong as the saint for uniting its members. Kean Teik Tong also known as Twa Peh Kong Hoey (Society). After ten years, its power extended and often came into conflict with other secret societies over the dispute of controlling rights and fight for their economic benefits and that became more acute day by day. Finally, the "Penang Riots" broke out in August 1867 and continue fighting in Georgetown for 10 days, and the Colonial Goverment had to send arms to suppress the riots.
回顾宝福社百余年历史,就必须追本溯源,从一度叱咤风云的福建帮秘密会社-建德堂谈起。建德堂是槟榔屿19世纪举足轻重的秘密会社,结集了福建籍贯的侨民,从富商巨贯至贩夫走卒,旨在捍卫和维护他们在本地的利益及权祉,并于1844年12月30日成立。大伯公成为了建德堂的崇祀对象,亦是团结会众的神祇,所以建德堂亦称为大伯公会。建德堂在立盟短短十年间势力膨胀,不时与其他秘密会社因为争夺饷码承包权及其他经济利益,而发生摩擦冲突,矛盾日益尖锐深化。最终酿成1867年八月的"槟城大暴动",导致乔治市历经长达10天的腥风血雨,迫使英国殖民政府出兵镇压平乱。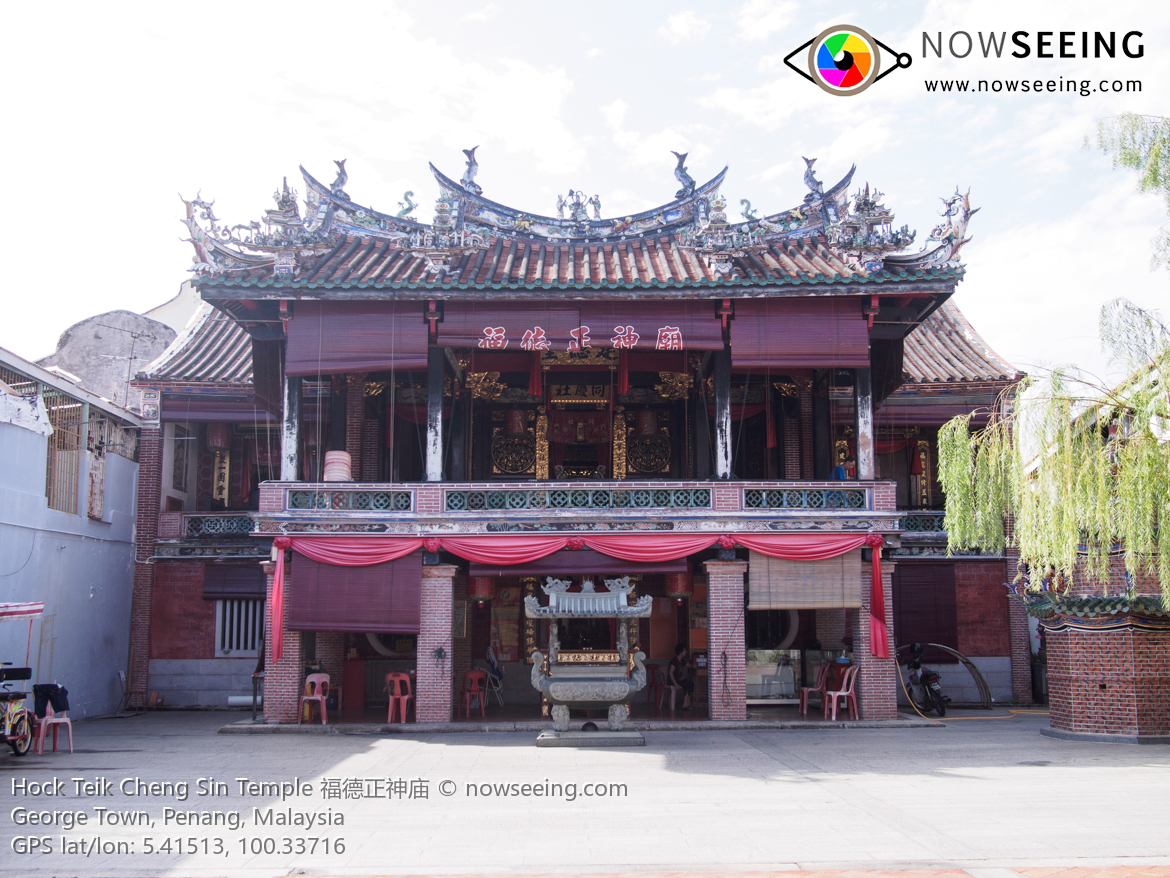 To stamp out secret societies totally and to suppress the fights between them, the "Secret Society Act 1889" was gazetted and came into force the following year, thus all secret societes were banned. Kian Teik Tong becam an illegal organization on 21-August-1890 and had to be closed down. However, its properties, personnel affairs, management, religious activities and etc were all taken over by Poh Hock Seah, except that it is no more a violent society, not as in the past.
为全面扑灭秘密会社,遏制帮派火拼械斗,《1889年社团发令》于是年通过,在翌年生效,所有秘密会社受到严禁。建德堂于1890年8月21日被列为非法组织,进而解散。宝福社在建德堂解散那年成立,继承建德堂的物质和文化遗产,延续崇祀活动等,惟彻底告别了昔日的暴力元素。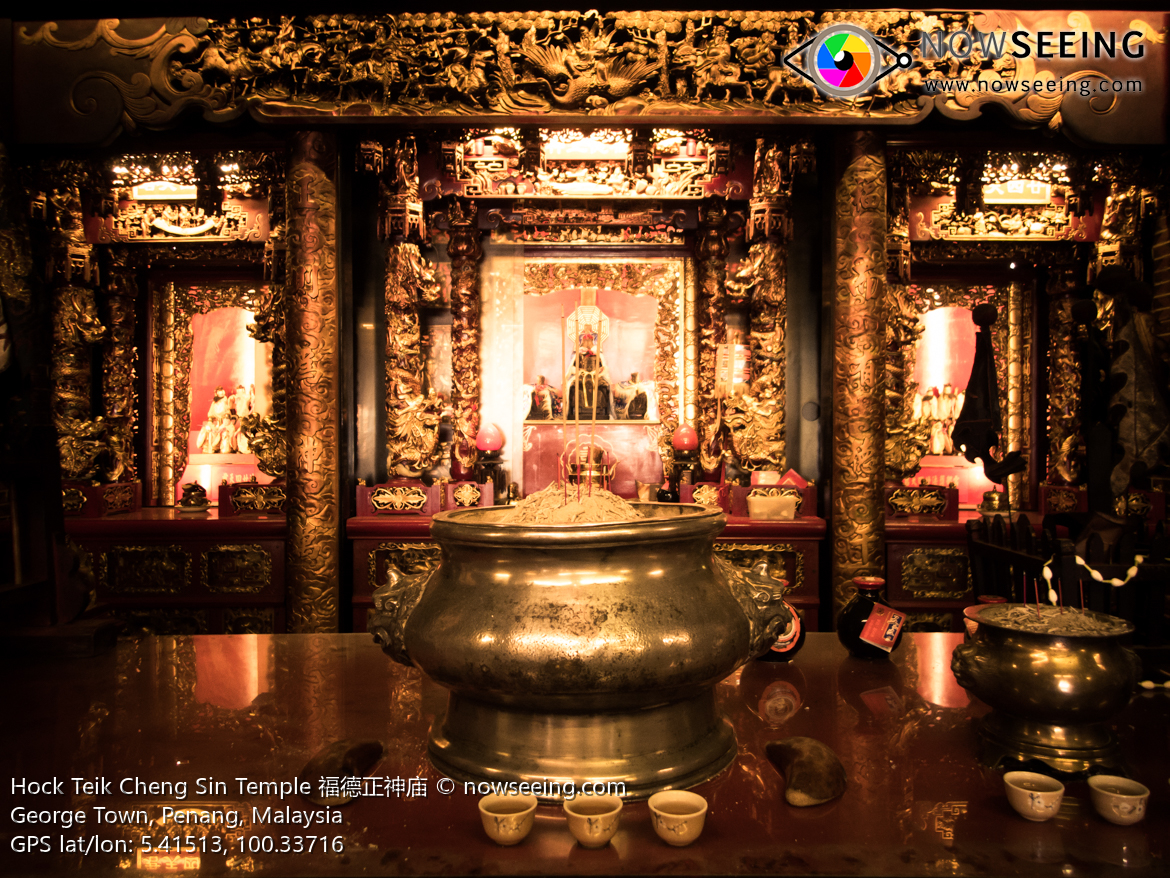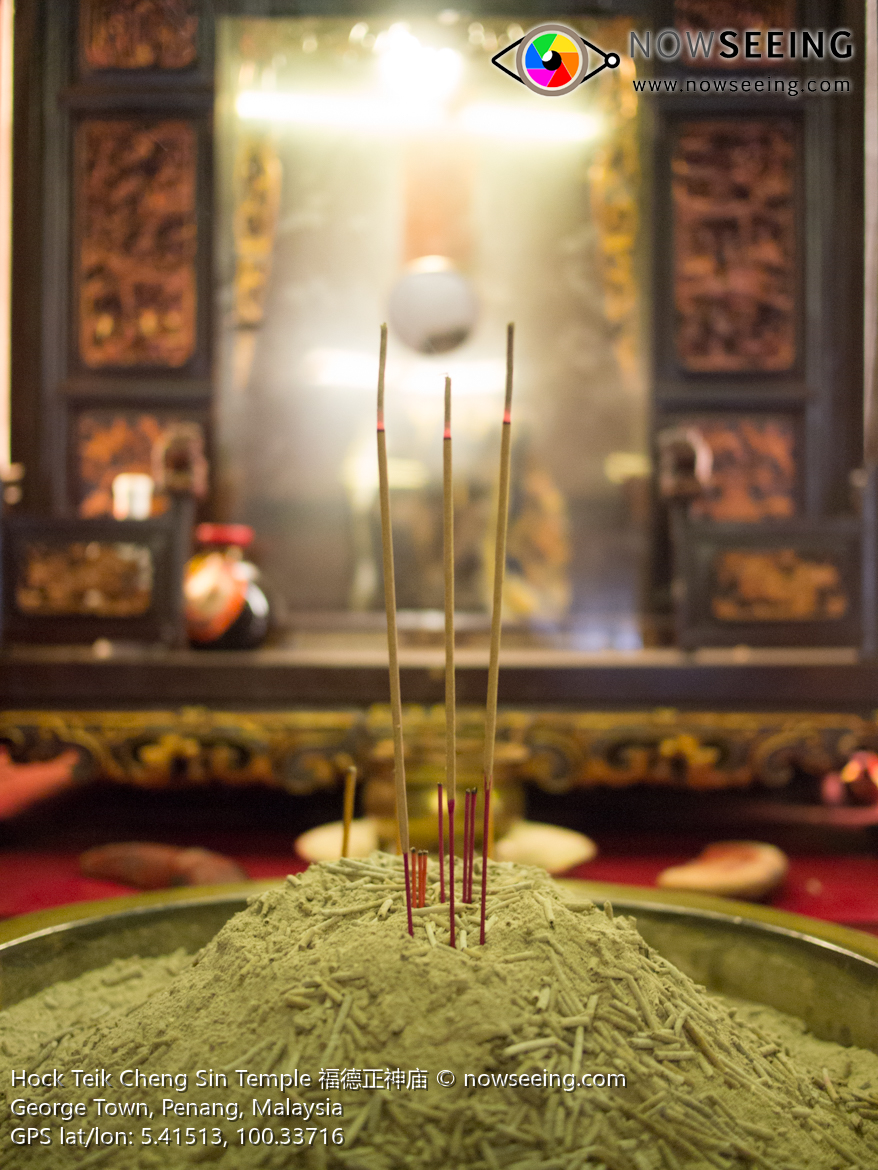 Poh Hock Seah moved into the ground floor of Hock Teik Cheng Sin Temple at Armenian Street in 1924. Three other subsidiary organizations - Cheng Hoe Seah, Tong Kheng Seah and Hokkien Kongsi of Hock Teik Cheng Sin Temple occupied the upper floor of the temple.
宝福社于1924年搬进了福德正神庙的一楼。另三个附属机构-清河社、同庆社及福建公司则搬去二楼。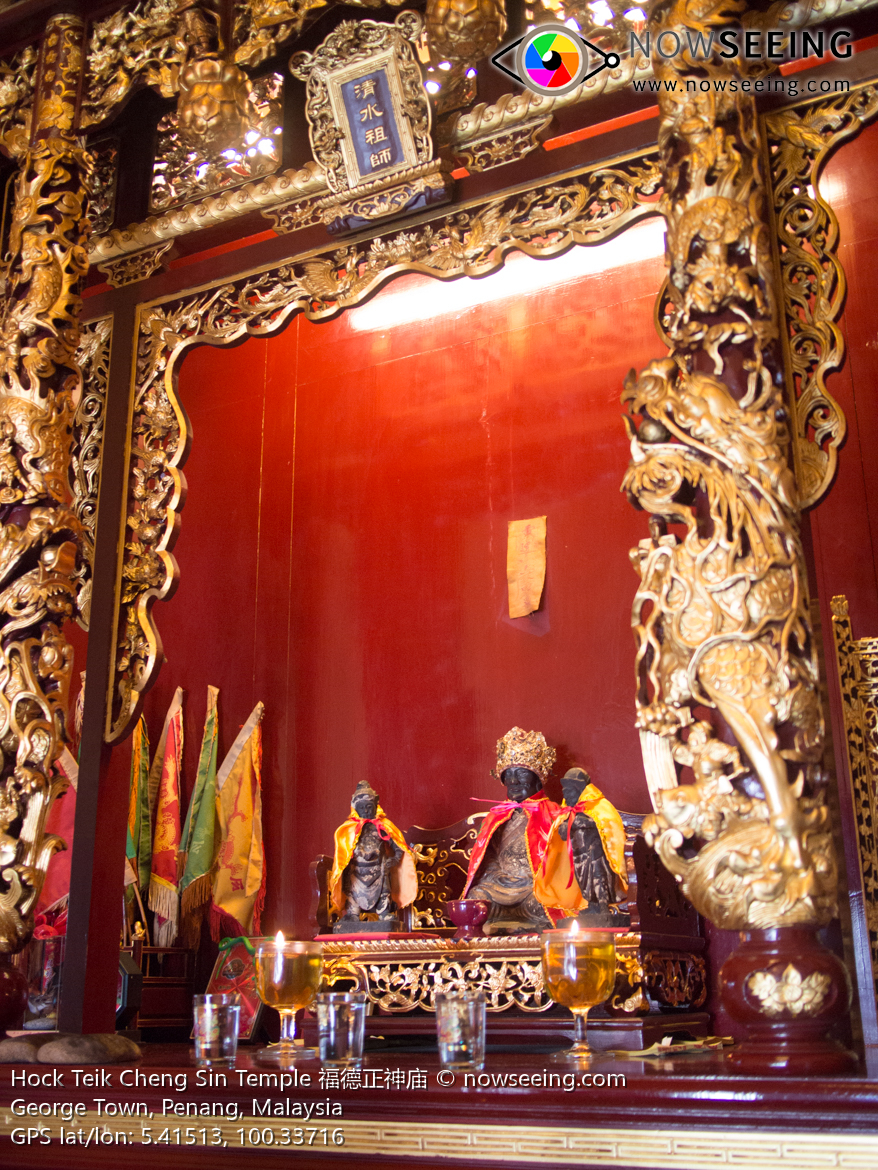 Any different between Cheng Hoe Seah and Tong Kheng Seah? Basically, they worship different deities. Cheng Hoe Seah worships the deity "Cheng Chooi Chor Soo". "Chor Soo" is an honorific title for a person revered by a community. The deity is also known as "Chor Soo Kong" (The Much Honoured Chor Soo) by the Hokkiens. He was born during the reign of Emperor Ren-Zong (1023-1063) in the province of Fujian. He became a Buddhist monk at a young age and was given a Buddhist name "Pu-Zu". With his extensive medical knowledge, he was held in high esteem by the Chinese because of his great virtues and wisdom, and for his invaluable services to the community during his lifetime. 
清河社与同庆社又是干什么呢?简单来说就是拜不一样的神。清河社主祀清水祖师,或福建人所乐称的"祖师公"。原名"普足",出生于宋朝仁宗皇帝(公元1023-1064)时的福建省。是位道德,智慧具备的佛教僧侣,深研医术草药,救人无数,也为民祈福降雨,圆寂后被奉为神。其祖庙就在福建省的安溪蓬莱山上,名为"清水岩",故后人称他为"清水祖师"。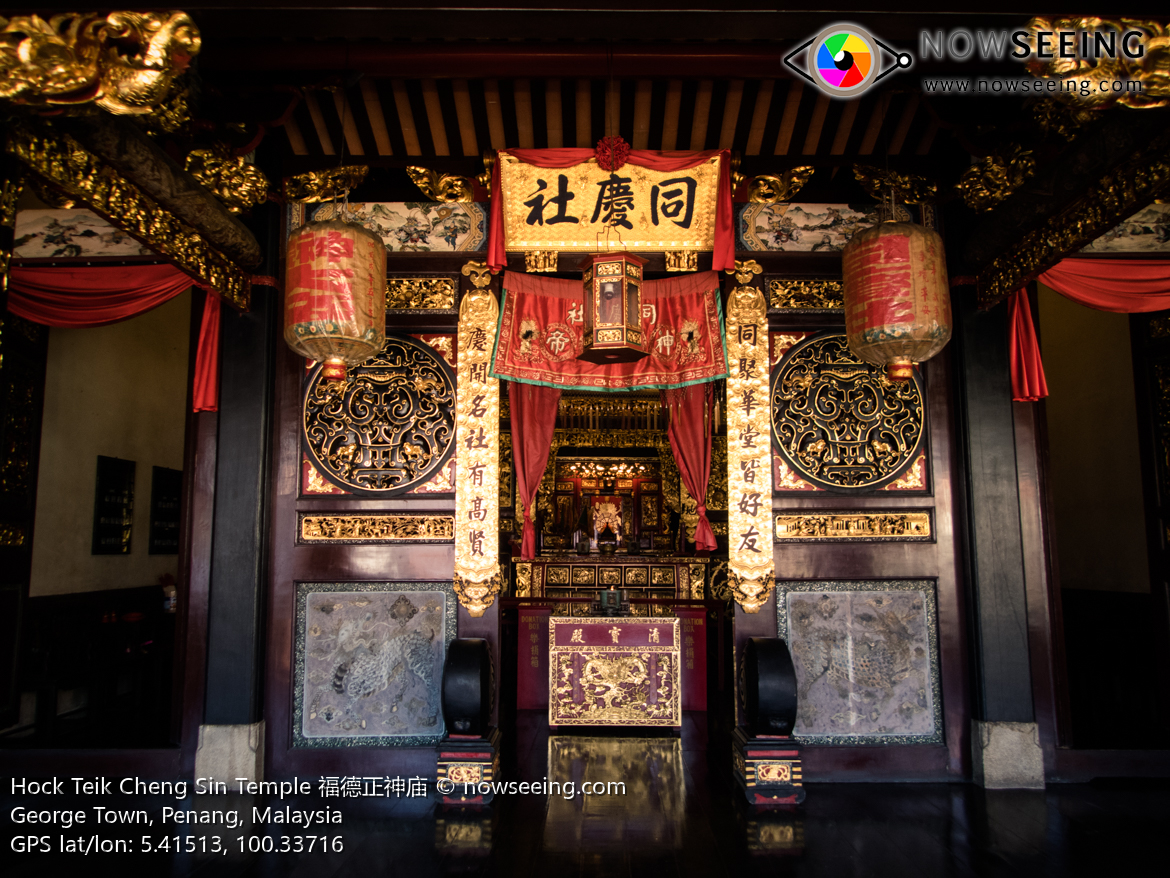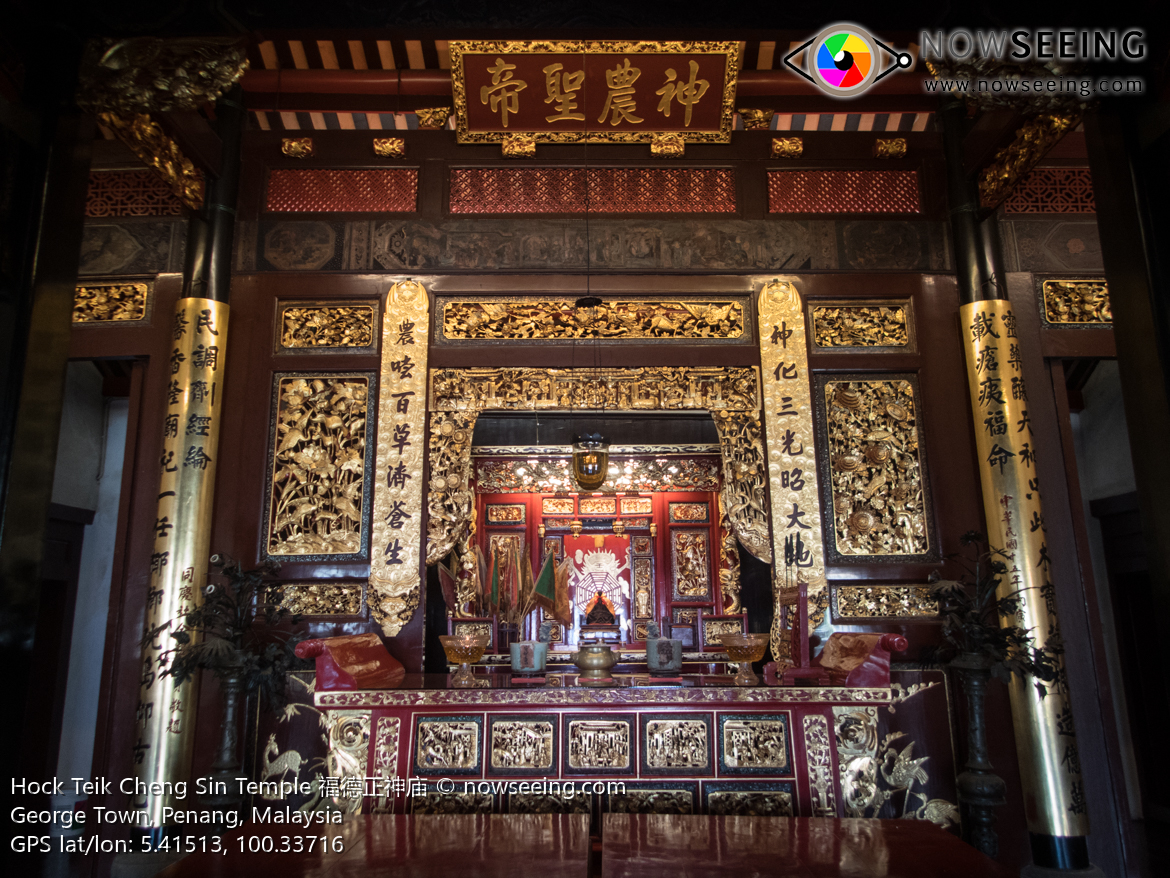 Tong Kheng Seah worships the Deity of Agriculture with an honorific title of "Sin Long Siang Tay" or simply "Shen Nong". He was an ancient king and got the people to practice land cultivation and hence an agricultural civilization developed. At the same time, herbal medicine and trading were also introduced by him. He is also known as "God of Medicine" because he tested out the medicinal properties of all herbs. 
同庆社则主祀神农圣帝,或简称神农。神农为远古圣王,是原始社会带领初民进入农耕,文明的农业之祖,同时也集兴医药,开市交易等多项创制的鼻祖,故也被称为"医药之神"。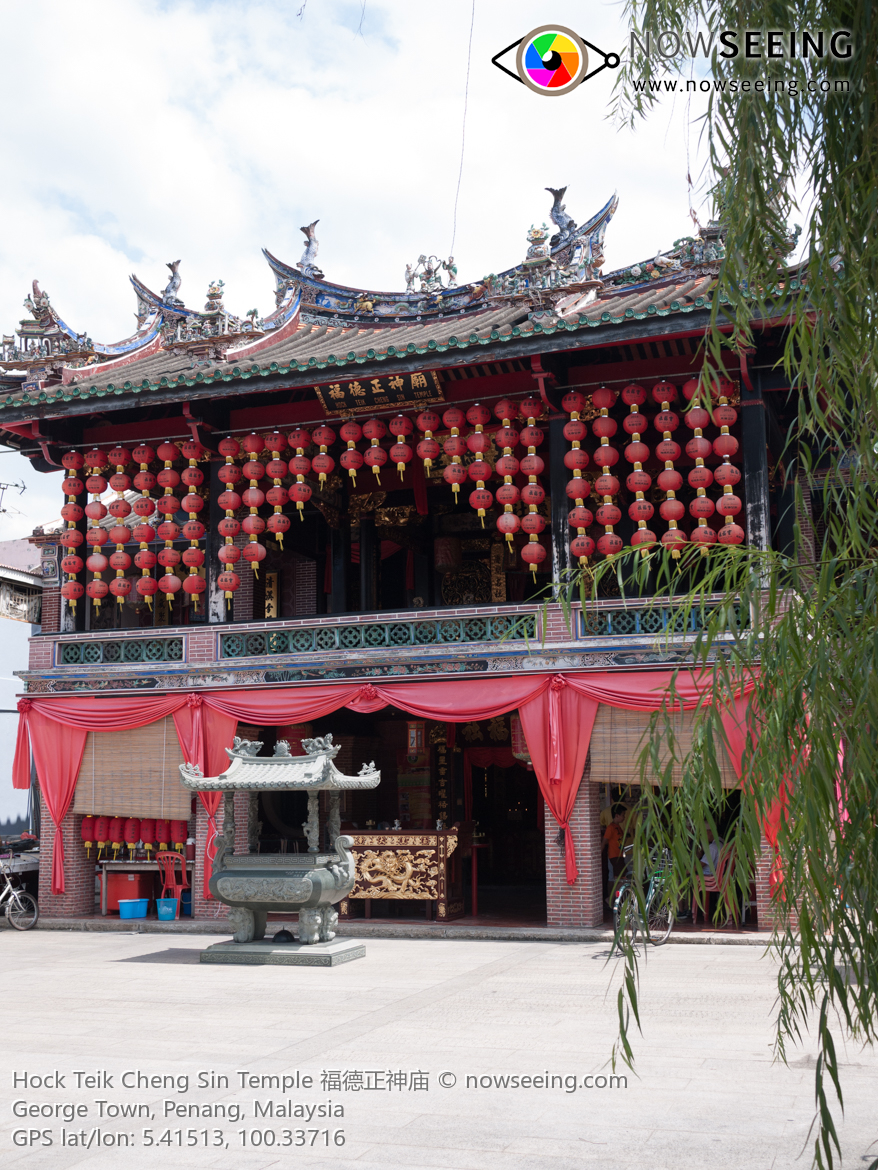 Today, the Hock Teik Cheng Sin Temple stands as a permanent reminder of the progress achieved by the Penang Chinese Hokkien community.
今天,福德正神是槟榔屿福建籍华裔,社群历程的永久象征。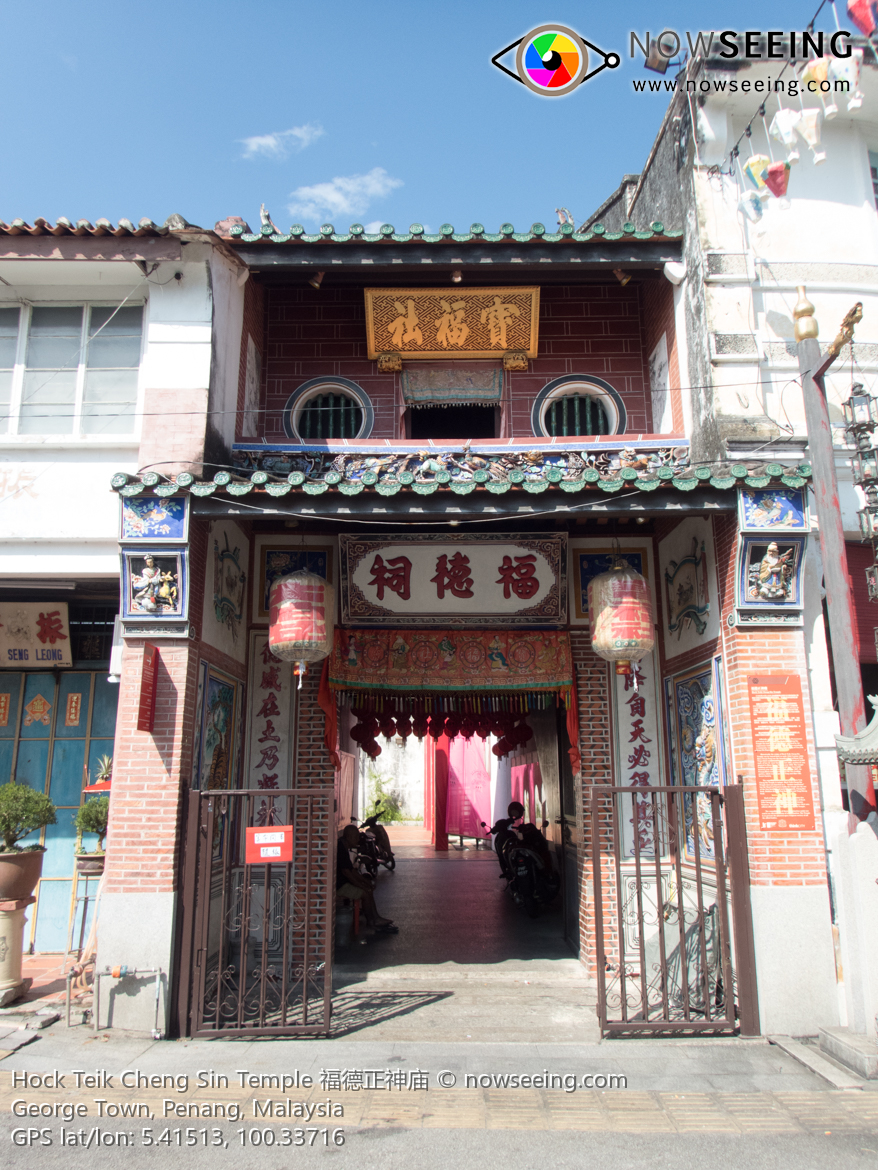 Each time when we are in George Town, if time allows, we will stop by this temple. The entrance looks small but you will be surprised with large compound and the unique double-storey temple in there. The temple is well-maintained with clean environment. Staffs are friendly as well and they are more than happy to help answering your questions regarding this temple. Joss stick is available at RM3.00 per pack.
每当小编在乔治市且时间允许的话,小编会停留于此庙片刻。其入口处看来很小,不过里面可有一个大前院及双层庙呢!庙的前前后后也打理得很好,员工也很友善也很乐意为游客解答问题。清香为每套 RM3.00。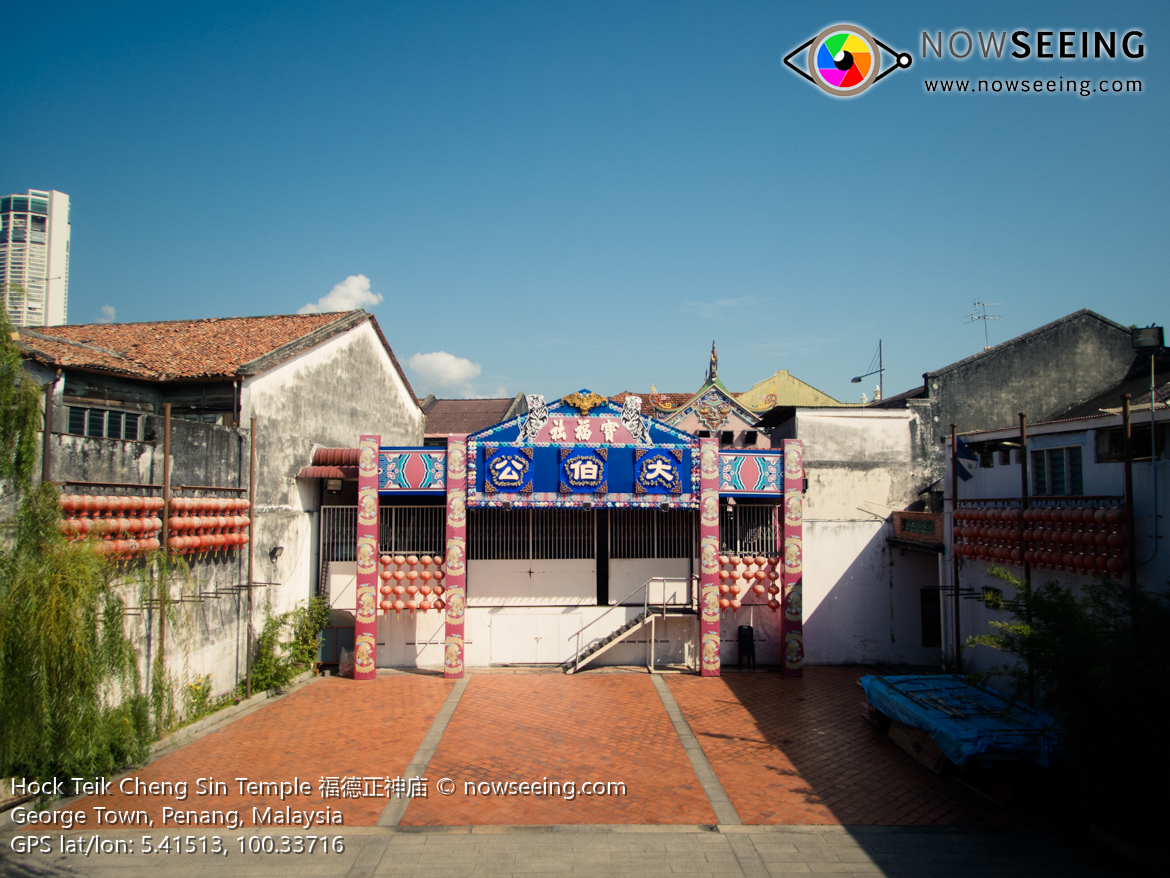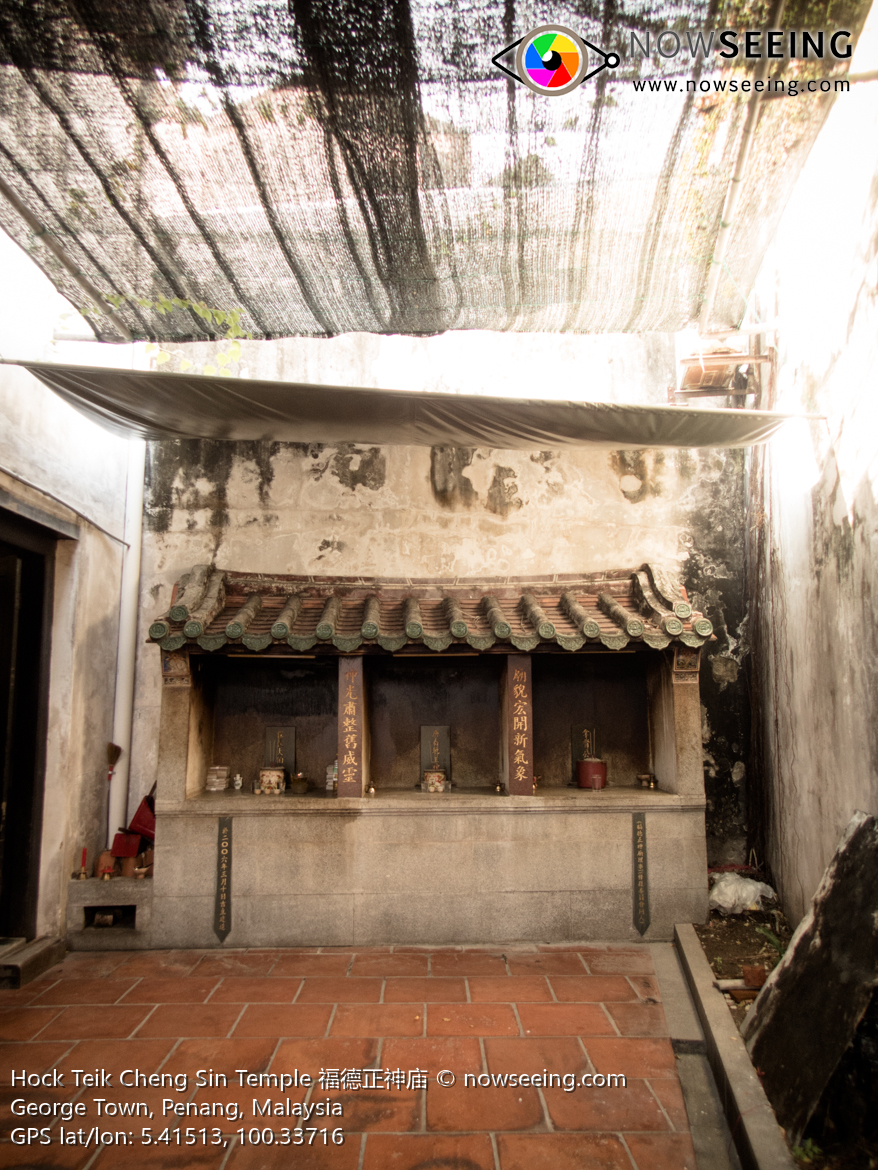 Name: Hock Teik Cheng Sin Temple 福德正神庙
Address: Armenian Street, George Town, Penang.
GPS: 5.41513, 100.33716
Please like us on Facebook! Thanks.