Penang
Details

Category: Penang
Published: 19 February 2017
Hits: 12818

Built in year 1972, Hean Boo Thean 玄母殿 (GPS: 5.40944,100.33833) was initially a wooden floating Chinese temple in reclamation area of Weld Quay, George Town, Penang. Fearing the corrosion by salt water, the Chinese temple was completely rebuilt using bricks and cements. It is one of our favorite Chinese temples in Penang.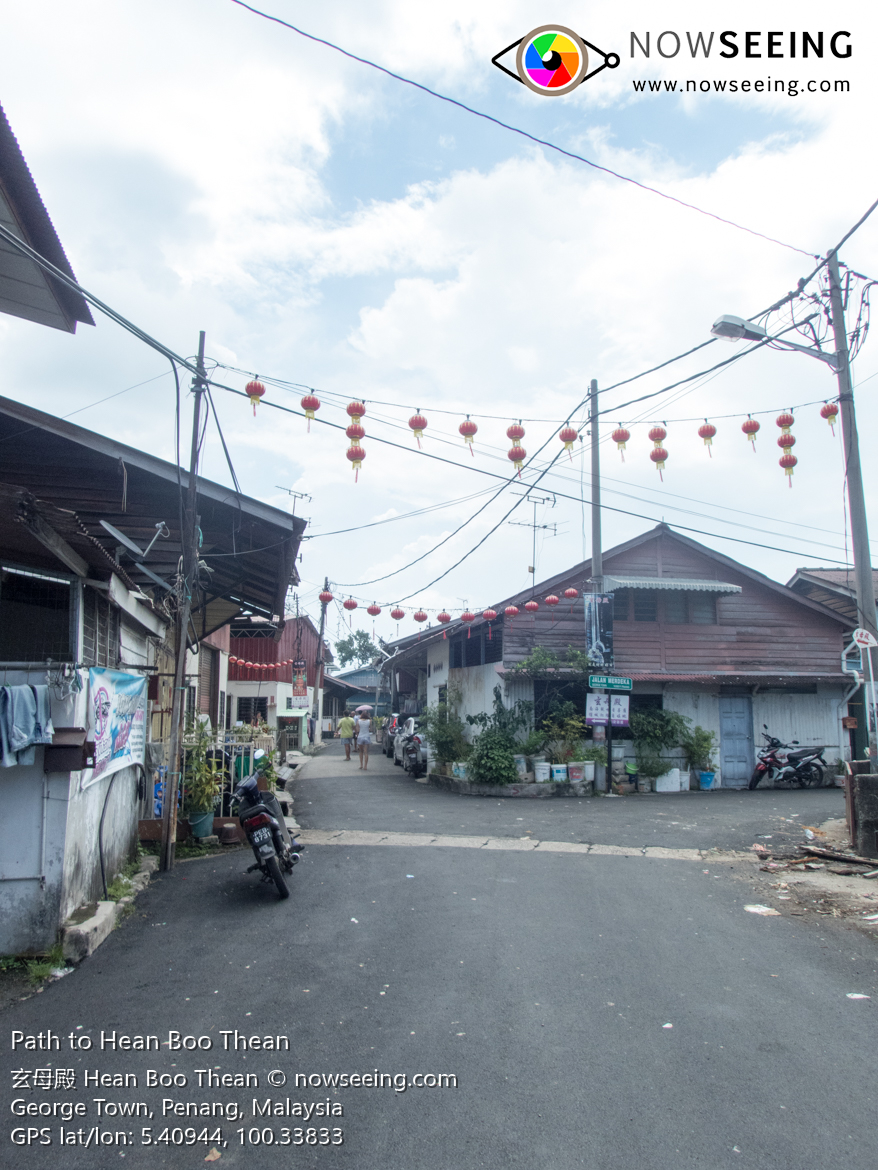 Other than being a floating temple, another characteristic of Hean Boo Thean is that it can only be accessed by foot as the place is surrounded by a hamlet with narrow alleys. Assuming you are coming from ferry terminal, go straight toward Lim Choong Eu Expressway and before the expressway, notice a Hean Boo Thean signboard at a junction on your left. The junction also housed Feng Yi Dumplings 凤姨粽子. Turn left at that junction and you may start parking your car.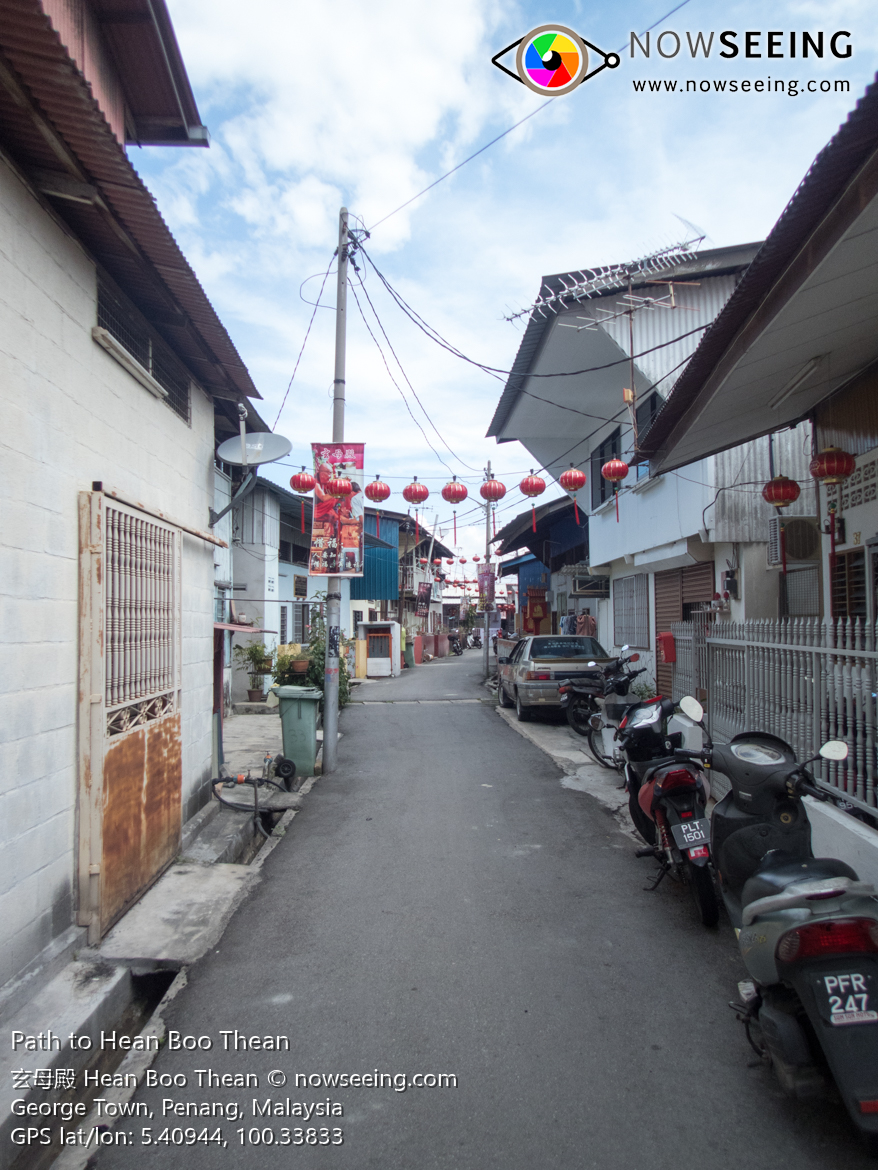 Visitors need to walk through a narrow alley in a residential area. Looks for small signboard or banners of Hean Boo Thean. If you are lost, local folks usually are friendly enough to show you the way. Also, beware of "landmines" (dog poop) along the way.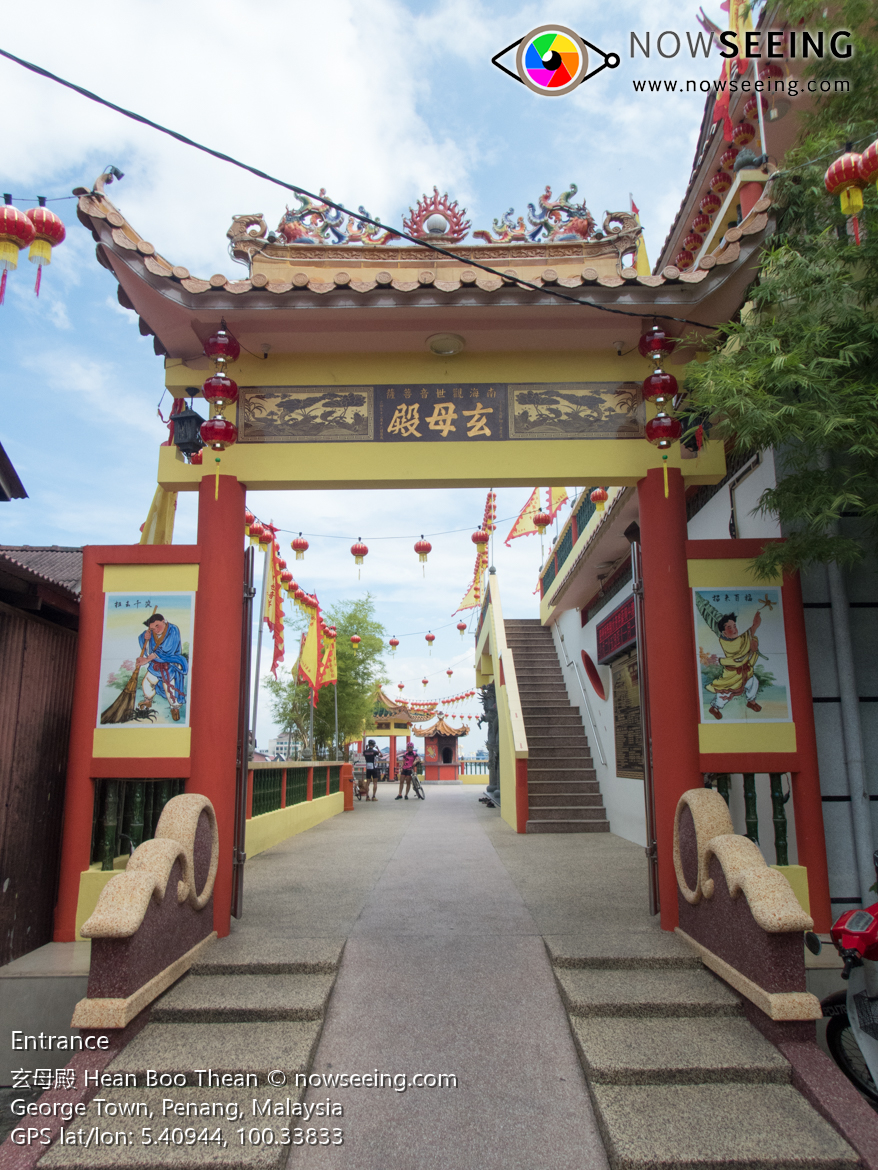 Once you see an entrance like this, congratulation, you just reach Hean Boo Thean.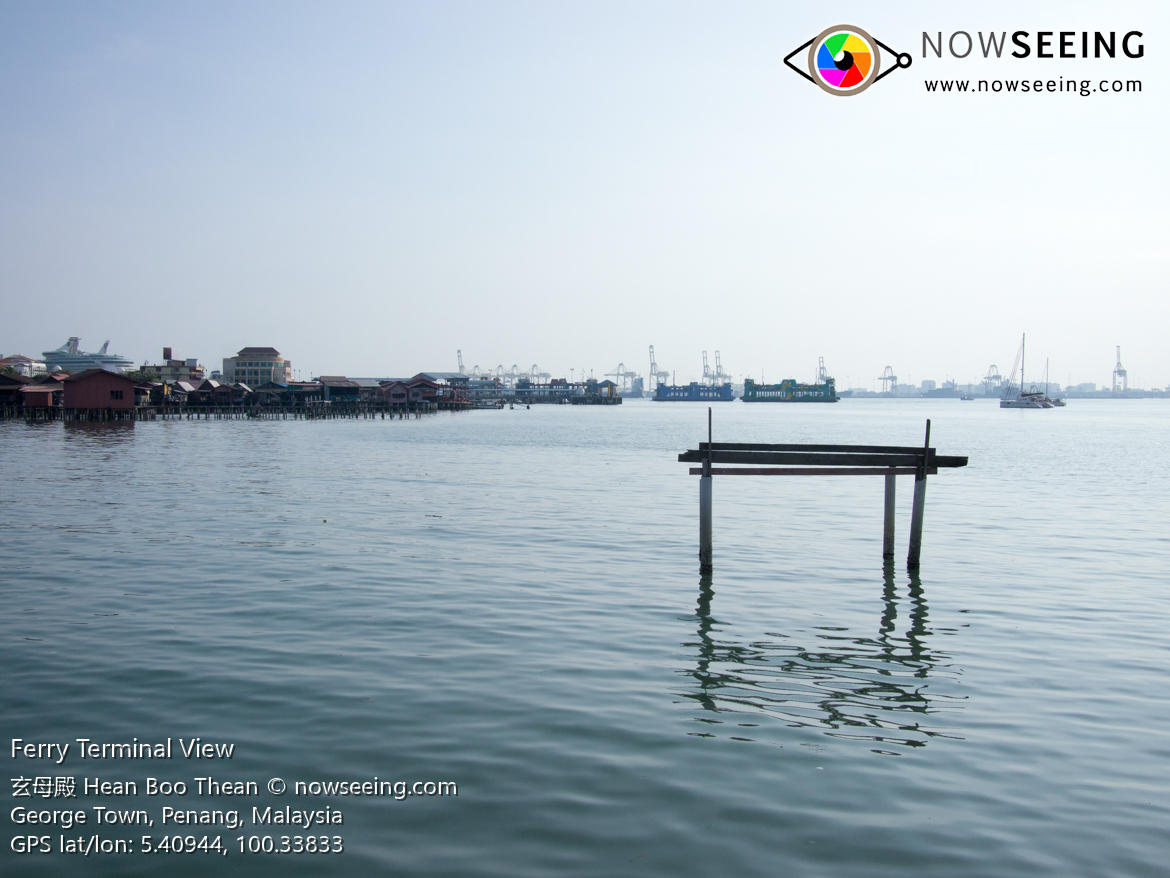 We visited the floating temple not less than 10 times and we found our inner peace each time we were here. With Buddha music playing in the background, one can sit in the gazebo whole day to enjoy the breathtaking sea view and sea breeze. The temple is built facing clan jetty and ferry terminal.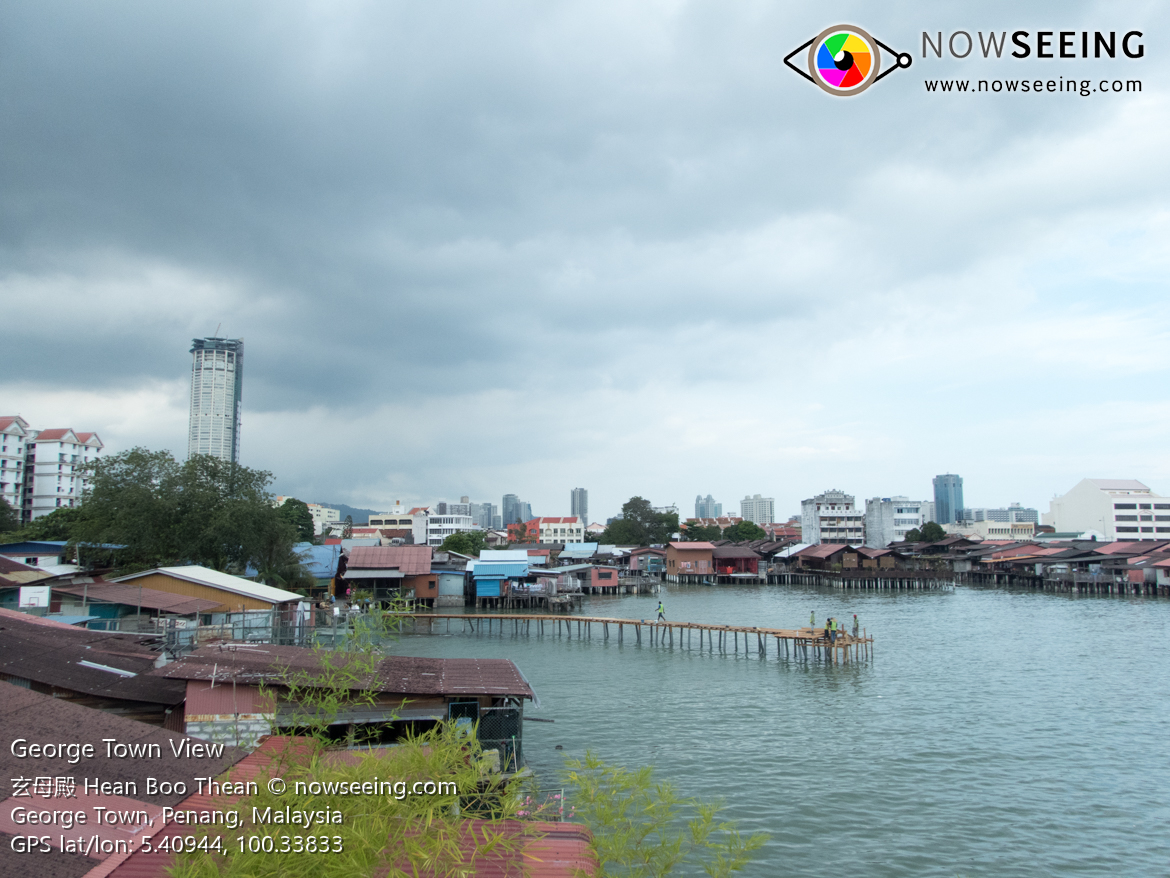 On your left is George Town with Komtar at far left.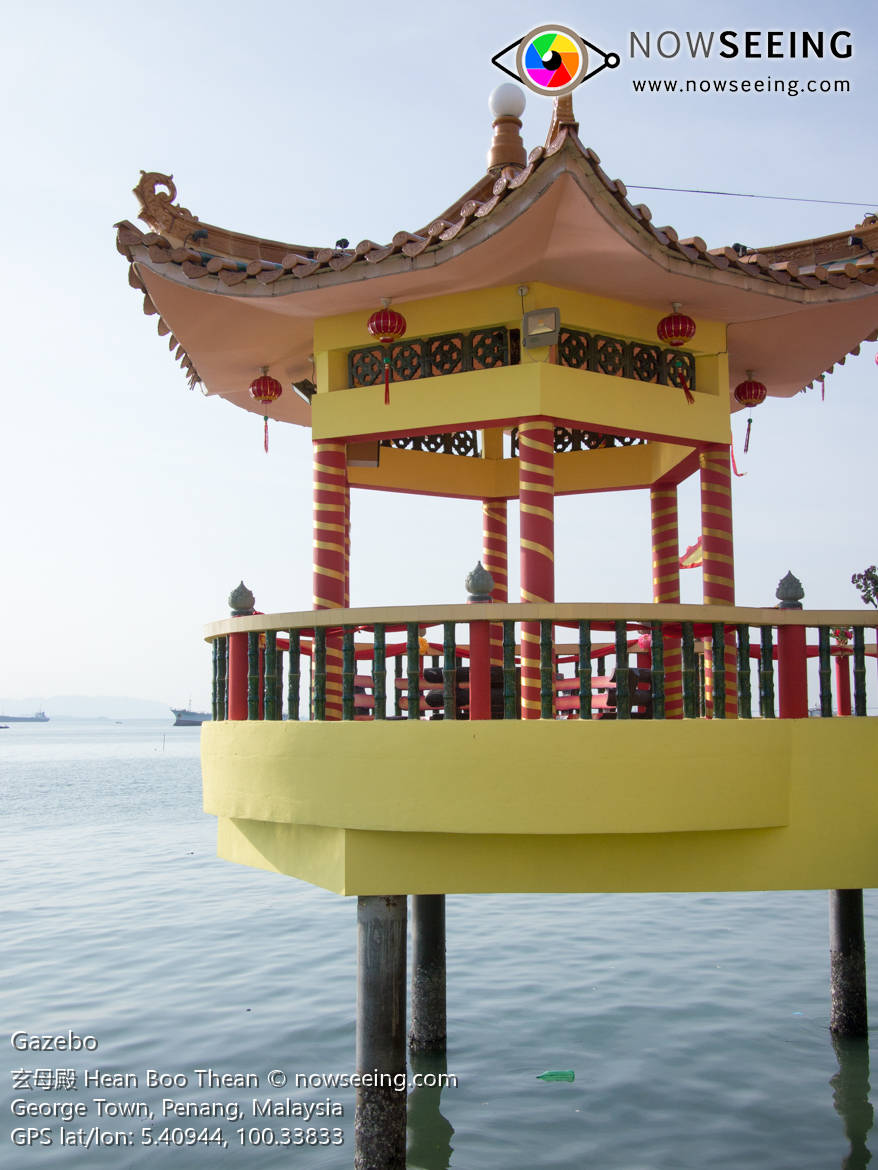 The temple is also a famous place for nature photographers with clan jetty and sea as background.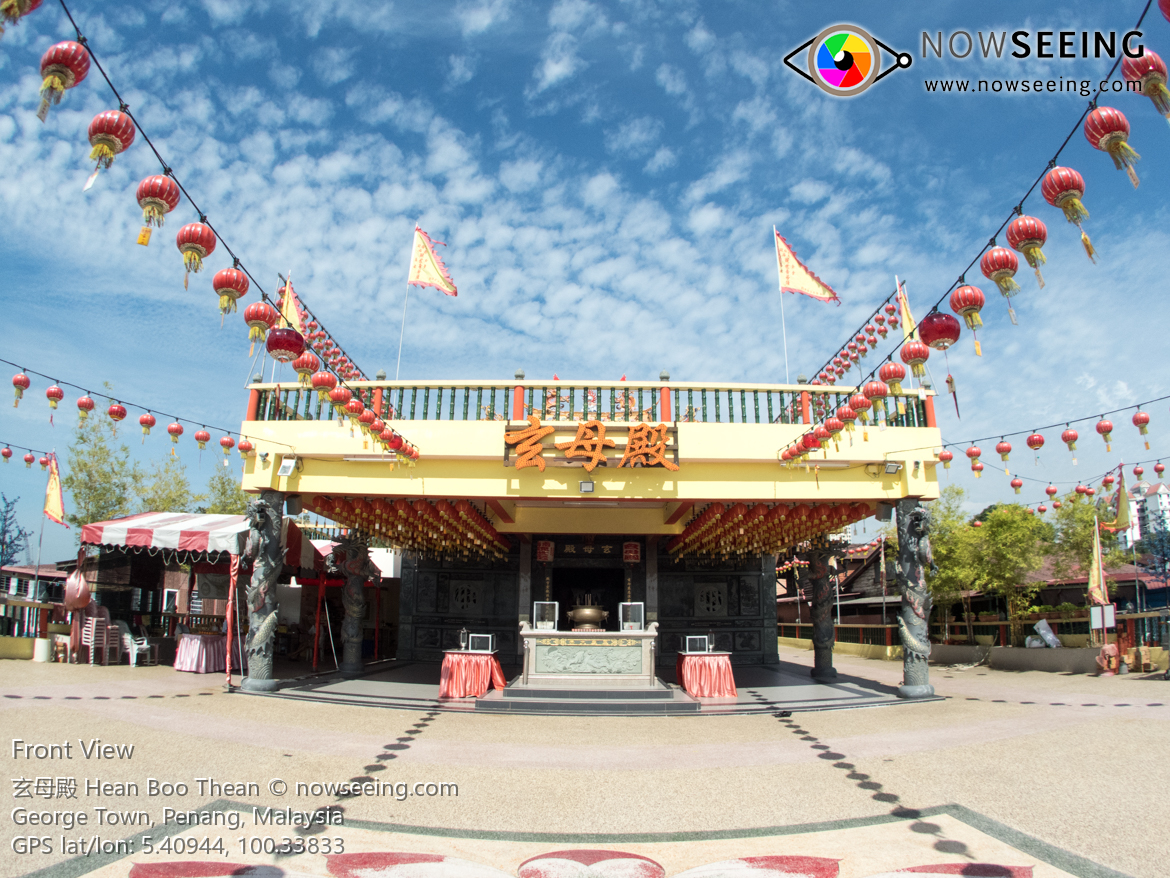 Hean Boo Thean is mainly dedicated to Goddess of Mercy a.k.a Kuan Yin. The new building was completed in November 2012 and consists of two floors with the ground floor dedicated to Taoist deities.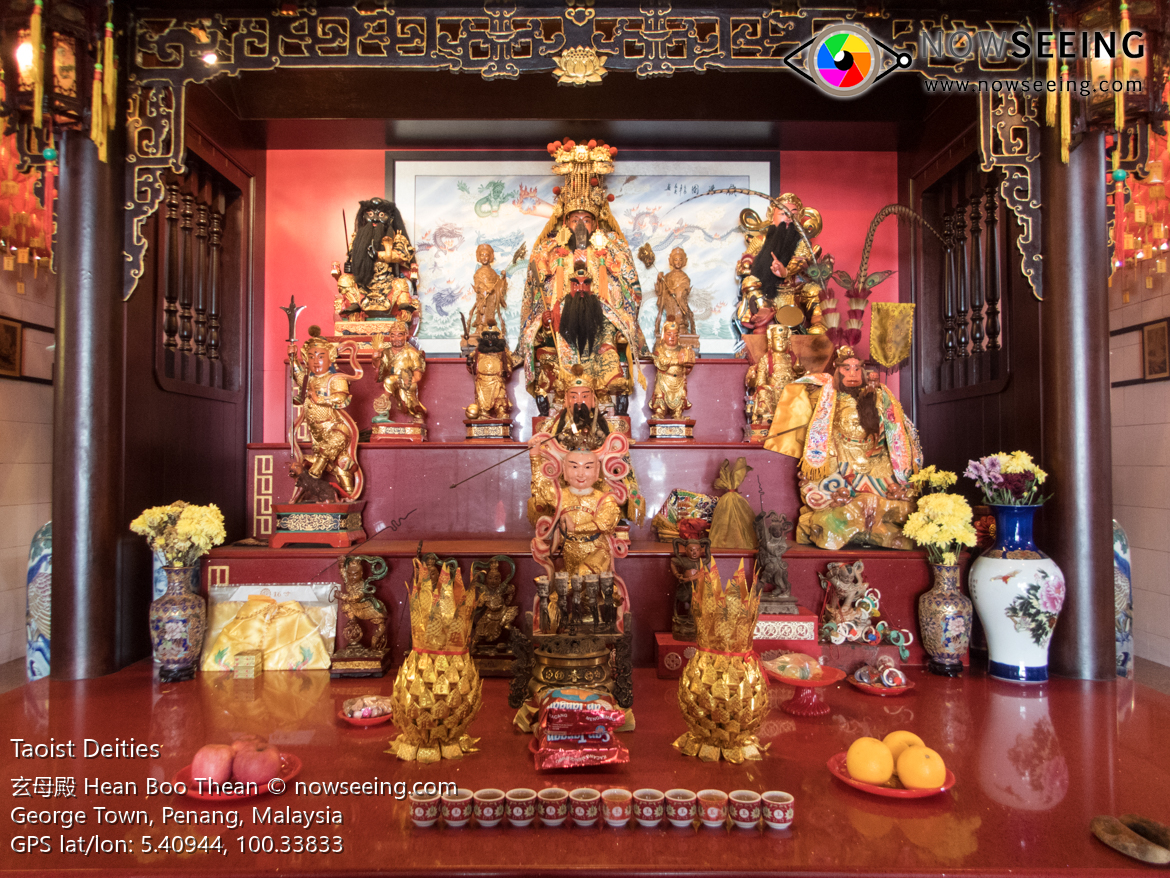 Below are a list of Taoist deities with their "lunar date of birth". During their "birthday", the community of the temple will perform additional offerings in the premise. Locals will also flood into the temple offering incenses and food to the "birthday star". Major celebrations are highlighted in bold below:
地主公 - 农历正月、二月、三月、四月、五月初十
清水祖师 - 农历正月初六
玉皇大帝 - 农历正月初九
福德正神 - 农历正月十五、八月十五
妙应仙妃(圣婆) - 农历正月廿三
观世音菩萨 (佛诞日) - 农历二月十九
玄天上帝 - 农历二月廿五、三月初三
保生大帝 - 农历三月十五
武财神 (玄坛元帅) - 农历三月十五
天上圣母 (妈祖) - 农历三月廿三
南极仙翁 - 农历五月初一
地府大爷伯 - 农历五月初八
地府二爷伯 - 农历五月初九
龙五爷财神 - 农历五月十三
关平 - 农历五月十三
田都元帅 - 农历五月十八
拿督公 - 农历五月十七、五月十八
观世音菩萨 (得道纪念日) - 农历六月十九
关帝圣君 - 农历六月廿四
瑶池金母 - 农历七月十八
文财神 (财帛星君) - 农历七月廿二
法主仙师 - 农历七月廿三
虎爷公 - 农历七月廿四
济公仙师 - 农历八月初七
花果山孙悟空 (老孙) - 农历正月十六、八月十六
广泽尊王 - 农历二月廿二、八月廿二
善才童子 - 农历九月十三
中坛元帅 - 农历九月十五
东海哪咜 - 农历九月十六
观世音菩萨 (出家纪念日) - 农历九月十九
华光大帝 - 农历九月廿八
二郎元帅 - 农历十月廿八
周仓 -农历十月廿九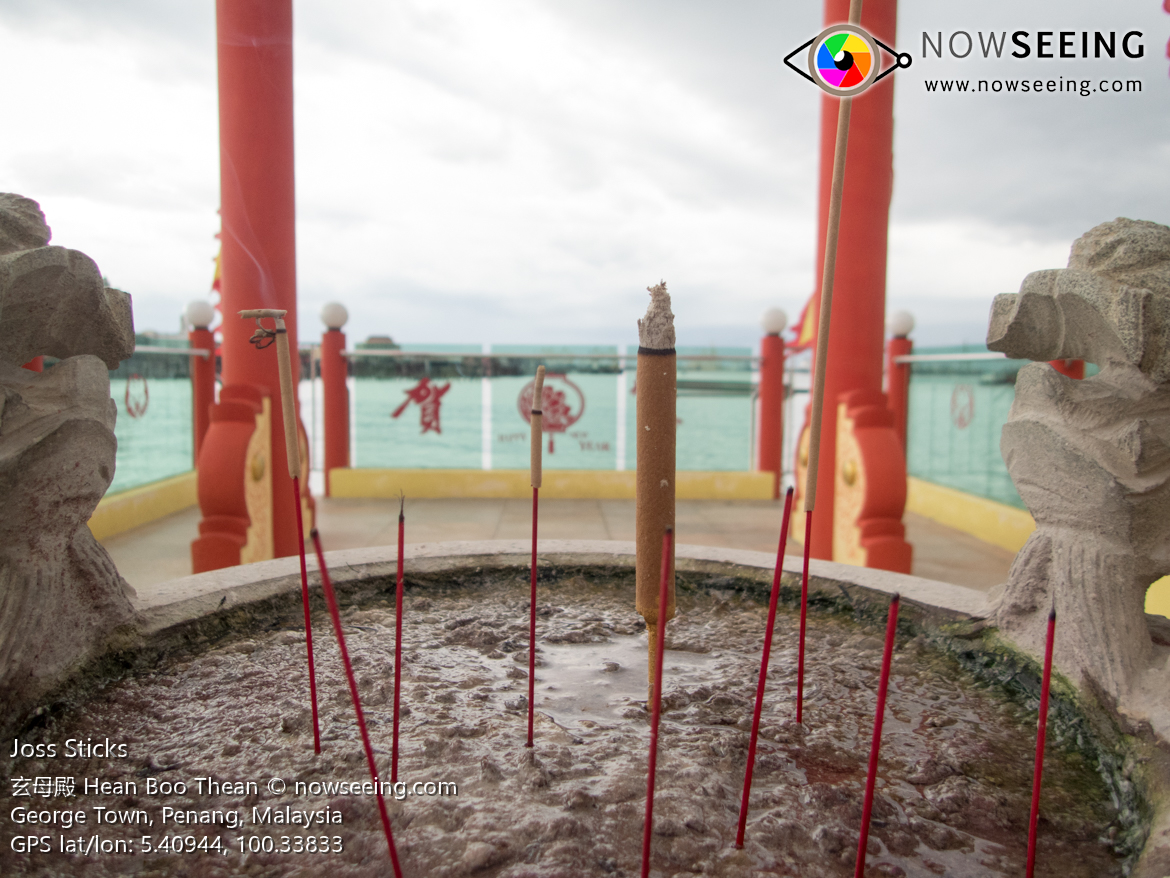 From the list above, the temple is basically dedicated to all Taoist deities and is quite happening throughout the year. Another plus is that joss sticks are given to prayers free-of-charge. They are pre-wrapped with joss paper in a box on the left of the altar at ground floor. A donation box is available next to it.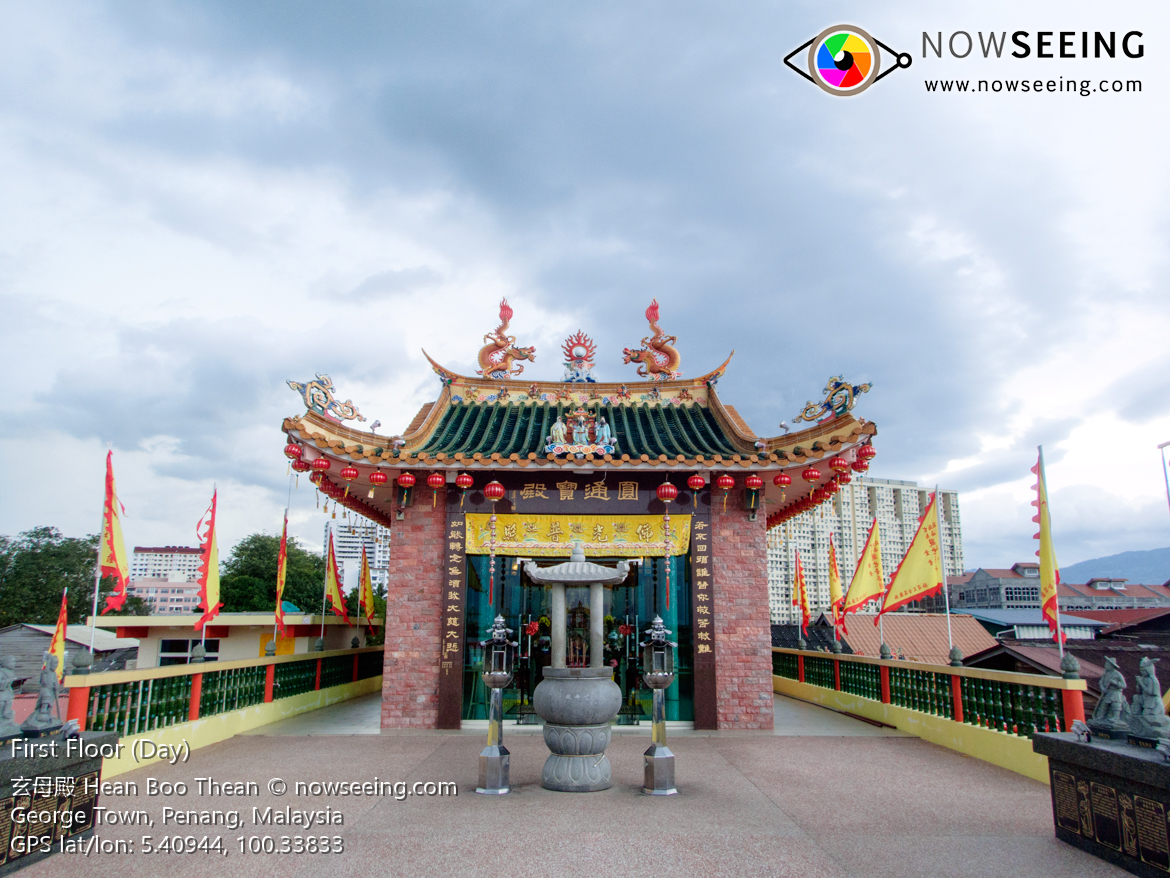 After praying at the ground floor, do not forget to visit the first floor accessible through a staircase behind the kitchen. First floor houses the chamber for Kuan Yin. Joss stick is not allowed into the chamber and prayers can only lid and offer the incenses outside.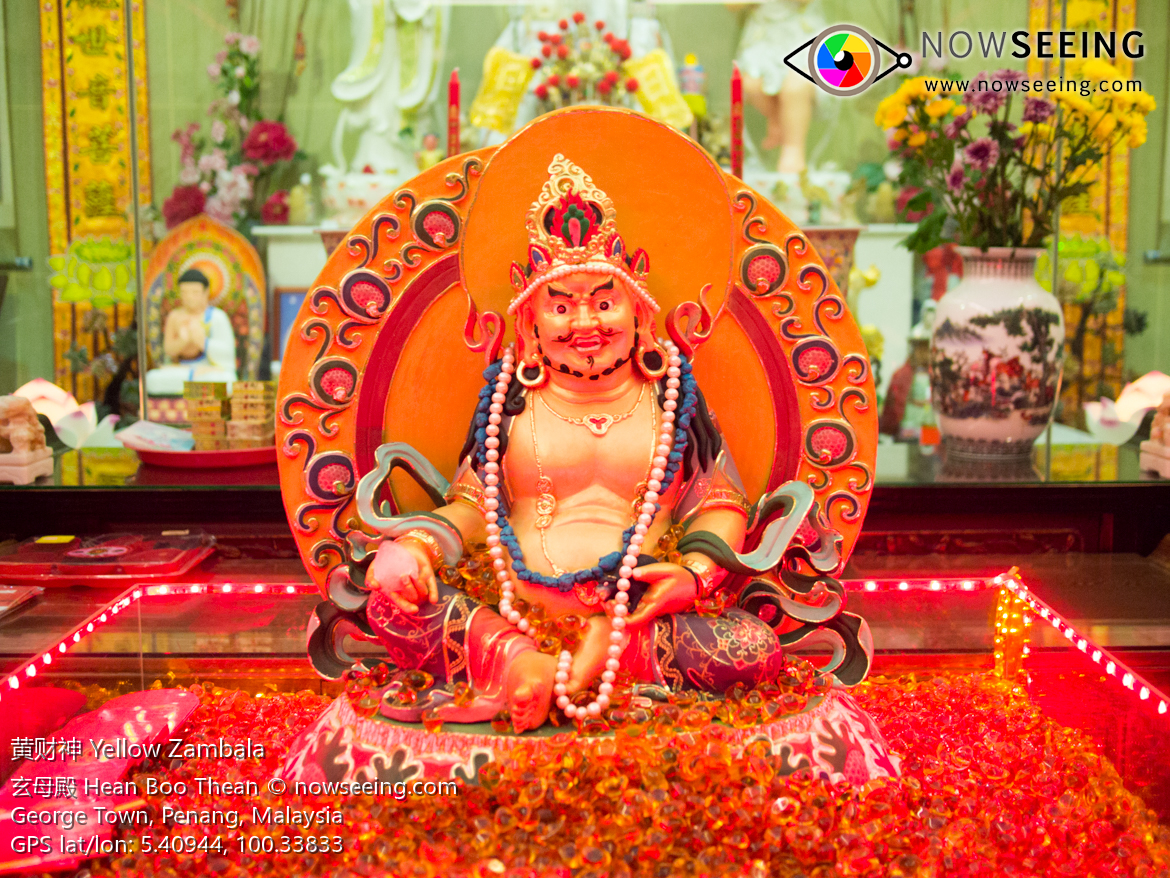 During Chinese New Year, Yellow Zambala 黄财神 is displayed in the chamber, allowing believers to bring back home a Chinese gold ingot at RM10 each. Zambala is God of Wealth and Yellow Zambala is the most popular and powerful of the Wealth Gods.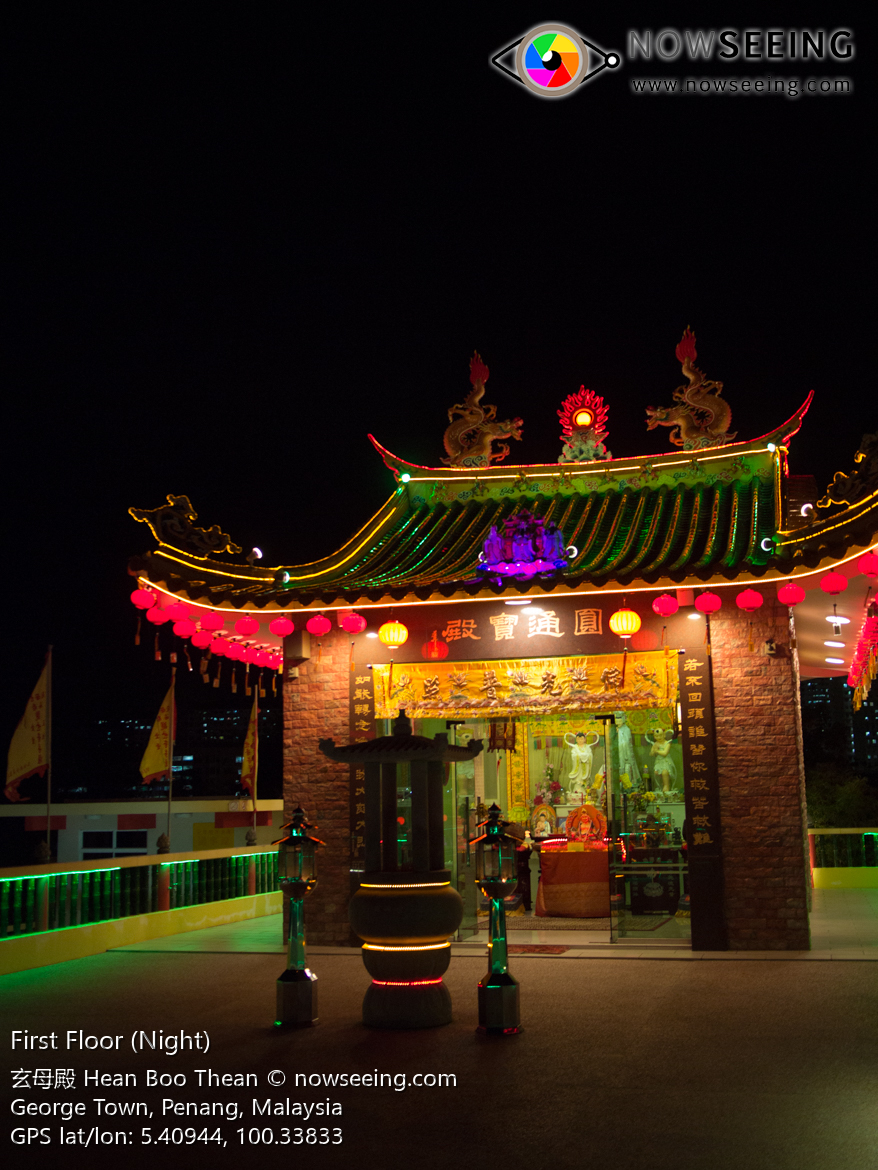 Hean Boo Thean is lovely at night with lighting visible from as far as ferry terminal. Our first time noticing this temple was when we were at clan jetty and we were wondering that time on the way to get to this astonishing temple. Is it only accessible by boat?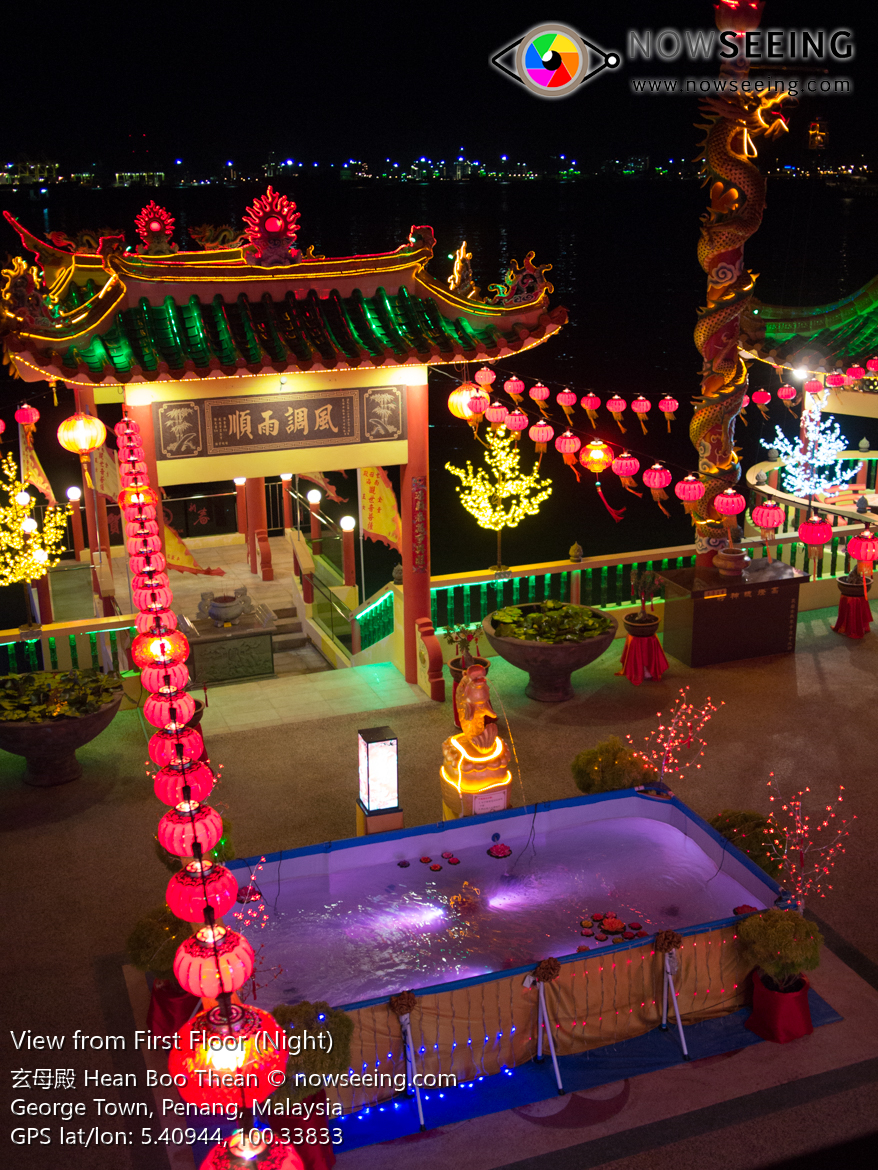 A wishing pond is also available during CNY allowing visitors to purchase lotus, make a wish, and put the artificial lotus onto the pond.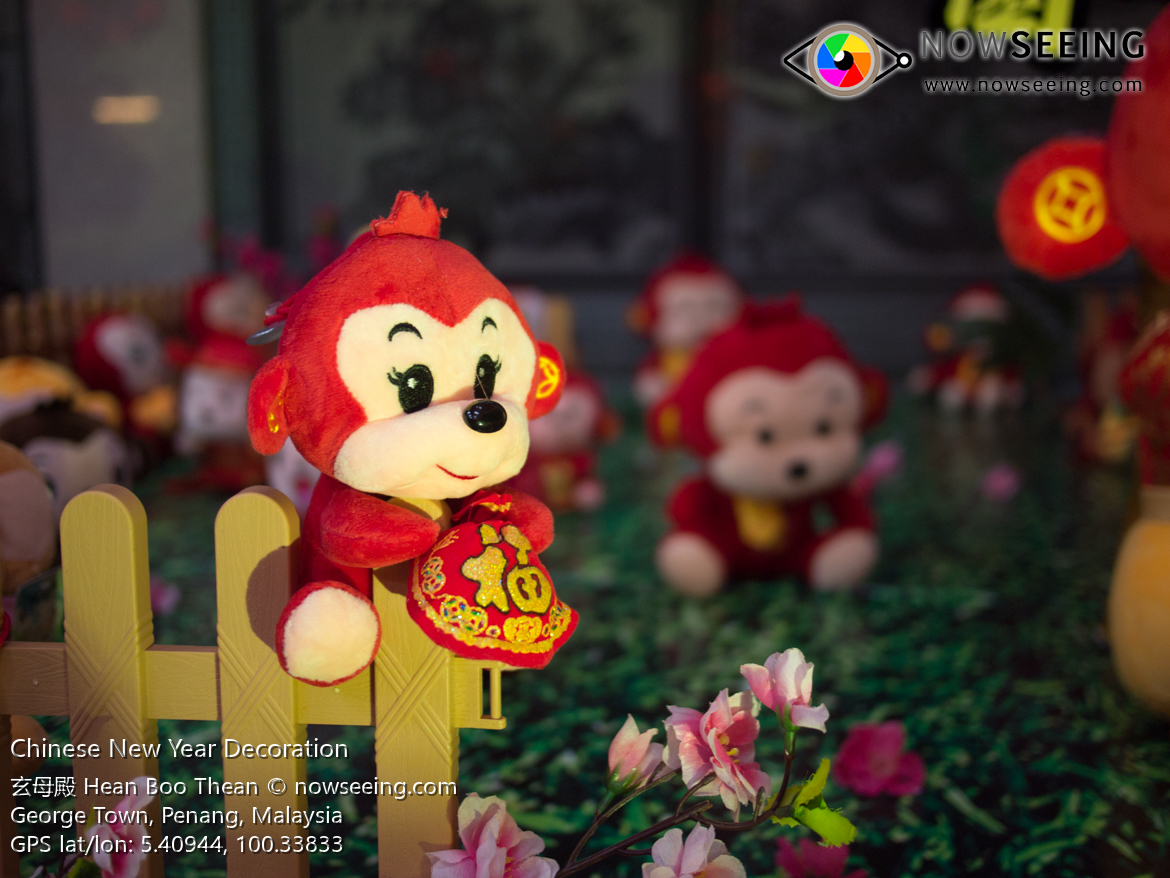 Compared to the famous temple at Air Itam, personally, we prefer Hean Boo Thean thanks to its FOC practice. After all, it is poor people who need to pray more often. Also, Hean Boo Thean is less crowded most of the time, allowing visitors to enjoy sea breeze in quiet environment.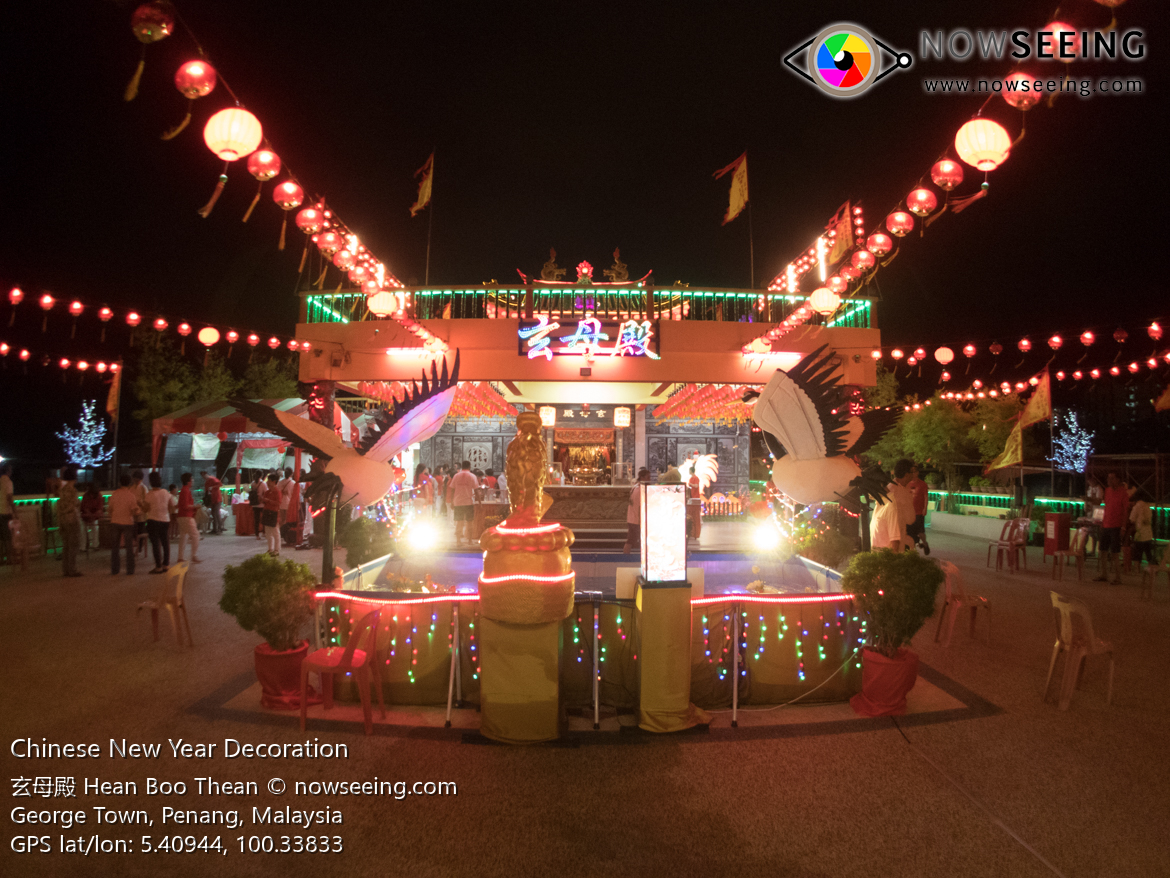 For more photos of Hean Boo Thean, kindly like our Facebook page and visit the album there.  
玄母殿 Hean Boo Thean
Address: 52A, Reclamation Area, Weld Quay, 10300 George Town, Penang
GPS: 5.40944,100.33833
Opening Hours: Early morning until late in the evening
Admission: Free
Tel: 6011-1080 6362
Website: Facebook