Details

Category: Chiang Mai
Published: 30 May 2014
Hits: 86289

One of our major trips in year 2014 is Chiang Mai trip. Our initial plan is to take this opportunity to visit Pai and Chiang Rai as well. This is my first trip to north Thailand with the duration of one week, from 7-May-2014 to 14-May-2014.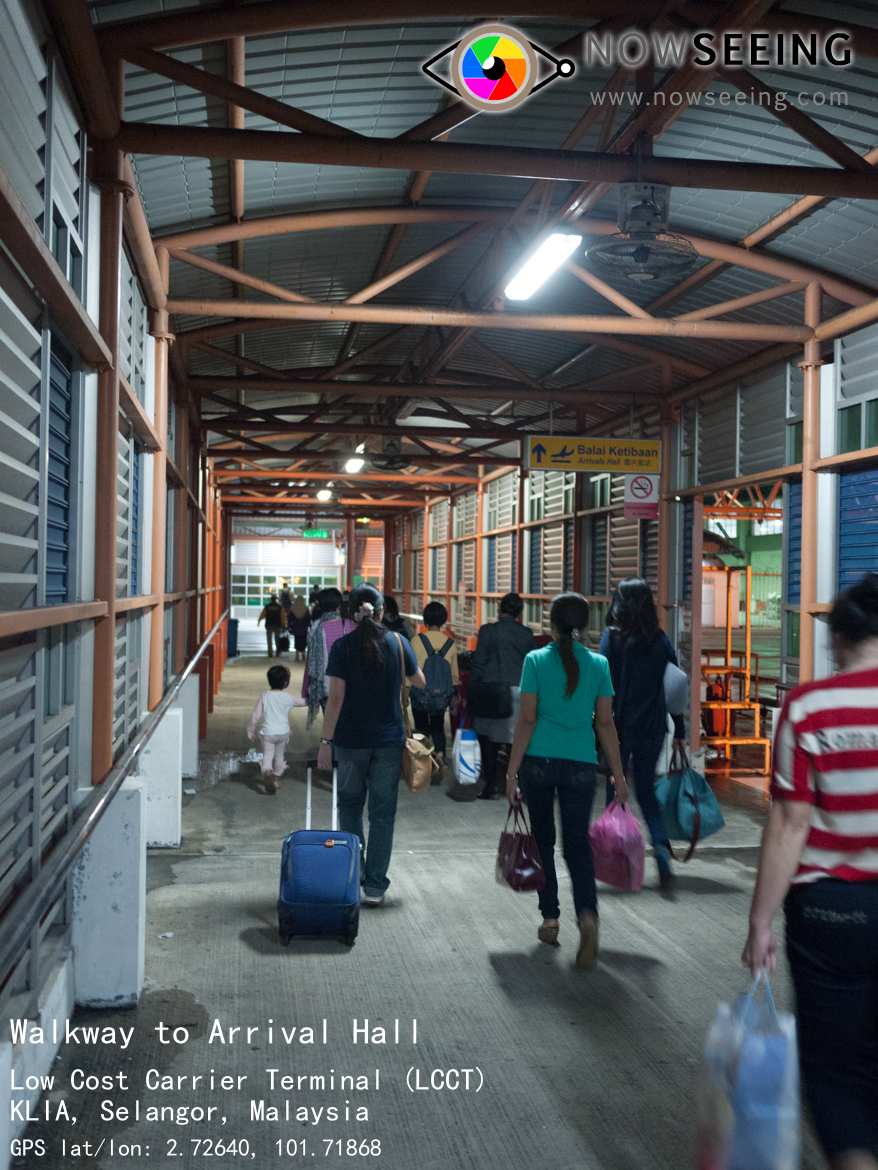 Sadly, at very last minute, we received an earthquake news from Chiang Rai. Due to the earthquake, the famous Chiang Rai's white temple suffered from severe crackings and was closed for visitors. We had no choice but to cancel the Chiang Rai one-day trip.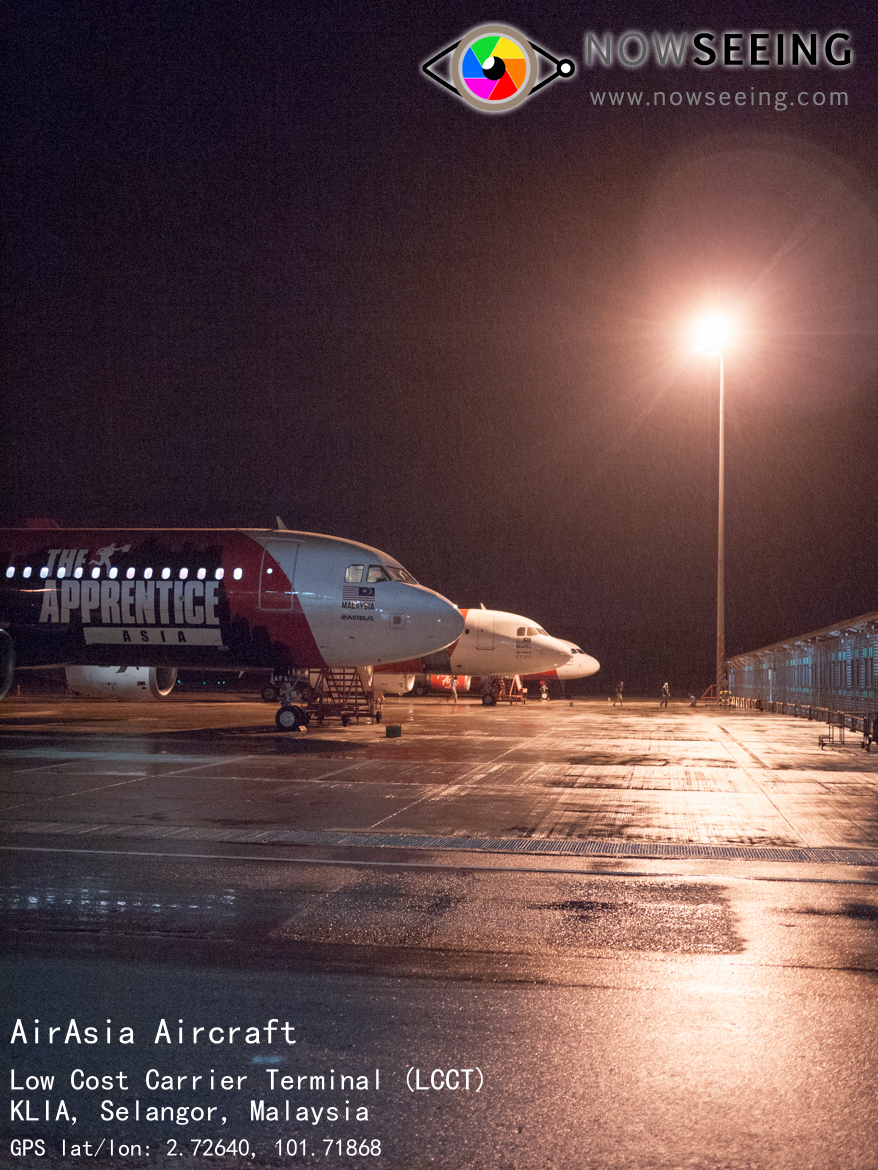 When booking flights back in Nov-2013, we found out that there is no direct flight from Penang to Chiang Mai and we had to perform transit in LCCT. We preferred to arrive at Chiang Mai as early as possible so that we could have a full day visit there. The earliest flight from Kuala Lumpur to Chiang Mai is 6.55am (AK854) and in order to catch that flight, we had to book the last flight from Penang to Kuala Lumpur one day before (7-May 11:05pm), and spent a night at LCCT.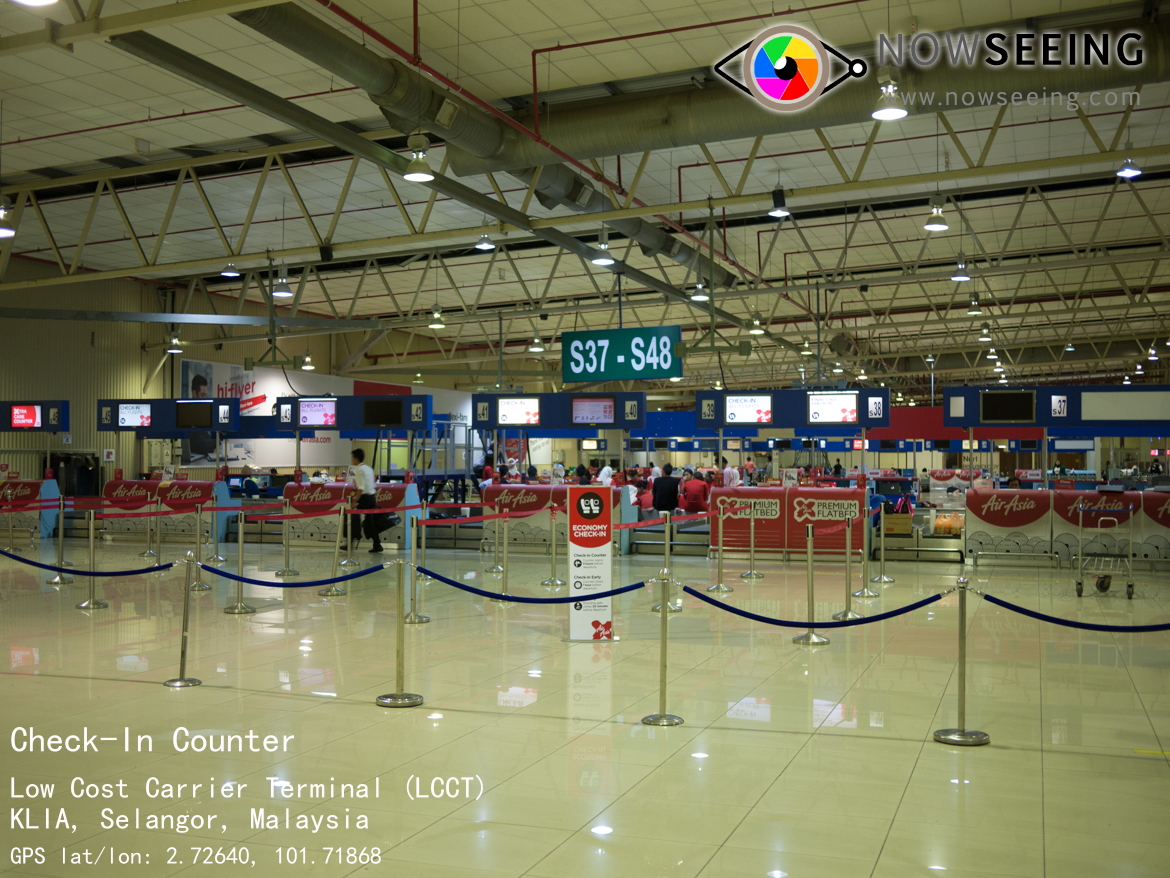 This was my first time spending a night in an airport. Surprisingly, we were not alone. The moment we arrived at LCCT at 12:05am, many passengers were sleeping on floor and we almost had difficulty in finding a place to sleep. Seriously, we hardly slept as it was not comfortable and noisy due to some shops dismantling their stuffs and moving to KLIA2. By the way, that was the last day before AirAsia was moved to KLIA2 on 9-May-2014. We probably won't step into LCCT anymore.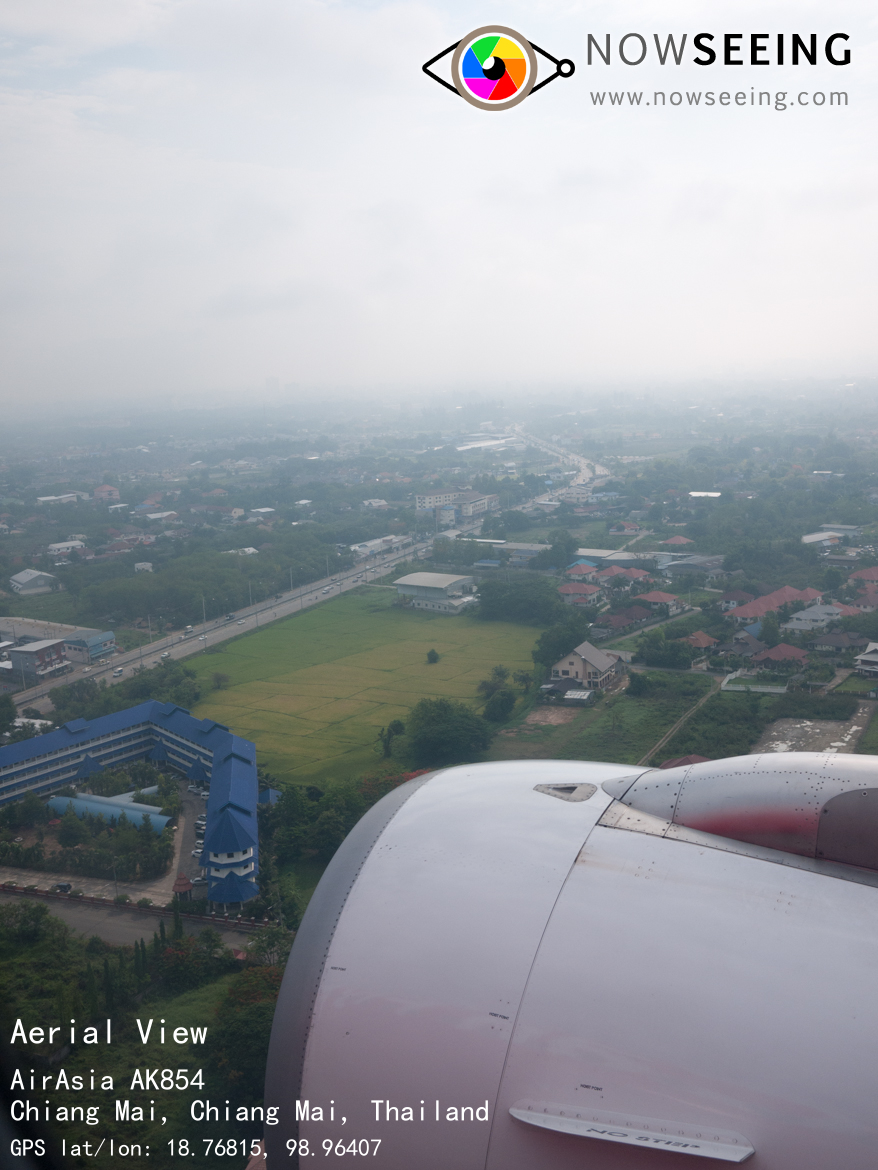 The flight to Chiang Mai departed as expected and it took about 3 hours to reach Chiang Mai. Immigration check was pretty smooth: 1) Fill in the Arrival Card given by the stewardess, 2) Chop passport at immigration counter, 3) Scan luggage at check point, and voila~ we were greeted by taxi drivers.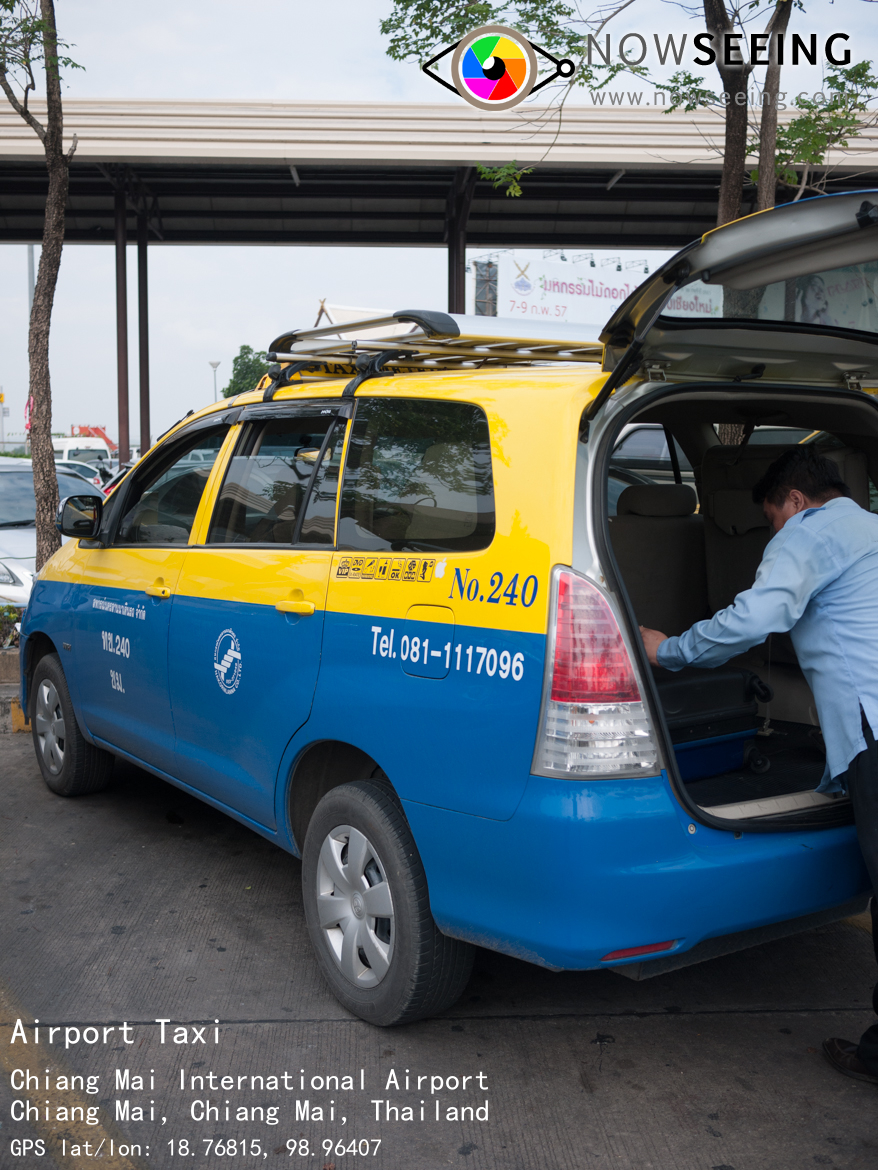 Afraid being conned, we walked around and noticed that most counters offering 120 THB to Chiang Mai old city. That's not too bad and we took an airport cab to our hotel - Imm Hotel.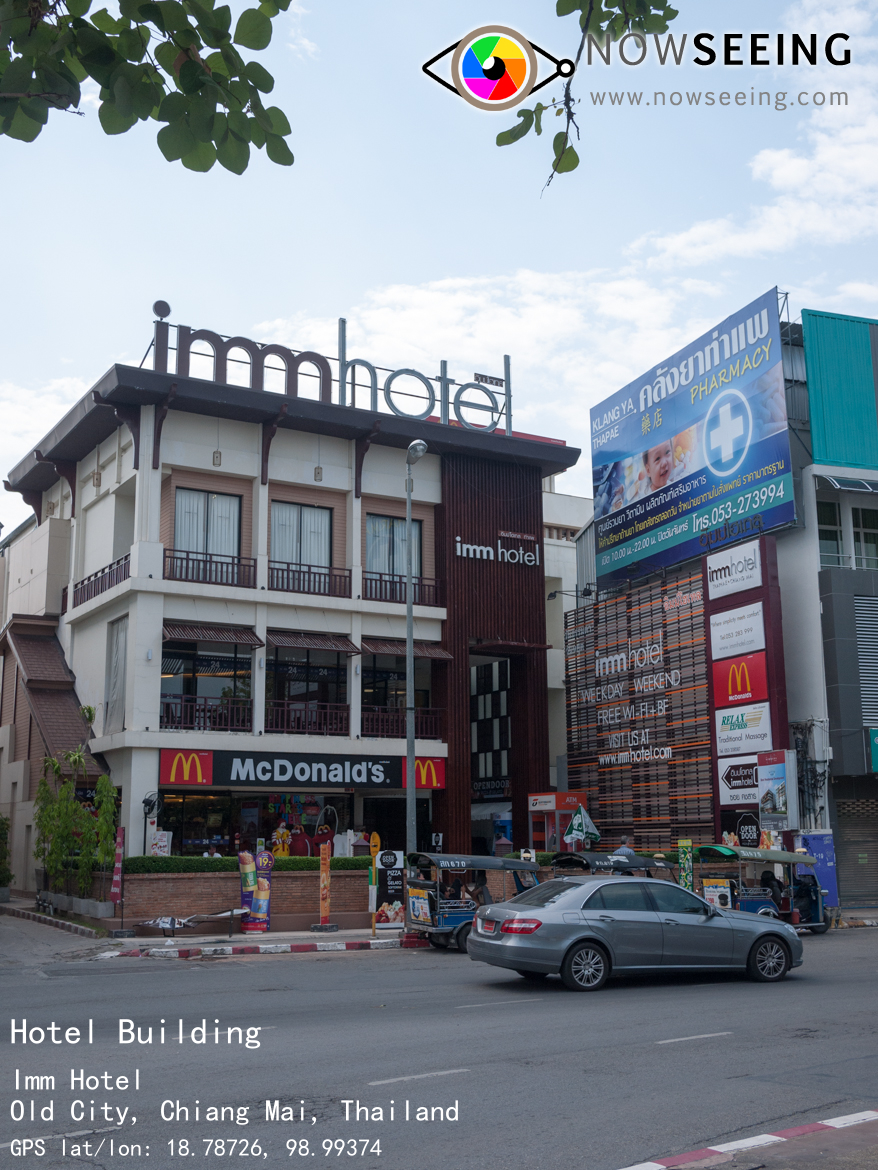 The reason we selected Imm Hotel was that it was very near to Chiang Mai old city. In fact, it is just opposite of the famous Tha Phae Gate. We arrived around 9:40am and fortunately we were allowed to check in. After putting luggage in our room, we started looking for food by walking across Tha Phae gate.

Tha Phae means raft. The original gate was built in year 1296 when Chiang Mai was still the capital of Thailand that time. It was then rebuilt somewhere in year 1985. If you take a look in Google Map, the whole old city is surrounded by a square wall and Tha Phae Gate is the east wall.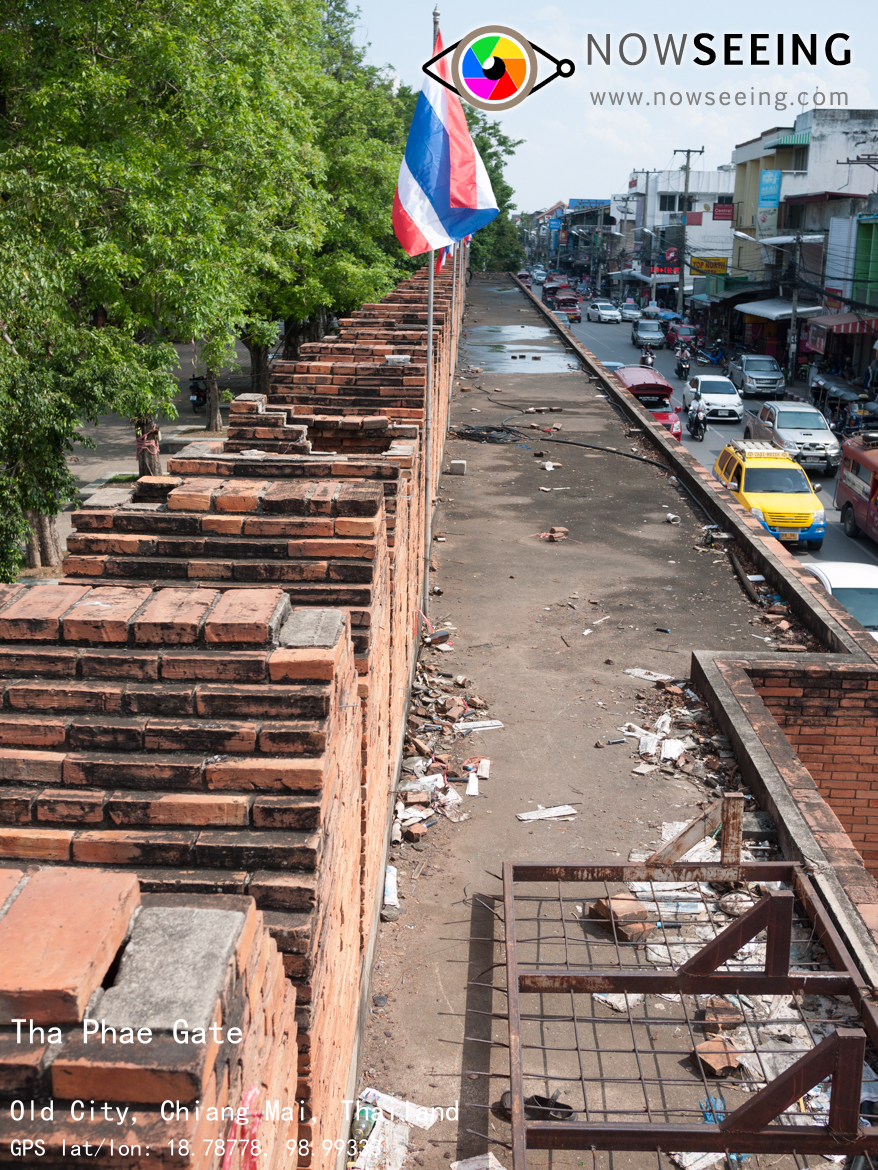 You can actually climb up Tha Phae Gate but seriously, nothing special except some bottles for recycling.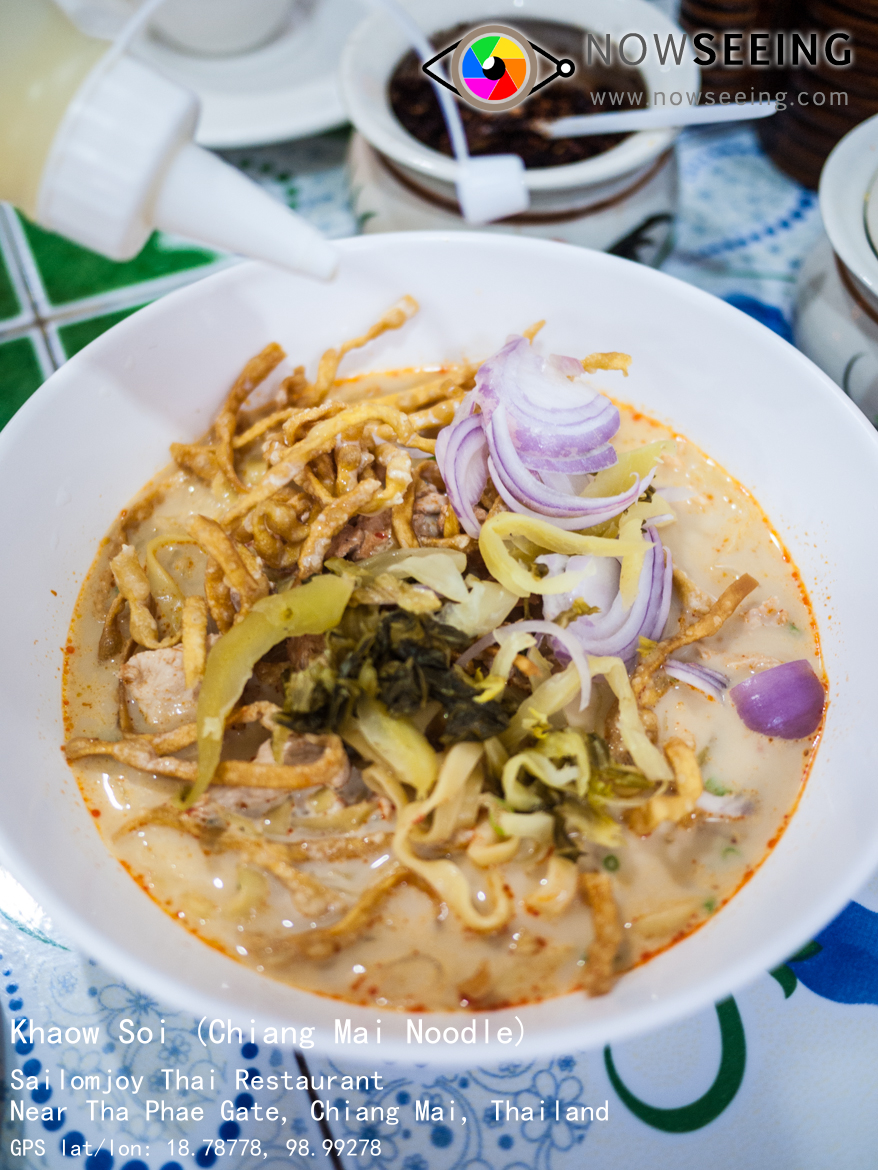 Walking pass the Tha Phae Gate, we started searching for a restaurant called Sailomjoy Restaurant which was highly recommended by bloggers. We spent some time and eventually found it. It is located opposite of Hotel M and is very near to Tha Phae Gate. For full review of this restaurant, kindly visit our food blog at noweating.com.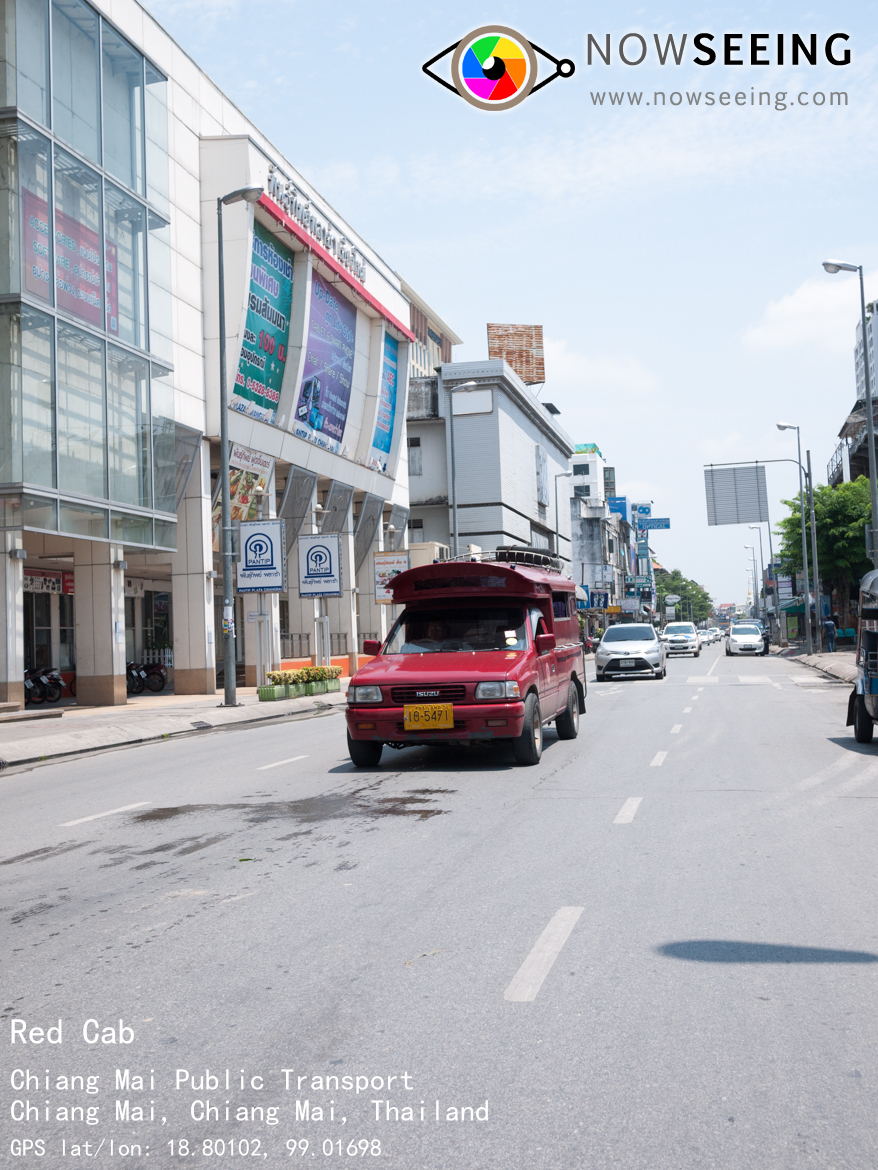 After the lunch, we head to our primary mission of the day - to get a bus ticket to Pai for tomorrow at a bus station called Arcade. In order to do so, we had to use a red cab which is commonly found around town area. Many visitors preferred red cab than tuk-tuk as it is cheaper. Even so, you need to negotiate with the driver. The fee varies depending on the distance but for our case, it is 40 THB (RM4) per person from Imm Hotel to Arcade Bus Station. Also, note that some drivers may not know Arcade station but if you try to ask them to fetch you to Pai Bus Station or Chiang Mai Bus Station, you will eventually reach the same place.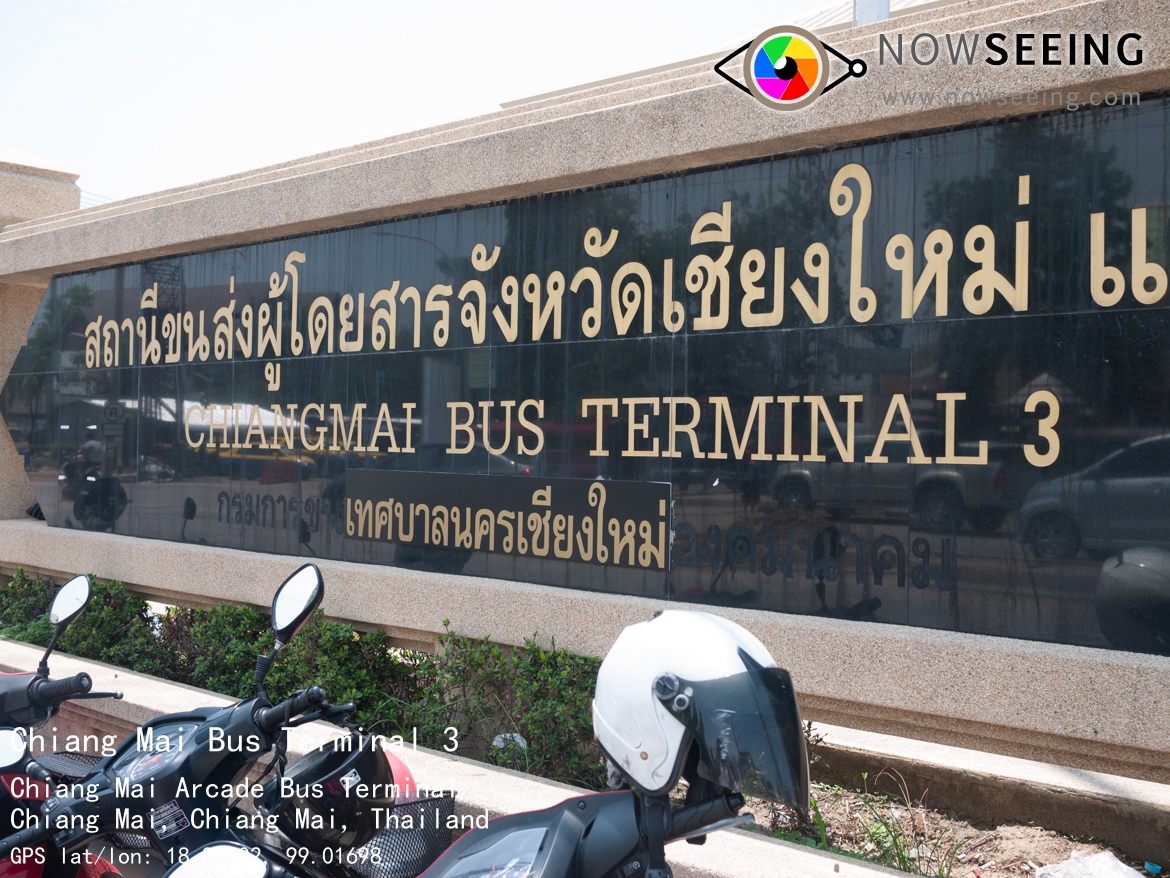 When we being dropped at the so called "Chiang Mai Bus Terminal 3", we couldn't find a counter selling tickets to Pai as all of them are for long distance travel (e.g. to Bangkok). We asked around and it appeared that the counter is in the building opposite of the main road. You need to walk across the main road to a brown building.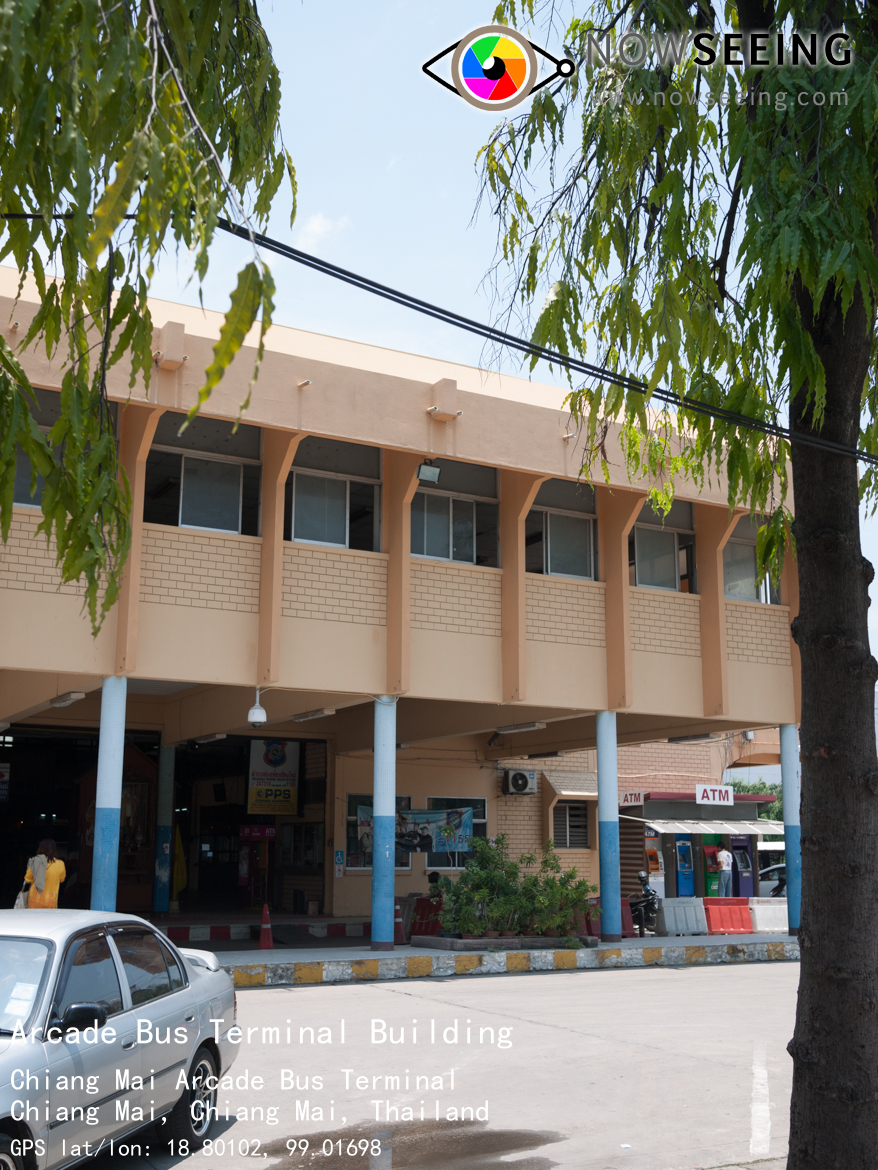 This is the building. Look for an orange 47 counter. That's the counter to Pai. From our research, there are four types of public transport to Pai:
Non-aircond bus: 80 THB (RM8). Cheapest. Slowest.
Mini bus: 150 THB (RM15). 
Mini van: 150 THB (RM15). Available hourly. Faster than mini bus but some drivers may drive recklessly. 
Plane: Most expensive (1,890 THB). Fastest. Available only from Fri - Sun.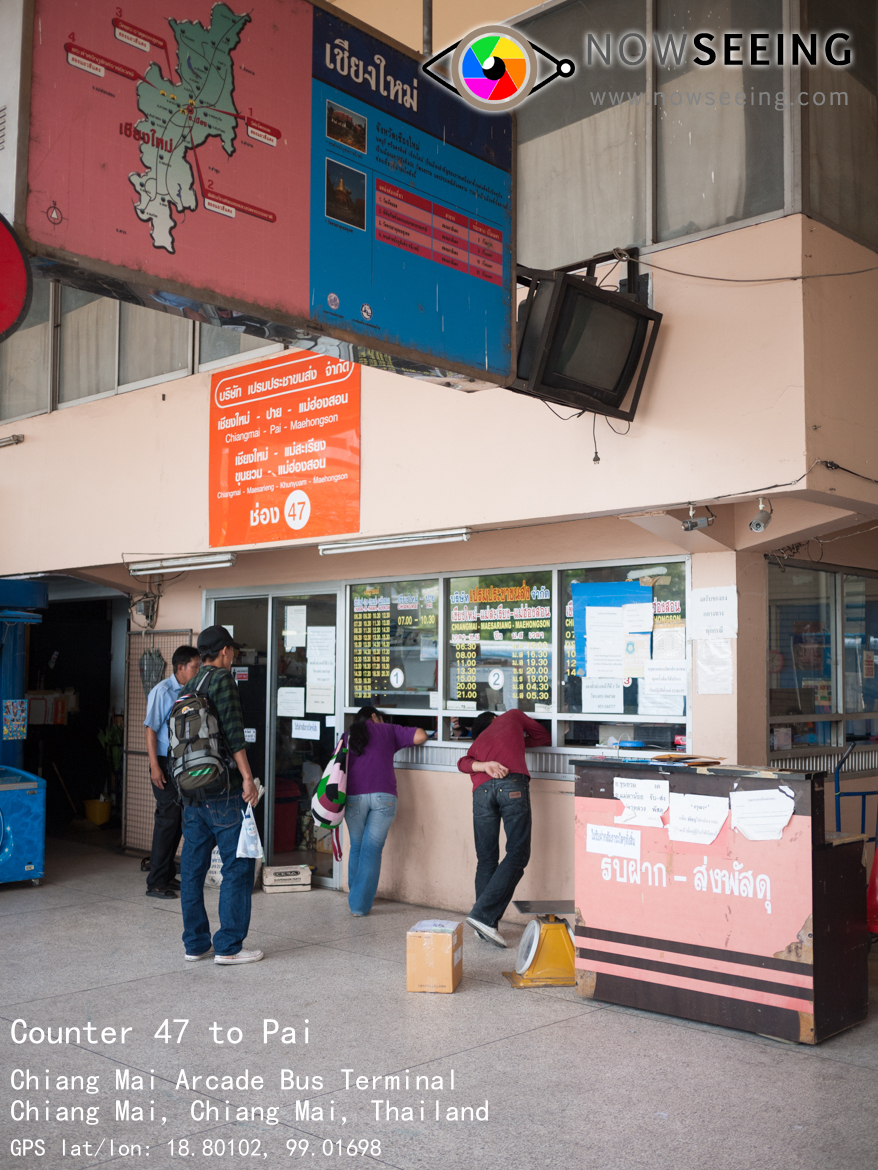 Our initial plan was to take mini bus but we couldn't find any counter. Counter 47 is mini van counter and not to waste more time, we purchased two round-trip tickets, each at 150 THB. Pretty reasonable considering it is a 130km one way trip.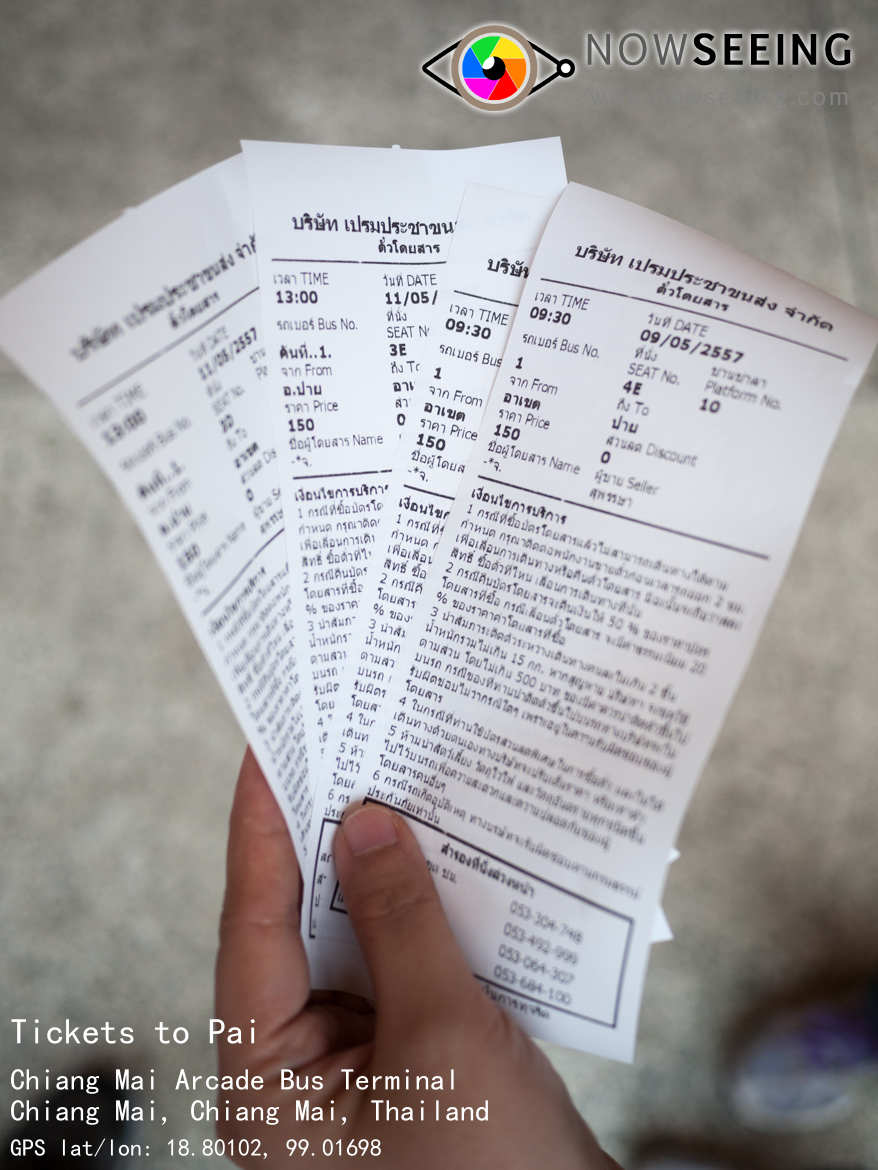 Each of us received two tickets - one to Pai and one back to Chiang Mai. Note that even though it is just a mini van, you must remember your seat which is displayed on their monitor when you purchase the ticket.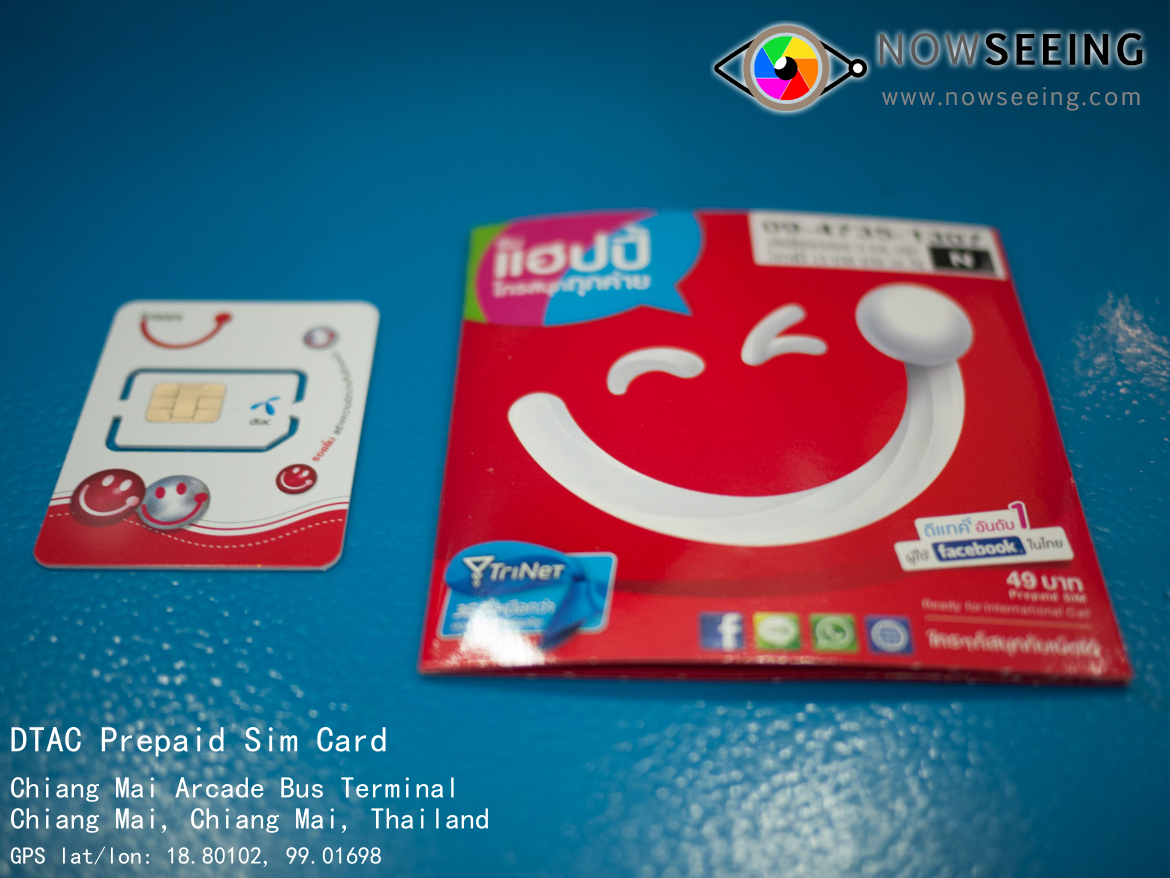 After settling the most important mission. I myself still had another mission to go - to get a prepaid SIM card. In Thailand, DTAC and AIS are two big players in telecommunication service. From my research, it appeared that DTAC has better signal in Pai. Furthermore, it has weekly broadband plan, which really fitted into our 7-days trip. We noticed a grocery shop with a "smiling face" sticker (that's DTAC prepaid logo) in Terminal 3 and they did have the sim card at 50 THB pre-loaded with 15 THB free call credit valid for 30 days. I grabbed one, of course.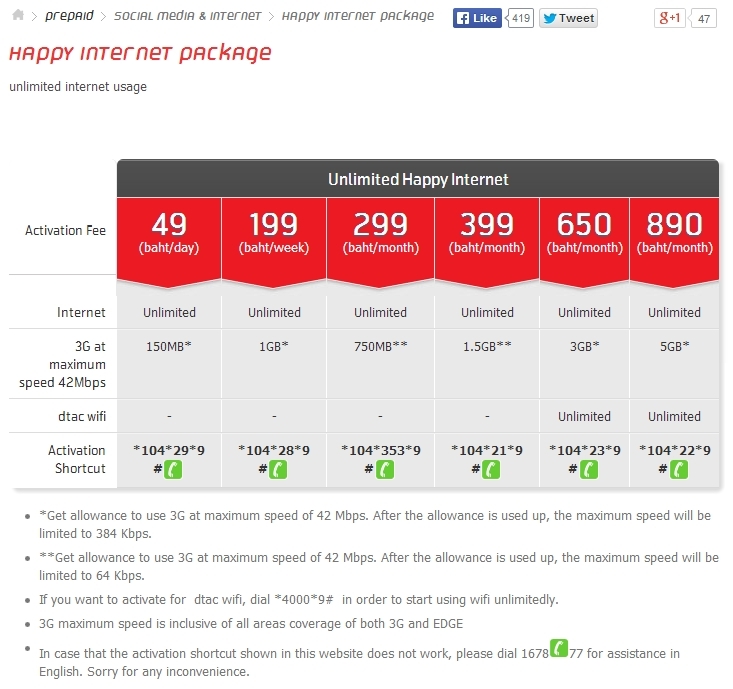 Next thing to do is to top up the prepaid account so that I can activate the data plan. The grocery store did not provide such service so we asked a handphone stall at the roadside to help us do so. The weekly plan is 199 THB and including 7% VAT is about 213 THB. 213 THB is the minimum amount you should pay in order to use the data plan. For my case, I paid 235 THB including some credits to make call in case needed. You need to provide your new DTAC phone number to the stall owner so that he/she can help you top up. After a while, you will receive an SMS indicating that your account balance is updated. Now, it is time to hit *104*28*9# and press CALL to activate the weekly data plan.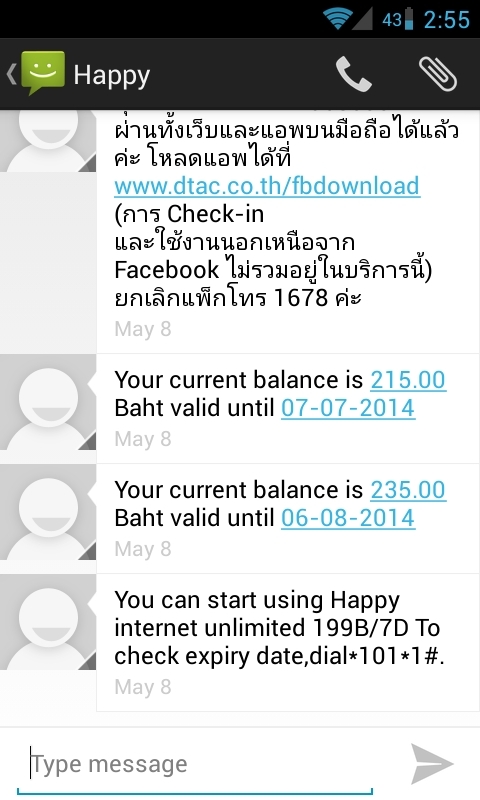 Weekly data plan provides you 1GB quota at high speed (around 4.45Mb/s from speedtest). After 1GB, your speed will be capped at 384Kb/s. Call rate is .99 THB for non-DTAC numbers. One minor issue for my old HTC Desire HD phone was that DTAC was not able to auto-configure APN (Access Point Names) and I had to do it manually based on details provided in SMS.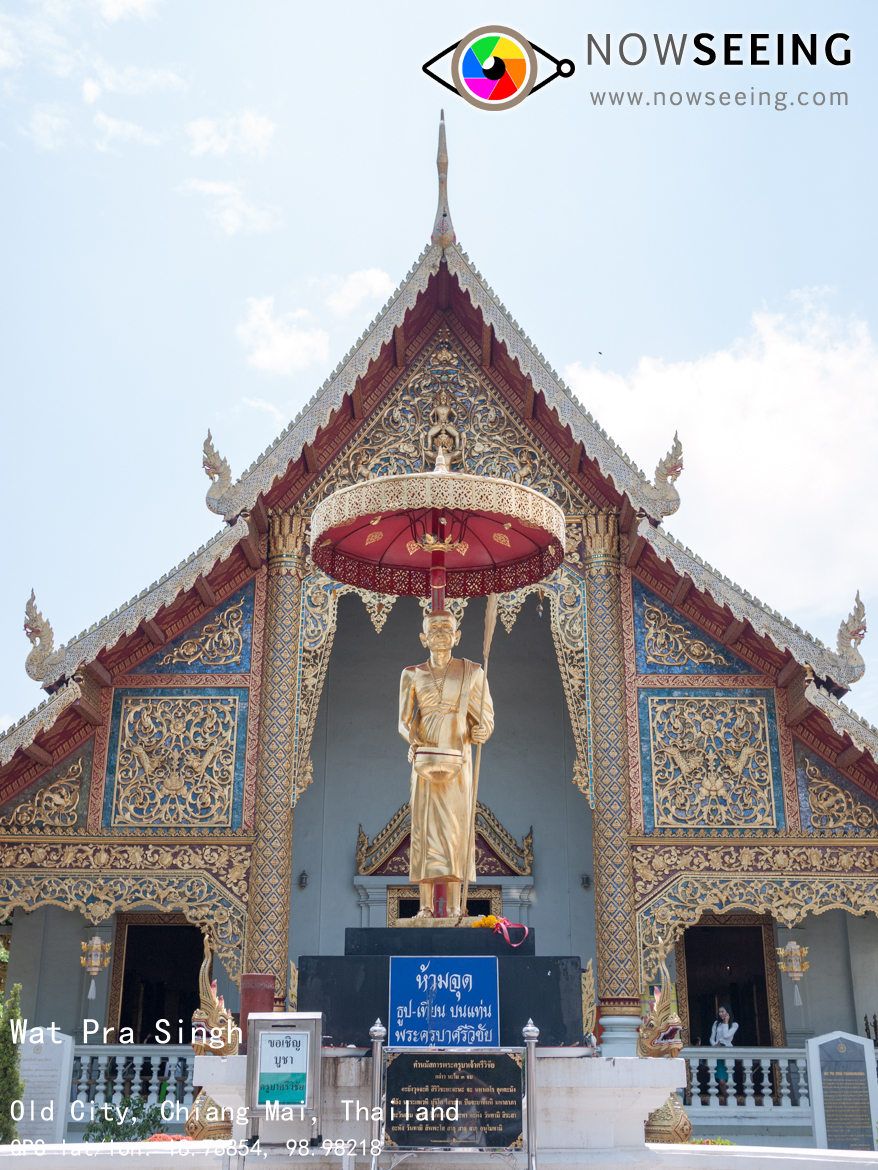 We then spent another 80 THB (40 THB each) to go back to the old city and started our wat (temple) tour. Our first stop was Wat Pra Singh. Wat Pra Singh has been here for 700 years and was constructed by King Phayoo of Mengrai dynasty. The temple is located at the end of main street which will be converted into the famous night market every Sunday.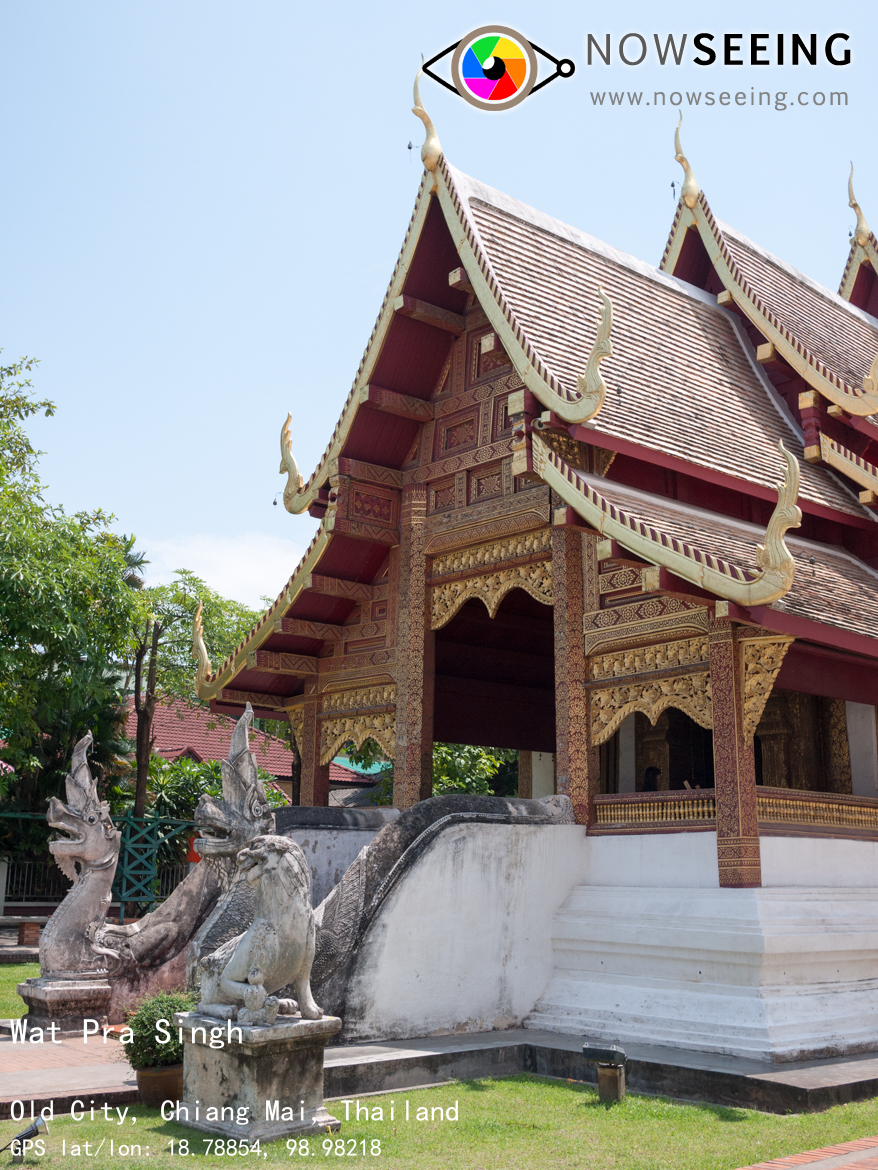 Some rules applied when visiting any temple in Thailand:
Be quiet
No short pant
No singlet
No low cut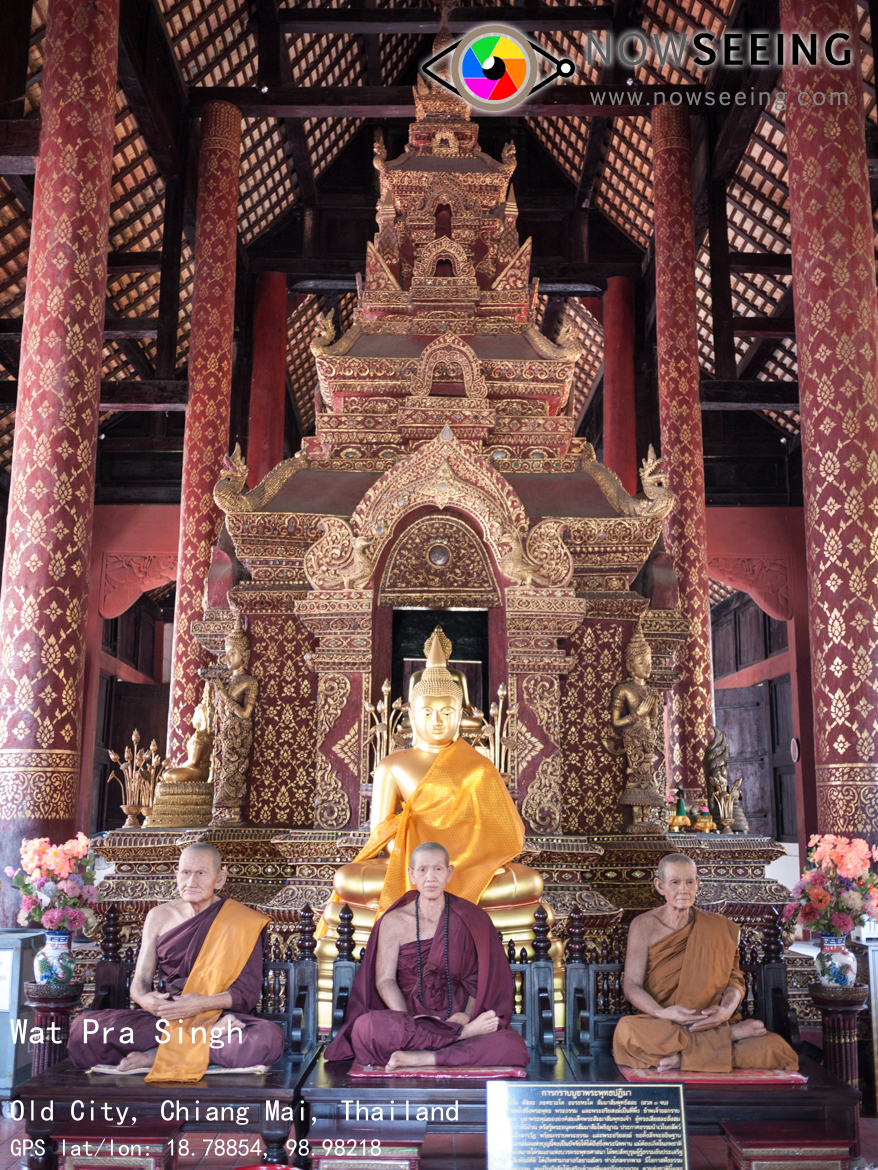 What amazed me in Wat Pra Singh is the wax figures of monks. They look exactly like the real person.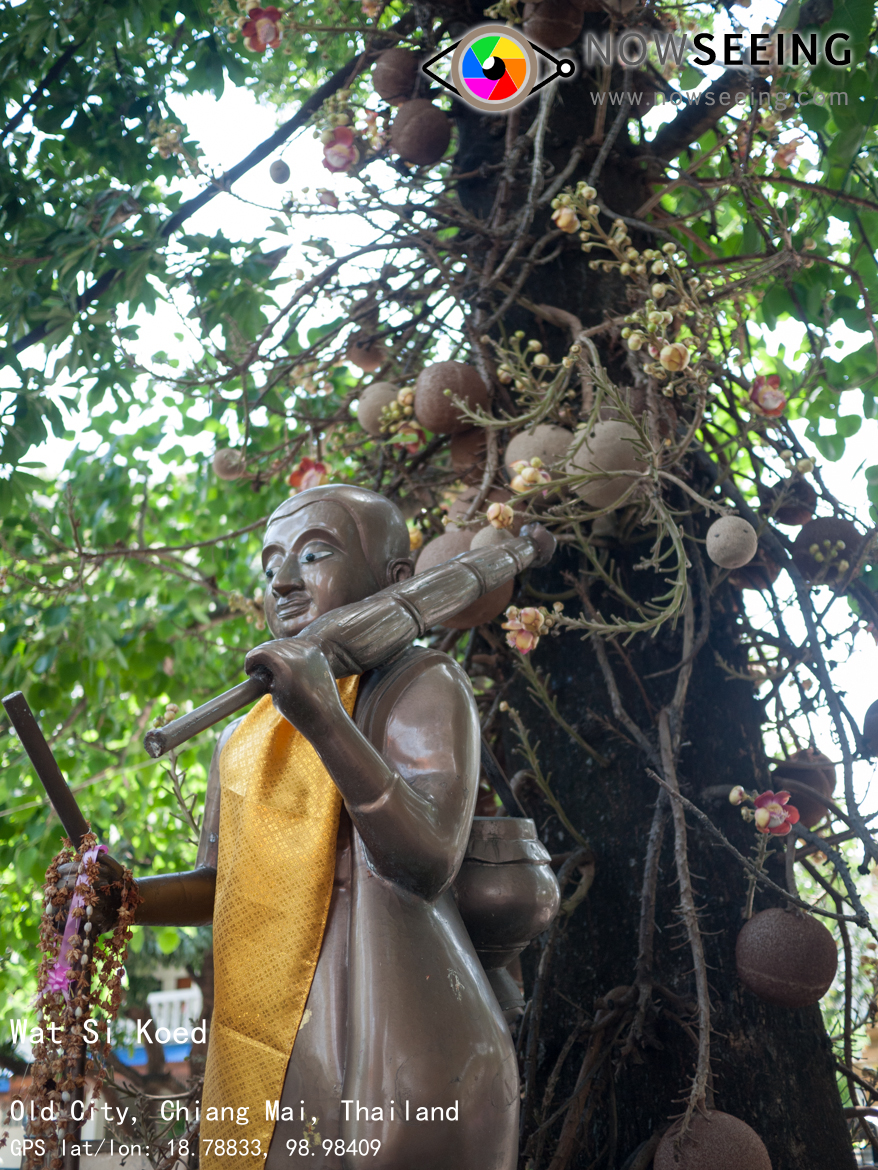 We walked our way toward our hotel for more wats. There were too many wats in Chiang Mai and we just visited some along our way. The hot weather went as high as 35 degree Celsius so it was not a good idea to stay any longer under the clear sky. Our next wat is Wat Si Koed. Nothing special except this cannonball tree with fruits look like cannonballs. It is also known as Buddha tree.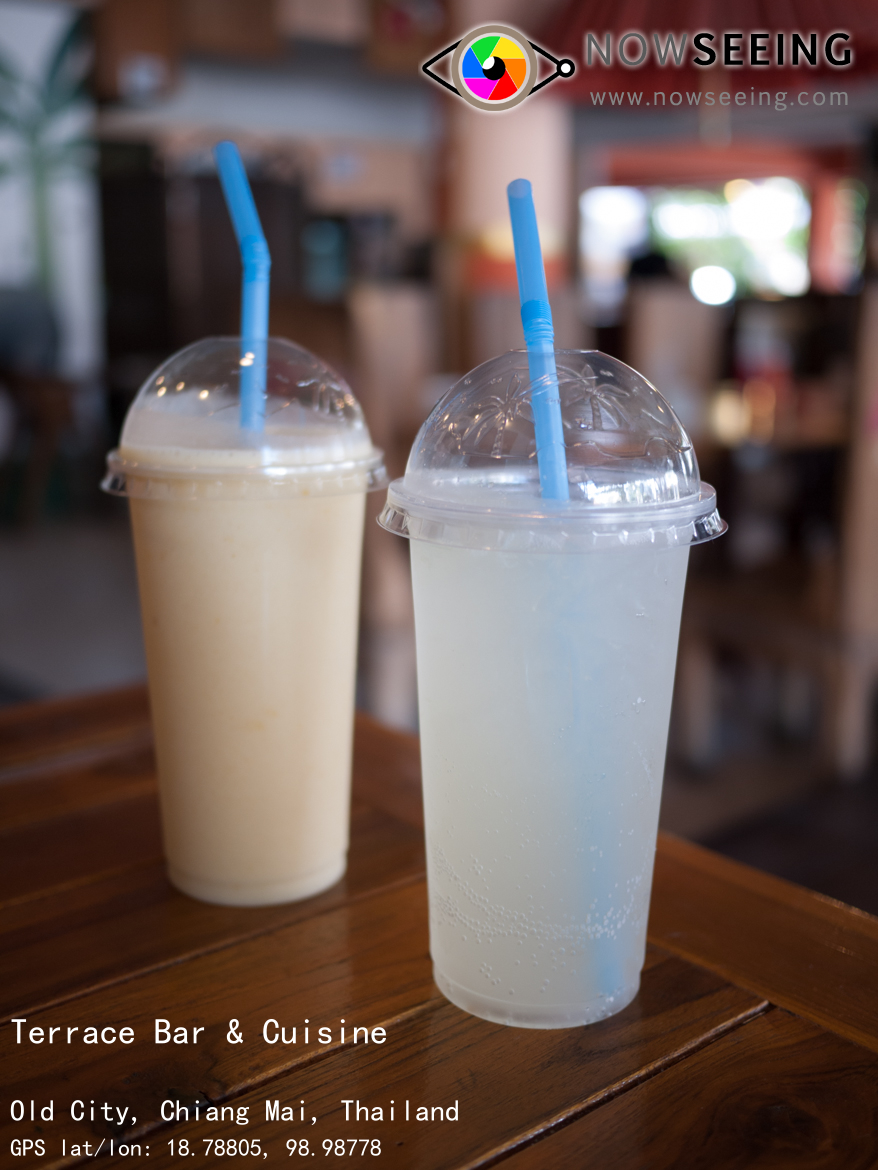 Before continuing, we were so dehydrated and stopped by a cafe called Terrace Bar and Cuisine for two glasses of expensive fruit drinks.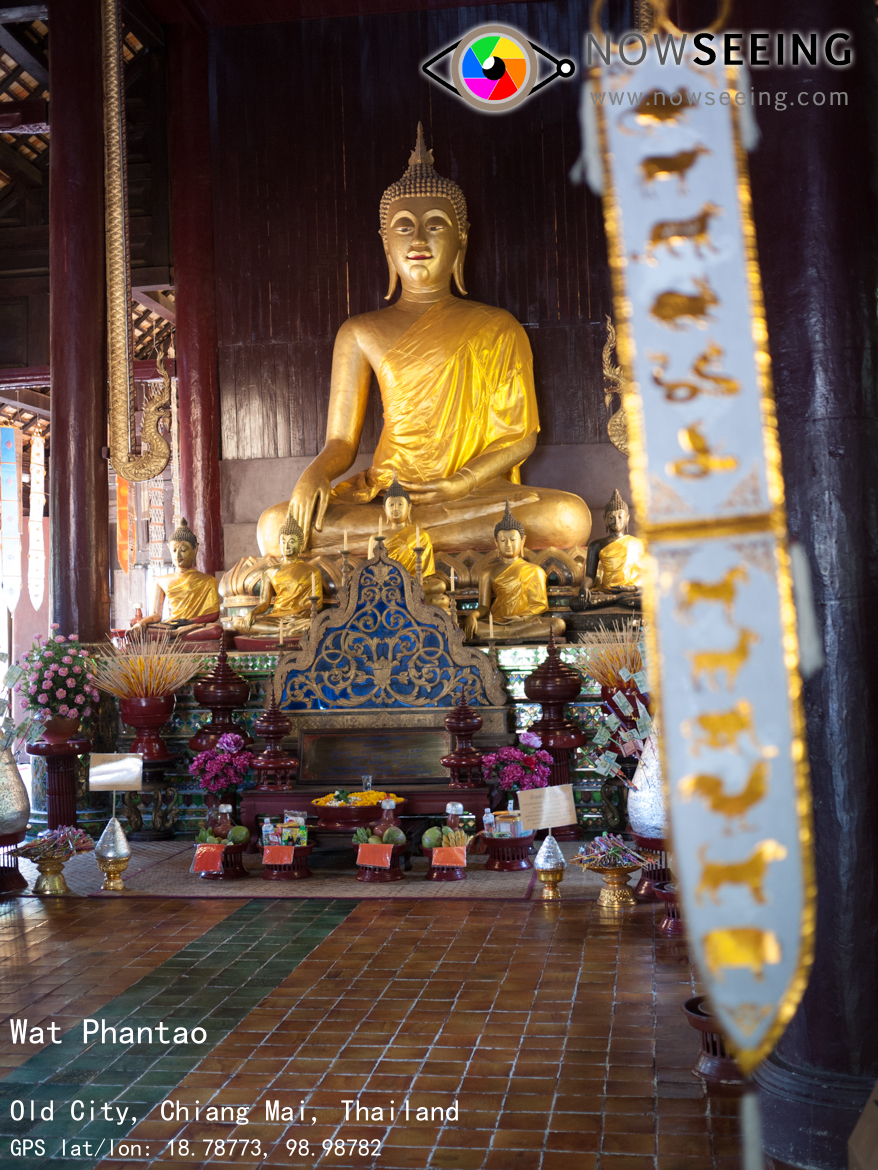 Our next stop was Wat Phantao. We were so closed to another famous wat called Wat Chedi Luang. The entrance was just few steps away from Wat Phantao. Due to the hot weather, we just continued our way back to hotel.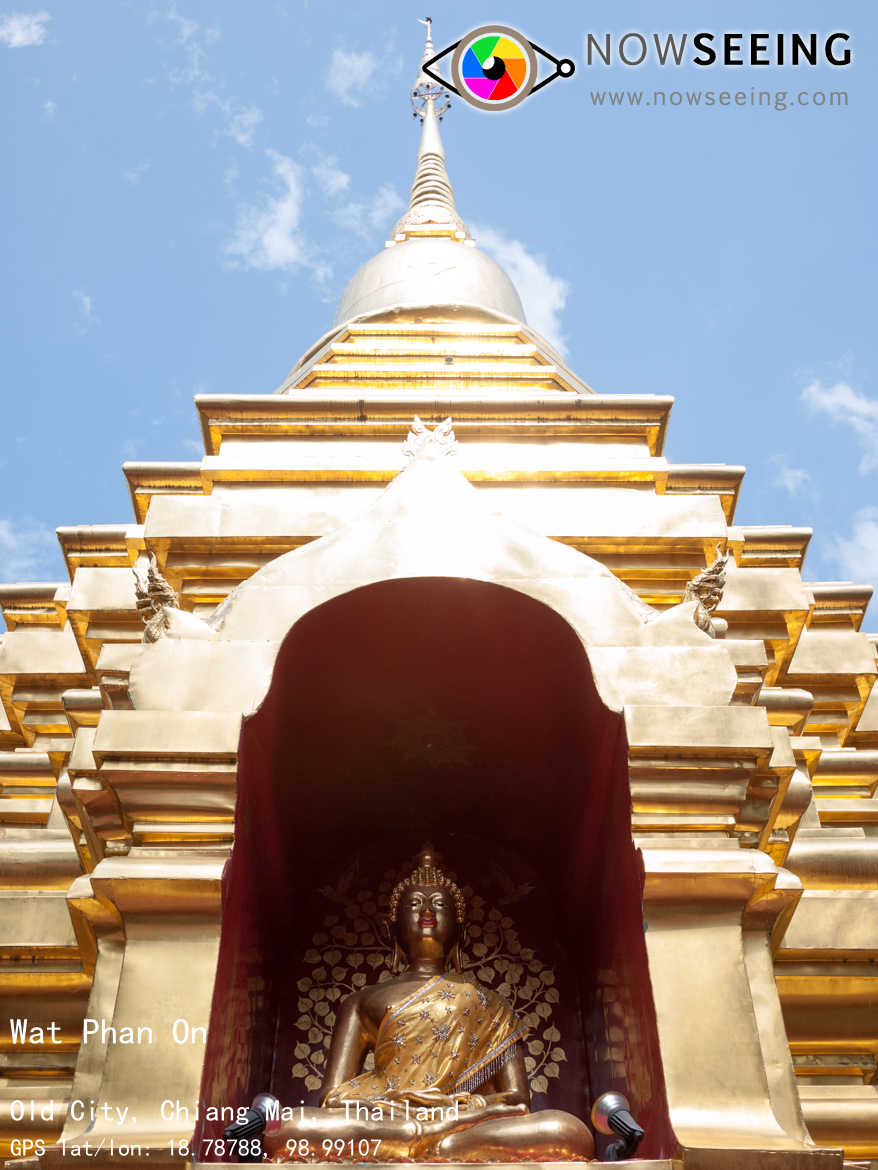 Our initial plan was to take a cab to return to our hotel but it turned out that we were almost reaching our hotel by foot. We ended our wat tour by stopping by Wat Phan On which was built in year 1501. It has one of the most beautiful chedi's in Chiang Mai coated in gold. It also has a PA system introducing the wat in various languages.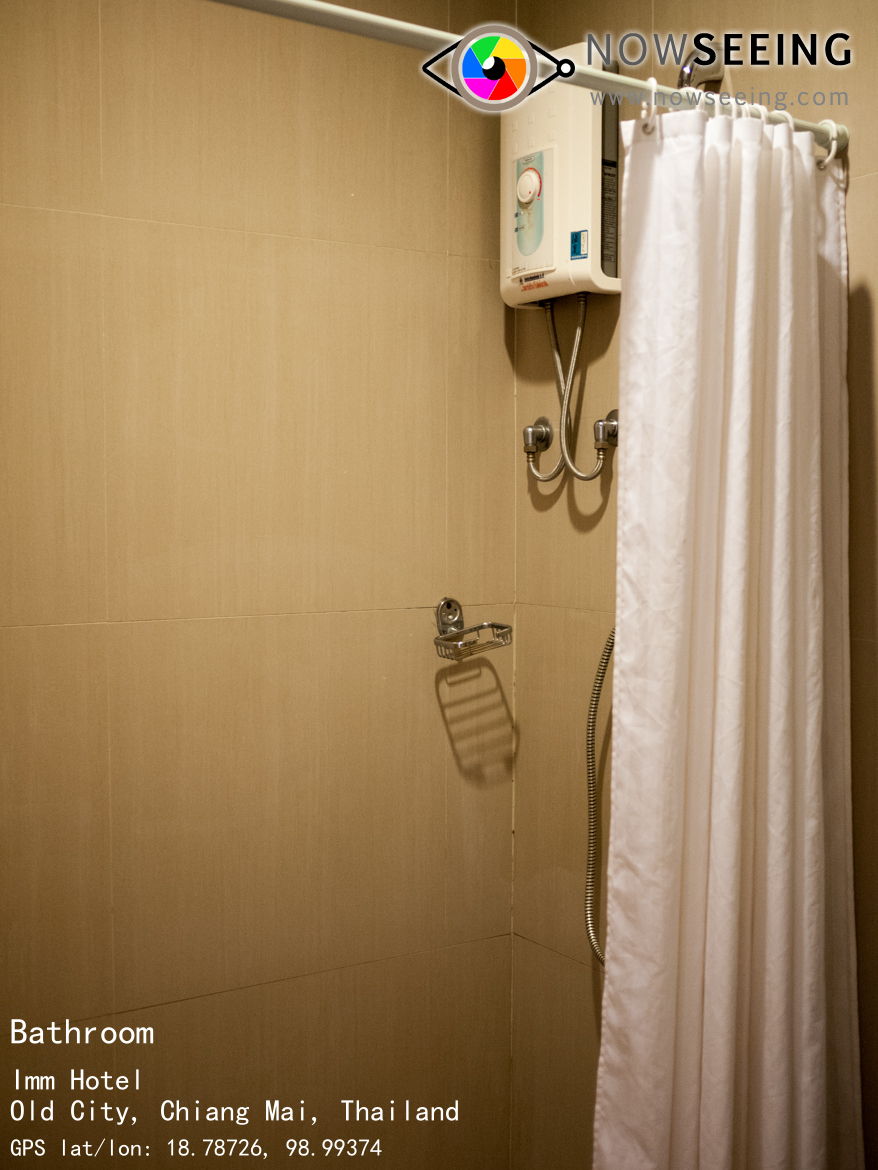 Feeling hot and tired, we headed by to Imm Hotel to take a shower before going out for dinner.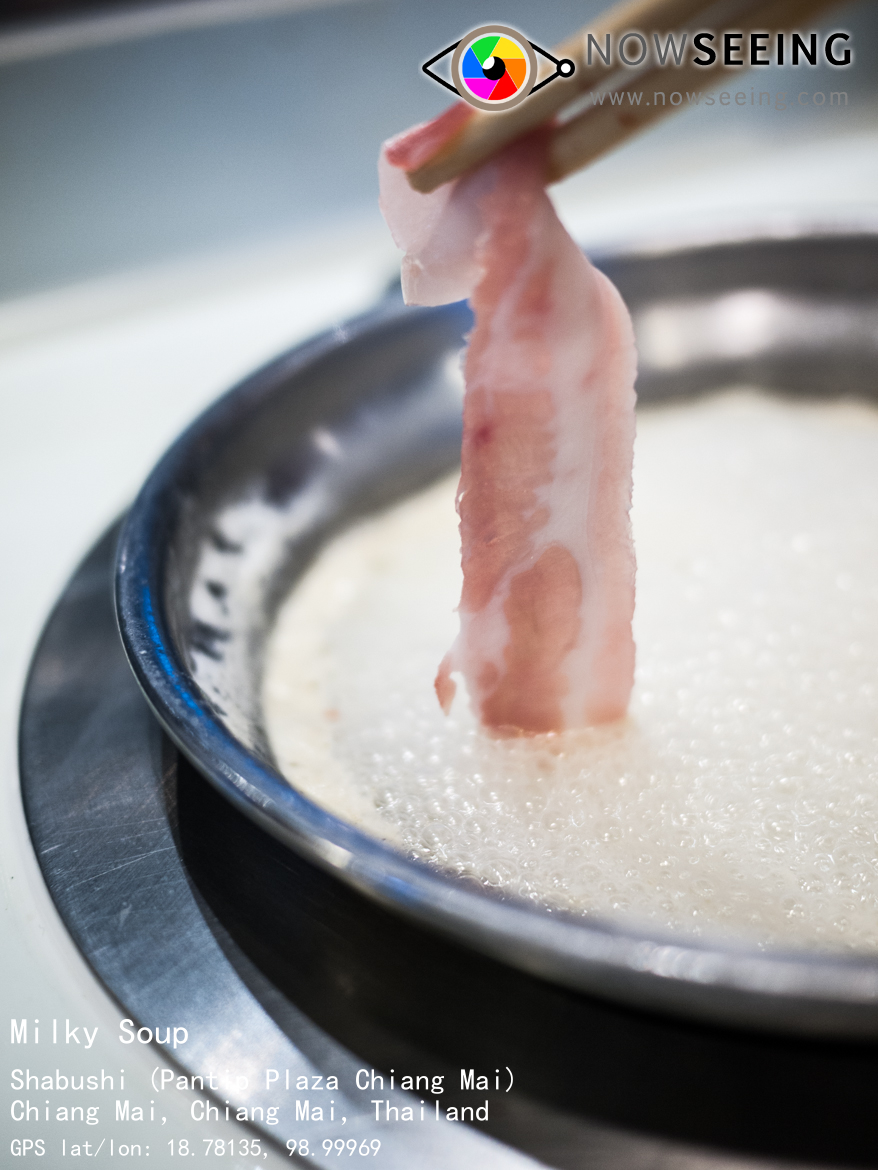 To pamper ourselves, we went to a Japanese buffet dinner - Shabushi at Pantip Plaza. Full review is available at noweating.com.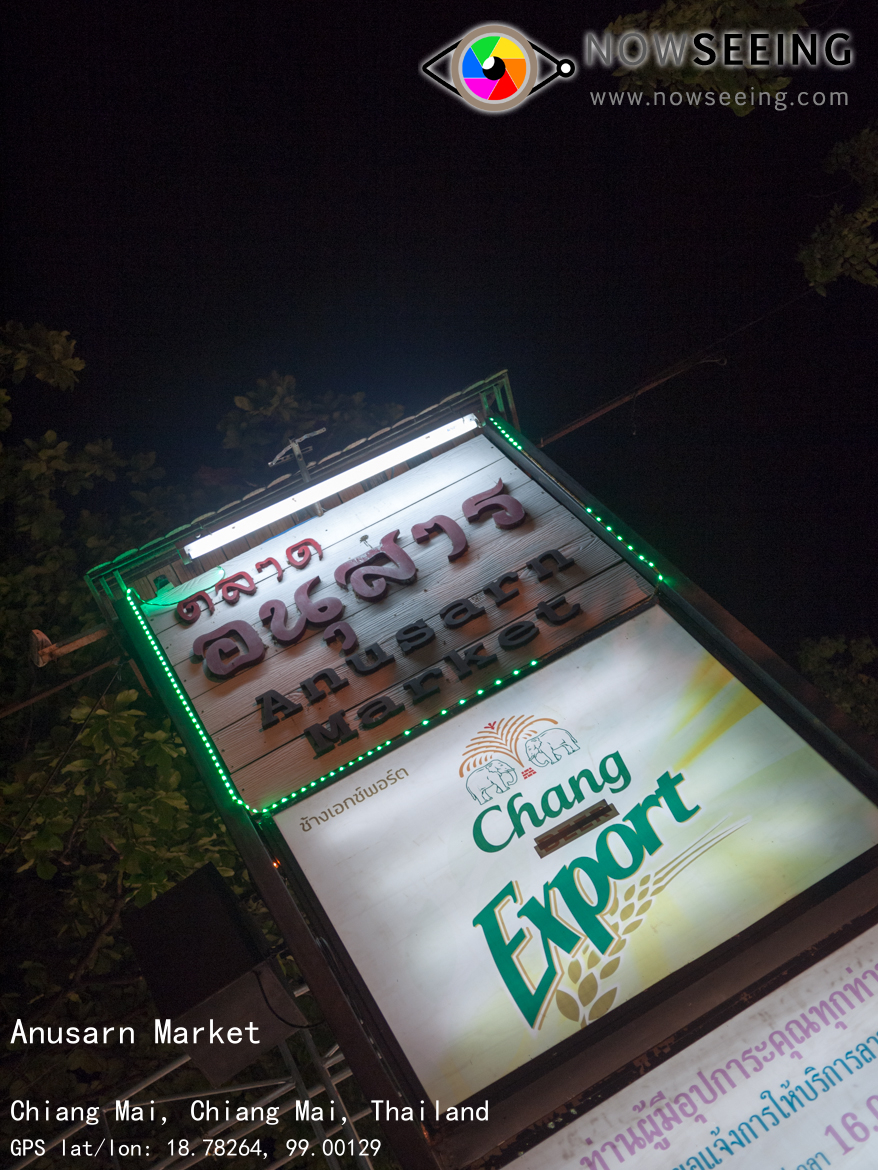 We were full after the dinner and fortunately there were many roadside stalls for us to burn some calories before calling it a day. On the same street, there was a famous market called Anusarn Market with a stretch of stalls as far as 300m. We bought some handicrafts there.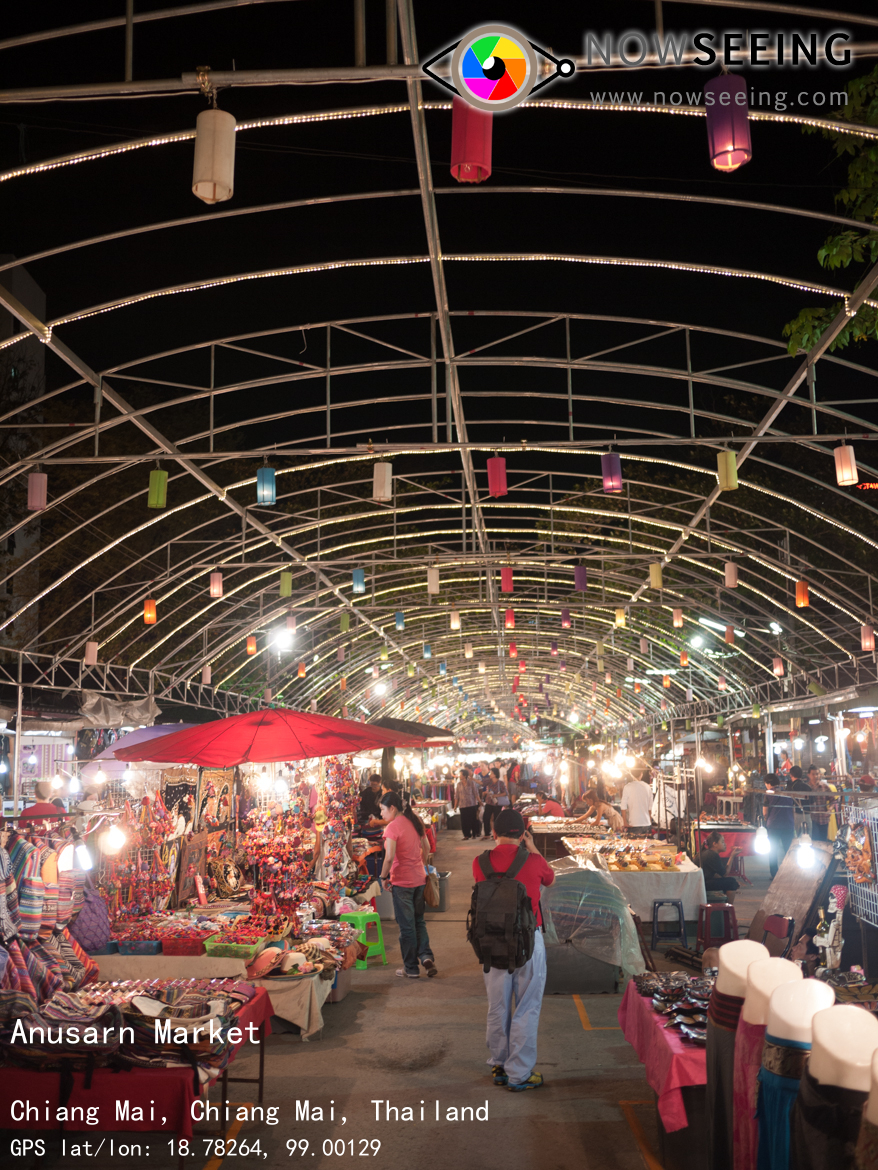 Inside Anusarn Market, there were many seafood restaurants with Chinese menu. Not my cup of tea anyway. Few ladyboys were there also attracting customers for their show.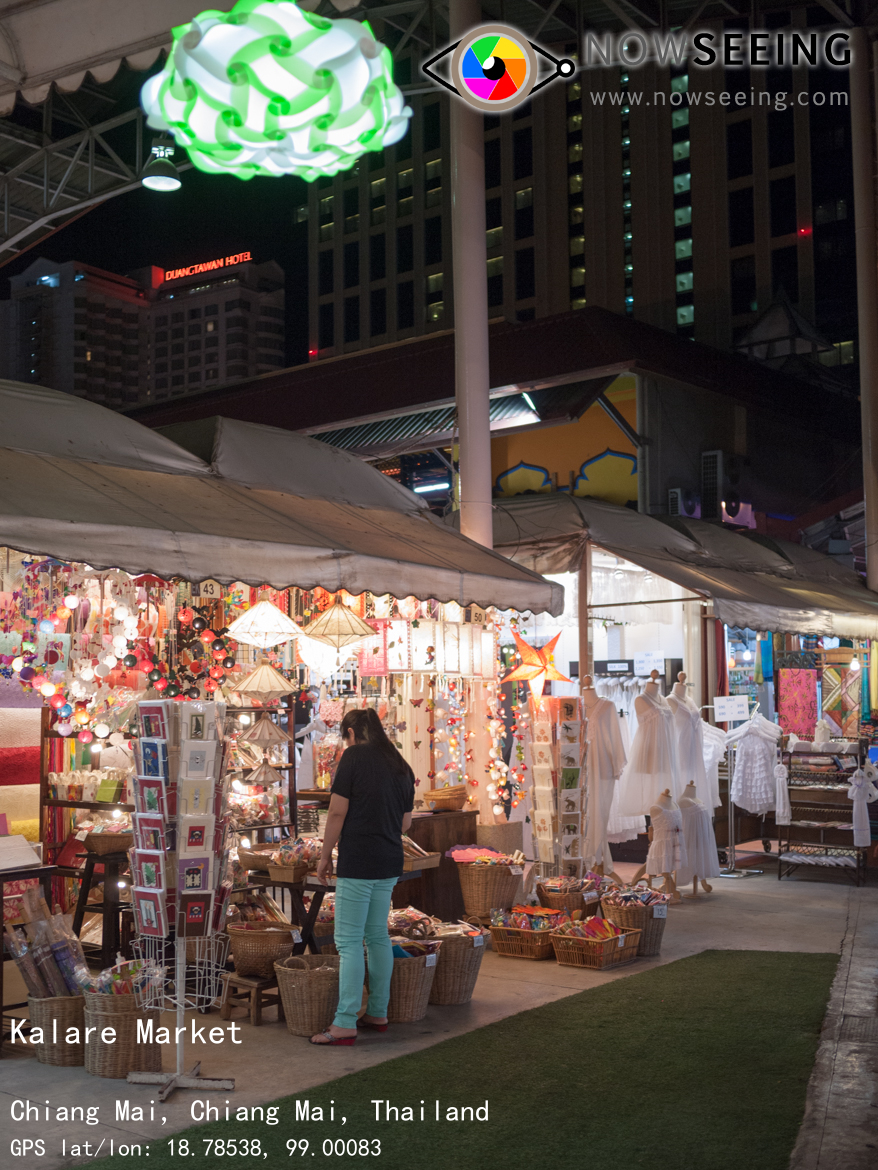 Few steps from Anusarn Market is another market called Kalare Market with bars, food court, and some shops. It was not as big as Anusarn Market but we still able to grab some souvenirs for ourselves.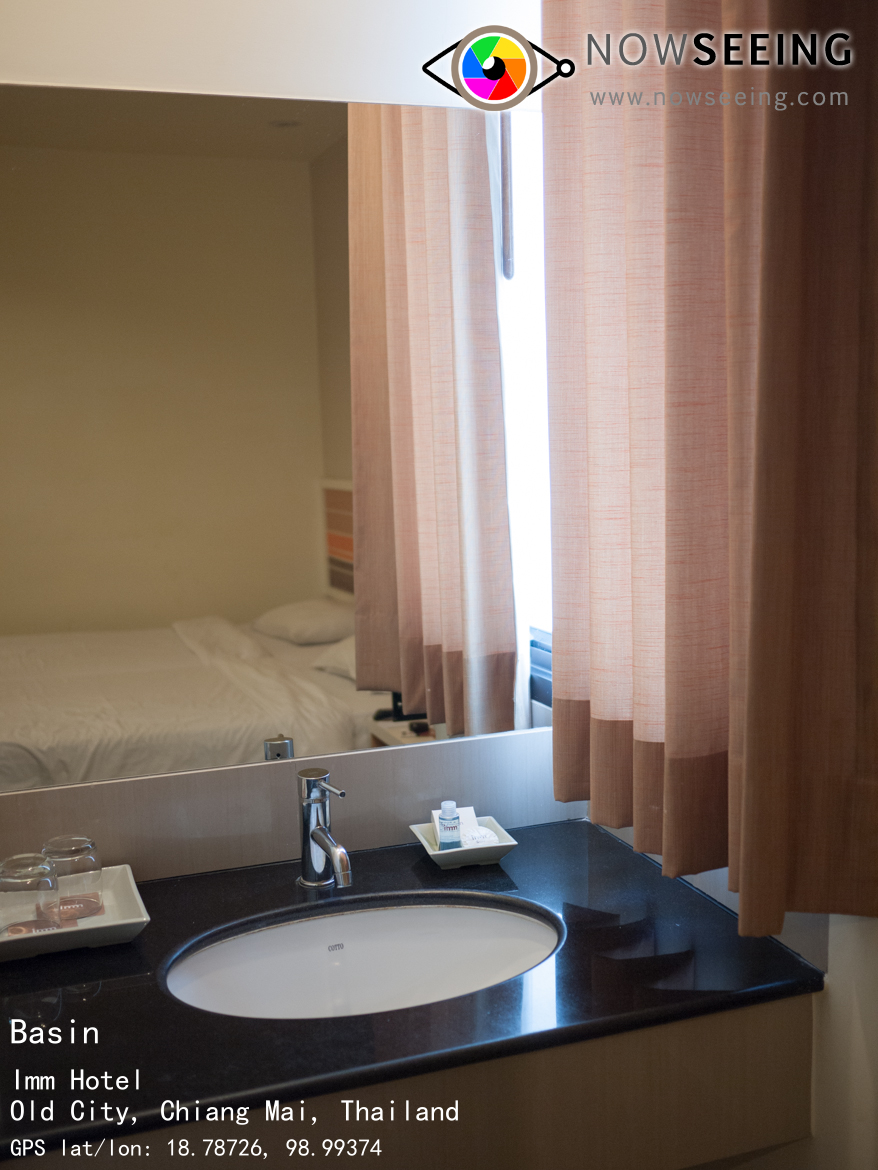 It was about 9pm local time so we headed back to our hotel using red cab (20 THB), took another shower before calling it a day. We were quite satisfied with day one's activities as we managed to grab tickets to Pai, get a sim card to begin checking in in Foursquare, visit some wats, and have some wonderful local food in Chiang Mai.  
If you like our articles, kindly like our Facebook page at:
https://www.facebook.com/nowseeing/
To jump to any Chiang Mai post, click on one of the links below:
Day 1 - Kuala Lumpur to Chiang Mai old city
Day 4 - Pai to Chiang Mai Sunday Night Market
Day 6/7 - A day in Doi Suthep, Art in Paradise and Goodbye