Perak
Details

Category: Perak
Published: 22 February 2017
Hits: 25122

Going to Sitiawan or travel between Kuala Lumpur and Penang? Trong Leisure Farm & Resort is a great stop-by and is the first duck-theme leisure farm in Malaysia. Townies now have a chance to get closer to not ten, not hundred, but around 60,000 adorable ducks and duckling.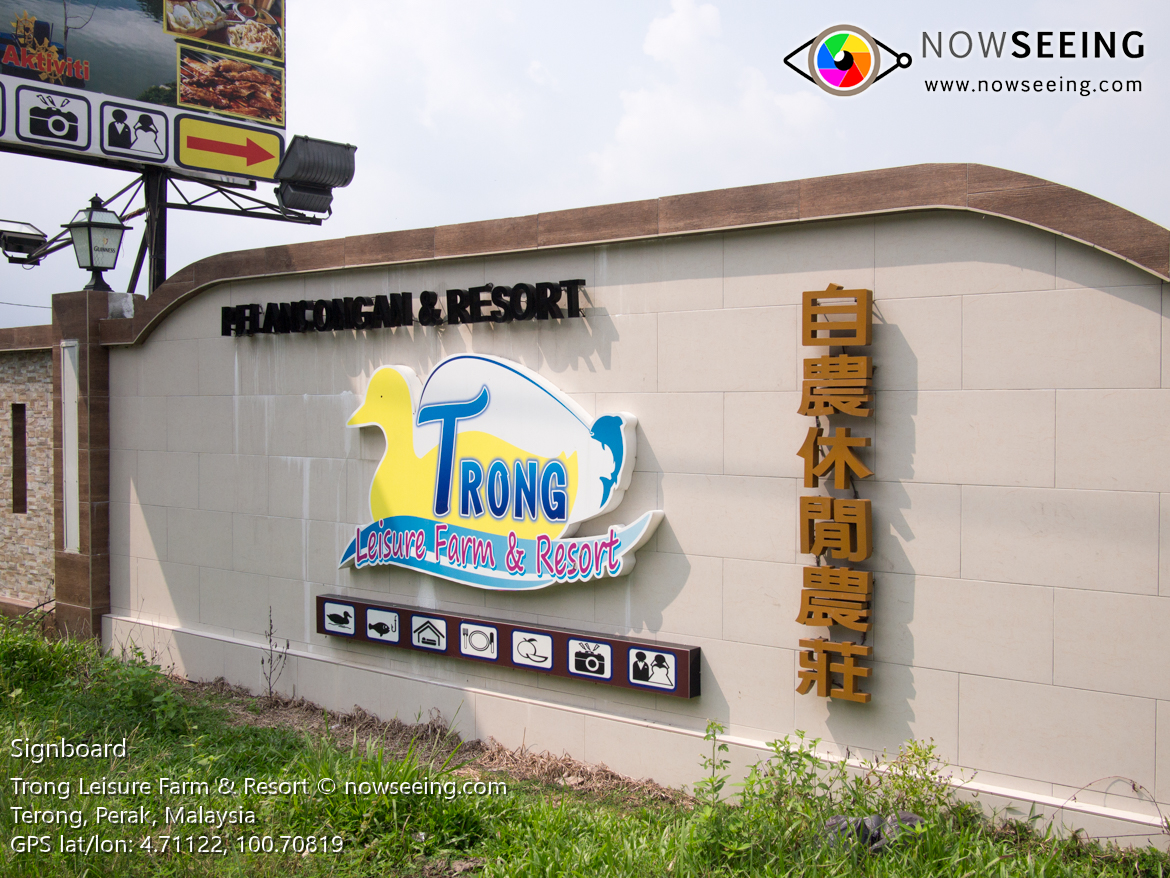 Trong Leisure Farm & Resort is located not far from North-South Expressway's Changkat Jering exit. After exiting Changkat Jering tol, turn right at the traffic light. Go straight and drive for 8.8km. When you see a signboard instructing you to turn right to "K. Terong/Termerloh", do so at the T-junction's traffic light. Drive for another 1.3km and you will reach destination on your left.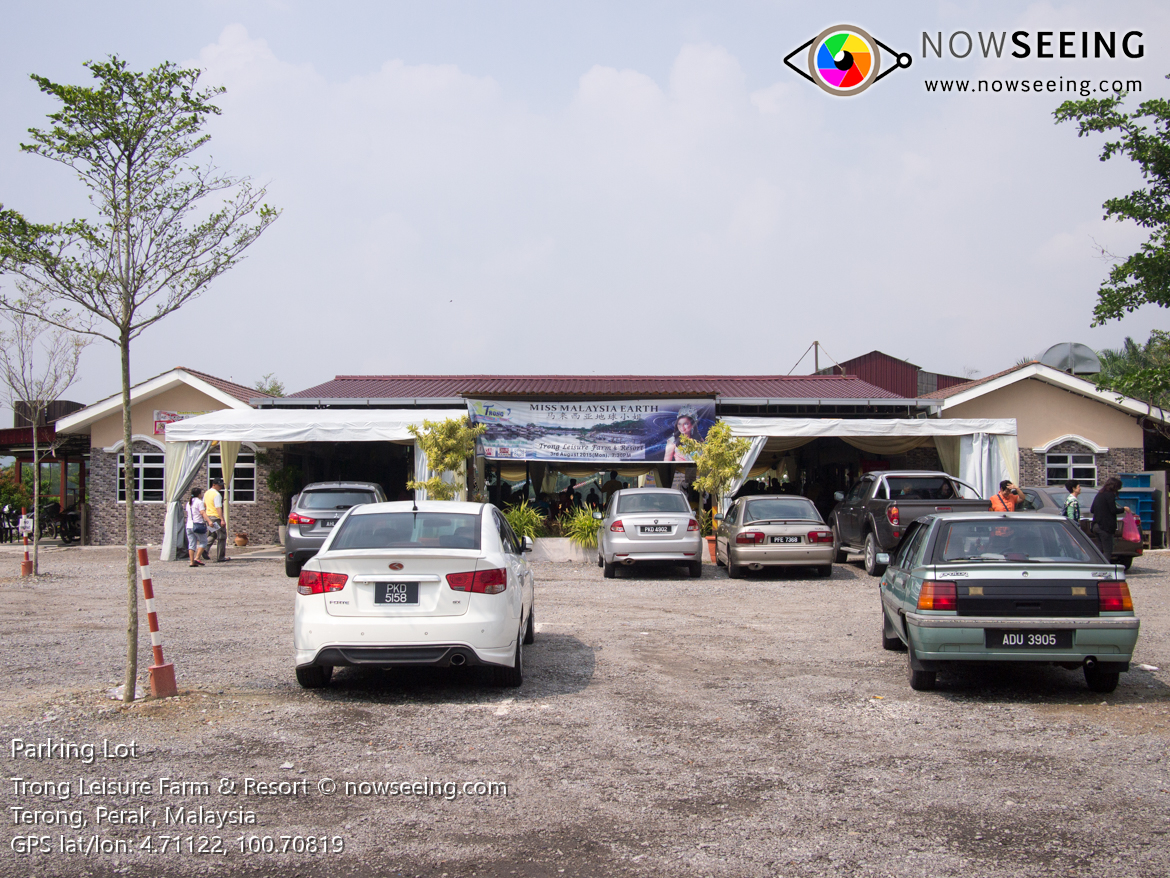 Ample parking space is available in the premise.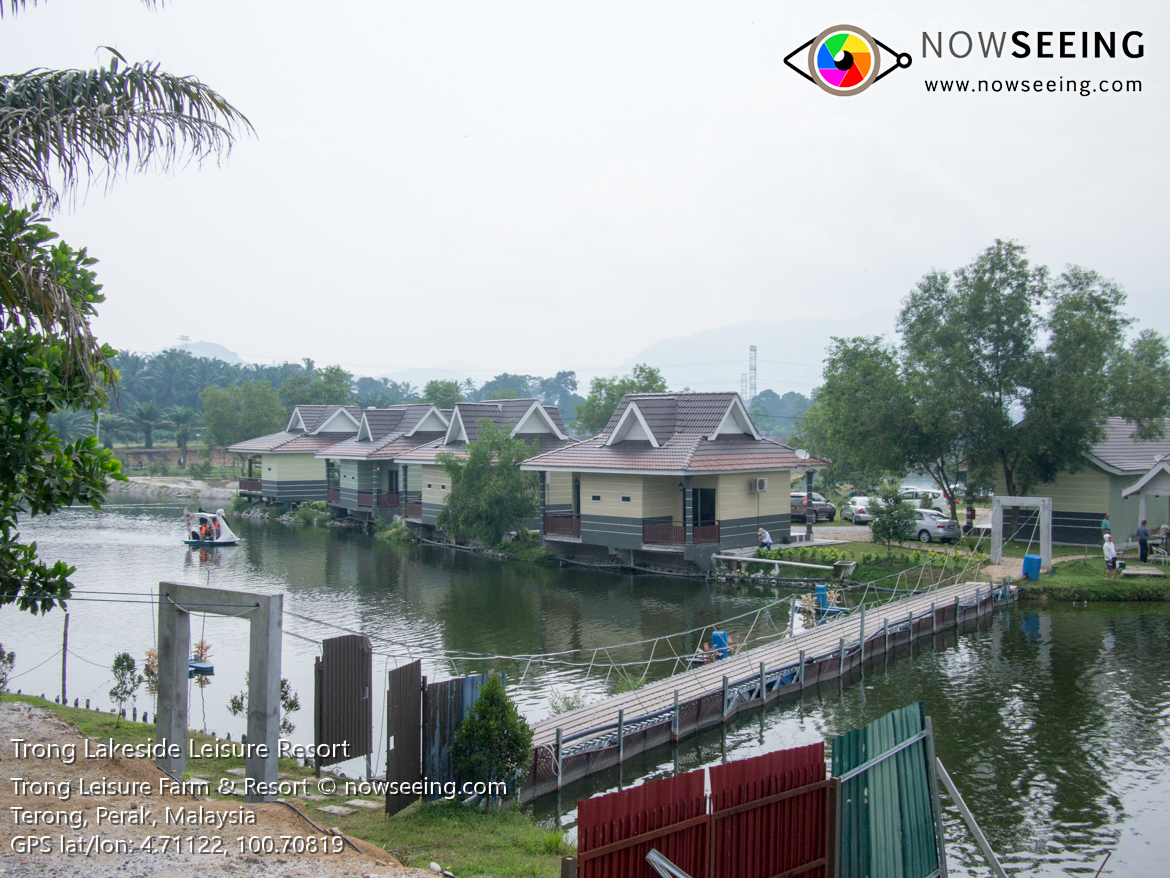 Trong Leisure Farm & Resort is established since January 2011. Other than 70 acres duck farm, it also has 12 guest rooms with scenic lake view. Each room is equipped with air conditional, TV, water heater and toilet. Price starting from RM128 per night. For booking and more information, kindly visit their Facebook page or call +6010-464 0918 / +6010-464 2917.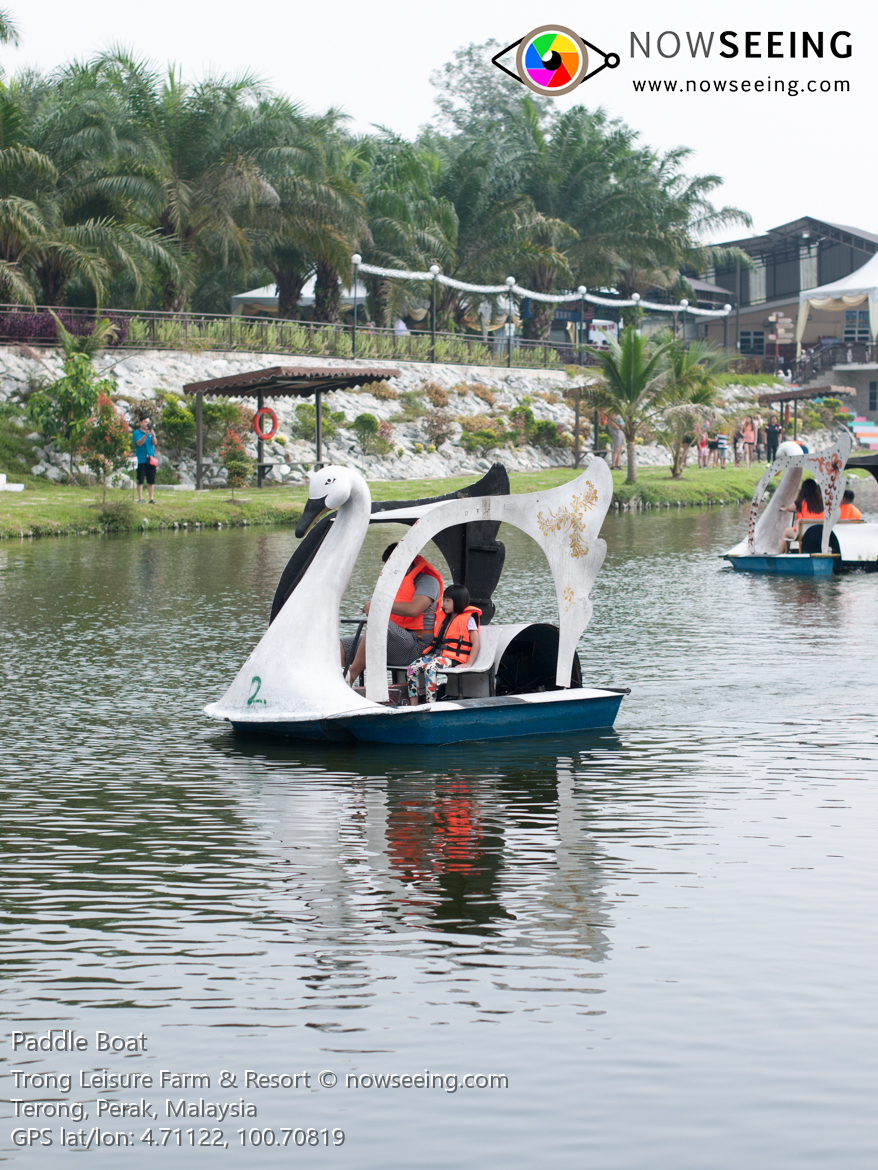 Visitors can also perform recreation activities on the peaceful lake such as riding on peddle boats and fishing. The lake consists of various fresh water fishes including Mekong, Patin, Pacu, Haluan, Jelawat, Palapia and others. Fishing cost is based on fishing rod with first hour RM14 and additional hour at RM10. Half day RM40. Whole day RM50. Opened from 9am-8pm. For more information, kindly refer to their Facebook page.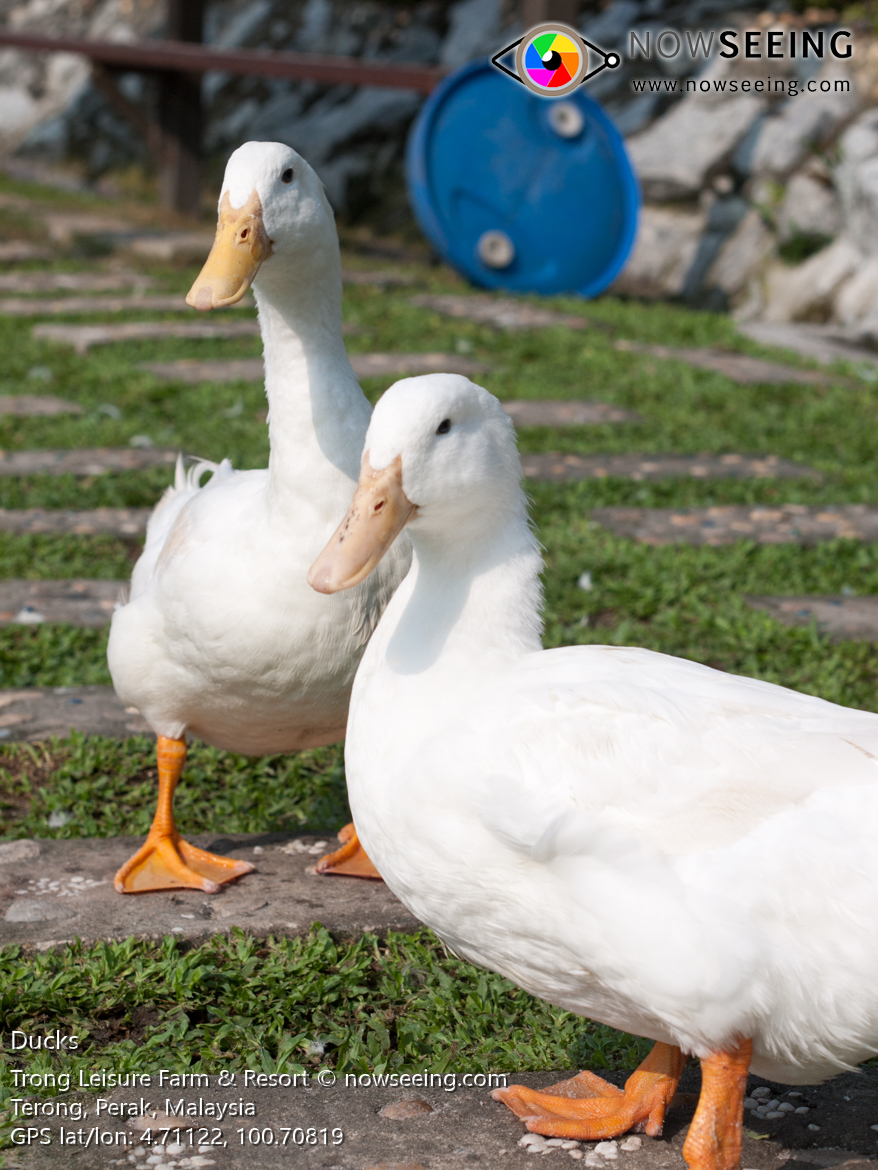 Some lucky ducks are free roaming in the premise and occasionally visitors may find fresh duck eggs on the ground early in the morning.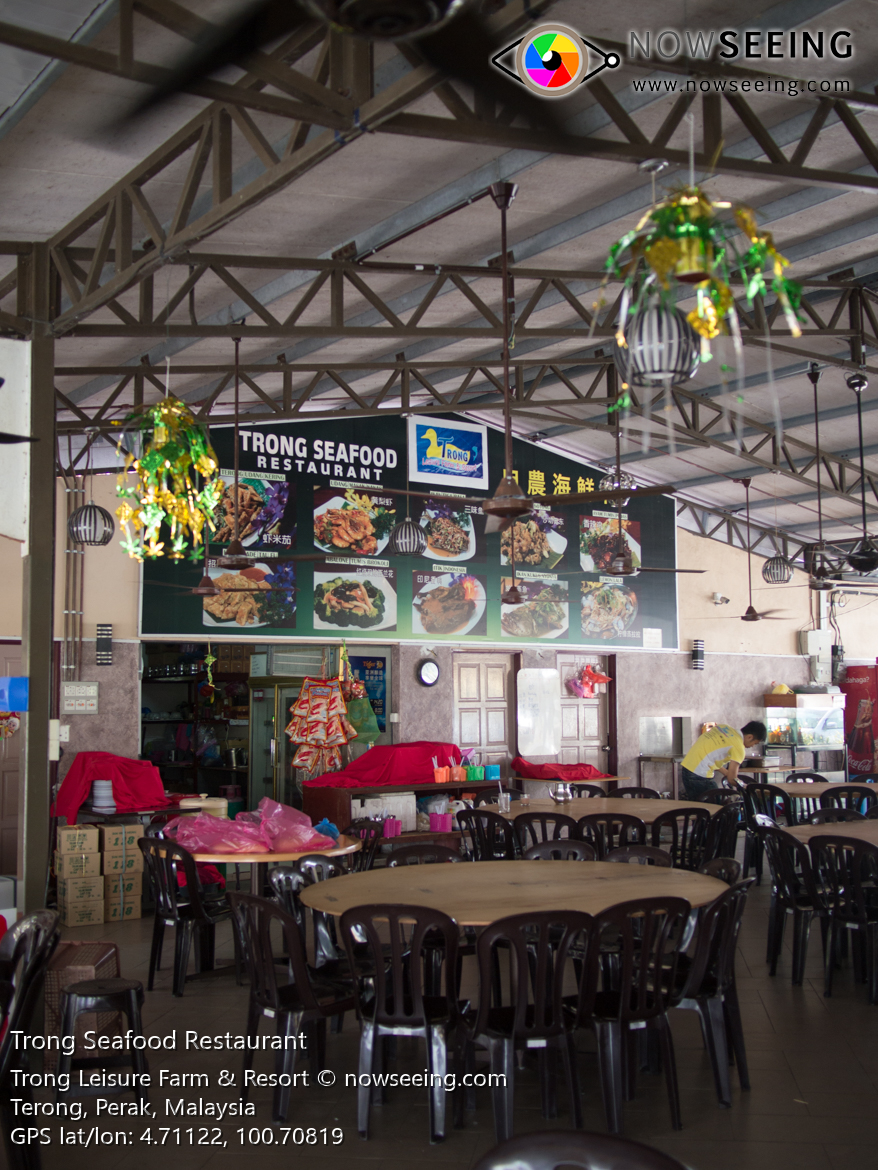 Also available is Trong Lakeside Seafood Restaurant offering Chinese "Choo Char" cuisine. The restaurant is opened daily from 11:30am until 10:30pm. Personally, we are yet to try it.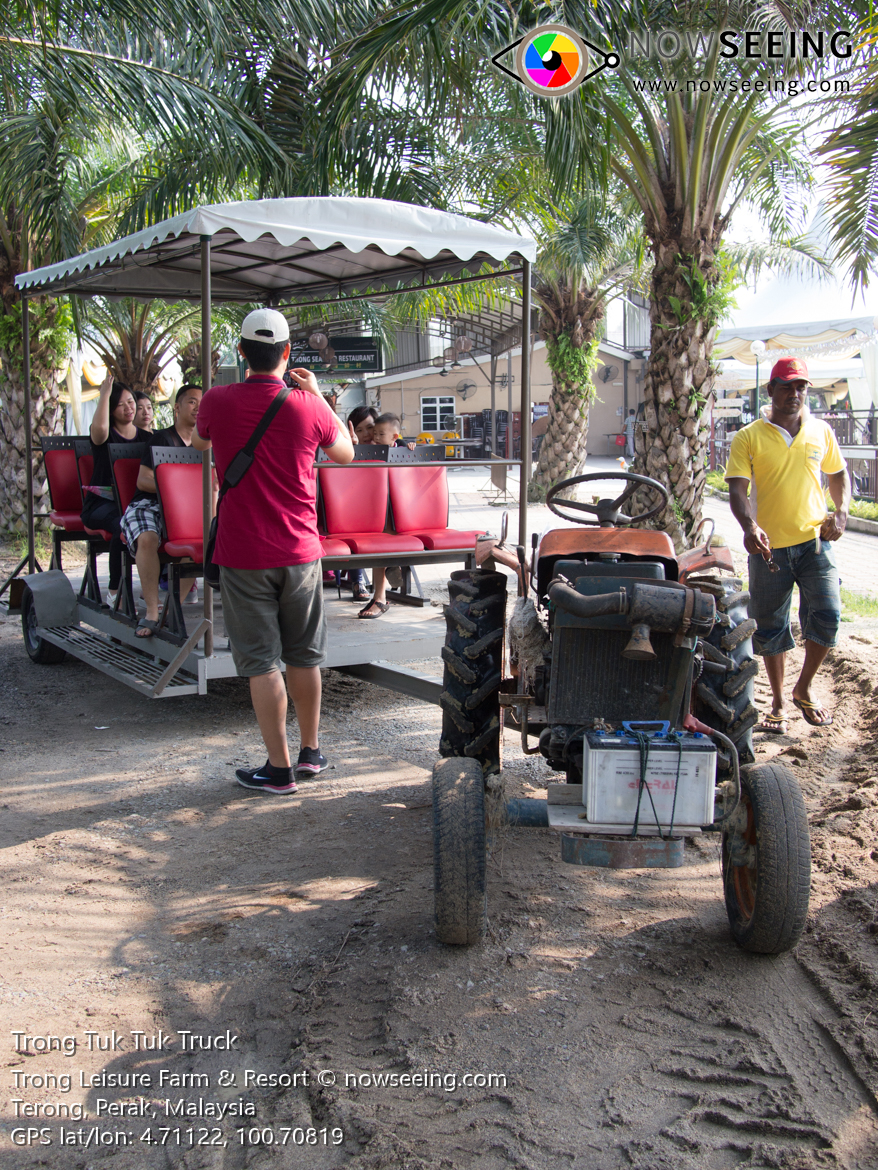 Duck farm is located further down from the entrance. Visiting hour is 9:30am-12:30, 3:30pm-7:00pm. Admission is RM5 per adult and RM2 per child (3-12 years old), payable at a counter near the restaurant. To reach duck farm, one can either walk or take the "Trong Tuk Tuk Truck" (Recommended).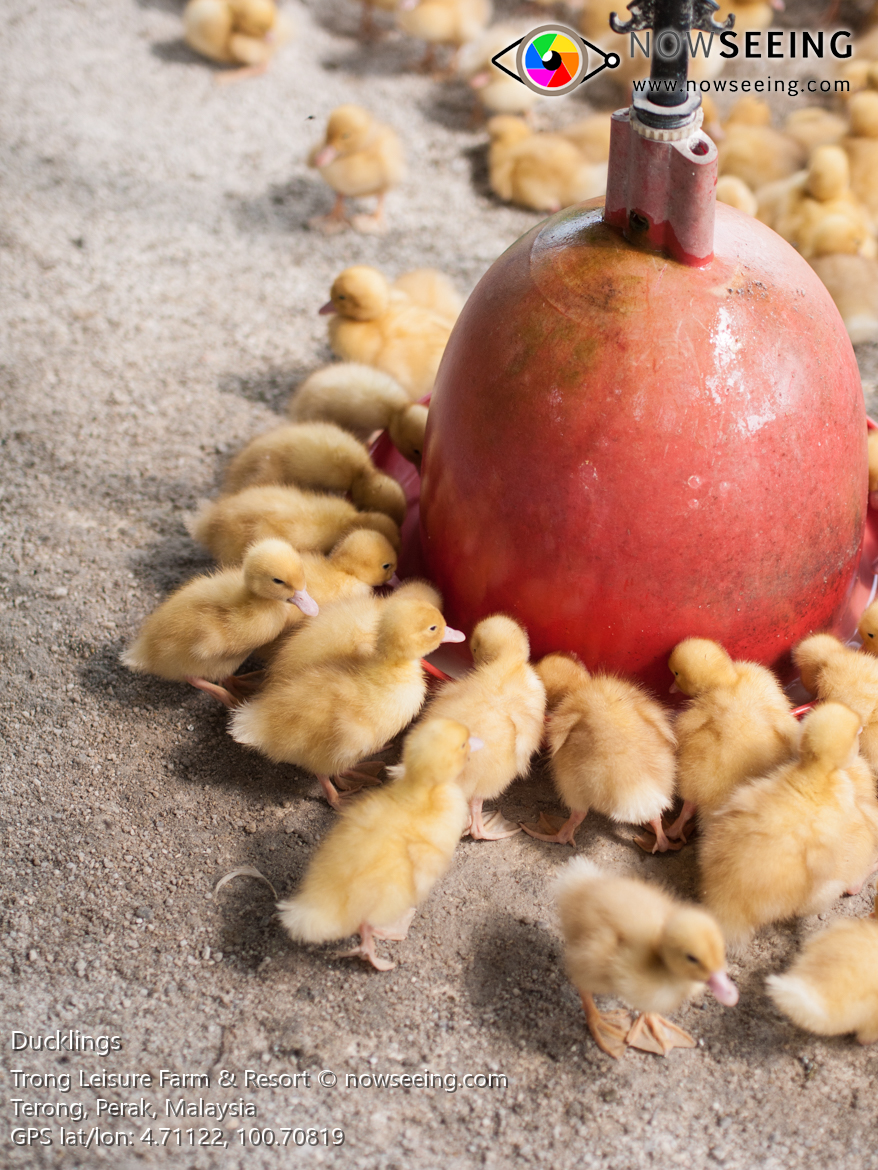 The moment we reach duck farm. We couldn't resist adorable ducklings inside a cage right in front of us but we were told that a cicerone was going to start a briefing session to visitors so we moved our butts to another fenced area with thousand ducks in it.
Behind the fence, the cicerone who was also one of the owners explained some fun facts about ducks on top of his lungs. With so many visitor groups per day, he probably has his voice gone before noon. We felt like buying him a megaphone.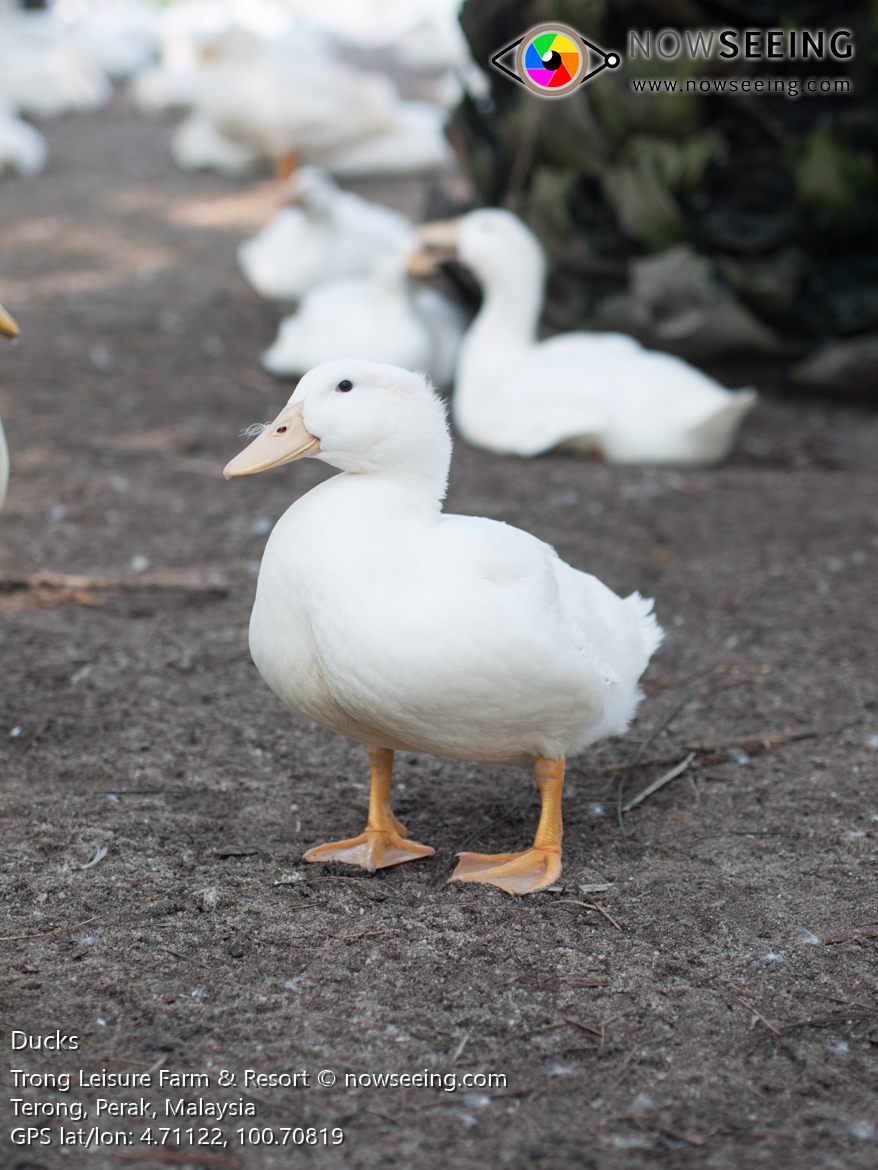 According to the owner, the farm breeds "Peking Duck" 北京鸭. Peking Duck can usually be found in Chinese delicacy and Singapore is one of their main customers. A "delicious" duck is a duck who like to exercise often, and the owner intentionally set the feeding area far away from nearby ponds to encourage walking. Another fun fact is that it is hard to tell whether a duck is male or female from the appearance and one way to determine is from their quacking sound. Male duck tends to quack softer compared to female duck (just like dominating wife/mother in Asian's family).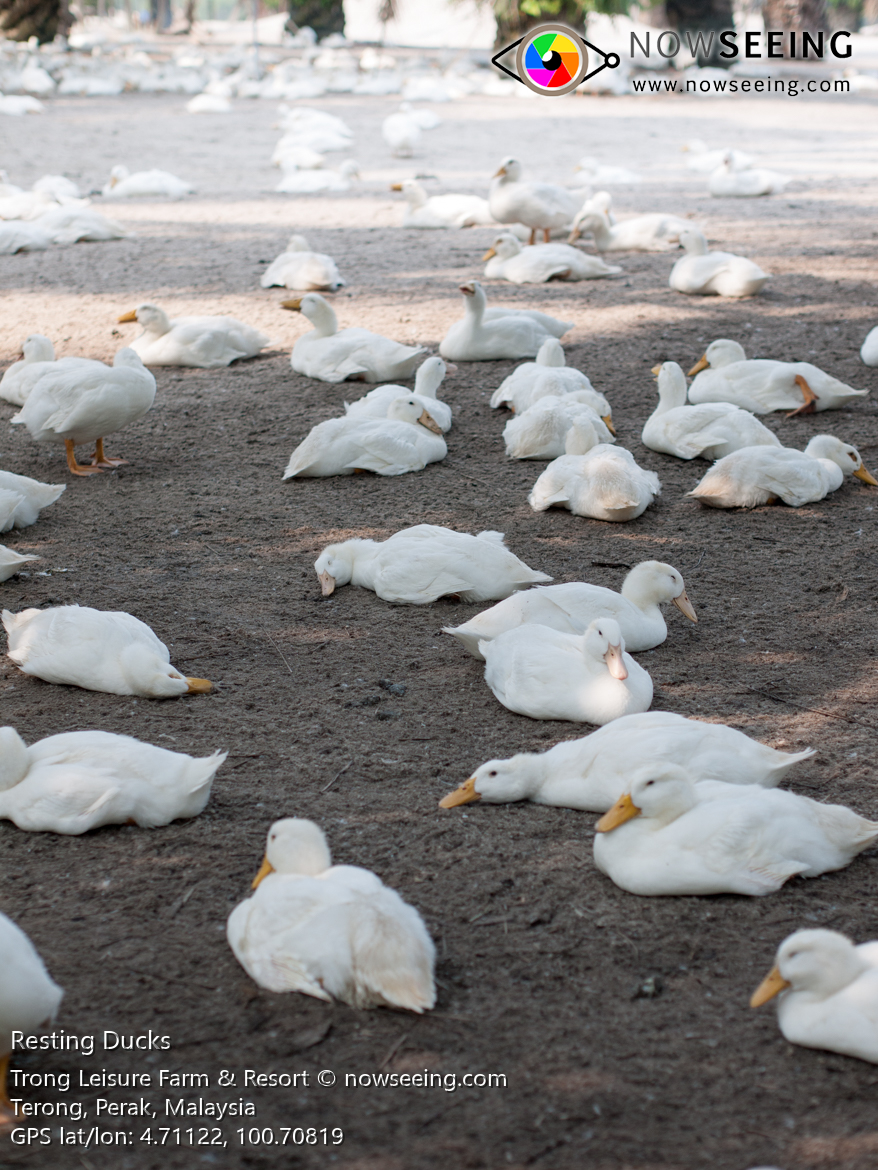 After feeding, some ducks will rest under shady palm trees (again, the nearest palm tree is also a distance away from the feeding point). While most of them rested in "hatching" position, some just lay flat on the ground like a "dead" duck.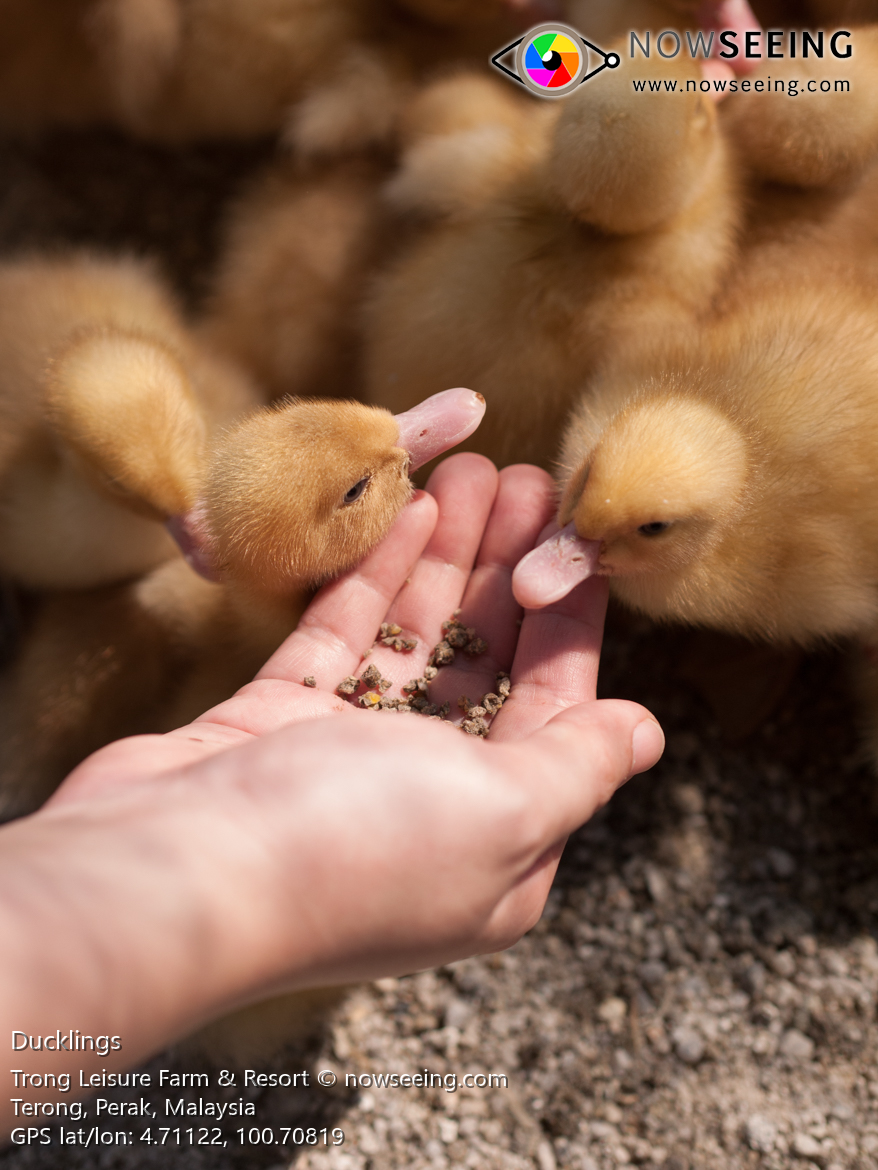 After the briefing, we returned to duckling's cage to feed and play with them.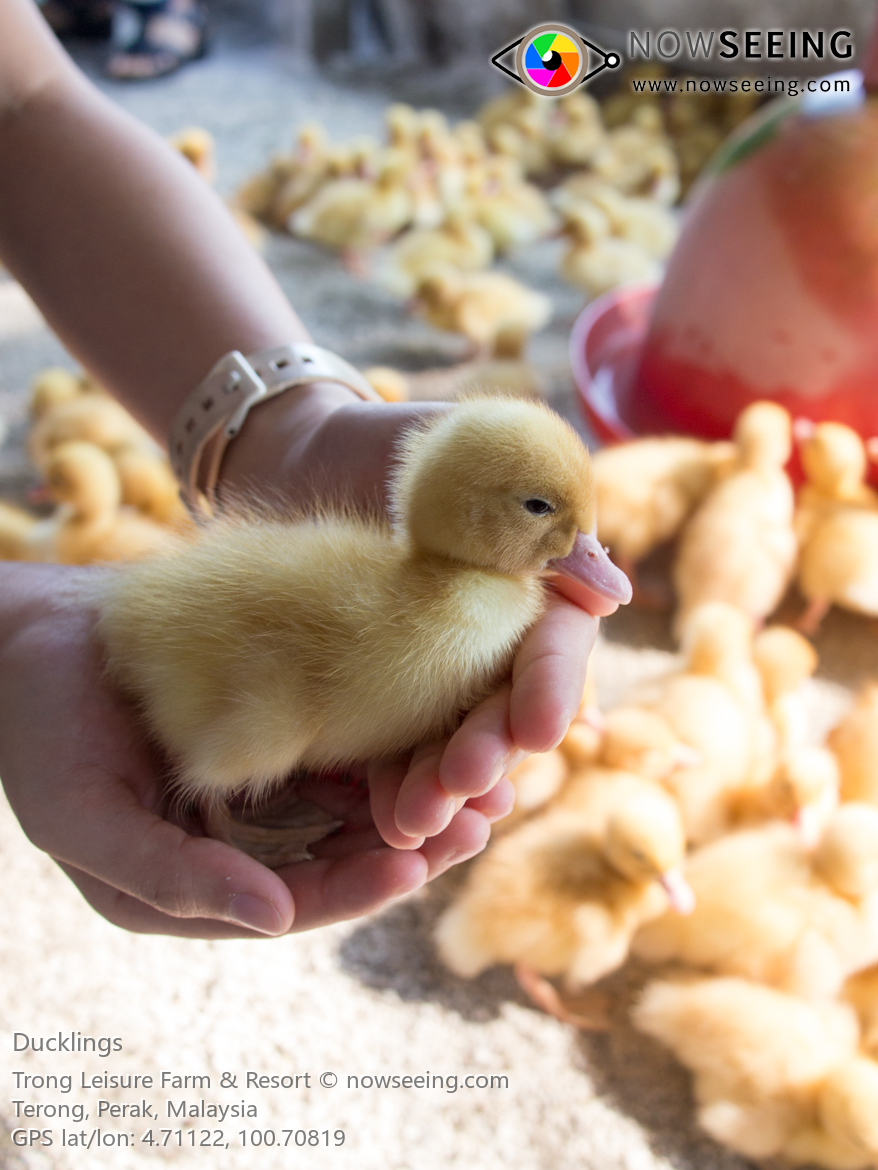 Their feather was just so soft to touch and if you hold them, they will try to escape. Size-wise, they are bigger and stronger than chicks of the same age.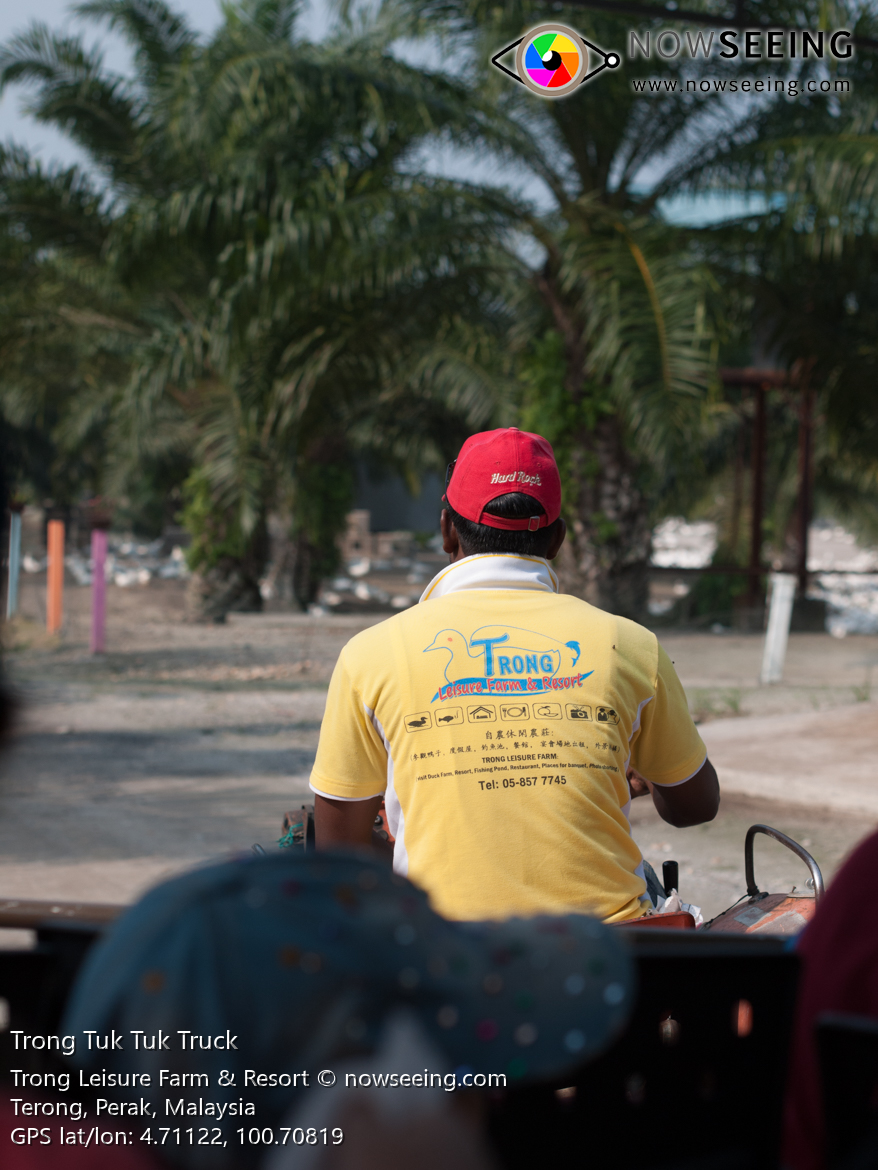 We returned to the entrance using "Trong Tuk Tuk Truck".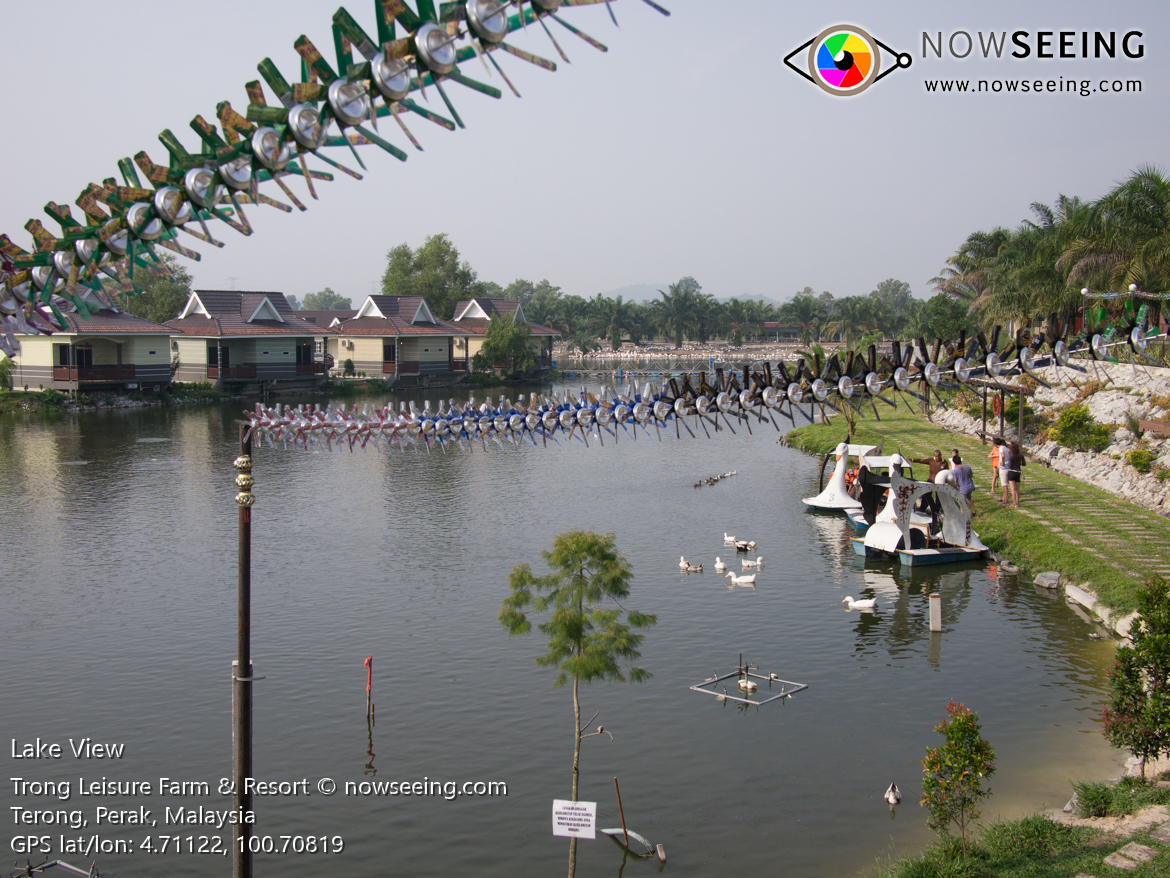 As a whole, be it a half-day trip or overnight stay, Trong Leisure Farm & Resort is now a Trong landmark and is a great spot for family getaway. Visit (and like) our Facebook page for more photos. 
Trong Leisure Farm & Resort 自农休闲农庄
Address: PT293, Jalan Kuala Trong, 34800 Terong, Perak.
GPS: 4.71122,100.70819
Opening Hours:
Resort - Always open.
Duck Farm - 9:30am-12:30pm, 3:30pm-7:00pm 
Restaurant - 11:30am - 10:30pm
Admission: RM5 per adult, RM2 per child (3-12 y/o) for duck farm visit
Tel: +6010-464 0918 / +6010-464 2917
Website: Facebook